To keep the lights on, we receive affiliate commissions via some of our links. Our review process.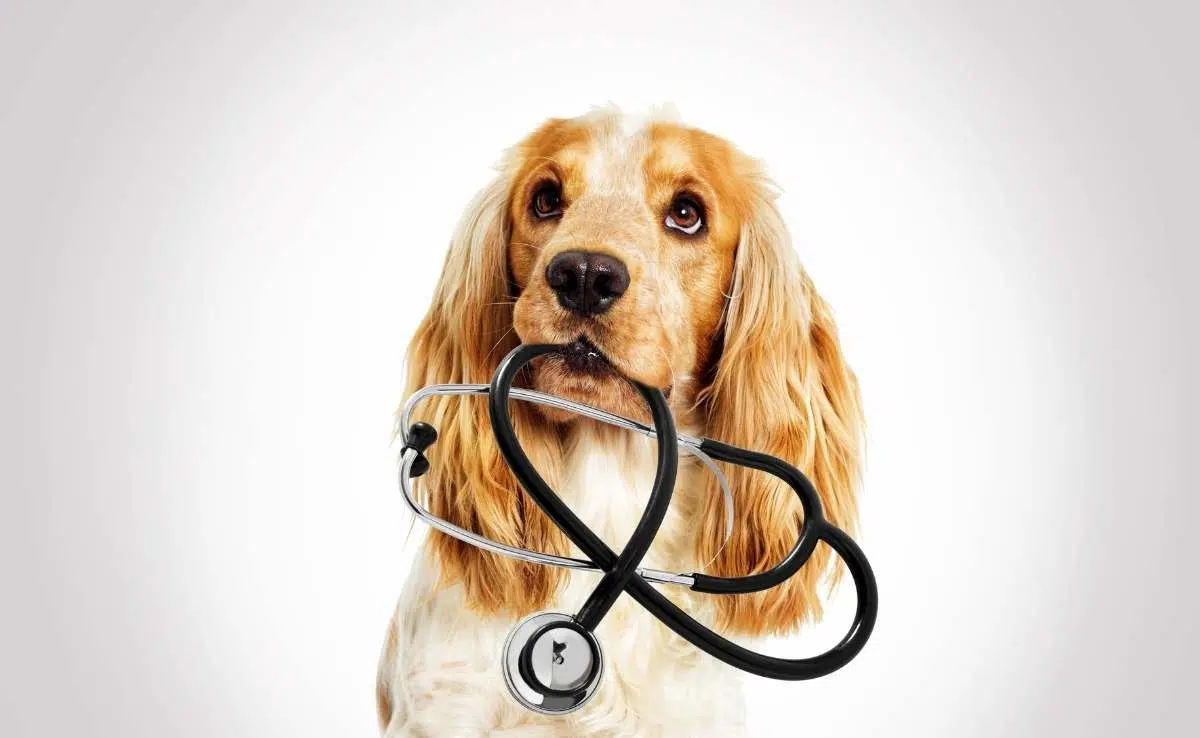 If you consider your pet part of the family, then why not make sure they have health insurance like the rest of your loved ones? Just like humans, pets can become ill or get in an accident when you least expect it.
The good news is, pet insurance can help save your family from drowning in debt and keep your canine companion alive and thriving. 24Petprotect (previously 24PetWatch) is one of many popular pet insurance companies. See how they compare to the pack.
24PetWatch Insurance Review

Product Name: 24PetWatch Insurance
Product Description: 24Petprotect offers pet insurance for cats and dogs.
Summary
24Petprotect offers accident and illness plans as well as accident-only insurance plans to help fit your coverage and budget needs. There are also many deductible, payout, and reimbursement options to help you get the plan you need.
Our pet insurance experts read through each pet insurance company's policy to provide detailed comparisons and information regarding how a provider fares against others in the industry. We also speak with customers, read online feedback, and communicate one-on-one with pet insurance companies to obtain a well-rounded, unbiased analysis of a company's standings.
Our team rates pet insurance companies based on several factors, including A.M. Best ratings (an indicator of financial stability), claim processing reputations, contract coverage, customer service, pricing, plan customizations, and more.
Pros
Optional wellness plan
Conditions that are free of symptoms and treatment for 180 days are not considered pre-existing conditions
Offers a 10% discount for each additional pet
30-day money-back guarantee
Your pet is covered when they travel with you in the U.S., Guam, Puerto Rico, U.S. Virgin Islands, and Canada
Cons
$2 transaction fee, if not paying annually
Can't change/add some items to plan until the next 12 month period begins
No unlimited payout option
14-day waiting period for accidents is longer than competitors
Priced on the higher end when we ran quotes
Alternatives To 24Petprotect
Don't like the score you're seeing? Our experts have analyzed 20+ pet insurance companies to provide the most comprehensive and up-to-date pet insurance reviews you'll find. Find out more about this year's top-ranked companies. You can also use our free tool below to obtain multiple quotes instantly.
Key Features
Underwriter: United States Fire Insurance Company
Bilateral exclusions (a condition or disease that affects both sides of the body): includes, but is not limited to, conditions involving a ligament, patella, meniscus, or soft tissue disorder of the knee
Pays claims within 60 days of submission either directly to the vet or direct deposit to you
Must submit claims within 180 days of treatment via online customer portal, email, or mail
Covers curable pre-existing conditions that are free from treatment and symptoms for 180 days (ligament and knee conditions are excluded)
Customer Service Hours
Phone:

Monday – Friday: 8am-8pm (EST)
Saturday & Sunday: closed
Waiting Periods*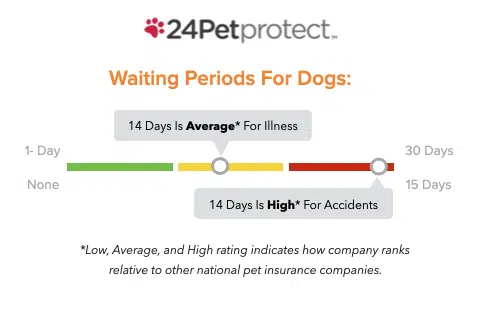 Illnesses: 14 days
Accidents: 14 days
Cruciate Ligament: 14 days
Hip Dysplasia: 14 days
Wellness: 0 days
*Waiting periods for California, Maine, and Mississippi are as follows:
Accidents - 0 days
Illnesses - 14 days
Cruciate Ligament Conditions - 30 days
Routine Care - 0 days
What Does 24Petprotect Cover?
Please know that none of the providers in our pet insurance comparison charts cover pre-existing conditions, cremation and burial costs, pregnancy and breeding, or unnecessary cosmetic procedures.
All of them cover the following items when deemed medically necessary: emergency care, surgery and hospitalization, specialized exams and specialty care, X-rays, blood tests, ultrasounds, cat scans, MRIs, rehabilitation, cancer, chronic conditions, euthanasia, hereditary conditions, congenital conditions, non-routine dental treatment, and prescription medications. However, this coverage may have limitations, so please check your policy.
| Condition | Covered By 24Petprotect |
| --- | --- |
| Behavioral Therapies | |
| Alternative/Holistic Therapies | |
| Exam Fees | |
| Wellness Care | Extra Fee |
Accident Only Coverage
24Petprotect offers an Accident Only plan that covers accidents (as its name suggests), so things like broken bones are covered. It doesn't cover any illnesses, routine care, acupuncture, or chiropractic treatment. You can choose your annual deductible, reimbursement amount, and annual payout as with a more comprehensive plan.
What's Covered?
Torn ligaments
Bite wounds
Cuts
Broken bones
Lodged foreign objects
Toxic Ingestions
Optional Coverage
You can add wellness coverage to your policy too. Wellness coverage starts at $9.95/month for Basic Preventive Care or $24.95/month for Prime Preventive Care.
| | Basic Preventive Care | Prime Preventive Care |
| --- | --- | --- |
| Price Per Month | $9.95 | $24.95 |
| Dental cleaning | $100 | N/A |
| Dental cleaning or neuter | N/A | $150 |
| Wellness exam | $50 | $50 |
| Health certificate | N/A | $25 |
| Flea/heartworm prevention | N/A | $25 |
| DHLPP vaccine/titer | $20 | $25 |
| Rabies or Lyme vaccine/titer | $20 | $25 |
| Bordetella vaccine/titer | N/A | $25 |
| Fecal test | $20 | $25 |
| Heartworm test | $20 | $25 |
| Blood test | N/A | $25 |
| Urinalysis | N/A | $25 |
| Total Annual Benefits | $250 | $450 |
Pricing Quotes
24Petprotect offers some customizations for their plans. You can choose your deductible, reimbursement, and payout limit.
Deductible Options
Payout Options
Reimbursement Options
$100
$250
$500
$750
$2,500
$3,000
$5,000
$7,000
70%
80%
90%
Pet insurance pricing is based on your pet's details (e.g., age, breed, location, etc.). According to NAPHIA (North American Pet Health Insurance Association), the average monthly premium for an accident and illness dog insurance policy in the U.S. in 2022 was $53.34 ($32.25 for cats).
Since prices vary based on where you live as well as your pet's unique characteristics, the best way to determine how much it would cost you is to complete our quick pet insurance quote form and get estimates from several top pet insurance providers when you fill out one quick and easy form. This allows you to see how companies compare price-wise. With most companies, you can also adjust your monthly premium to better meet your needs. Reducing the deductible, reimbursement percentage, and annual payout can lessen it to better fit a lower budget.
What Can You Face If You Don't Have Dog Insurance?
What can happen if you don't have pet insurance? Even minor accidents and illnesses can break your wallet. What's the average vet bill if your dog ingests a foreign object and needs surgery? A whopping $800-$7,000! With serious accidents and illnesses, not being insured can be devastating.
What's Our Verdict On 24Petprotect Pet Insurance?
24Petprotect does have some good features, so it may be a good fit for you. But you may be able to find an even better fit for your family. Read our comparison of pet insurance providers to learn about other top companies.
If you're looking for information about 24PetWatch's microchip registration service, you may find this article helpful.
Tagged With: Reviewed By Insurance Agent