To keep the lights on, we receive affiliate commissions via some of our links. Our review process.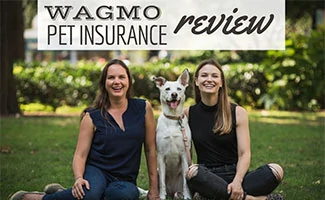 Wagmo started out offering stand-alone pet wellness plans to customers but recently added the option for traditional pet insurance as well. It's one of the few companies to offer both wellness and insurance coverage for your pet. You can purchase either of these policies individually or you can add a wellness plan to their pet insurance plan for an additional fee. Wagmo pet insurance isn't available in all 50 states yet, but it has plans to keep growing.
Find out if Wagmo prices are in line with the competition and if its coverage meets your needs.
Wagmo Pet Insurance Review

Product Name: Wagmo Pet Insurance
Product Description: Wagmo offers pet insurance for dogs and cats.
Summary
Wagmo has per-incident deductibles and lifetime payout limits, so this could be a great option for your pet if you're concerned about chronic conditions. However, if you anticipate needing a lifetime payout beyond $100,000, then consider other options.
Our pet insurance experts read through each pet insurance company's policy to provide detailed comparisons and information regarding how a provider fares against others in the industry. We also speak with customers, read online feedback, and communicate one-on-one with pet insurance companies to obtain a well-rounded, unbiased analysis of a company's standings.
Our team rates pet insurance companies based on several factors, including A.M. Best ratings (an indicator of financial stability), claim processing reputations, contract coverage, customer service, pricing, plan customizations, and more.
Pros
Claim repayment averages 1 day for wellness and 3-5 business days for accident/illness (direct deposit, Venmo, and PayPal reimbursement), after the claim is approved
Wellness coverage available as an add-on or on its own
5% multi-pet discount
App available to support claims via iOS and Android
Cons
No unlimited annual payout option
Per-incident deductible and lifetime payout limits
15-day waiting period for accidents is longer than the competition
Insurance is available in 40 states, not all 50
No BBB rating
Pets older than 15 years old are only eligible for wellness plans
Pet isn't covered when they travel outside of the U.S. with you
30-day waiting period for cancer treatment
Hip dysplasia isn't covered for pets older than 6 years old
Alternatives To Wagmo Pet Insurance
We don't include Wagmo (or any company with less than five years in the pet insurance industry) in our annual rankings because it takes time for providers to establish consistent pricing and customer experience. To find the best, our experts regularly analyze over 20 established companies. Learn more about this year's top-ranked companies. You can also use our free tool below to get multiple quotes instantly.
Key Features
Underwriter: National Specialty Insurance Company
Bilateral exclusions (a condition or disease that affects both sides of the body): cruciate or soft tissue injury to knee
Claims process:

Submit claims via website
Claim repayment averages 1 day for wellness claims and 3-5 business days for accident/illness claims
Direct deposit, Venmo, and PayPal reimbursement is available

Some of the most common claims submitted by Wagmo customers are:
Wellness plans are available in all 50 states, but insurance is only available in 40 states. The following locations do not offer Wagmo pet insurance: AK, FL, ID, KY, LA, MN, MO, NM, RI, WA, and Washington DC
Customer Service Hours
Live chat, email: Monday – Friday 9am to 6pm EST and Saturday 11am to 7pm EST
Waiting Periods*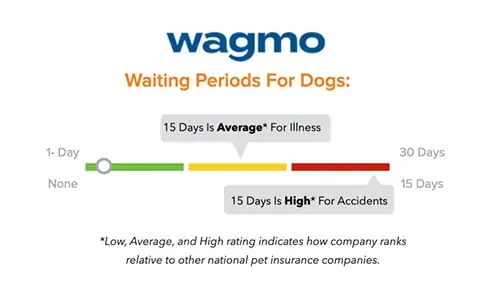 *Waiting periods for California, Maine, and Mississippi are as follows:
Accidents - 0 days
Illnesses - 14 days
Cruciate Ligament Conditions - 30 days
Routine Care - 0 days
†From Wagmo's sample policy: This exclusion does not apply if Your Pet is examined by a Vet within the first thirty (30) days of the Policy and the medical record specifically notes Your Pet does not have any Pre-existing Conditions relating to its knees.
What Does Wagmo Cover?
Please know that none of the providers in our pet insurance comparison cover pre-existing conditions. All of them cover the following items when deemed medically necessary: x-rays, blood tests, ultrasounds, cat scans, MRIs, rehabilitation, specialized exams, surgery, hospitalization, emergency care, specialty care, hydrotherapy, chronic conditions, cancer, diagnostic treatment, alternative/holistic therapy, and euthanasia. However, there may be limitations to this coverage, so please check your policy.
Wagmo has many exclusions listed in its policy, especially compared to other pet insurance providers. Some exclusions we see listed in its sample policy that we don't often see listed in other policies are:
More than two (2) anesthetic removals of an ingested foreign body in one Policy Period.
Costs or fees for the Treatment of hip dysplasia for pets six (6) years of age and older.
Costs or fees for Treatment of cancer.*
*Wagmo's sample policy states "costs or fees for treatment of cancer" as an exclusion. You can purchase a Cancer Endorsement for an additional fee that cancels this exclusion and applies a 30-day waiting period for any coverage related to cancer.
Condition
Covered By Wagmo
Exam Required To Set Health Baseline
Behavioral Therapies
Exam Fees
Wellness Care Available For An Extra Fee
Non-Routine Dental Treatment
Hereditary Conditions
Congenital Conditions
Prescription Medication
50% Only
Breed, Whelping, Pregnancy
Cosmetic Procedures
(e.g., Tail Docking, Ear Cropping, Dew Claw Removal)
Unless Medically Necessary
Wellness Coverage
Wagmo offers three wellness plans shown below in the table. Wellness plans can be purchased on their own or in conjunction with a pet insurance policy.
| | Value | Classic | Deluxe |
| --- | --- | --- | --- |
| Price Per Month | $20 | $36 | $59 |
| Office Visits | 1 exam | 1 exam | 2 exams |
| Vaccines | 2 vaccines | 3 vaccines | 4 vaccines |
| Routine Bloodwork | 1 test | 1 test | 1 test |
| Fecal Test | 1 test | 1 test | 1 test |
| Urinalysis | | 1 test | 1 test |
| Flea/Tick/Heartworm | | $100 | $200 |
| Grooming | | $100 | $200 |
| Dental Care | | | $100 |
How Much Does Wagmo Cost?
Wagmo offers 100% reimbursement for all plans, something only two other pet insurance companies offer (Figo and MetLife), according to our research. Your deductible options are $500, $750, and $1,000 and annual payout options are $20,000 annually, $10,000 per-incident, and $100,000 lifetime.
Below is a table showing examples of quotes from Wagmo. You can put your pet's information directly into its site to get a better estimate for your pet (use our link below for the best discount).
| Breed | English Cocker Spaniel | German Shepherd | Yorkshire Terrier | Mixed Breed Cat |
| --- | --- | --- | --- | --- |
| Male/Female | Female | Male | Male | Female |
| Age | 8 years | 4 years | 6 years | 2 years |
| Location | Illinois (zip code: 60290) | California (zip code: 90001) | New York (zip code: 10001) | New York (zip code: 10001) |
| Reimbursement Level | 100% | 100% | 100% | 100% |
| Annual Deductible | $500 | $500 | $1,000 | $750 |
| Annual Payout Limit | $20,000 | $20,000 | $20,000 | $20,000 |
| Price Per Month | $72.42 | $63.66 | $60.84 | $35.99 |
You can get personalized price quotes for your pet(s) from reputable companies when you fill out just one short form.
Is Wagmo The Best Pet Insurance?
We've found that Wagmo has higher prices than the industry average, and it's not available nationwide. We like to see at least five full years of national experience before recommending a company to our readers because we've found that newer entrants go through many coverage and price adjustments during their first few years.
So while we don't recommend Wagmo at this time, it could be a company we suggest in the future. If you'd like to learn about the companies we rank highly, read our best pet insurance reviews. In addition to our top picks, the comparison includes each company's pros and cons, frequently asked questions, many comparison tables, and more.
Tagged With: Reviewed By Insurance Agent