To sustain this free service, we receive affiliate commissions via some of our links. This doesn't affect rankings. Our review process.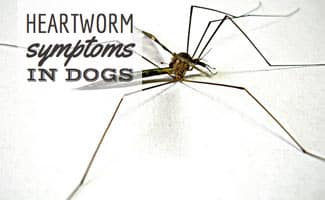 Heartworm disease is one of the most dangerous and life threatening diseases your dog could face. This is why prevention is absolutely key to keeping your pup safe. Learn about what causes heartworms, the symptoms, treatment and, most importantly, how you can prevent your dog from becoming infected.
Article Overview
Causes
Dogs can only get heartworms by being bitten by an infected mosquito. There is no other way. If you've heard differently, it's not true. Not only are mosquitoes tiny but there is also no way to tell if a mosquito is infected with heartworm larvae. This is why preventing heartworms is critical.
After a dog is bitten by an infected mosquito it takes time for heartworm symptoms to appear. After about 7 months, the larvae matures into adult heartworms. The heartworms then lodge into the dog's heart, lungs and surrounding blood vessels and reproduce. Heartworms can grow up to 12 inches in length and can live 5-7 years. A dog can have up to 250 worms in their body.
Symptoms
Coughing
Inability to exercise as normal
Abnormal lung sounds
Passing out from loss of blood to the brain
Retaining fluids
Death
Treatment
Before heartworms are treated, a veterinarian will perform an extensive exam including blood work, x-rays and other tests to determine the infection's seriousness. The dog is then treated with Immiticide, which is an arsenic based product that is injected into the dog. Dogs are given 2 or 3 injections to kill the adult heartworms in the heart's blood vessels.
All of this work can cost up to $1,000 but can be done for around $300 in some places. With the right pet insurance plan you can lower that cost even more.
Prevention
Prevention is so important because 100% of dogs exposed to infective heartworm larvae become infected. Doing your part to prevent heartworms in your dog is the best way to go. You can give your dog monthly pills or apply topicals to your dog's skin to prevent heartworms. You can also give your dog a 6 month injectable. The cost of preventative treatment is worth it compared to the damage that could be caused by heartworms.
Unfortunately, sometimes a dog can still be infected with heartworms while taking preventative medicine. The main reason this can occur is that the parasite can build up an immunity to the drugs commonly used in their region. It can also happen if you do not administer the preventative appropriately and timely.
Heartworm Disease Video
Find out more about heartworm disease in this video:
Heartworms are not the only worms that dogs can get. Learn about roundworms, tapeworms, hookworms and whipworms. Read more about buying inexpensive heartworm preventative medications online.
Has your dog ever been infected with heartworms?
Disclaimer: The information provided through this website should not be used for diagnosing or treating a health problem or a disease. It is not a substitute for professional care. If you have or suspect you may have a health problem, you should consult your health care provider.
Disclaimer: This website contains reviews, opinions and information regarding products and services manufactured or provided by third parties. We are not responsible in any way for such products and services, and nothing contained here should be construed as a guarantee of the functionality, utility, safety or reliability of any product or services reviewed or discussed. Please follow the directions provided by the manufacturer or service provider when using any product or service reviewed or discussed on this website.