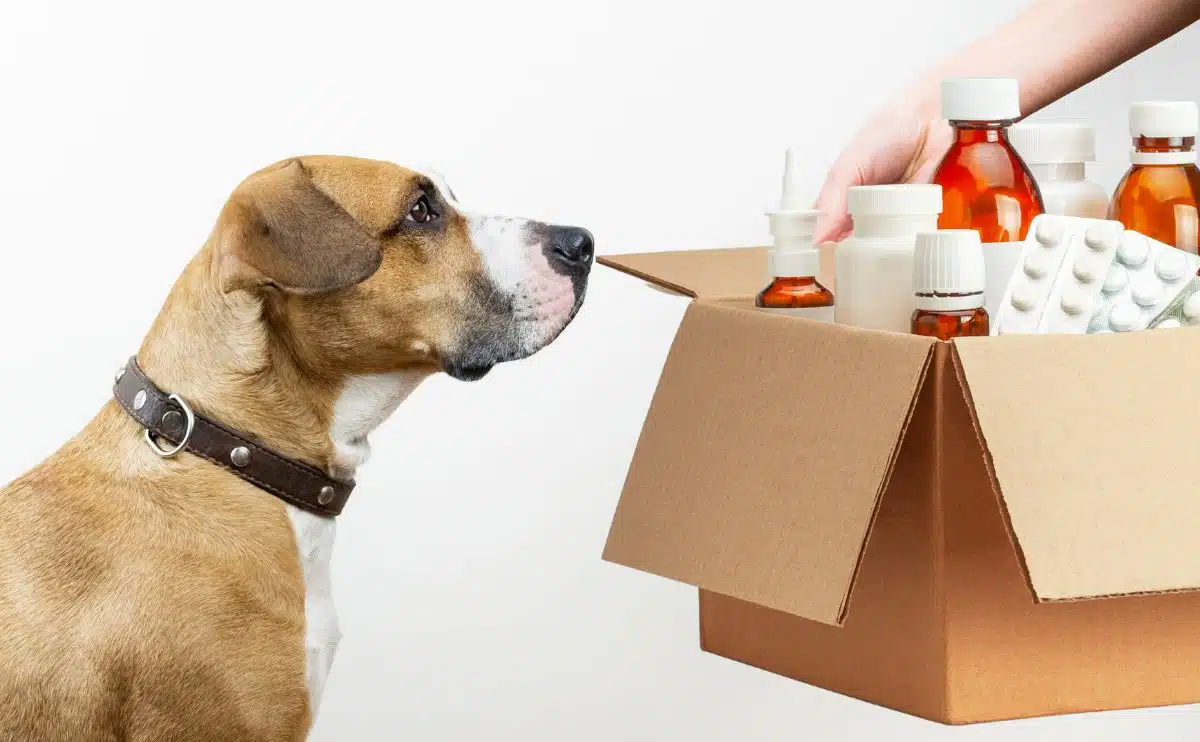 Being a responsible pet owner means providing regular preventative medications in addition to those that treat health conditions. Raising a healthy pet can also be expensive which leads us to search for alternatives. There are several places you can buy online to save money, but you should shop with caution.
Why Buy Pet Meds Online?
Unlike veterinary clinics that add markup to pet medications, online resources can purchase items in large quantities at wholesale prices. Purchasing in bulk allows them to pass their savings on to consumers.
It is important to ensure that savings are being passed because of bulk purchasing and not because of medications bought overseas or from unreputable third-party sellers (which we'll get into more below).
In addition to cost savings, shopping online can save you a trip to the store every time you are out of medication, and you can get reminders for when it's time to refill.
Where To Find A Reputable Cheap Pet Meds Distributor
The best solution for finding a reputable distributor online is to ask your veterinarian who they recommend. Their advice is generally trusted because they work with these distributors on a regular basis.
We recommend buying from the Chewy Pharmacy since they keep careful controls over prescriptions, including safe storage and shipping procedures. I've also found that my vet always approves my prescriptions bought through Chewy, so I feel good buying there. However, there are other options like PetCareRx you can use too.
What To Look For In A Pet Prescription Website
If your veterinarian does not have any suggestions for online retailers, there are some things to look for when spotting a good one.
Always Require A Prescription – Providing the prescriptions may seem like an inconvenience, but this requirement exists to ensure your pet's safety. If the administration of meds is incorrect, they can cause significant health effects.
VIPPS Approval – A reputable distributor will have various certifications, one of which may be from the Veterinary Verified Internet Pharmacy Practice Sites (or VIPPS), which means they meet the standards of the National Association of Boards of Pharmacy.
Legit Script Approved – Legitscript.com is another verification service that screens for both safety and legality. This service also provides consumers with information on the distributor, including their location, where they are licensed to ship to, and more.
Secure Website – Your financial security and safety are always a concern. So only shop at pharmacies where transactions are secured by VeriSign.
Pharmacy Guarantee – Chewy Pharmacy guarantees that its medications are never expired or foreign. A professionally licensed pharmacist always supervises orders. Expect reimbursement for any prescription that does not perform successfully.
Prominent Contact Information – An online reseller should have an easy-to-find phone number and email address (as well as customer service hours). Bonus if they offer live chat.
Privacy Policy – An easily accessible privacy policy will state that the website you are using never shares your information without your prior consent.
Multiple Payment Methods – Including VISA, AMEX, MasterCard and Discover card and sometimes PayPal.
Specialty Shipping – Temperature-controlled shipping for medications that require being refrigerated.
These are at a minimum the standards a retailer should have before considering purchasing medications for your pet.
How To Order Pet Perscriptions Online
Watch this video to see how easy it is to shop at the Chewy Pharmacy. Every pharmacy is different.
What Are Popular Purchased Pet Meds Online?
Preventative meds are the most common to buy online. Some popular ones include:
Heartworm preventative
Deworming medications (Drontal Plus and Panacur Granules)
Joint health medications (Adaquan and Dasuquin)
Allergy medications (Prednisone and Hydroxyzine
Grooming products (Angel's Eyes and Epi-Otic ear cleanser)
Nutrition supplements (Nutrical and Prozyme powder)
When should you go directly to your vet and skip the savings? Medications to treat life-threatening illnesses, including cancer treatments, should never be trusted for an online purchase.
Avoid Medications Purchased Overseas
Purchasing pet medications sourced from overseas is a poor decision because it can have many unexpected complications.
Other reasons to avoid:
No FDA Approval – The FDA protects consumers by monitoring the quality of ingredients in medications. While other countries have their own monitoring processes, the United States has one of the strictest sets of regulations.
No Veterinary Approval – Without a prescription required, pet owners can get their hands on any number of potentially harmful medications.
Cross-Contamination – Cross-contamination during production can occur from mixing in other pills, medicine dilution or even the wrong medication in the package.
Generic Medication Solutions – Non-recognized generic medications can have any number of ill health effects and can even cause permanent damage or even death.
Scams – There is no easy method for resolution of lost money or the product that never ships. It will also be challenging to seek reparations if fake medication is received.
Avoid Purchasing Cheap Pet Meds From Disreputable Providers
Some websites will sell bad products. In addition to the red flags from overseas sellers, there are five reasons to avoid shady third-party retailers.
Geographically Targeted Medications – Drugs engineered to protect against specific strains of a disease that are local to one area are not guaranteed to be effective against a variant of the disease in another location.
Recalled Products Are Often Still Carried Online – Reputable companies and veterinarians will immediately pull recalled products off their shelves, whereas less reputable companies may keep selling them to make a profit.
Expired Medications – In certain medications, once an expiration date passes, it begins to break down and not only is it no longer effective, but it can also cause serious side effects.
Diluted Medications – It results in your pet not getting the appropriate dosage to control its medical condition. In certain circumstances, not receiving enough medication could be fatal.
Counterfeit Medications – These drugs are sold under one name or dose but vary in some way. It could vary due to the wrong active ingredient, not enough active ingredient(s), too much of the active ingredient or no active ingredient at all.
Things To Consider For Cheap Non-Prescription Medications
Not all medications you will need to purchase for your pet will be prescription medications. Despite being over-the-counter medications, however, it is just as important to follow the same purchasing protocol.
Just because a medication is non-prescription does not mean that it cannot be harmful if purchased out of date, in diluted form or when made with inferior ingredients.
Keep an Eye Out For Fake Deals – While online can usually pass through savings, if a deal seems too good to be true, then it often is. Non-prescription medications can be as expensive, if not more expensive, than prescription medications.
Read The Labels First – Check the sell-by date on medications as soon as you receive them.
Avoid Tampered Packaging – If the medication has a broken seal, return the product immediately and request a refund.
The incorrect medication can mean problems for your pet, including vomiting and potentially fatal reactions.
Generic vs Name Brand
When it comes to non-prescription medications, there is a greater product selection. This wide range can often overwhelm dog owners. So is it okay to go generic?
Online vendors almost always have their own name brand of product. But how do you know if it's any good?
Ingredients – Review the ingredient list in detail. Be sure to compare ingredients and the quantity of each component. It doesn't have to be apples to apples, but if you notice a discrepancy (particularly in the amount of the active ingredient), you should check with your vet before administering.
Dosage Frequency – Generic medications often contain lower levels of active ingredients and thus may require more applications (which is why it costs less as you are getting less for your money).
Is Purchasing Cheap Pet Meds Online Right For You?
Purchasing cheap pet meds online should be taken seriously, and it is not always the right decision for everyone. Always consult your veterinarian first.
If your vet is okay with it, we highly recommend Chewy Pharmacy. They meet every criterion (discussed above) of a reputable online pet medication company. But another alternative is PetCareRx.
In some cases, certain drugs humans take are okay for pets. To learn more, learn which over-the-counter medications are okay for dogs.
CBD oil is also becoming a popular natural remedy to treat arthritis, anxiety, and other health issues.
Tagged With: Comparison, Fleas, Medication, Ticks