To sustain this free service, we receive affiliate commissions via some of our links. This doesn't affect rankings. Our review process.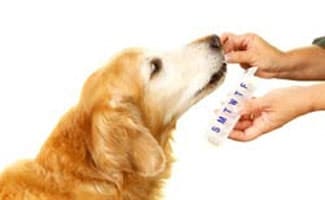 Being a responsible pet owner means providing our pets with regular preventative medications in addition to medications treating health conditions. Being responsible can also be expensive which leads us to search for resources for cheap pet meds. Below we will take a look at some of the cautions you should heed when purchasing cheap pet meds online as well as some of the most popularly purchased medications.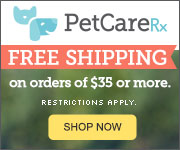 Just as human medications can be expensive, pet medications can also be costly. As a pet parent of a special needs dog, I know firsthand just how financially draining pet medications can be. There is an option to save when making these purchases by researching online pet meds. Unlike veterinary clinics that add their markup to pet medications, online pet meds resources have the ability to purchase items in wholesale quantities. Purchasing in bulk allows these resources to pass their savings on to consumers. It is important to ensure that savings are being passed because of bulk purchasing and not because of medications that have been purchased overseas.
Why You Should Avoid Medications Purchased Overseas
When purchasing our own medications and supplements, the majority of us look for FDA approval as well as research on side effects and possible complications of medications. As pet owners, it is our responsibility to do the same thing for our pets when purchasing their medications and supplements. Purchasing pet medications that have been sourced from overseas is a poor decision because it can have many unexpected complications.
Possible Complications from Overseas Sourced Pet Meds
Low Quality Product
One of the biggest concerns when purchasing cheap pet meds online that have been sourced from overseas is that these medications do not have approval from the FDA. The FDA provides protection for consumers by monitoring the quality of ingredients utilized in medications. While other countries have their own monitoring processes for medication production, the United States has one of the strictest sets of regulations.
No Veterinary Approval
Many medications that we give to our pets require veterinary approval. Unfortunately, purchasing pet medications that have been sourced from overseas many times means that no veterinary prescription is required. Without a prescription required, pet owners are able to get their hands on any number of potentially harmful medications. Responsible pet owners should not support such practice; there is a reason why veterinarians receive such an extensive education.
Cross Contamination
Cheap pet meds that have been outsourced from overseas also have a higher chance of cross contamination. Cross contamination can occur in the form of mixing in other pills with medication, diluting of medication or even providing the wrong medication in the packaging. This all comes down to slacker production regulations and medications produced overseas not being monitored by the FDA.
Generic Medication Solutions
While there is certainly no problem with purchasing generic medications when you know what you are getting, purchasing generic brands that are not recognized in the United States can be troublesome. Even pet medications require strict testing before being approved for use, but testing regulations vary depending upon the country of origin. Non-recognized generic medications can have any number of ill health effects and can even cause lifelong damage or even death.
Scams
Online purchase scams can happen anywhere in the world so this is not limited to medications that are sourced overseas. The difficulty with products sourced from overseas however, is that there is no easy method for resolution if money is taken and no product is shipped. There is even less of a solution for pet parents who receive fake medications or subpar medications through purchasing outsourced medications online.
Complications from Purchasing Cheap Pet Meds from Disreputable Providers
Targeted Medications
Purchasing certain medications online can also be tricky because they are targeted to local concerns. For example, medications engineered to protect against specific strains of a disease that are local to one area, are not guaranteed to be effective against a variation of the disease in another area. This means that even if you think you are doing the right thing and protecting or treating your pet for a condition, you may be passively allowing the condition to ravage your pet's health.
Recalled Products Are Often Still Carried Online
Another concern when purchasing pet medications online from disreputable dealers is that many times they are slow or reluctant to pull recalled medications off their shelves. Medications can be recalled due to contamination or due to recent research revealing serious long term side effects. Where reputable companies and veterinarians will immediately pull these products off their shelves, less reputable companies may keep these products on their shelves and continue to sell them to make a profit.
Expired Medications
Disreputable pet medication companies may also refuse to pull expired medications off their shelves because they do not want to lose profit. While for some items expiration dates are suggestions of when that item expires, for other items they are definitive dates at which time medications start to break down. In certain medications, once an expiration date passes, that medication begins to break down and not only is it no longer effective but it can also cause serious side effects.
Diluted Medications
Disreputable retailers of cheap pet meds have also been known to dilute their medications and supplements in order to make more money off their product. Dilution of medication is serious and results in your pet not receiving the appropriate dosage to control their medical condition. In certain circumstances not receiving enough of a medication may not have too much of an impact on your pet's health, but in other situations it can be fatal.
Counterfeit Medications
In the past the FDA has warned consumers against purchasing pet medications online due to online retailers selling counterfeit medications. Counterfeit medications are medications that are not the "real thing" in one way or another. Most commonly this refers to drugs that are being sold for an intended purpose but have a problem with the drug itself such as: the wrong active ingredient, not enough active ingredient, too much of the active ingredient or no active ingredient at all. These medications are sold so that their manufacturers can make a profit, but they pose a significant risk to your pet if administered.
How to Spot a Reputable Cheap Pet Meds Distributor

The best solution in finding a reputable distributor online is to ask your veterinarian who they approve their prescription with. For example, my vet always approves my prescriptions bought through PetCareRX so I feel good about buying there. Discerning veterinarians are very careful about whom they will allow patients to fill prescriptions with and their advice is generally trusted because they work with these distributors on a regular basis. If your veterinarian does not have any suggestions for online retailers of cheap pet meds there are some ways that you can spot a good distributor.
A Good Pet Medication Distributor Always Requires a Prescription
Just as human prescriptions are controlled by prescriptions, pet medications are as well. Prescriptions may seem like an inconvenience when ordering something online, but they exist to ensure that your pet is safe. Prescription medications are controlled by prescriptions because if they are administered incorrectly they can cause significant health effects. Even the most caring of pet owners could administer medication to their pet thinking that their dog needs pain killers for arthritic pain when in actuality their dog has fractured their leg and requires more than pain killers. Certainly this is an extreme example but things like this would happen more frequently than we care to admit if prescriptions were not required.
Veterinary Verified Internet Pharmacy Practice Sites Approved
A reputable online pet meds distributor will have various certifications one of which may be the Vet VIPPS approval. This certification establishes that a veterinary internet pharmacy site has met the standards set out by the National Association of Boards of Pharmacy. In order to receive this accreditation the pharmacy must have a physical address that has been approved. Online pet pharmacies that have received this certification should have no problem providing clients with proof of their accreditation.
Legit Script Approved
Legitscript.com is a newer verification service that provides information to consumers as to the legitimacy of their internet pharmacy of choice. The Legit Script service screens online pharmacies for both safety and legality. This service also provides consumers with information on the distributor including their location, where they are licensed to ship to, the variety of prescriptions they offer and whether they accept transferred and refill prescriptions in addition to new prescriptions. In order to be approved by the Legit Script service, a pharmacy must meet eleven standards including: pharmacy licensure, DEA registration, prior discipline, pharmacy location, validity of prescription, legal compliance, privacy, patient services, website transparency, domain name registration and affiliated websites. With the exception of the VIPPS program already mentioned, the Legit Script program is the only program recognized by the National Association of Boards of Pharmacy.
Secure Website
A reputable pet pharmacy should always offer a secure website that allows for users to conduct transactions without worrying about their financial and personal information being exposed. The most common method of securing these websites is currently the VeriSign system. A secure website not only indicates a company that cares about their consumers, but it is also necessary to ensure your personal data remains secure.
Pharmacy Guarantee
While not all pharmacies that offer a guarantee are reputable pharmacies, all reputable pharmacies should offer a guarantee. A great example of a reputable pharmacy that offers a full guarantee on their products is PetCareRX. At PetCareRX all medications they dispense are guaranteed to be approved by the EPA as well as the FDA for sale within the United States. In addition, this pharmacy guarantees that their medications are never expired or foreign and their pharmacy is always supervised by a professional licensed pharmacist. PetCareRX also offers guarantees on some of their products that include reimbursement for treatment should medications not perform to standard.
Prominent Contact Information
Pet pharmacies that are reputable always provide clear contact information that is easy to find. This information should be valid and include a phone number as well as email contact information. A "bonus" is when pharmacies offer live chat capability for instant contact with customer service representatives. Be wary of pharmacies that do not provide contact information, provide contact information that is very hard to find or provide contact information that is not valid.
Privacy Policy
All reputable pharmacies should have a privacy policy on their website that is made easily accessible to users. A good privacy policy will state that the website you are using never shares your information without your prior consent. There may be an exception to this rule noted for when you purchase offers given by third parties advertised on the pharmacy's website.
Clearly Posted Customer Service Hours
A reputable company always posts customer service contact information in addition to their customer service hours. There are many reasons why you may need to contact the pet pharmacy you purchase from and customer service hours make this possible.
Multiple Payment Methods
A good pet meds company always offers multiple payment methods such as VISA, AMEX, MasterCard and Discover card. Some pharmacies also offer purchasers the opportunity to use PayPal as a payment method.
Specialty Shipping Methods
Something that purchasers often neglect to think about when purchasing pet medications online is the method of shipping that is used. While many pet medications such as flea and tick preventatives can be shipped through regular ground shipping, other medications demand temperature controlled shipping. Reputable pet medication suppliers will always ship these medications through cooled shipping.
What are some of the More Popularly Purchased Pet Meds Online?
Regardless of whether or not your website of choice is reputable, as a pet owner you should always use your best judgment when purchasing medications online. Some medications should never be trusted to online purchasing and should always be purchased from and possibly administered by a licensed veterinarian. An example of this type of medication includes many cancer fighting medications. There are many medications that are commonly purchased online that have fewer requirements for safe shipping. Some of these medications include: heartworm preventative, flea and tick preventative, glucosamine supplements, deworming medications like Drontal Plus and Panacur Granules, joint health medications like Adaquan and Dasuquin, allergy medications such as prednisone and Hydroxyzine, grooming products like Angel's Eyes and Epi-Otic ear cleanser and nutrition supplements like Nutrical and Prozyme powder.
Is Purchasing Cheap Pet Meds Online Right For You?

Purchasing cheap pet meds online should always be taken seriously and it is not always the right decision for everyone. When considering purchasing pet medications online you should always consult your veterinarian first.
If your vet recommends an online store try purchasing through them first. If your vet does not recommend a store then make sure to do research in to reputable and recommended online stores. Research should begin with the criteria already outlined but it is also helpful to ask friends about their experiences with specific stores.
We highly recommend PetCareRX to purchase cheap pet meds online. They meet every criteria of a reputable online pet medication company including requiring a prescription, having a secure site, offering live chat and being Vet-IPPS and LegitScript aproved.
Cheap Non-Prescription Medications
Not all medications you will need to purchase for your pet will be prescription medications. Despite being over the counter medications however, it is just as important to follow the same purchasing protocol.
Keep an Eye Out For Too Good To Be True Deals
Just because a medication is non-prescription does not mean that it cannot be harmful if purchased out of date, in diluted form or when made with inferior ingredients. While there are a number of companies online that are able to provide discounts on non-prescription medications, if a deal seems too good to be true then it usually is. Non-prescription pet medications can be as expensive, if not more expensive than prescription medications which sometimes prompts dishonest sellers in to selling inferior products.
How can these inferior products be harmful to your pet? Depending upon how these products are inferior they can cause a number of problems for your pet including vomiting and potentially fatal reactions. You can avoid being taken in by this type of scam by reviewing feedback on sellers and ensuring that you check the sell by date on medications when you receive them. If the seal of any medication has been broken or tampered with return the product immediately and request a refund.
Generic or Name Brand?
When it comes to non-prescription medications as pet owners we are given more freedom of product selection. For example when looking for a joint supplement we know which ingredients we want in a product but there are always a large number of products to choose from. This wide range can often overwhelm dog owners. One of the most frequently asked questions in this type of situation is whether or not to purchase a generic product.
As with human medications many popular products are available in generics at a more affordable price but it is important to research the contents and efficacy of these products before purchasing. This is particularly true of online vendors who almost always have their own name brand of product. There is no point in saving 50% off a non-prescription medication if the medication doesn't work in the first place! So how do you determine whether a generic product is just as good as a name brand product?
Ingredients
The most important thing you can do when comparing name brand medications to generic medications is to look through the ingredients list in detail. You will not only be looking to compare ingredients but you will also want to compare quantities of ingredients.
If the name brand flea and tick medication you use typically contains 9.8% Fipronil and a cheaper generic medication contains 9.1% Imidacloprid and .46% Pyriproxyfen then it is important for you to note the difference. This difference does not mean that the medication will be any more or less effective for your dog; it simply means that it utilizes a completely different active ingredient. In the case of dogs that have allergies or sensitivities (particularly to medications) then you may want to find an alternative generic that contains the same active ingredient or simply purchase the name brand product.
In some cases, it is not the active ingredient that differs; rather it is the amount of the active ingredient that differs. This can be particularly important if a specified dosage is required to achieve the desired effect such as with joint care supplements. In this example if you usually purchase a name brand product for joint health that contains 900 mg glucosamine and the generic option contains only 500mg. It is again important to note that you are not purchasing the same medication.
Daily Doses
The example above brings us to the discussion of daily doses. When purchasing an item like the joint supplement noted above, generic medications that contain lower levels of active ingredients may require higher applications. For example instead of giving your dog two joint supplement chews a day, the generic may require you to administer four. When looking at this type of dosage difference it is easy to see why the generic product is cheaper because you are getting less for your money. It may take a little mathematics skill but if you are looking to purchase cheap non-prescription pet meds then you need to look at how many doses you are getting for your money.
Ingredient Combinations
Often, medications that are offered at significant discounts are made from inferior ingredient quality or at least less potent ingredients. To use the example of joint supplements again, most experts will agree that joint supplements should include around 1000 mg of Glucosamine AND around 800mg of methylsulfonylmethane or MSM. Many inferior joint supplement products will include only Glucosamine. While glucosamine itself is not an inferior ingredient, without the supplementation of MSM, the results of joint supplementation therapy are not going to be the same. In this way the combination of ingredients in the medication is going to be less beneficial to your pet.
When in Doubt Ask For a Recommendation
With so many different generic and name brand non-prescription medications available, it can sometimes become confusing when trying to find the best option for your pet. If you find yourself getting confused, the best option is to ask for a recommendation. Be wary however, of who you ask a recommendation of. Veterinarians, animal researchers, animal behaviorists and animal surgeons are the best resources for information depending upon the non-prescription medication you are considering. Avoid asking employees in pet stores since they rarely have specified knowledge of their products or of your pet's individual needs. Ask a professional in an animal related field for their opinion on the products that you are considering. Ask if they have any firsthand experience with the products you are considering or if they could recommend a different product that has worked for them. Never be afraid to ask too many questions, these professionals are almost always more than happy to share their knowledge with a responsible pet owner.