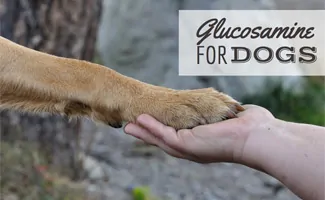 Have you noticed your furry family member having trouble getting around like she used to? She could be suffering from degenerative joint disease (DJD) — a pretty common problem in aging dogs and among certain breeds.
If you suffer from similar joint problems, you've likely heard of glucosamine supplements. But did you know that similar supplements are available for dogs?
Here, we'll give you all the information you need about glucosamine for dogs to see if these supplements could help your pup remain active.
How Does Glucosamine Help Dogs With Joint Problems?
DJD, also called osteoarthritis, causes a progressive loss of cartilage and the death of cells that produce cartilage in both humans and dogs. Chondroprotective medications, such as glucosamine and purified chondroitin sulfate, help protect the cartilage as your dog's body tries to repair itself from cartilage loss. The supplements are administered orally.
Is glucosamine the best joint supplement for dogs? Glucosamine chondroitin is one of several types of dog joint supplements that are widely considered safe for dogs, and veterinarians are increasingly recommending it. Although there's not much proven scientific evidence that it's the be-all, end-all supplement for dogs with joint problems, there's a general consensus that it does help.
Tip: CBD is a natural product that can help reduce inflammation and joint pain, in humans and pets. We have researched and tried several different dog CBD oils and treats to find the best on the market today. Learn more about CBD's benefits for dogs and how they can help calm your pet's stressed out nerves.
Visit HolistPet's website, our top-rated CBD company
What's The Best Glucosamine For Dogs?
You'll likely find glucosamine on the shelves with the best vitamins for dogs and other dog supplements in your local pet store. But there are also a ton of options online. It's important to follow each product's dosage recommendations. According to the American Society for the Prevention of Cruelty to Animals, there have been no reported side effects in dosages of 2,700 mg/kg for 12 months. Here are some of our recommendations.
Nutramax Cosequin DS Joint Health Supplement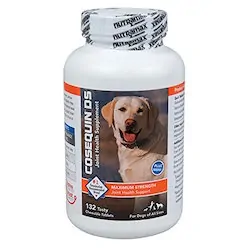 Contains glucosamine, chondroitin, MSM (a naturally occurring, organic, sulfur-containing compound)
Chewable Tablets
Claims they're the #1 veterinarian recommended retail joint supplement
#1 Best Seller on Amazon
Price: $36.99 ($0.28 / Count) (132 count)
Our Personal Experience
We have been using this for our older dogs for years and we definitely notice a difference when we stop using it for a few days. Our dogs are so much more limber and find it easier to get up and down when they are taking Cosequin each day. – Michelle S., Canine Journal
H3 Essentials Hip and Joint Nutritional Supplement For Dogs
Contains glucosamine, chondroitin, MSM, vitamin C, vitamin E, Yucca Schidigera, omega-3 and omega-6 (Yucca Schidigera is a natural herbal anti inflammatory and anti-arthritic)
Offered in different dosage sizes for small, medium and large dogs
Amazon #1 Best Selling Dog Herbal Supplements
Price: Check Amazon for availability (6 oz.)
Particular Paws Joint and Hip Supplement
Contains glucosamine, MSM, chondroitin, vitamin C & E, hyaluronic acid, omega-3 & omega-6 — a combination of the best dog vitamins and supplements for the relief from joint (cartilage) loss and associated pain
#1 Bestseller on Amazon
100% satisfaction guarantee
60 chewable tablets
Price: Check Amazon for availability (60 count)
What Does Arthritis Mean For Your Pet?
Check out this informative video by the American Veterinary Medical Association about arthritis in dogs.
Are Dog Supplements Safe?
Glucosamine chondroitin and many other pet supplements have a long safety history — as long as you stick to dosage guidelines. Dog supplements, just like supplements for humans, don't require FDA approval, but that doesn't mean they're not safe. According to many sources, including top veterinarians, glucosamine is a safe and effective way to treat your arthritic dog. See our article on arthritis in dogs to learn more about symptoms and other treatment options.
Tagged With: Supplements