If you think mosquitos are only a slight bother for your dog when you're outside, think again. Mosquito bites can present a serious, life-threatening health problem for your pup inside as well as outdoors. That's why it's so important to protect your furry friend with mosquito repellent. See which pet-safe bug spray for dogs we recommend, DIY repellents, and what's not safe for pups.
Why Should I Protect My Dog From Mosquitoes?
The major threat from mosquitos to dogs is heartworm infection. Dogs contract heartworm infections simply from a bite by mosquitoes that carry heartworm larvae.
Heartworm is one of the most dangerous and life-threatening diseases your dog can face. While a regular heartworm preventative can protect your pup from contracting this disease, mosquitoes can also transmit West Nile Virus to dogs. That's why we encourage you to take an added layer of protection against mosquitoes by protecting your pup with mosquito repellants.
Best Mosquito Repellent For Dogs
We've researched dozens of dog mosquito repellents to give you our top picks for the best mosquito and insect repellent for dogs, including monthly topical spot-on treatments, sprays, collars, chewable supplements, and yard repellents. We based our top picks on the safety of dogs, repellent performance, and customer feedback.
Best Topical: K9 Advantix II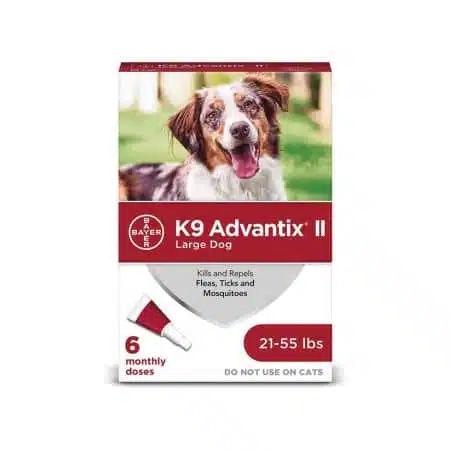 K9 Advantix II is a popular spot-on flea and tick preventative that you apply on your dog once a month, but it's also one of a select few flea and tick preventatives that also repels and kills mosquitoes. It works through contact, so mosquitoes, fleas, and ticks don't have to bite your pup to die. The active ingredients are imidacloprid, permethrin, and pyriproxyfen.
It starts working after 12 hours, and the protection lasts for 30 days. And it's safe for dogs over seven weeks old weighing more than four pounds. USA-made K9 Advantix II is a quick and easy way to keep all three blood-sucking pests off your dog.
Price
6 monthly applications: $75.00 ($12.50 / Count)
Best Spray: Vet's Best Mosquito Repellent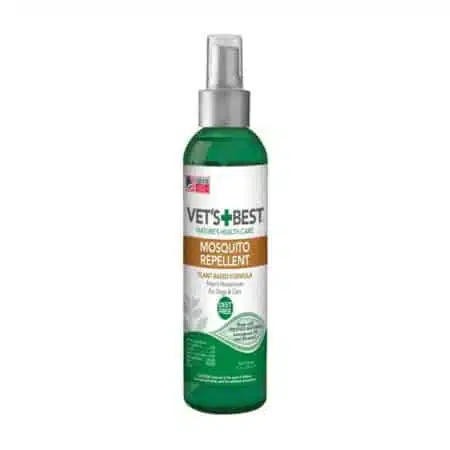 Vet's Best Mosquito Repellent is an all-natural, plant-based spray that's formulated specifically for dogs and cats to repel mosquitoes. It contains lemongrass oil, geraniol, and other plant extracts, which have pest-fighting properties. This budget-friendly spray made in the USA is for use on dogs and cats over 12 weeks old.
To maintain protection, you have to reapply it every two hours. While many users say it works well for their pups, a few customers found it ineffective. Many people say the smell is pleasant and not too strong. And you can even use it on yourself.
Price
8-oz bottle: $5.45 ($0.68 / Fl Oz)
Best Collar: TevraPet Activate II
A great budget-friendly alternative to K9 Advantix II is the TevraPet Activate II flea and tick collar. This waterproof collar kills fleas, flea eggs, ticks, chewing lice, and repels mosquitoes and other biting flies for up to six months with each collar (it comes with two collars). It uses the active ingredients deltamethrin and pyriproxyfen and is safe for dogs over 12 weeks old.
Several customers reported that this collar wasn't effective against fleas for their pups, and a few users said it irritated their dog's neck. If your pup has sensitive skin, you may want to choose another type of repellent.
Price
2 collars: $29.97 ($14.98 / Count)
Best Supplement: PetHonesty Flea & Tick Defense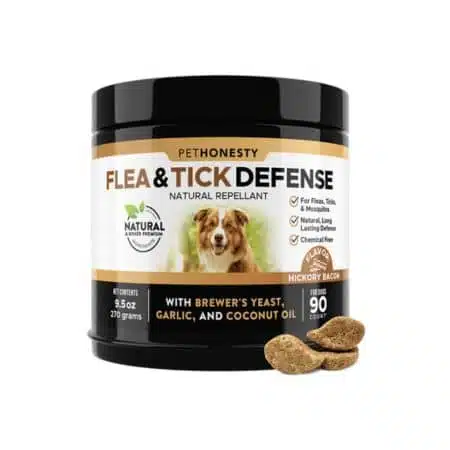 These bacon-flavored supplements from PetHonesty help your dog build up a daily and long-term resistance to fleas, ticks, and mosquitoes. The blend of all-natural ingredients like coconut oil, garlic powder, brewer's yeast, flaxseed, apple cider vinegar, B vitamins, and hemp seed oil not only helps repel pests but also support joint, skin, and immune health.
Simply give your pup one to three chews per day (one chew per 25 pounds of body weight). They're made in the USA and are free of wheat, corn, soy, toxic preservatives, and GMOs. You can sign up for auto-shipping and save 20%, and PetHonesty also offers a 100% money-back guarantee.
Price
90 chewable tablets: $26.99
Best Yard Spray: Wondercide Ready to Use Flea, Tick, & Mosquito Yard Spray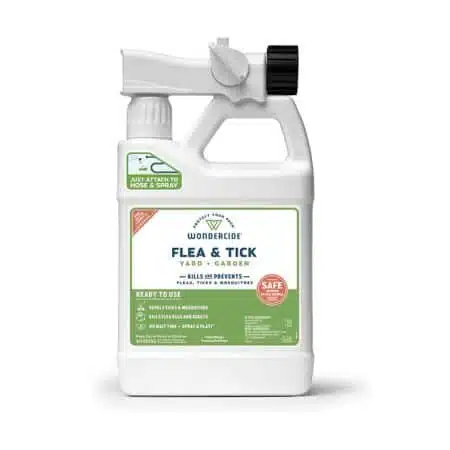 You also want to make sure your yard is free of mosquitoes and other pests. Wondercide's yard spray kills mosquitoes, fleas, flea larvae, flea eggs, and ticks by contact without any harsh chemicals. This all-natural yard spray is made with cedarwood oil, sesame oil, and other essential oils.
The bottle has a hose attachment so you can easily apply it to your lawn, kennel, patio, and other outside surfaces. This product gets overall excellent customer reviews, and you can rest assured that your dog isn't exposed to any toxic chemicals.
Price
32-oz bottle: $37.99
4 Mosquito Repellent Ingredients Not Safe For Dogs
Always choose a mosquito repellent (or any bug spray) that's specifically made for pets to be on the safe side. Many human products contain toxic ingredients for dogs. When in doubt, ask your veterinarian what they recommend. Here are some ingredients to avoid.
1. DEET
Popular human products containing DEET are considered unsafe for dogs. According to the American Society for the Prevention of Cruelty to Animals (ASPCA), DEET can cause neurological problems such as tremors, seizures, and even death in dogs and cats.
2. Picaridin
Another popular ingredient in human products, Picaridin, can upset a dog's stomach or worse. It also isn't licensed for use with pets, and there's not enough research to determine that it's safe for dogs.
3. Citrus Oils
Citrus oil extracts like D-limonene and linalool have insecticidal properties that can cause liver toxicity and damage in dogs if ingested. Although licking small amounts occasionally may not be harmful, it's best to steer clear of these ingredients to be on the safe side, especially if your dog licks a lot of spray off his body.
4. Citronella
The ASPCA recommends keeping citronella candles, oil products, and insect coils out of your pet's reach. Citronella (including the plant) is toxic to dogs if ingested.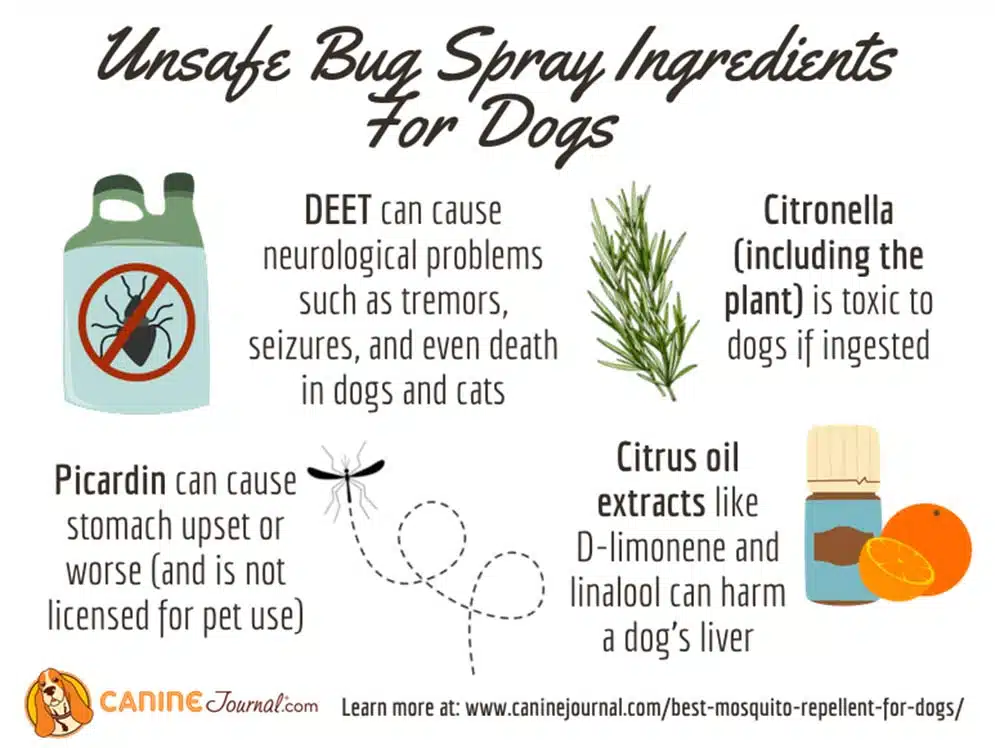 DIY Natural Mosquito Repellent For Dogs
Looking for an all-natural homemade mosquito repellent for dogs? If you're wary of products that contain any unnatural chemicals, you have some options to help keep mosquitoes away from your pup.
Apple Cider Vinegar Mosquito Repellent For Dogs
This dog bug spray recipe uses natural and safe ingredients for dogs. Simply mix them in a spray bottle, shake well before use, and spray all over your dog (being careful to avoid his eyes).
12 ounces of witch hazel
7 ounces of distilled water
5-7 drops of lemon eucalyptus or lemongrass oil
A few tablespoons of apple cider vinegar
Essential Oils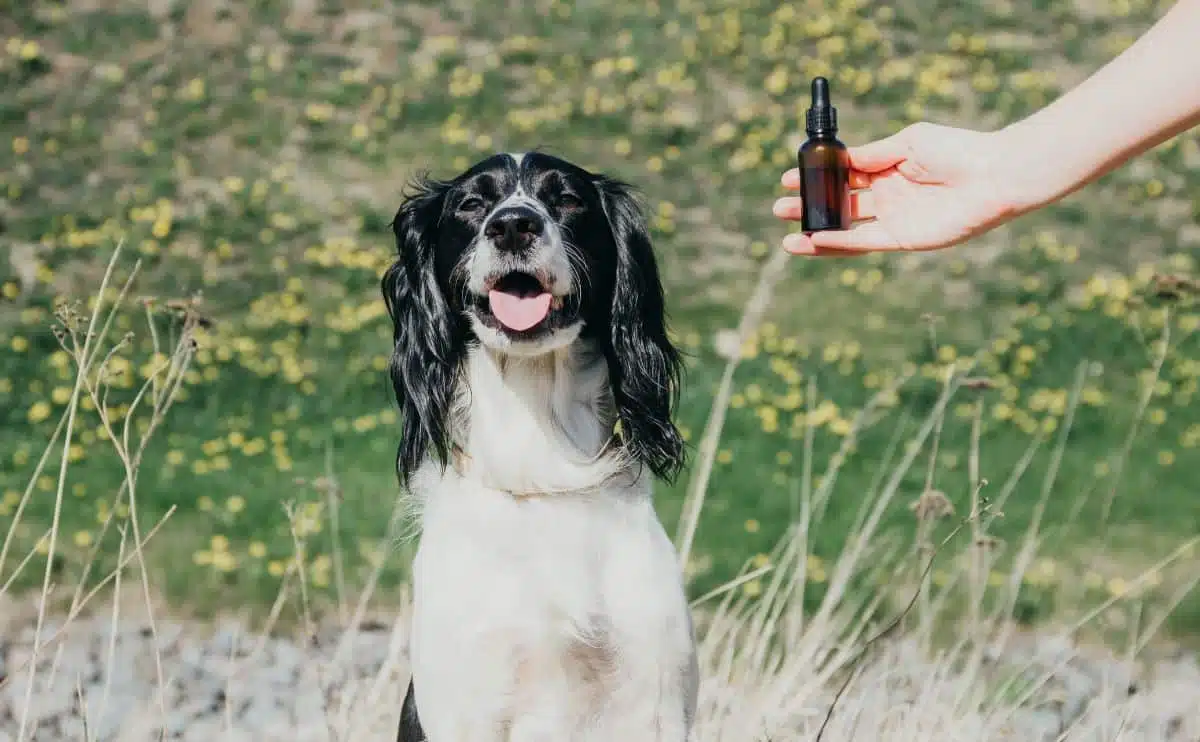 You can use a few essential oils as a natural mosquito repellent for dogs, but always check with your vet to make sure it's safe for your pup. Keep in mind that many essential oils aren't safe for dogs, and you have to carefully dilute any essential oil with water or carrier oil because they're very potent for dogs.
Dog-safe essential oils with insect-repelling qualities include lemon eucalyptus, lemongrass, lavender, verbena, peppermint, fennel, neem, thyme, and cinnamon oils. For dogs, the best carrier oils to use include coconut, grapeseed, jojoba, olive, sweet almond, sesame, or sunflower oil. For average-sized dogs, a safe dilution ratio is one drop of essential oil to one milliliter of carrier oil or water.
Note: If you have a cat, use extreme caution with essential oils because the risk of toxicity with cats is much higher than with dogs. If your cat grooms your dog's fur, you shouldn't apply essential oils to your pup's coat.
6 Mosquito Repellent Plants: What's Safe For Dogs?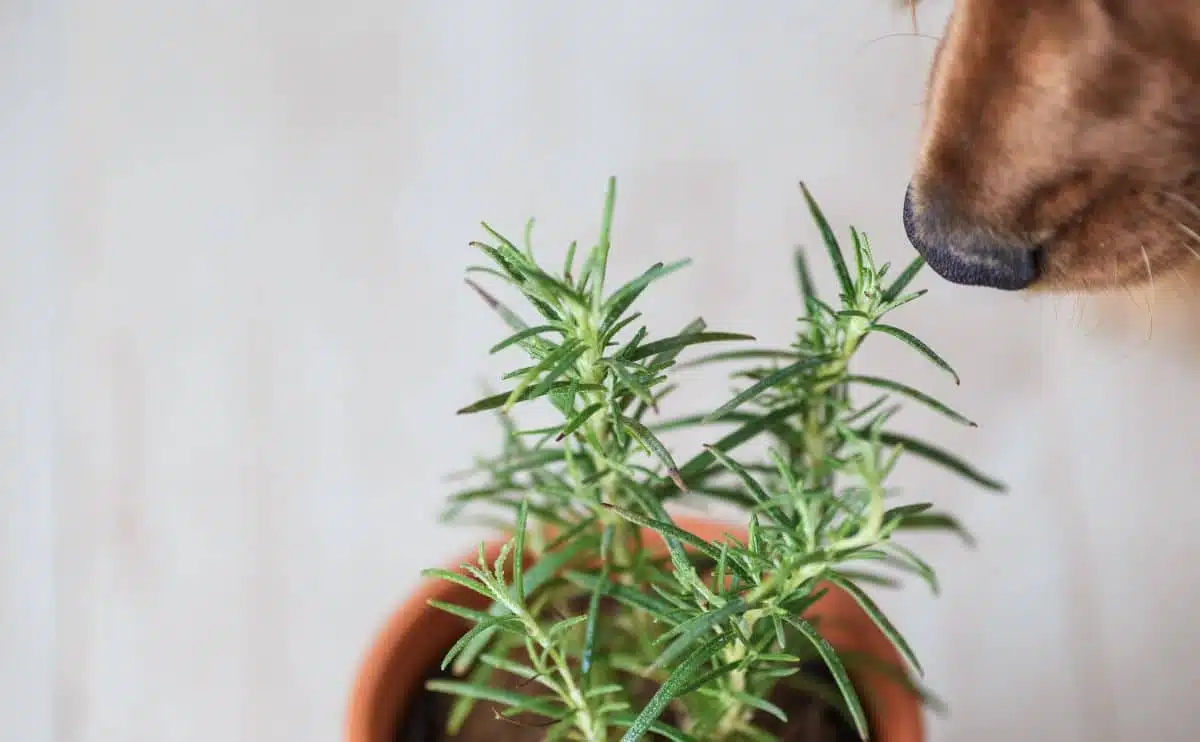 Many people use plants to help keep mosquitoes at bay in their yard, but not all are safe for dogs. Citronella, garlic, geranium, and marigold plants are toxic for dogs. The plants listed below that naturally repel mosquitos are safe for dogs.
Basil
Catnip
Lavender
Lemon Balm
Peppermint
Rosemary
Standing Water Is Your Enemy
Finally, one of the most important things you can do to keep mosquitoes out of your yard is to cover or remove any standing water. According to the U.S. Centers for Disease Control (CDC), female mosquitos lay 100 eggs at a time in any standing water, and the hatched larvae and pupae can develop into adult flying mosquitoes within less than two weeks.
How To Kill Mosquito Larvae In Ponds, Pots & Fountains (Video)
If you have standing water in your yard that you can't remove, this brief video has some fantastic tips on how to kill mosquito larvae in ponds, plant pots, and more. Two effective products discussed in this video, Summit's Mosquito Dunks and Mosquito Bits, are non-toxic for dogs, humans, and wildlife.
Preventative Care Is Crucial For Your Pup's Health
As we mentioned above, it's so important to give your dog a monthly heartworm preventative to protect him from this life-threatening disease. But heartworm preventative medication is only one of many things you should do to keep your pup healthy. Annual check-ups, vaccines, and other preventative medications — all of these wellness expenses can add up.
To help manage these costs, you may want to consider getting a pet wellness plan. For a relatively low premium, wellness (aka preventative) plans cover a portion of routine vet items, such as annual exams, heartworm testing and prevention medication, vaccinations, flea, and tick prevention medication, spaying/neutering procedures, microchipping, and more. You may also want to consider getting pet insurance to protect your pup and your wallet in the event of unexpected illnesses or accidents.
Tagged With: Heartworms, Outdoors