It's challenging, for sure, to keep bugs, rodents, and other pests away from your home environment while making sure your pets stay safe. Traditional insecticides and pesticides usually contain chemicals that can be harmful or even deadly to our furry family members. Fortunately, you have several pet-friendly pest control options that can repel everything from ants to vermin.
We've chosen the top three brands that carry a wide assortment of non-toxic pesticide products that are safe to use indoors and outside. We also have reviews of several individual products that are excellent options to rid your home and yard of pesky insects and other unwelcome intruders.
At A Glance: Our Top Brand Picks
Best Pet-Safe Pest Control Brands
We've chosen our top brands based on several factors, including reputation, safe ingredients, product offerings, customer feedback, pricing, and more.
Winner: Sunday Pest Control Review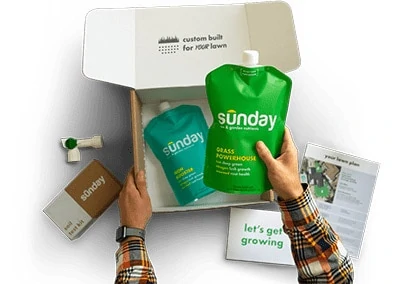 Sunday specializes in producing high-quality non-toxic lawn care and pest control products you can trust. One of their most popular products is Bug Doom, which kills more than two dozen kinds of pests on contact (ants, spiders, silverfish, house flies, roaches, beetles, etc.). You can also use it as a perimeter treatment for outside of your house to kill and repel pests. While it's safe for dogs, the active ingredient pyrethrins is toxic for cats.
Another popular product, Mosquito Deleto, not only kills mosquitoes, fleas, and ticks on contact in your yard but also repels newcomers for up to four weeks. They also carry pet-friendly solutions to tackle outdoor fire ants, grubs, crickets, and more. Their Ant Adios granules, which control several insect species, are approved for organic gardening.
With Sunday, you have the option of signing up for a customized pest control plan. You fill out their online quiz to tell them which pests you're having problems with and where. Then, they suggest the product(s) best suited for your needs. You can save money going this route (up to 50%, depending on the plan). But keep in mind, this option automatically renews every year unless you cancel. We highly recommend Sunday for both pet-safe pest control and lawn care.
Price
Custom pest plans start at: $50/year
Bug Doom Indoor Insect Control Spray: $30 (not safe for cats)
Bug Doom Home Barrier Spray: $60
Mosquito Deleto Spray: $27
Runner-Up: Wondercide Review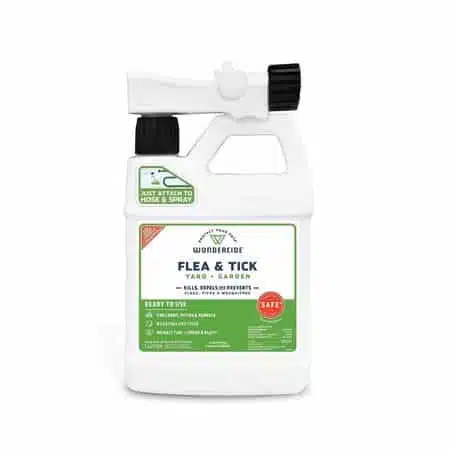 View on Amazon | View on Chewy
Wondercide's pet-safe insecticides are an excellent option to keep bugs at bay indoors and outside. They carry more than a dozen plant-based sprays to kill and repel fleas, ticks, mosquitos, ants, roaches, fruit flies, spiders, and more. Ingredients vary by product, but all use a blend of essential oils, which are heavily diluted for safe use in your furry family's home and yard.
We especially love Wondercide's flea and tick yard spray and their indoor pest control spray, which is safe for kitchen use and comes in several pleasant scents: lemongrass, peppermint, rosemary, and cedarwood. They even carry insect repellent for humans as well as skin relief spray, shampoo, ear wash, and flea and tick preventatives for your canine companion. All of their products are made in the USA, and they get many positive customer reviews.
Price
Here are just a few of Wondercide's bestselling products.
Third Place: Mighty Mint Review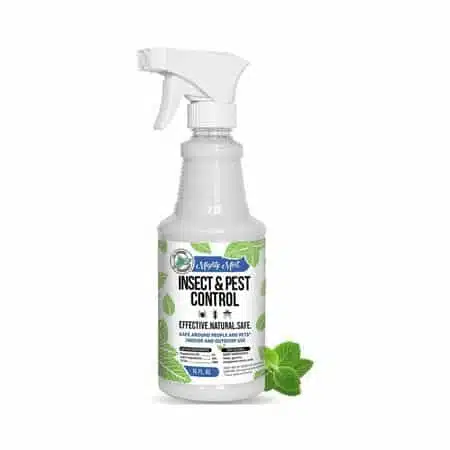 Like Wondercide, Mighty Mint carries several pet-friendly pest control products made with essential oils, including indoor and outdoor insect and roach killers, spider repellent, and rodent repellent. They're a safe and affordable way to keep unwanted visitors away. Most solutions feature diluted peppermint oil derived from locally-sourced, U.S.-grown plants.
Our favorite Might Mint product is their Plant Protection spray. This natural pesticide gets fantastic customer reviews for its ability to protect indoor and outdoor plants from insects, spider mites, and fungal diseases. Its only active ingredients are peppermint and rosemary oils and geraniol, and it includes no toxic substances.
Price
Here are just a few of Mighty Mint's bestselling products.
What About Diatomaceos Earth, Ultrasonic Repellents, UV Fly Traps & Wofimeha Rodenticide?
These top-rated choices are also worth considering to keep pests away and your furry friend healthy.
Harris Diatomaceous Earth Review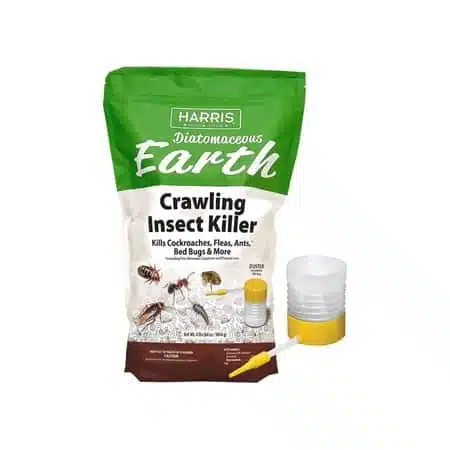 Diatomaceous earth (DE) is a naturally occurring powder made from fossilized algae that kills many different creepy crawlies by damaging their exoskeletons (which causes dehydration). It's extremely popular for indoor flea control but is equally effective for other indoor and outdoor pests, including mites, ants, roaches, spiders, crickets, and more. This Harris brand DE comes with a handy powder duster and a 100% satisfaction guarantee.
Price
KVNLON Ultrasonic Pest Repeller Review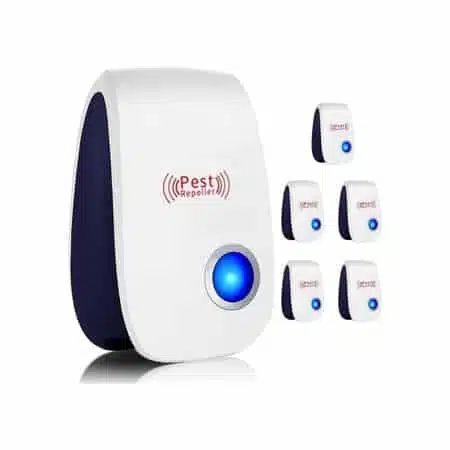 This ultrasonic device for indoor use is an eco-friendly, pet-safe, clean, and odorless way to repel a host of bugs and other nuisances in your home. It doesn't kill pests, but the high-frequency ultrasonic technology irritates their nervous systems, forcing them to leave your home. It can help repel mice, many different insects, and spiders.
All you have to do is plug it into an electrical outlet — one unit covers 1,600 square feet. Many users say it's very effective for mosquitos, other insects, and spiders. However, a few said it's not the best repellent for rodents.
Price
Safer Home Plug-In Fly Trap Review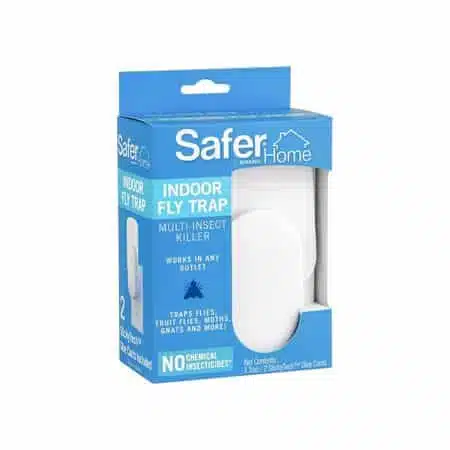 Trap all of those annoying flying insects in your home with this plug-in trap that uses a UV LED light to attract them to the glue card located on the back of the device. The trap is ideal for catching flies, gnats, fruit flies, moths, and other flying intruders in your home. It uses no chemical insecticides, so it's safe to use around pets and kids. But it's best to place it in a higher outlet so pets can't reach it and so that it's at an elevated level to attract bugs.
The glue card faces the wall, so you don't have to see the buildup of bugs. One unit covers up to 400 square feet. And it comes with two sticky cards. You can purchase refill cards for continuous use. The LED bulb is rated for 20,000 hours of continuous use, so it should last you several years.
Price
Wofimeha Rodent Repellent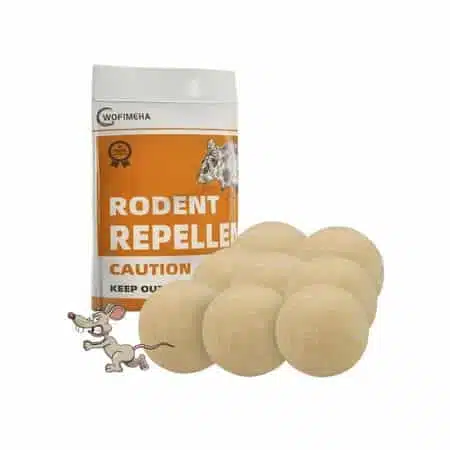 Most rodenticides are extremely toxic for pets, but these mice and rat-repellent balls are made from natural garlic and peppermint essential oils, corn cobs, and cotton and are safe around pets and kids. They give off a strong scent that rodents find extremely unpleasant. Just place them in an enclosed area (out of your pup's reach) under your sink, in cabinets, attic, basement, or anywhere you have a rodent problem.
One ball covers around 150 square feet and lasts about 60-90 days. And they come with a 60-day satisfaction guarantee. Some users complain that the smell is too strong, but many don't have an issue with it. But a majority of customer reviews say it's quite effective in repelling mice, squirrels, opossums, and other critters.
Price
Expert Tip: Add some insect-repellent plants in your yard. The best ones that are safe for pets include basil, catnip, lemon balm, rosemary, sage, and spearmint. They can help keep mosquitos, fleas, and other pests from infesting your yard.
Rid Your Environment Of Snakes, Moles & More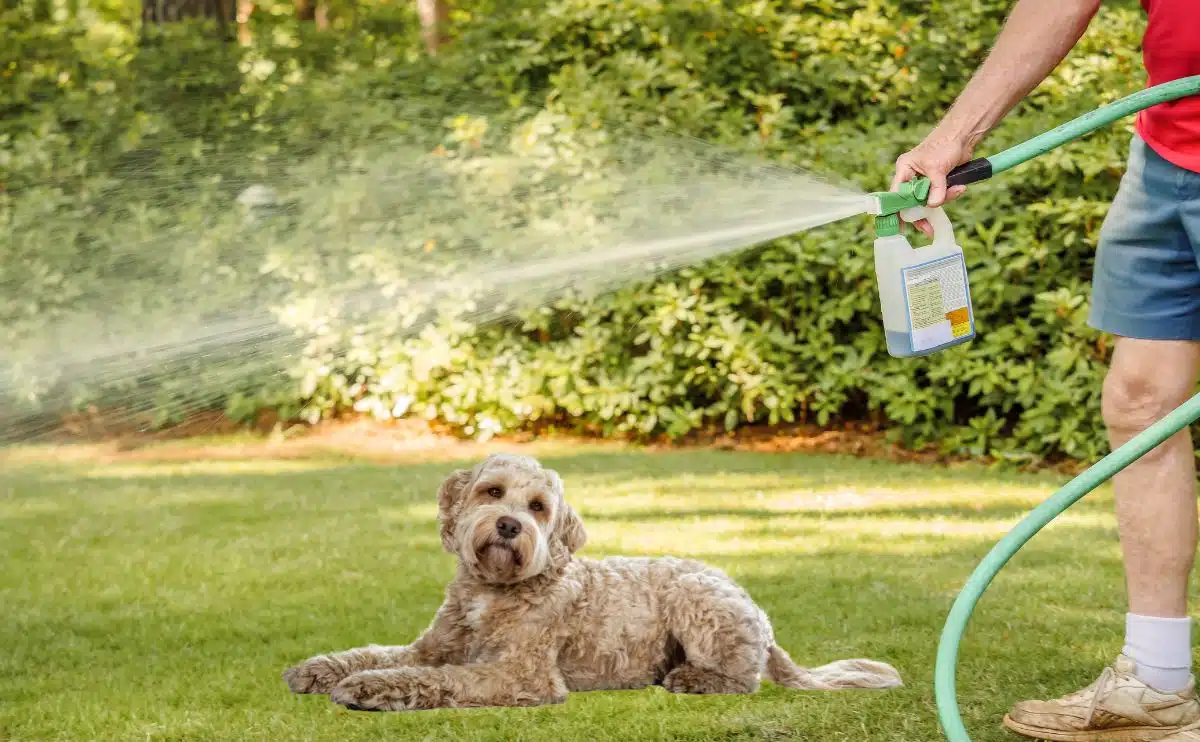 DIY pet-friendly pest control isn't just limited to the usual suspects. Here are some other products we recommend to repel other dangerous critters or nuisances in your home and yard.
Pest Control Safety Tips
The U.S. Environmental Protection Agency (EPA) and many other experts recommend following these guidelines when using any kind of pesticide if you have pets.
Follow every product's label information carefully, including the application procedure and how to protect pets and people from exposure.
Keep pets out of areas (in your yard or home) when you're applying liquid, powder, or granular pesticide products.
Remove any food and water bowls, toys, and bedding from the area before treatment.
After application, let the pesticide solution dry completely or granular dust settle before allowing your pets into the area.
Keep pesticides in their original containers sealed tightly and stored out of reach of pets.
Ingredients To Avoid
Insecticides and rodenticides consistently rank among the top 10 causes of pet poisoning in the U.S. every year. Here's a list of toxic ingredients to check for when you're shopping for pest control products. Note: This isn't a complete list but includes many of the most popular culprits.
Organophosphates (such as malathion and disulfoton)
Carbamate insecticides
d-Limonene
Benzene hexachloride
Methoxychlor
Pyrethrins or pyrethroids (safe for dogs, not for cats)
Snail and slug baits containing metaldehyde
DEET
Pesticide Poisoning Symptoms
Some of the most common signs of pesticide poisoning include:
Drooling
Vomiting
Diarrhea
Tremors
Uncoordinated walking
Seizures
If you suspect your pup has been exposed to a toxic substance, contact your veterinarian immediately and call one of the following 24/7 hotlines (consultation fees may apply).
Keeping Your Pets Safe From Household Cleaners & Lawn Care Products
Many household cleaners and lawn products are just as toxic to our furry friends as pesticides, so be sure to choose your products with extreme caution to keep your pets safe. See which pet-safe cleaners we recommend, including homemade solutions, and which ingredients to avoid. We also have reviews of the best pet-friendly lawn fertilizers to keep your yard safe.
Tagged With: Comparison, Outdoors