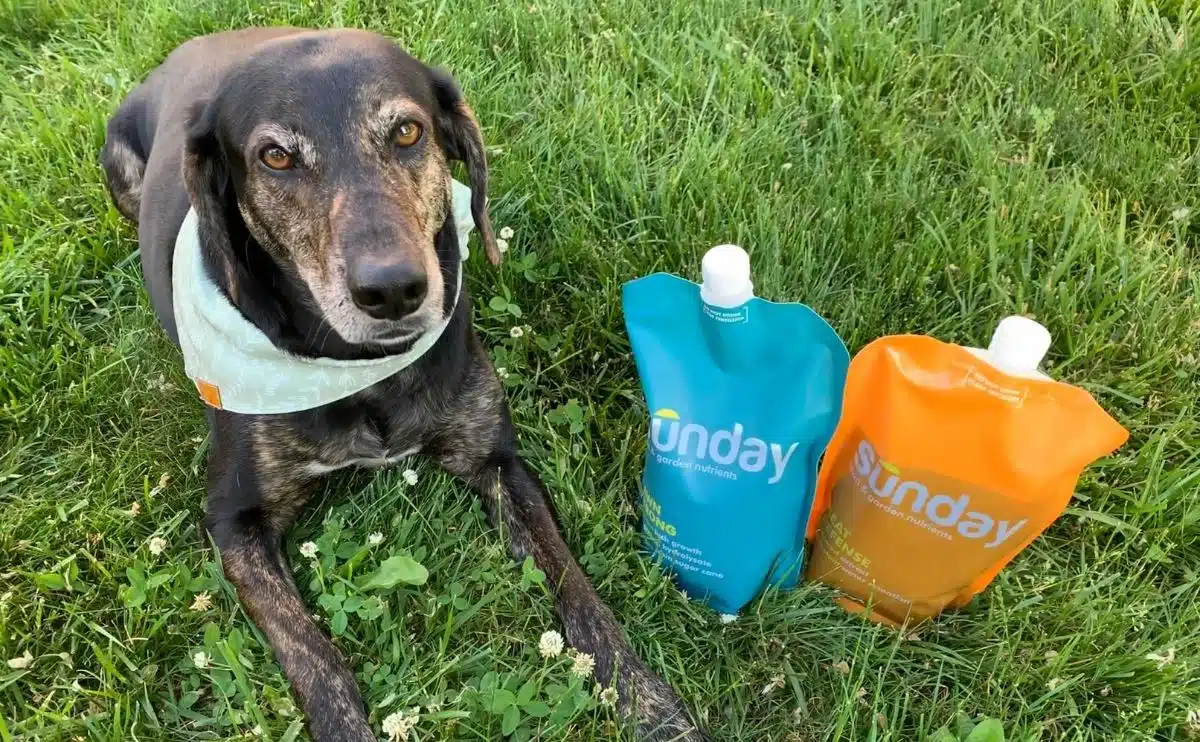 Having a luscious green lawn and keeping your pets safe from chemical fertilizers can be tricky. At Sunday Lawn Care, their mission is to "support the whole ecosystem for a beautiful lawn that's full of life." Included in that is making your lawn safe for your pets and family to enjoy.
In addition to a la carte products, Sunday provides custom lawn care kits based on your location, weather conditions, yard size, and soil type. They offer a wide range of solutions to maintain your curb appeal while protecting your pooch's paws. Our experts review this pet-safe lawn care product line to help you decide if it's right for you.
Sunday Lawn Care Review

Product Name: Sunday Lawn Care
Product Description: Sunday Lawn Care is a pet-safe lawn fertilizer subscription program.
Summary
Sunday Lawn care is an excellent choice to help keep your pets safe and your lawn looking healthy.
We based our overall rating on several factors, including plan customization, quality of pet-safe products, ease of use, customer service, pricing, customer feedback, and more.
Pros
Offers a customized subscription plan or individual product purchases
Pest control, weed control, lawn care, plants, trees, and garden tools available
Plans tailored to your climate area
Natural and organic ingredients
All products are non-toxic for pets and humans
Excellent value
Easy to use
Free shipping
Cons
Customers complain that the Dandelion Doom bottle leaks
Instructions for products can sometimes be oversimplified or sparse, causing the user to have questions
Key Features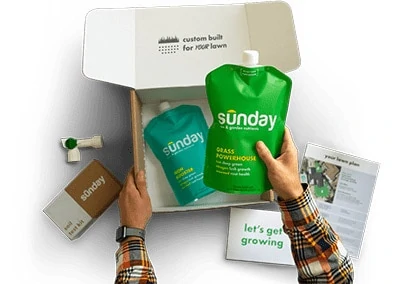 Convenient subscription service
Lawns up to 25,000 square feet can be serviced
Earth-friendly, pet-safe ingredients
Free soil analysis test included with every custom plan
All tools needed (except for a hose) are provided
Also offers various natural, pet-safe products, including weed killer, grass seed, pest control, and more
Unlimited expert support and customer service is available 7 days a week
A 1% for the planet business that donates a portion of all sales to help the environment
How Does Sunday Lawn Care Work?
Sunday is a company that specializes in pet and kid-safe lawn care and pest control products. You can purchase all of their products on their website or sign up for a subscription lawn care plan customized for your lawn. The goal of the subscription is to tweak your soil throughout the year so it can grow the healthiest grass possible.
To get your custom plan, first you type in your address and answer a series of questions related to your yard. Then they'll use this information to determine your yard's square footage, soil type, and climate. These factors determine your plan.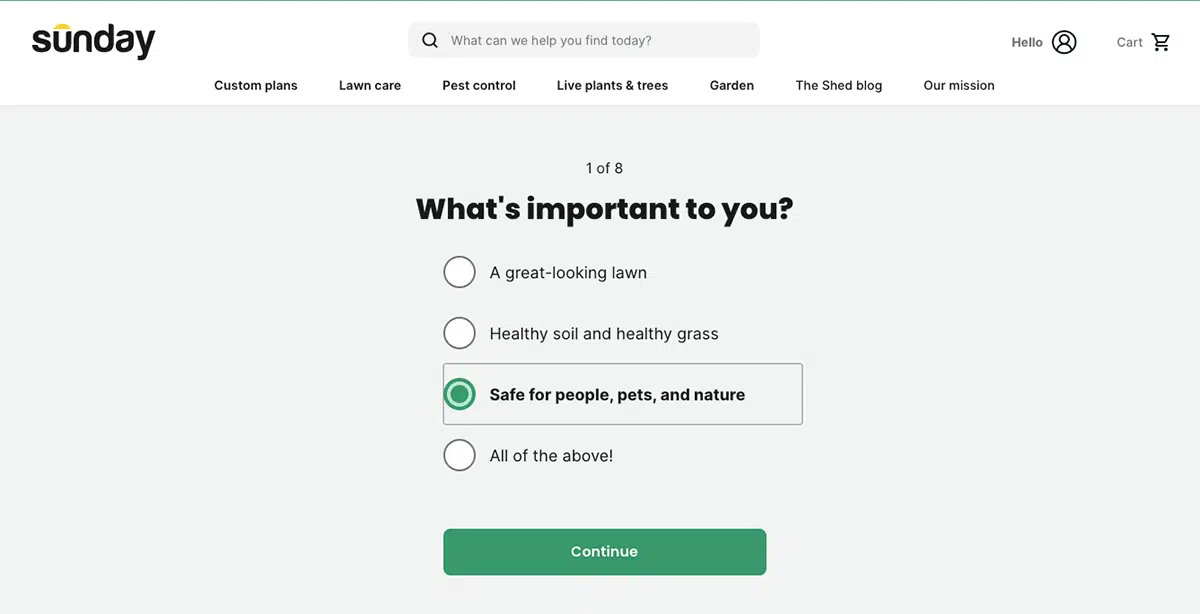 Sunday then uses a combination of satellite imagery, climate information, and soil conditions to customize your plan.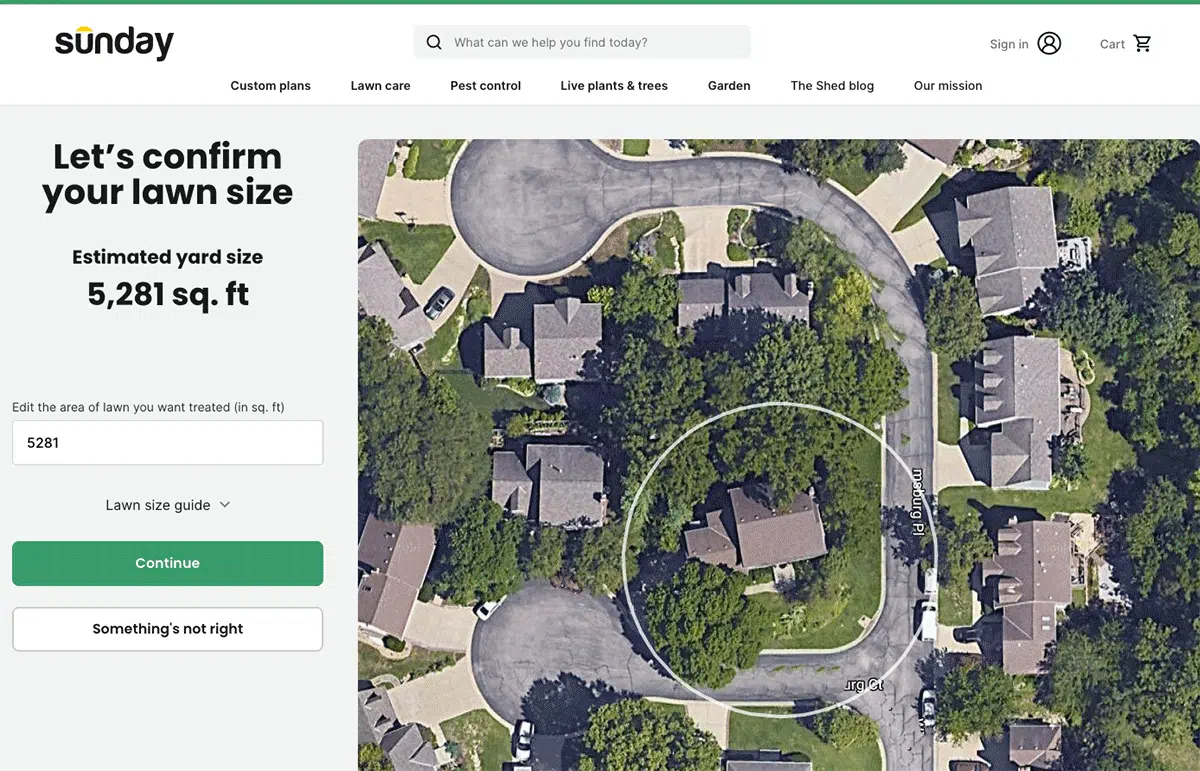 Sunday creates an in-depth analysis of your yard in seconds using the information provided. It provides a breakdown of your lawn's potential given the soil profile, predicted rainfall, temperature by month, and more.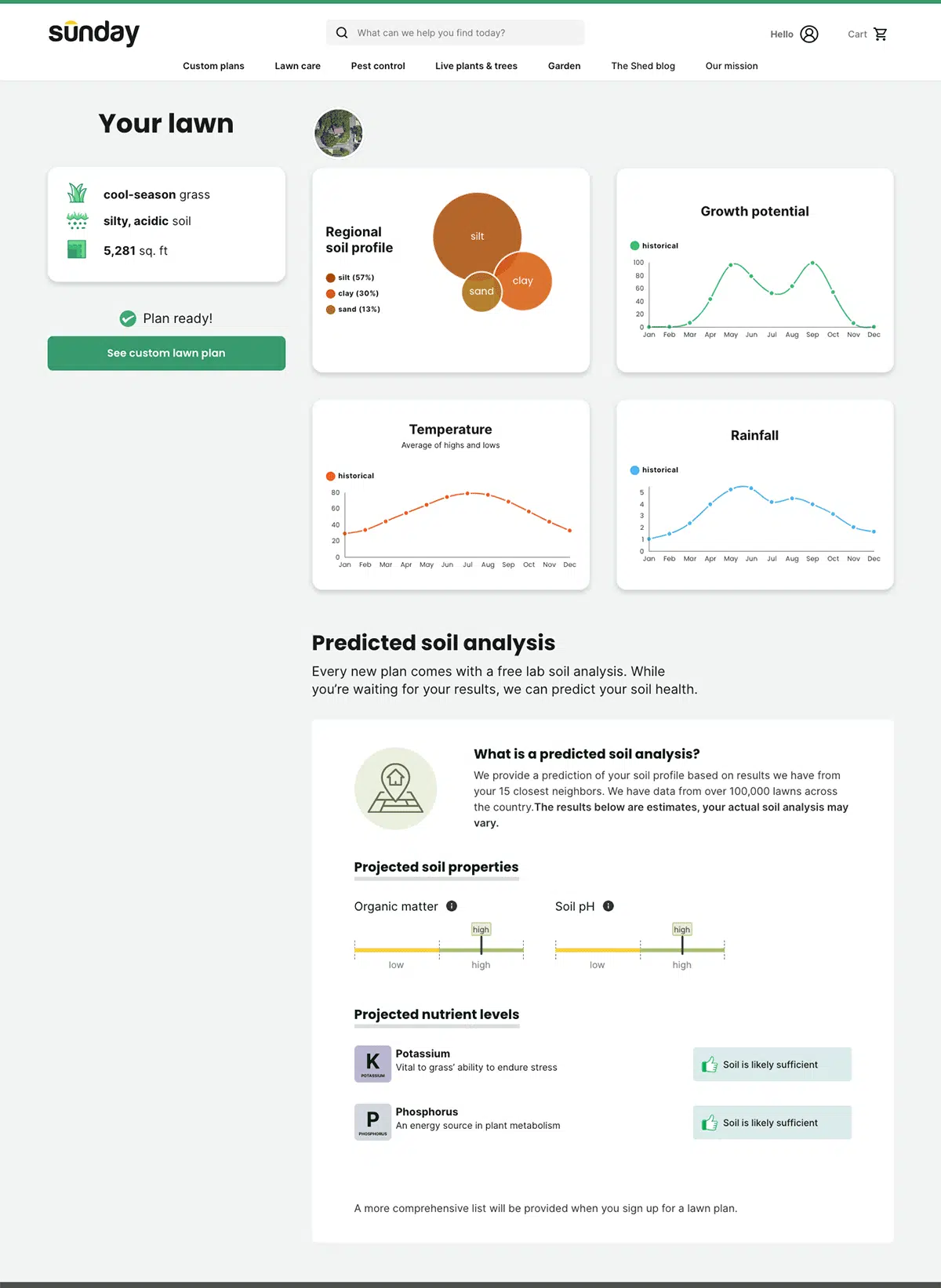 Next, you're given several plans, from basic to more complex needs like repair or pet damage. You also have the option to "pay as you grow" or pay in full for the year. Shipping is free with all plans, and you see a breakdown of what comes in each box.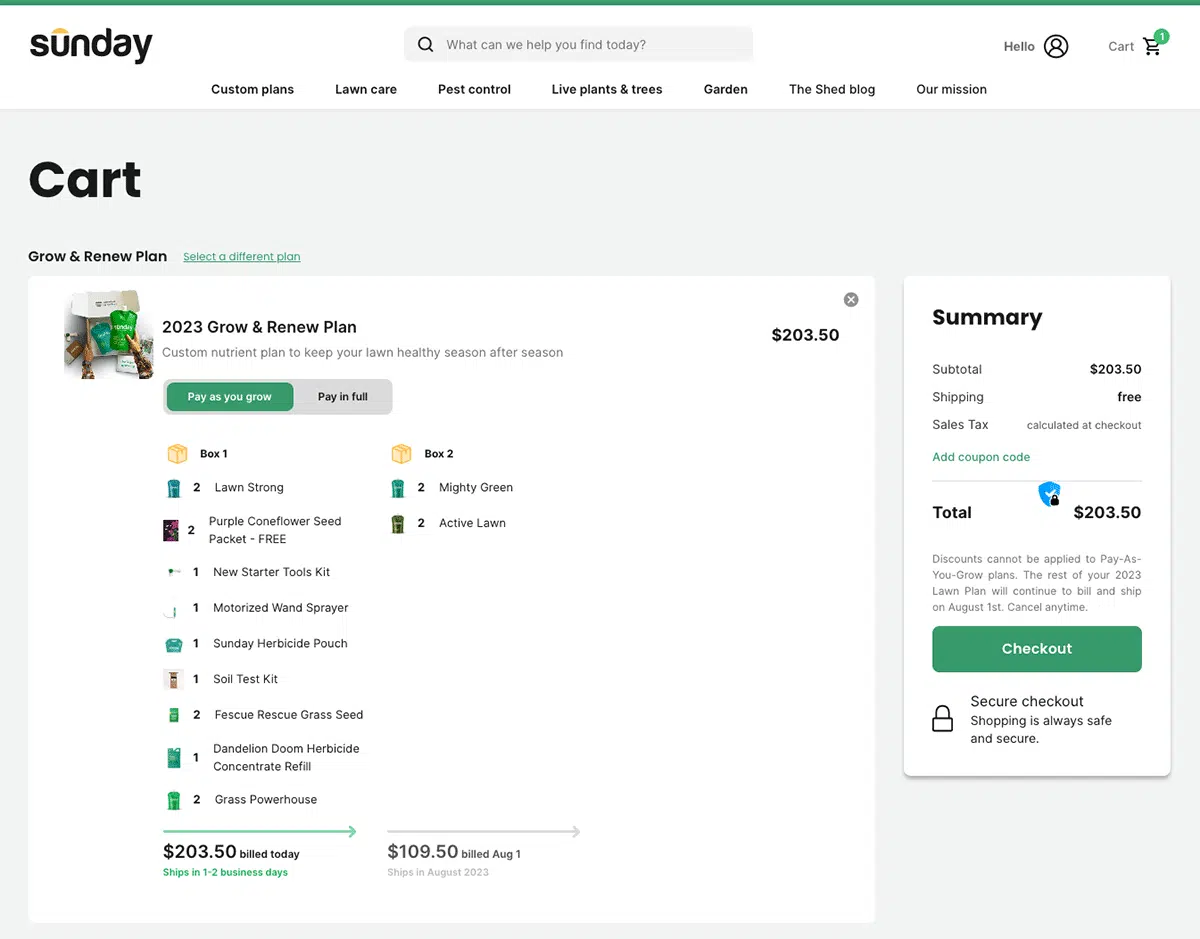 Sunday then ships you their all-natural, pet-safe fertilizers geared toward your lawn's specific needs. They also ship you a free soil analysis kit with your first shipment that you can send back to their lab for a more precise diagnosis of what your lawn needs.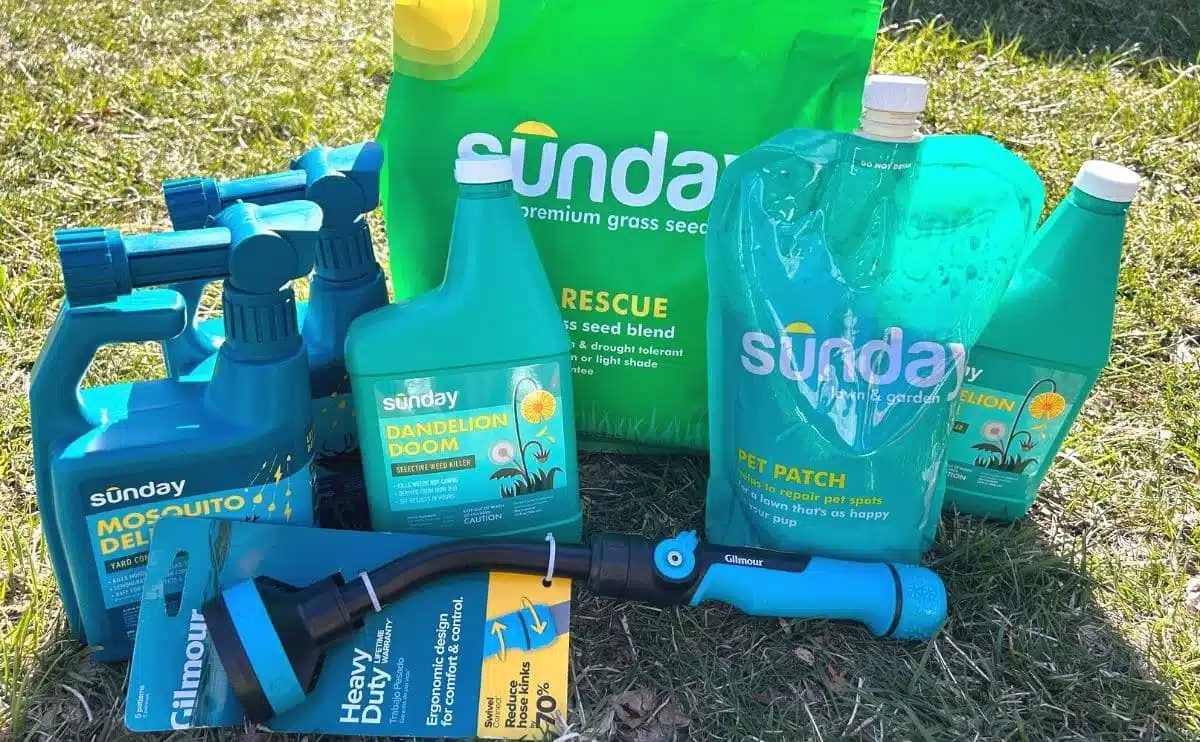 Depending on the time of year you sign up, you will get up to 3 shipments annually with 2-4 product pouches in each box. Initially, you'll also get a sprayer that attaches to your hose and works as a delivery system for the pouch contents. Delivery timing is specific to each customer's climate and grass growth.
Full-Year Custom Lawn Plan Pricing
Coupon
Use code KICKOFF20 to get 20% off all lawn plan purchases. Just use this link to get started.
Sunday Custom Plan Price Quote Examples
Our experts ran quotes for their lawns to provide you with a range of pricing examples from different parts of the country and for yards of various sizes. Each plan comes with a free laboratory soil test kit. Here is what we found for basic care packages (base plans).
| Location (Yard Size) | North Carolina (XL) | Iowa (Average) | Ohio (Mid-Size) |
| --- | --- | --- | --- |
| Size Yard | 12,329 sq ft | 3,710 sq ft | 5,110 sq ft |
| Soil Type | silty, acidic soil | silty, balanced pH soil | silty, acidic soil |
| Anual Cost | $299 | $189 | $219 |
| # Pouches | 15 | 6 | 8 |
See other plan options below based on the Ohio plan (middle range, mid-sized yard).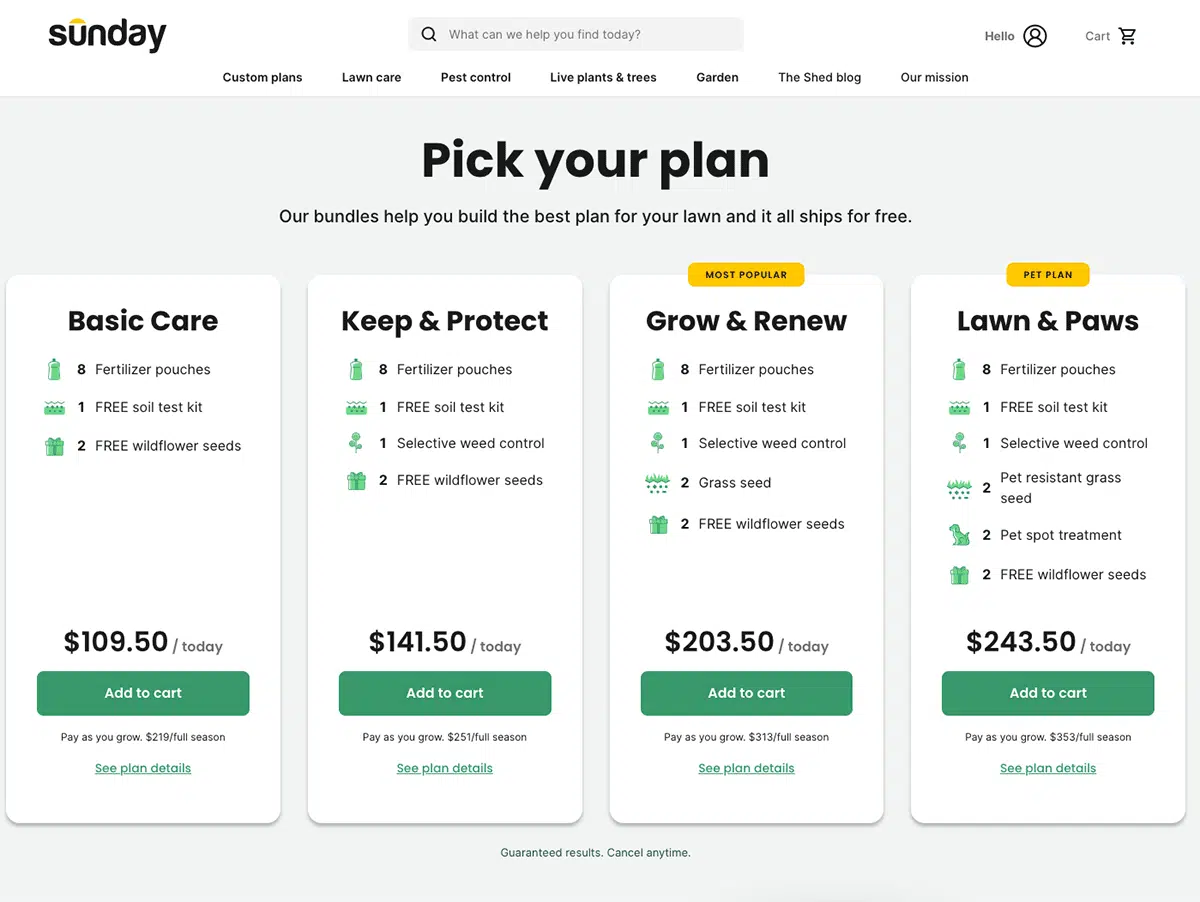 Sunday Lawn Care Products
Below is a sample of items sold by Sunday that you can add to any plan or buy individually as needed.
Fertilizer & Nutrients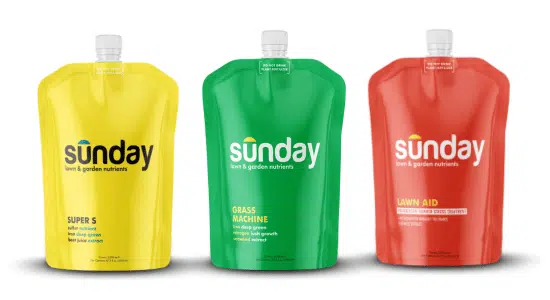 Microboost Liquid Fertilizer
Super S Liquid Fertilizer
Core Seagreen Dry Fertilizer
Lawn Aid Heat Stress Prevention Treatment
Shop All Fertilizer & Nutrients
Premium Grass Seed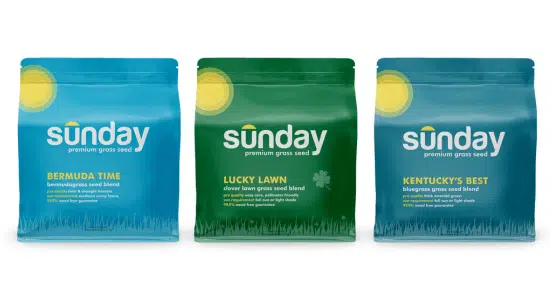 These come in 5-pound bags unless otherwise noted.
Fescue Rescue
Kentucky's Best: Bluegrass
Shade Select: Mix of Fescue & Ryegrass
Bermuda Time: Bermudagrass
Lucky Lawn: Mix of Fescue, Bluegrass, and Clover
Bare Repair Sun & Shade (3.75 lb. jug)
Bare Repair Bermudagrass (3.75 lb. jug)
Natural Weed Control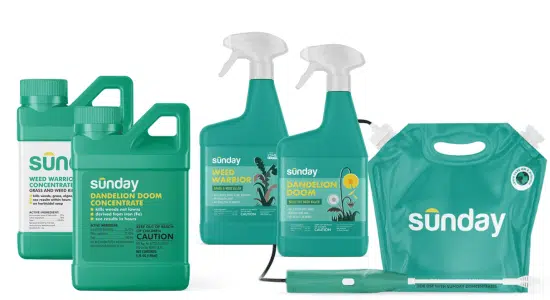 These all-natural products can conquer the weeds in your lawn.
Weed Warrior: Kills grass, weeds, algae, and moss
Dandelion Doom: Kills most broadleaf weeds
Natural Pest Control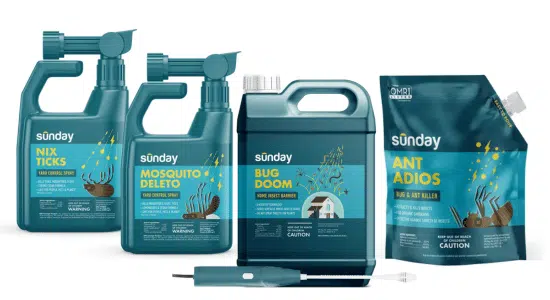 Add on these items to help control bugs in your yard and one to help with critters inside your home.
Nix Ticks: Yard control spray
Mosquito + Tick Protection Pack
Ant Adios: Bug and ant killer
Bug Doom Outdoor insect barrier
grubGONE! Biological Insect Control: Banish grubs, protect beneficial insects
Bug Doom Indoor insect control
Pet-Specific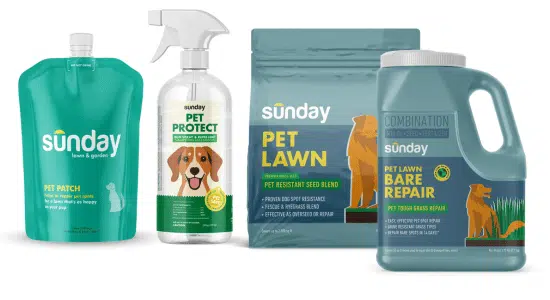 If pets are a lawn problem, these add-on items can help.
Pet Patch: Liquid pet spot lawn repair
Pet Lawn Bare Repair: Pet tough grass mulch, seed, and fertilizer
Pet Lawn Grass Seed: Pet-resistant seed blend
Pet Protect Bug Spray & Repellant
Garden Soil & Fertilizer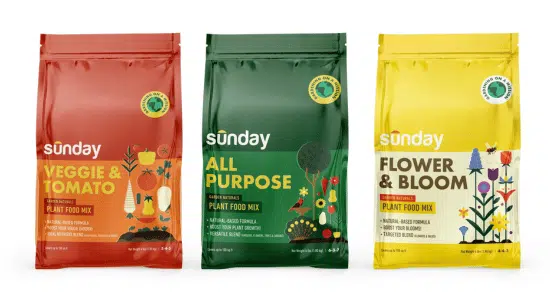 Don't forget these green thumb products for your growing garden too.
Flower & Bloom Plant Food Mix
All-Purpose Plant Food Mix
Veggie + Tomato Plant Food Mix
WonderFert All-Purpose Garden Fertilizer
Natural Garden Soil Mix
Natural Moisture Potting Soil Mix
Shop All Garden Soil & Fertilizer
Sunday also sells live plants and trees, gardening tools, birdhouses, bird seed, and more.
Frequently Asked Questions
Here's a list of the questions our readers often ask about Sunday.
What Ingredients Do They Use In Their Products?
Sunday's website provides this list of ingredients that they use in their lawn care products:
Soy protein, Iron, Seaweed, Molasses, Potassium acetate, Salicylic acid, Surfactant, Phosphorous, Micronutrients, and Potassium.
Is Grass Seed Included?
No. Their basic plans do not grow new grass. They only support the growth and health of the grass you already have. However, you can purchase hybrid seed blends and patch kits as add-on items.
What About Weed Control?
Sunday believes weed control is about enriching the soil with its nutrient plans. However, if you have weeds you can't conquer, you can add on their organic iron-based spot weed control product.
My Personal Experience With Sunday Lawn Care
My husband and I purchased Sunday's lawn plan on our own in 2021. In 2023, Sunday sent me additional products to test out and offer more information to readers. Here is my lawn care experience and an update on how it's been going over the past couple of years.
Spring 2021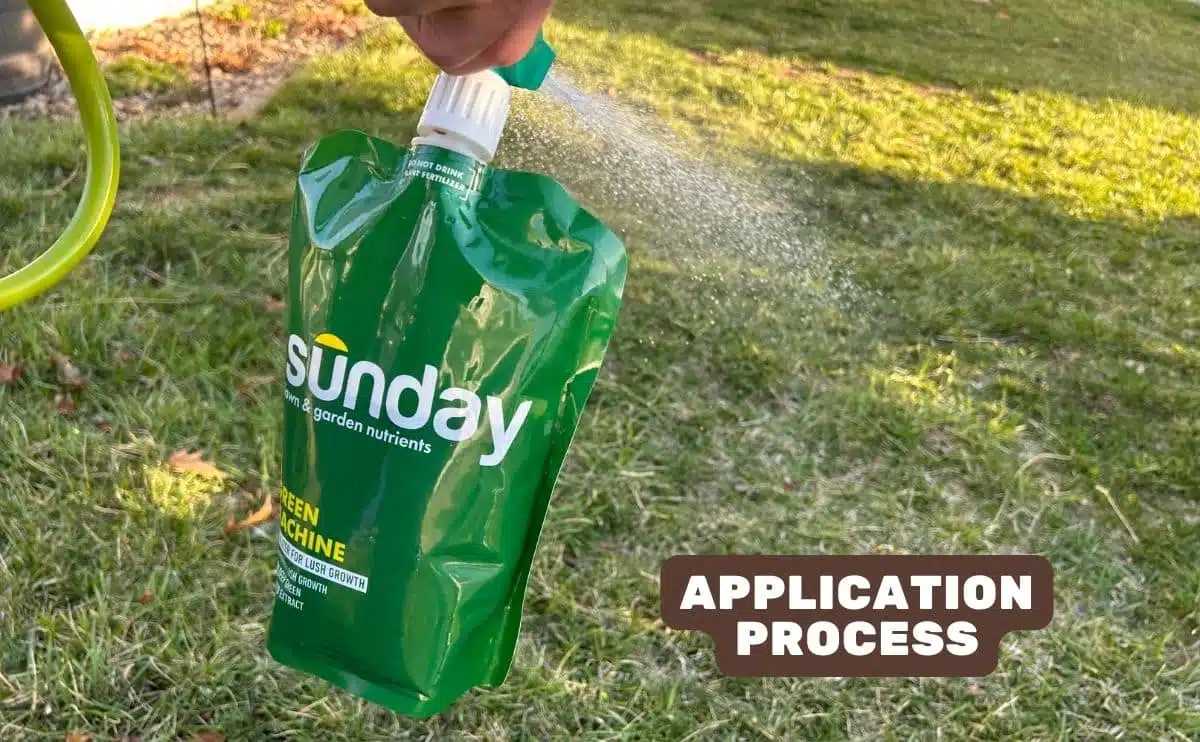 We chose to purchase Sunday's lawn plan in April 2021 because we wanted to avoid harsh chemicals and use something safe for people and pets. The application process is straightforward, and the price is hard to beat. Sunday says applying two pouches to your lawn should take about 25 minutes, but it takes us double that amount of time or longer.
Summer 2021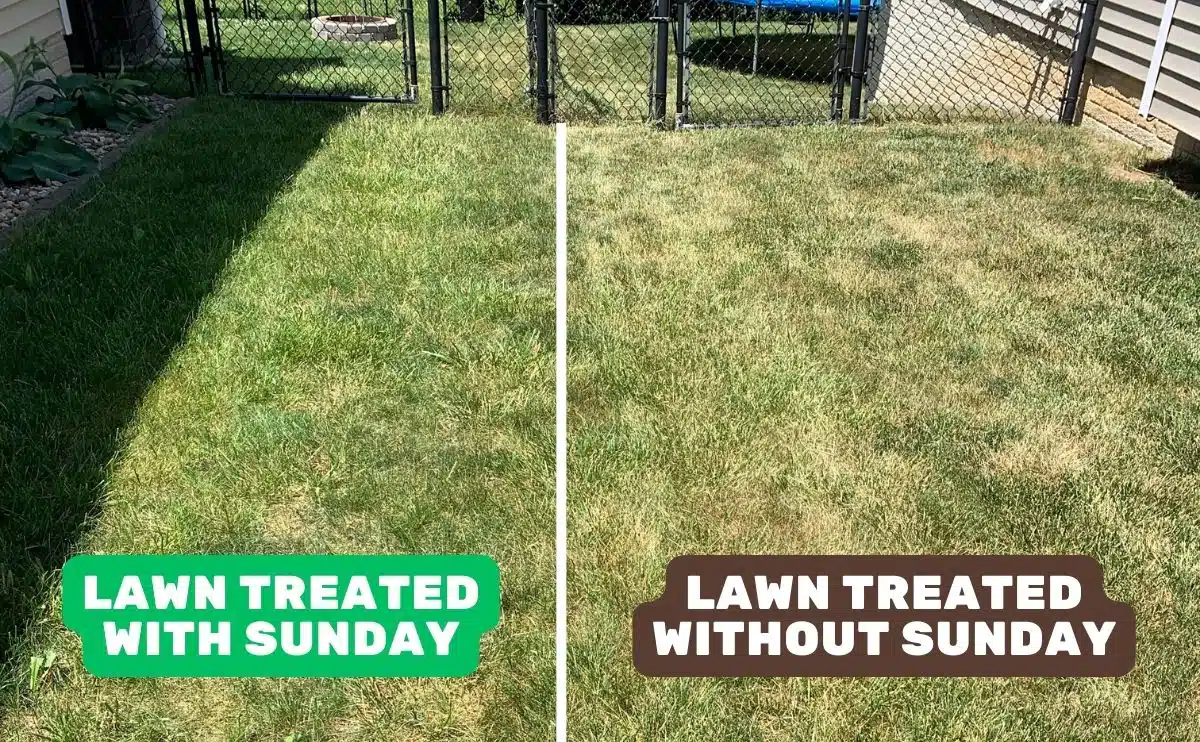 After only two months of use, we had the greenest lawn on the block. The majority of our neighbors hire professional companies that use harsh chemicals. Our neighbors' brown yards made it clear to us that the harsh chemicals couldn't stand up against the 90-100°F weather we get in the summer.
Sunday also gives many lawn care tips to help us attain the healthiest lawn. One that we have noticed that's made a big difference in our yard compared to our neighbors' is to cut grass at a specific height and to hold off on mowing until the grass is out of its dormancy period. This has helped keep our grass healthy, especially during extreme heat periods with less rain.
Fall 2022
After 18 months of following Sunday's lawn plan and tips, we're noticing a more green, lush lawn. We hired a professional company to aerate and overseed our yard to help alleviate compaction.
Spring & Summer 2023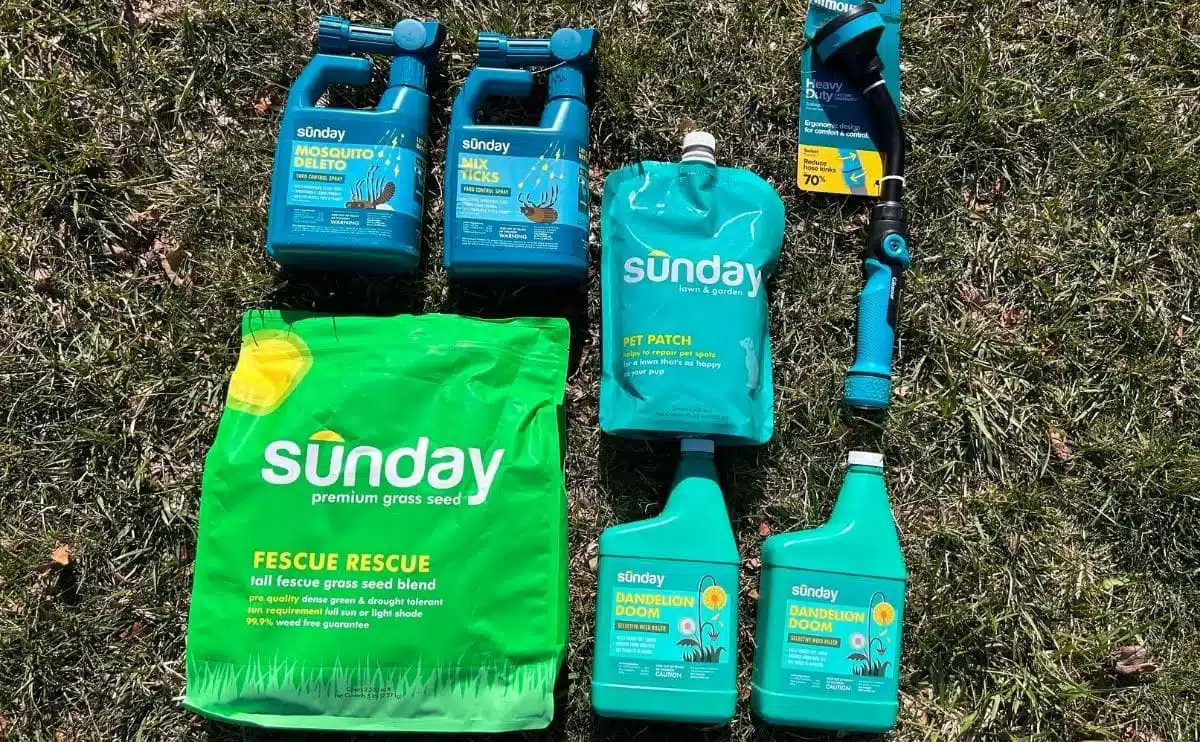 We've been using Sunday for two full years now. We waited until the weather warmed up and the grass was out of dormancy before we mowed for the first time this year. We applied our first lawn nutrients of the year.
Repairing Pet Urine Spots With Pet Patch
Sunday's Pet Patch is especially a lawn-saver. It completely turned our backyard around from random brown spots (due to pet urine) to lush, bright green grass. It's the most satisfying product to me because I can see a quick change in the quality of our lawn in a short time with minimal effort.
The backyard looks much healthier, and the grass looks more green and lush. Overall, we're thrilled with how the backyard is looking. It's a complete night and day difference. There are a couple of spots I need to seed in the backyard due to damage to the lawn when we had a shed built in the winter of 2022, but other than that, the yard looks pretty immaculate!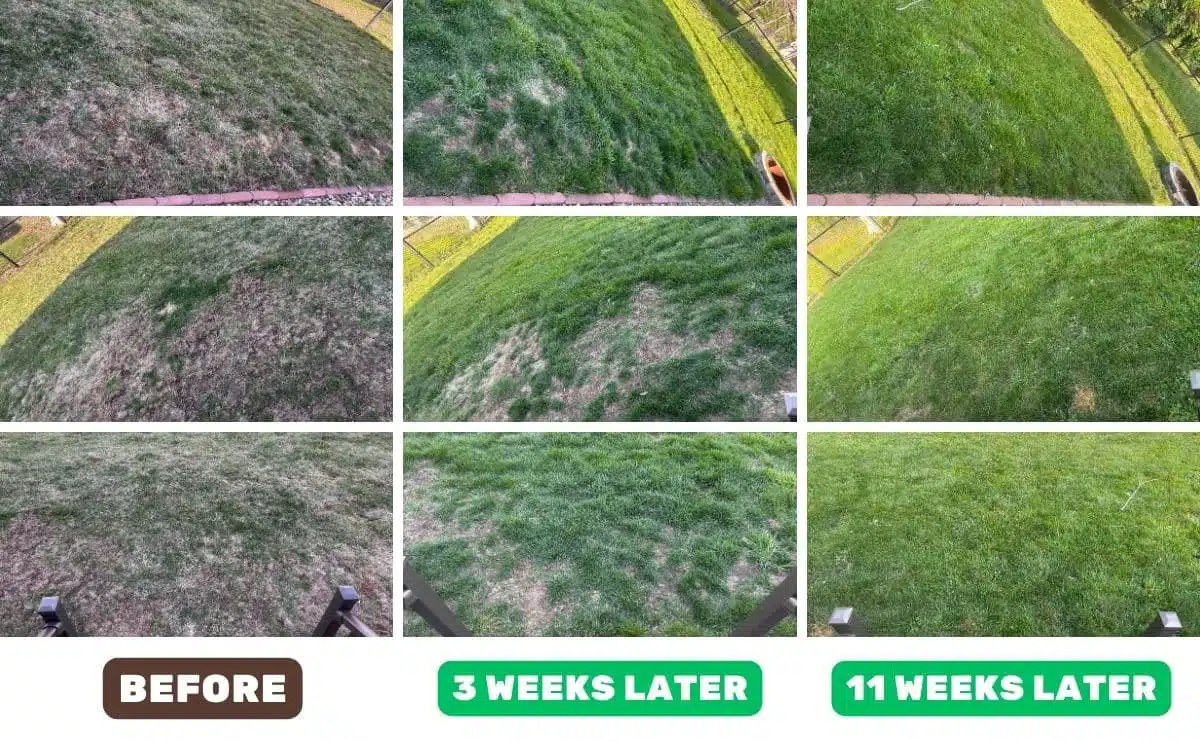 Repairing Damaged Grass With Fescue Rescue Grass Seed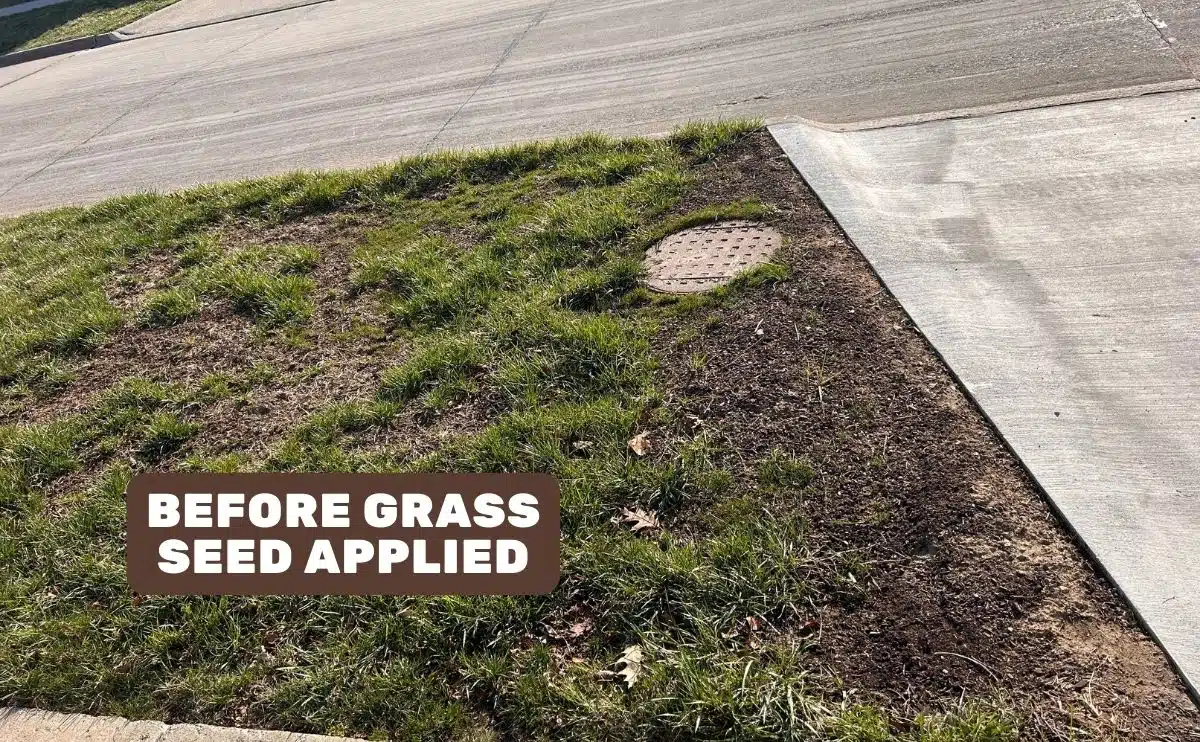 Unfortunately, some unexpected utility work needed to be done in our yard during the fall of 2022, which set our lawn back. Heavy machinery and digging caused damage to our lawn that required additional grass seed. However, the weather wasn't ideal, so we had to wait to reseed the area until now.
Sunday sent us a bag of their Fescue Rescue grass seed blend (in exchange for an honest review). For best results, it says to seed Fescue Rescue when day and night temperatures are between 55-75°F. We waited to seed the area until temperatures were optimal at the end of April.
Before seeding, I prepped the lawn by removing large rocks and chunks of cement. I also mowed the area to ensure the existing grass wasn't too high so the seed could get an ample amount of sun and could reach to soil more easily. Seeding the area was simple, and I was diligent with watering afterward.
Check out this quick video to see the application process.
I'm ecstatic with the results. I seeded the area when temperatures were within the recommended range, but then we got hit with an unexpected cold front causing temperatures to drop below 50°F. I was worried that the seed wouldn't take, but fortunately, it all worked out in the end.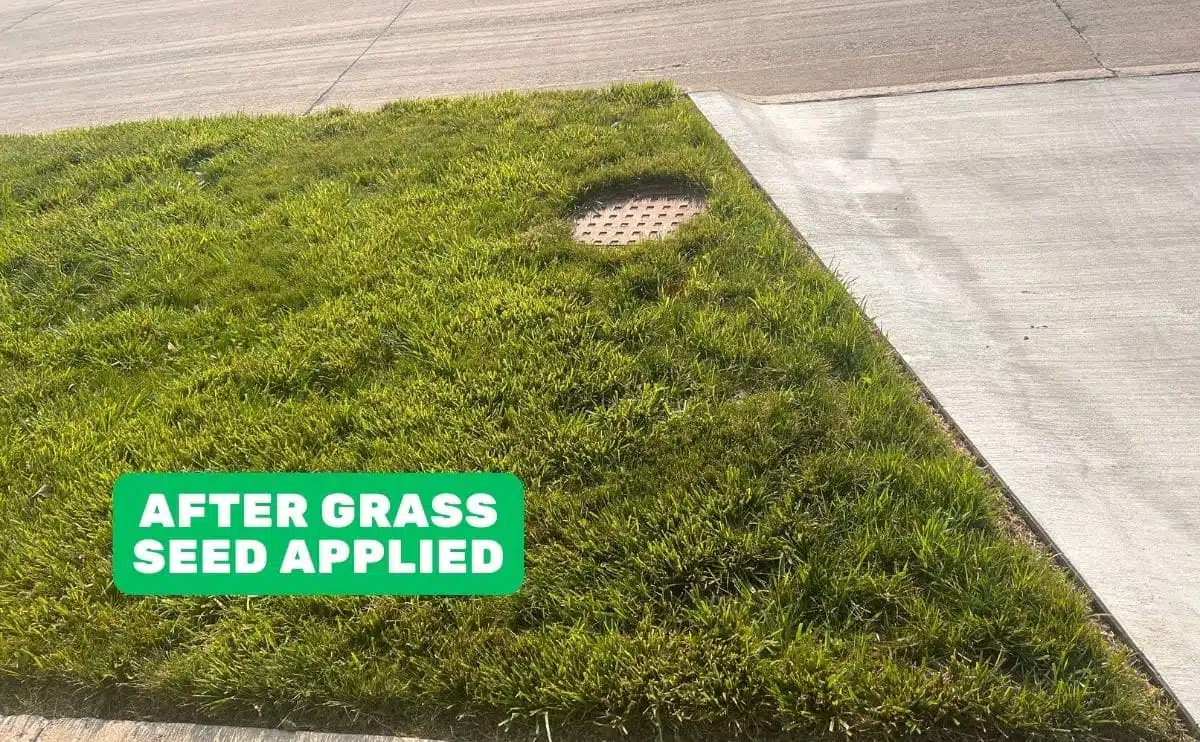 Planting A New Arborvitae Tree
Additionally, Sunday sent us a Green Giant Arborvitae in exchange for an honest review of the plant and tree aspect of their business. We immediately unboxed it, gave it a good drink of water, and left it outside to acclimate to the weather conditions. The 34-inch tree was in excellent condition, and planting it was easy. However, no instructions were included with the tree, so I ended up finding instructions online from a different website.
About a week later, we planted the tree along our fence line to help block the view and sound of a road located behind our house. Green Giant Arborvitaes grow rapidly at a rate of 3-5 feet per year and mature to 15-20 feet wide and 40-60 feet tall. We're hopeful that by April 2024, the tree will be 6-8 feet tall.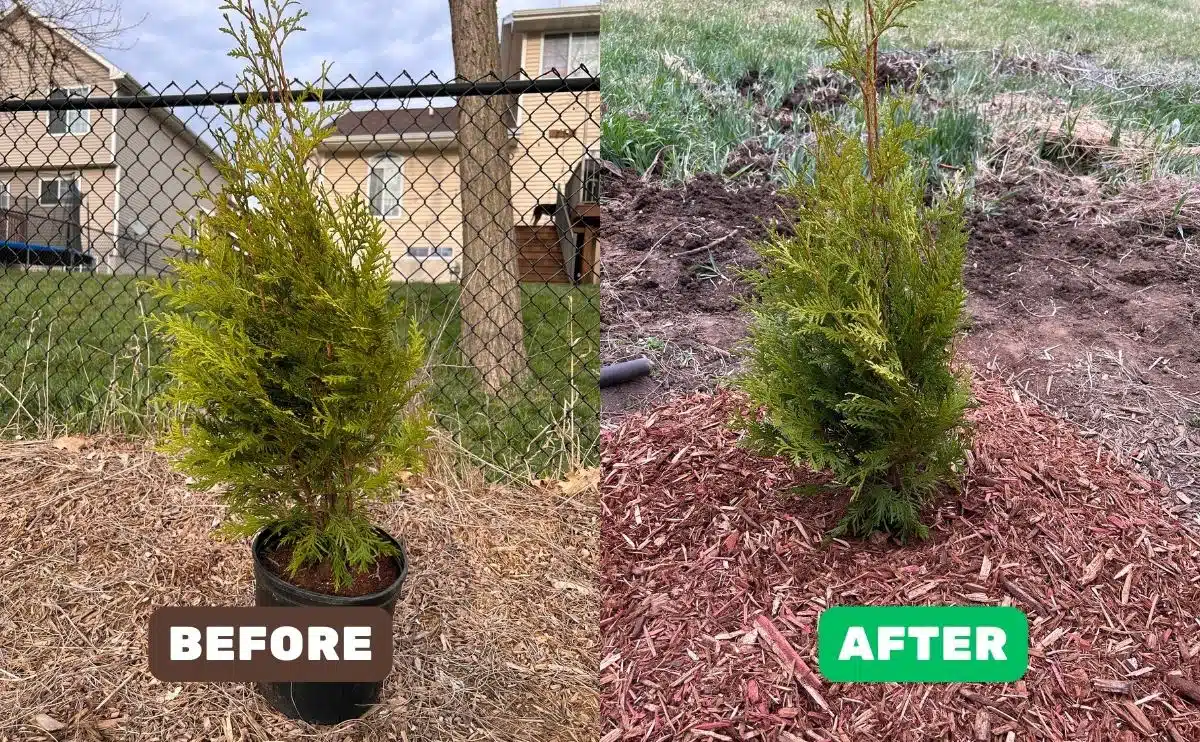 Weed Control With Dandelion Doom
We noticed a bunch of dandelions popping up in our yard, so we applied Dandelion Doom (sent to us by Sunday in exchange for an honest review) to as many of the dandelions as possible. The application process isn't the fastest because you have to spray each individual dandelion, and the spray bottle leaks all over my hand when I use it, so I would recommend wearing gloves. However, I checked the dandelions three days later, and they were dead, so the spray does work.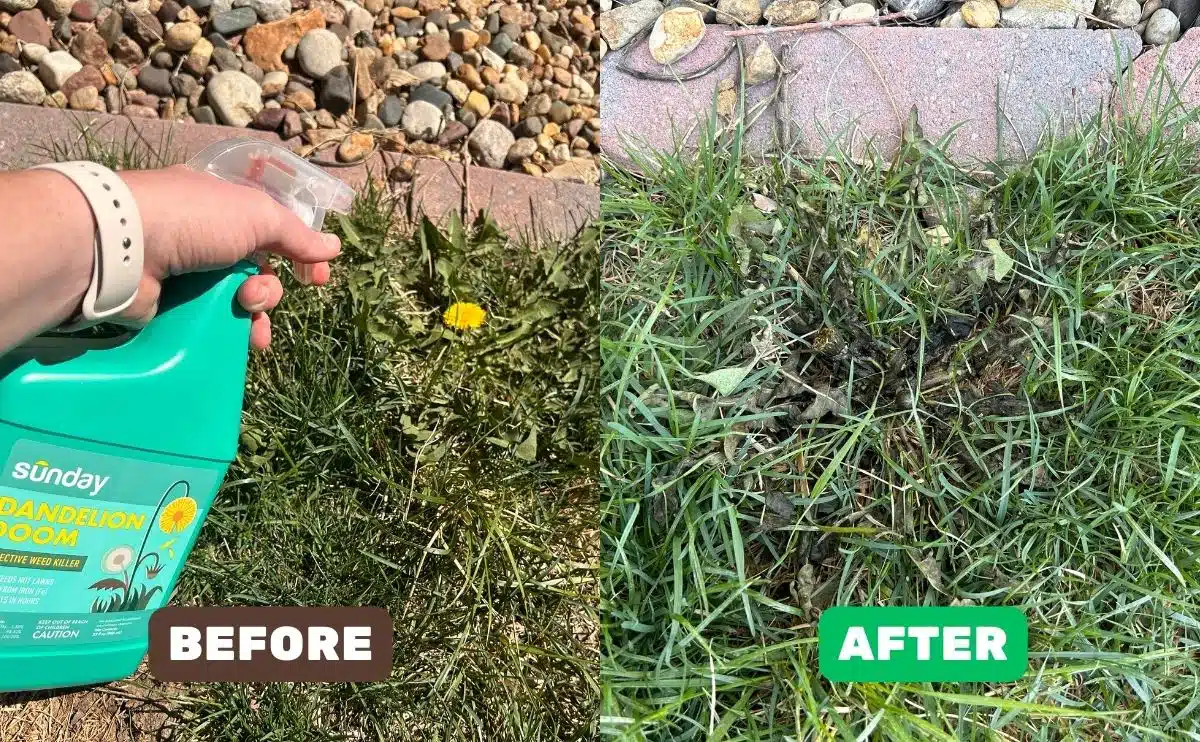 A month after using up all of the Dandelion Doom, we still had many dandelions pop up in our yard. Putting so much time into spraying the weeds was frustrating, and nothing we applied from Sunday seemed to prevent them from returning. At this point, we've been using Sunday's products consistently for two years, but the dandelions were increasing and overtaking areas of our yard.
Because of this, we opted to disperse Scotts Turf Builder Triple Action, and it took care of the problem immediately. (Note: Scotts Turf Builder is not chemical-free or considered "pet/child safe," so it may not be a product you want to use.)
We would love to see Sunday offer an overall weed killer that could be spread on the entire lawn instead of spraying each dandelion and pulling them after they're dead. Using Dandelion Doom can be cumbersome, and you can easily miss weeds you don't see.
Pest Control With Mosquito Deleto & Nix Ticks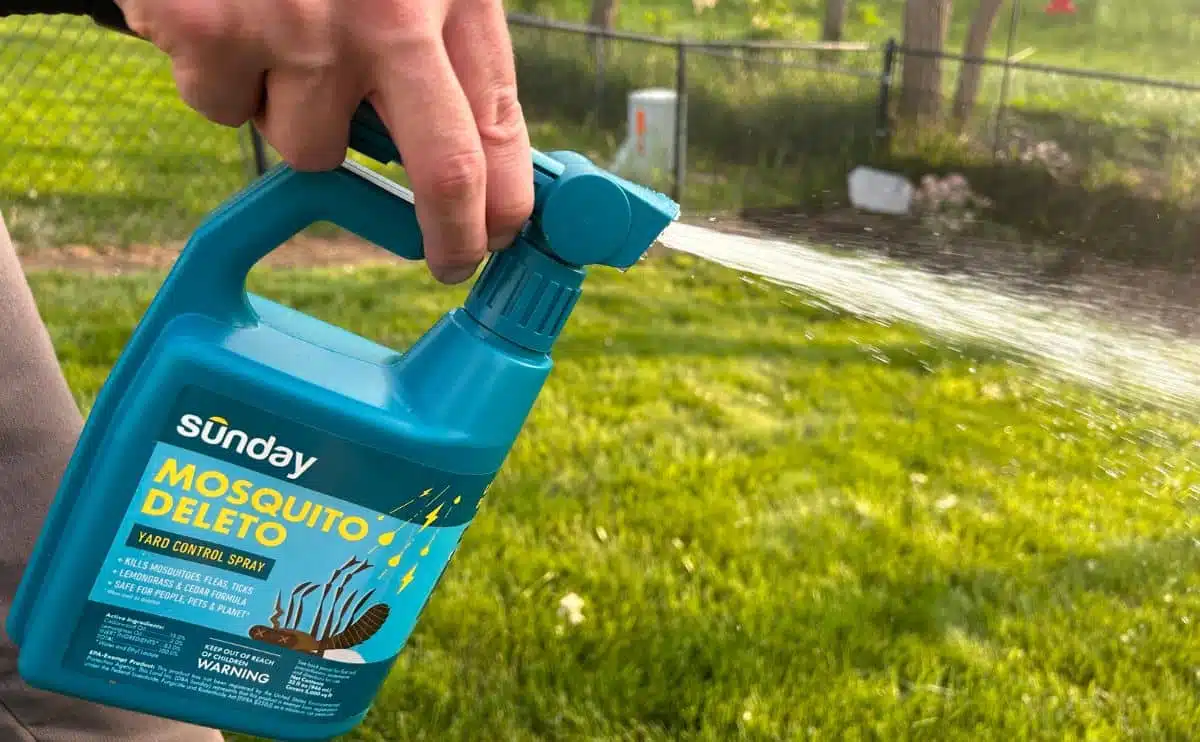 As the temperature increased throughout spring, we noticed an increased presence of bugs (specifically ticks and mosquitos). We decided it was time to apply some Mosquito Deleto and Nix Ticks to the lawn to address the issue. We instantly noticed results, making spending time outside more enjoyable.
Now, when I water my plants or sit on the deck, I'm not being swarmed with mosquitos or finding ticks on me in the evening. The only downside is that application only lasts up to four weeks, so it's recommended to reapply every two to four weeks.
Sunday vs The Competition
Sunday is not the only choice when considering pet-safe lawn care. Our experts review the top picks in pet-safe lawn fertilizer so you can decide which products will work best for your yard.
How Do I Stop Dog Urine From Killing My Grass?
Sunday Lawn Care is an excellent choice to help keep your pets safe and your lawn looking healthy. Once you get your yard looking great, you'll want to keep it that way. Our experts have great advice on stopping dog urine from killing your grass and eliminating outdoor odors.
Tagged With: Lawncare