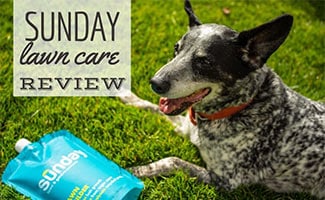 Having a luscious green lawn and keeping your pets safe from chemical fertilizers can be tricky. At Sunday Lawn Care, their mission is to "support the whole ecosystem for a beautiful lawn that's full of life." Included in that is making your lawn safe for your pets and family to enjoy.
Our experts review this pet-safe lawn care product line to help you decide if it's the right fit for you.
How Does Sunday Lawn Care Work?
Sunday is a pet-safe subscription lawn care plan customized for your lawn. The goal of the subscription is to tweak your soil so it can grow the healthiest grass possible. Sunday uses a combination of satellite imagery, climate information, and soil conditions to customize your plan.
Sunday then ships you their all-natural, pet-safe fertilizers that are geared toward your lawn's specific needs. They also ship you a free soil analysis kit with your first shipment that you can send back to their lab for a more precise diagnosis of what your lawn needs. Depending on the time of year you sign up, you will get up to three shipments annually with two to four product pouches in each box. Initially, you'll also get a sprayer that attaches to your hose and works as a delivery system for the pouch contents. Delivery timing is specific to each customer's climate and grass growth.
Sunday
Pros
Contents tailored to your climate area
Natural and organic ingredients
All products are pet safe
Excellent value
Free shipping
Easy to use
Cons
This is DIY lawn care
Plans are best suited for lawns less than 10,000 square feet
Customers complain that the weed control is less than desirable
Key Features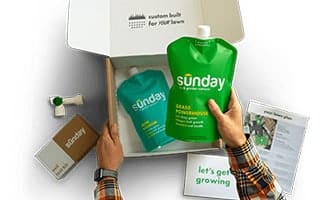 Convenient subscription service
Earth-friendly, pet-safe ingredients
Free soil analysis test included
All tools needed are provided
Also offers various natural, pet-safe products, including organic weed killer and several seed blends
Unlimited expert support; customer service available 7 days a week
A 1% for the planet business that donates a portion of all sales to help the environment
Price
Full-Year Custom Smart Lawn Plans
Price Quote Examples
Three of our experts went on the Sunday website to get quotes for their lawns so we can provide you with a range of pricing examples from different parts of the country and for yards of various sizes. Here is what we found:
Sunday will have you type in your address and answer a series of questions related to your yard. They'll use this information to determine your yard's square footage, soil type, and climate. These factors determine your plan.
Quote #1
5,056 sq ft yard in North Carolina
Warm, wet climate
Silty acidic soil
Full-year plan with three shipments, eight nutrient pouches, and a free lab soil test for $179
Quote #2
3,710 sq ft yard in Iowa
Warm, very wet climate
Silty, balanced pH soil
Full-year plan with three shipments, six nutrient pouches, and a free lab soil test for $159
Quote #3
2,000 sq ft yard in Ohio
Full-year plan with three shipments, five nutrient pouches, and a free lab soil test for $149
Premium Grass Seed
These add-on items come in five-pound bags.
Fescue Rescue: Fescue $29
Kentucky's Best: Bluegrass $29
Shade Select: Mix of Fescue, Ryegrass, and Bluegrass $29
Bermuda Time: Bermuda Grass $34
Lucky Lawn: Mix of Fescue, Bluegrass, and Clover $29
Core Seed and Feed: Seed blend to thicken and green your lawn $39
Natural Weed Control
These add-on items can help conquer the weeds in your lawn.
Weed Warrior: Kills grass, weeds, algae, and moss (two-pack) $20
Dandelion Doom: Kills most broadleaf weeds (two-pack) $20
Mixed Pack: One bottle of Weed Warrior and one bottle of Dandelion Doom $20
Natural Pest Control
Add-on these items to help control bugs in your yard.
Mosquito Deleto: Yard control spray for mosquitos, fleas, and ticks $25
Fire Ant Fighter: Fire ant killer $20
Ant Adios: Bug and ant killer $20
Nix Ticks – Yard control spray for ticks, mosquitos, and fleas
Ant Adios and Fire Ant Fighter Combo: $38
Nix Ticks and Mosquito Deleto Combo: $48
Pet Patch Repair
If pet spots are a problem, these add-on items can help.
Pet Patch: Liquid pet spot repair $18
Pet Pro: Pet patch, grass seed, and seed starter $29
Tools
You can also purchase a few things to help you utilize the products.
Hand-Held Seed Spreader: 1.5-liter capacity $19
Chapin Push Spreader: 65-pound capacity $69
Pump Sprayer: 1-gallon capacity $19
Sprayer 2-Pack: 2 sprayer head replacements $5
Coupon
Frequently Asked Questions
Here's a list of the questions our readers often ask about Sunday.
What Ingredients Do They Use In Their Products?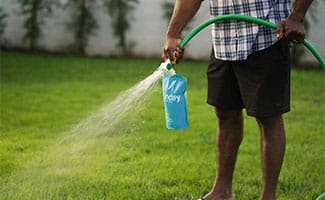 Sunday's website provides this list of ingredients that they use in their lawn care products:
Soy protein
Iron
Seaweed
Molasses
Potassium acetate
Salicylic acid
Surfactant
Phosphorous
Micronutrients
Potassium
Is Grass Seed Included?
No. Their nutrient plans do not grow new grass. They only support the growth and health of the grass you already have. However, you can purchase hybrid seed blends and patch kits as add-on items.
What About Weed Control?
Sunday believes weed control is about enriching the soil with its nutrient plans. However, if you have weeds you can't conquer, you can add on their organic iron-based spot weed control product.
What Do People Think Of Sunday Lawn Care?
Sunday Lawn Care is a fairly new company started in 2019, so it's a bit difficult to find a lot of user reviews online. The most comprehensive reviews available come from their Facebook page where they have 4.5/5 stars and over 2,900 reviews.
Our Personal Experience
My husband and I wanted an alternative to all the lawn care companies in our area that use harsh chemicals. We have young kids and a dog, so we wanted something safe for them. We also wanted to keep chemicals out of our waterways. This made us consider Sunday for our lawn care needs.

We purchased Sunday's Dandelion Doom, Pet Patch, and lawn treatment plan. The application process is straightforward and simple. We applied the first treatment to our lawn in April 2021 and in June 2021 we had the greenest lawn on the block. Many of our neighbors hire professional companies that use harsh chemicals and their lawns look brown from the harsh 90°F weather we've been getting the past couple of weeks. With how much we play in the yard with our kids, it's nice to walk on soft grass and not hard, brittle grass. -Kimberly A., Canine Journal
Positive Reviews
I love Sunday for so many reasons, first of which is its so easy to apply. Hook it up to the hose and spray it on. 2 bags worth in less than an hour! I also love that its natural. -Jordan S., Facebook 06/15/2021
Extremely happy with my Sunday lawn. Customized lawn plan and soil analysis to give my lawn what it needs. Sleep a little better knowing it's safe for the kids and pets too! -Mike H., Facebook 06/02/2020
Negative Reviews
I think it helps a lot to green up the lawn and to grow however I keep having dead patches and lots of weeds. -Adam B., Facebook 08/25/2020
The only negatives I have is the website was difficult to use when I ordered. My lawn was over the recommended square footage but I still received a message saying my lawn was perfect. That was a bit confusing. -Tim, Facebook 10/28/2019
The Creators And Purpose Behind Sunday
In this two-minute video from Sunday Lawn Care, they introduce you to their creators and discuss their product's purpose.
Sunday vs The Competition
Sunday is not the only choice when you are thinking about pet-safe lawn care. Our experts review the top picks in pet-safe lawn fertilizer so you can decide which products will work best for your yard.
How Do I Stop Dog Urine From Killing My Grass?
Sunday Lawn care is an excellent choice to help keep your pets safe and your lawn looking healthy. Once you get your yard looking great, you'll want to keep it that way. Our experts have great advice on stopping dog urine from killing your grass and eliminating outdoor odors.
How do you balance your pup's safety and keeping your lawn healthy?