Most people want to have a lush lawn that knocks our neighbors away. But did you know that many lawn fertilizers are harmful and even deadly for your pets? If you have dogs who go outside often, you need to make sure you keep them safe from all the toxic chemicals in most lawn care products.
Fortunately, you have some pet-friendly lawn fertilizers that can help you achieve your grass goals. Surprisingly, there aren't many pet-safe lawn products on the market, so we've done our research to help you find your best options.
At-A-Glance: Our Top Picks
How Do I Know If A Lawn Fertilizer Is Harmful?
Our best advice is to read labels and avoid all lawn care products that aren't marketed as safe for pets. If the ingredients aren't all-natural, they're likely not entirely safe for your pets. The biggest culprits are products that contain insecticides and snail bait. But some products also contain herbicides and pesticides that could cause anything from an upset stomach to seizures if ingested. This consideration is essential if your dog is a grass eater.
TIP: When you apply fertilizer, water your lawn immediately and wait a couple of days before letting your pet play outside on the grass. Watering right after applying fertilizer allows the granules or spray to settle into the ground, and that minimizes the risk to your pets.
Best Pet-Safe Lawn Fertilizer
We've chosen our top picks based on pets' safety, quality of ingredients, performance, customer reviews, and other factors.
Winner: Sunday Review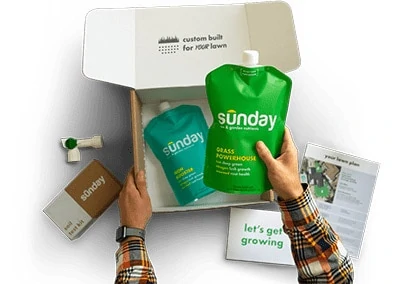 Sunday is a customized lawn care subscription that offers all-natural, pet-friendly spray fertilizer, iron-based weed killer, pet spot repair, grass seed, and more. Every plan is based on your unique soil, climate, and lawn. But if you don't want to commit to a subscription, you can purchase their fertilizer and other products like pest control à la carte. Each fertilizer pouch covers up to 3,000 square feet.
How does the subscription work? You start by entering your address, and they give you an instant regional soil, climate, and lawn analysis. You then answer a few questions about your lawn care habits and the current state of your lawn, and Sunday determines exactly what your lawn needs every season.
Depending on the time of year you make your purchase, most Sunday lawn plans include three shipments of nutrients with two to four pouches each. In your first shipment, you also get a spray nozzle and a soil test kit, which measures your yard's macro/micro nutrient levels, pH, organic matter, and cation exchange (CEC). You mail in the sample, and the lab processes it within three to four weeks.
Your climate and grass growth drive each shipment date. Customer support is available with lawn care experts to help you troubleshoot any issues. Your subscription automatically renews, but you can cancel anytime.
Grass Machine Fertilizer ingredients: nitrogen, soluble potash, iron, potassium assetate, seaweed extract
Price
Customized plans start at $119 per year
Individual fertilizer pouches start at: $25
Coupon
Looking for a Sunday Lawn Care promo code? Click here for the best deal we can find.
Runner-Up: Scotts Natural Lawn Food Review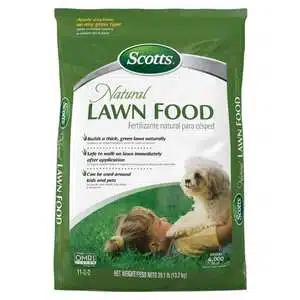 Scotts Natural Lawn Food is made from all-natural ingredients and contains no harmful or toxic chemicals. You can use it around pets and kids, and it's safe to walk on right after spreading the granules. It also doesn't have an unpleasant odor.
Scotts recommends using it four times a year for an optimal lawn. One bag will cover 4,000 square feet of your yard. Most customers say it delivers fantastic results.
Ingredients: nitrogen, phosphate, soluble potash, calcium, and sulfur
Price
Third Place: GreenView Turf Nurture Review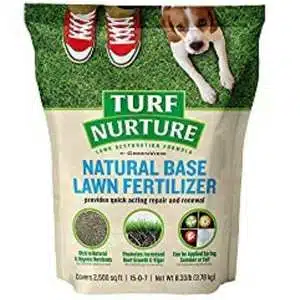 GreenView Turf Nurture Natural Base Lawn Fertilizer is rich in natural and organic materials to give your lawn the boost it needs while keeping your pets safe. It contains 70% slow-release nitrogen and no harmful chemicals.
It's ideal for dull, stressed grass caused by drought, heat, and cold. And it's excellent for promoting sustained growth. You apply the granules on any grass type in spring, summer, and fall. One bag covers 2,500 square feet.
Ingredients: nitrogen, soluble potash, calcium, magnesium, and sulfur
Price
What About Espoma Fertilizer?
Although Espoma didn't make our top three picks, it's also a fantastic choice for a healthy lawn.
Espoma EOLB30 Organic Lawn Food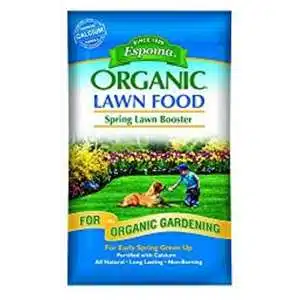 Espoma is a well-known manufacturer of a variety of organic lawn and garden products. This lawn food is all-natural, environmentally friendly, and kid and pet safe. One bag feeds a 5,000 square-foot lawn. It's a bit on the pricey side, but most customers say it works well if you want an organic product. This product is meant for early spring fertilization, but Espoma also carries organic all-season lawn food, a summer revitalizer fertilizer, and a fall winterizer.
Ingredients: nitrogen, calcium, and sulpher derived from feather meal, pasteurized poultry manure, and gypsum
Price
Have You Considered Gnome Liquid Fertilizer?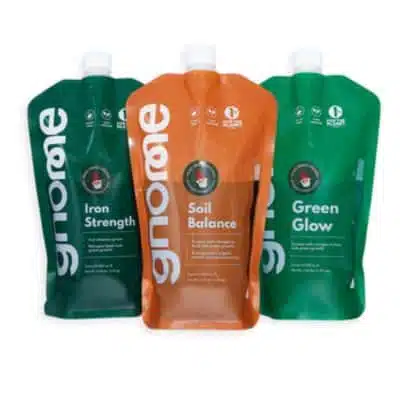 Gnome is an all-natural liquid fertilizer company that works on a subscription basis. The company also makes pest control and weed management products. Gnome offers organic lawn care, with customized plans designed specifically for each lawn and geographic area. Some products are available for one-time purchase. Gome is a newer option designed to replace the need for professional grass fertilization programs. The company specializes in working with many kinds of grass species and will create a special formula for any lawn they do not have a formula for. Gnome offers many different packages and products, including a puppy patch repair kit to help fix bothersome and unsightly brown, yellow, and bare spots left behind by pets.
Puppy Patch Repair Ingredients: Atlantic kelp, lemongrass soil, corn steep, cedarwood oil, soy protein, iron
Price
Is Weed And Feed Safe For Dogs?
"Weed and feed" is a universally used term for any lawn care product that contains a combination of fertilizer and herbicides to help kill weeds and promote a healthy lawn. Most of these products contain chemicals that can harm your pets if they get the toxins on their paws or fur. We're not aware of any pet-safe weed and feed products, so what can you use instead?
Pet-Safe Alternatives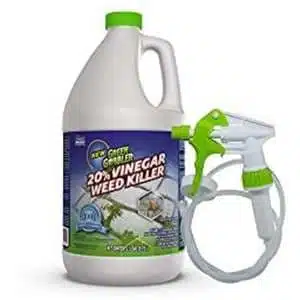 We recommend using one of the pet-friendly lawn fertilizers we've reviewed above and a separate pet-safe weed killer, like Green Gobbler Vinegar Weed & Grass Killer. Green Gobbler is a certified-organic weed killer derived entirely from corn and formulated into a powerful vinegar acidic spray containing no harmful chemicals like those found in Roundup.
You can also use a pet-safe weed preventer to keep those pesky weeds from growing in the first place. Espoma Organic Weed Preventer is made from corn gluten meal and is safe for pets and children immediately after application. You sprinkle the granules in early spring and fall to inhibit weed root growth. It also provides long-lasting nitrogen for a healthy lawn.
What's The Most Toxic Lawn Chemical For Pets?
See what one veterinarian reveals as the most toxic lawn chemical for pets and some symptoms to watch out for if your pet gets ill from being around a variety of lawn care products.
How Do I Save My Lawn From Dog Urine?
Using pet-safe lawn products is likely only one of your concerns when dogs are in your yard. Is your dog doing a great job of harming your grass when he pees outside? If so, be sure to check out our article on how to stop dog urine from killing your grass. We have some expert tips for you and some suggestions on eliminating pet odors outdoors.
Tagged With: Comparison, Lawncare, Reviewed By Dr. Racine, DVM