Most pet owners can relate to the struggle of maintaining a fresh, healthy yard of green grass. The lawn is a place people and pets use frequently. Serving the dual role of pet playground and pet potty can leave some serious maintenance and recovery work. Finding products that are safe to use on the lawn can be a challenge.
Gnome Lawn Care offers all-natural liquid fertilizer that is 100% safe for kids and pets. They also have an organic line. Our experts look closer at the subscription-based liquid fertilizer company to learn more about what they do and how well their products work.
Gnome offers a 3-step process to provide liquid food to lawns and keep pets and people away from harsh, harmful chemicals. Using only natural ingredients, they provide personalized lawn plans developed to meet the unique needs of every yard. Let's get into the details about what makes Gnome stand out.
Gnome Lawn Care Reviews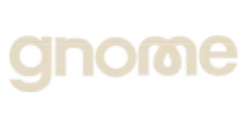 Product Name: Gnome Lawn Care
Product Description: Gnome Lawn Care makes all natural, chemical-free, liquid fertilizer, weed control, and pest management for lawns.
Summary
Gnome Lawn Care has developed all-natural liquid fertilizer as well as pest control and weed management for lawns. Offers a variety of products, without the use of any harsh or toxic chemicals. Custom subscription available, delivered right to your door. 
Pros
All-natural
Organic product line
Multiple kits and plans to choose from
Customized plans
Monthly or yearly options
Puppy Patch Repair
Weed management
Pest control
Nutrient driven products
Safe for people and pets
Liquid fertilizer and nutrient blends
Committed to the environment
Cons
No grass seed sold currently
Only one option for pet damage
Some customers are not satisfied with results
More expensive than some off the shelf products
Key Features
All-natural
Balanced lawn care
Liquid Fertilizer
Subscription basis
No harsh chemicals
Custom plans
Greener grass in 2 weeks
1% For The Planet member donates 1% of all sales to environmental causes
Gnome Fertilizer
Two friends started the company sharing an appreciation for the feel of soft, healthy grass beneath their feet. Pierce and Clyde, the founders of Gnome Lawn Care, grew up walking barefoot in the grass, believing that those pesky fertilizer pellets were the key to a healthy yard. Years later, they learned that plants get their nutrition from water in the soil and set on a task to find a better way to get plants than liquid nutrition. They knew there were better options than fertilizer pellets, eventually developing Gnome's liquid fertilizer.
Gnome differs from other yard care companies by offering specially developed, organic, all-natural, concentrated liquid fertilizer. One of the brand's founding principles is "Lawns don't eat, they drink!" When plants drink, so to speak, the water is drawn in through tiny tubes called Xylem that are present in the plant's roots. These act like a straw, bringing the water up into the plant and pushing it out to the leaves. Though plants can absorb some water and nutrients through their leaves, it is through the process of drawing nutrients from the water and soil through their roots that plants get most of their sustenance and energy.
Fertilizer pellets that sit on top of the soil take a long time to be effective as they often need to break down and will only release nutrients when wet. Though these pellets are effective, they are not the most effective or healthiest for plants. Offering nutrient-boosted liquid plant food directly to the soil allows plants to soak up those nutrients immediately.
Gnome hopes to make organic landscaping something that every homeowner in the country can easily access. Joining a growing number of subscription-based home grass care programs, Gnome is one of the few organic grass care and garden brands. Designed to replace professional grass fertilization programs, the brand has developed nutrient formulas for "every conceivable lawn in the continental United States."
Liquid plant food is at the core of the company's products. These fertilizer formulas use only natural ingredients and are free of glyphosates and toxic chemicals. Instead, the brand uses natural elements like Atlantic kelp, corn steep, soy protein, lemongrass oil, cedarwood oil, and iron to create liquid fertilizers that aim to improve your grass quality and health in two weeks.
Gnome has designed its liquid fertilizers and products to work with all species of turf grass found in the continental United States. According to the website, grass types include fescue, Bermuda, Kentucky bluegrass, zoysia, ryegrass, bentgrass, bahia, and centipede. Along with that, if the team does not have a formula for your specific kind of grass, they will work directly with homeowners to develop a product that will.
Gnome also offers a soil test kit that allows them to discover even more information about a customer's soil quality and helps determine what they need to turn it into healthy, happy soil.
How Does Gnome Lawn Care Work?
Gnome works on a subscription basis. Customers can purchase an annual plan or monthly delivery, depending on the product. Annual products come with careful instructions for use throughout the year. Monthly plans send a single pouch a month to support healthy grass growth.
Gnome Products & Plans
Gnome refers to their products as gnomes. People and pets are also gnomes. Customers have a choice with Gnome: purchase prepackaged plans or create customized plans for their yard's specific needs. The customization plan starts with a short questionnaire about your yard and grass situation.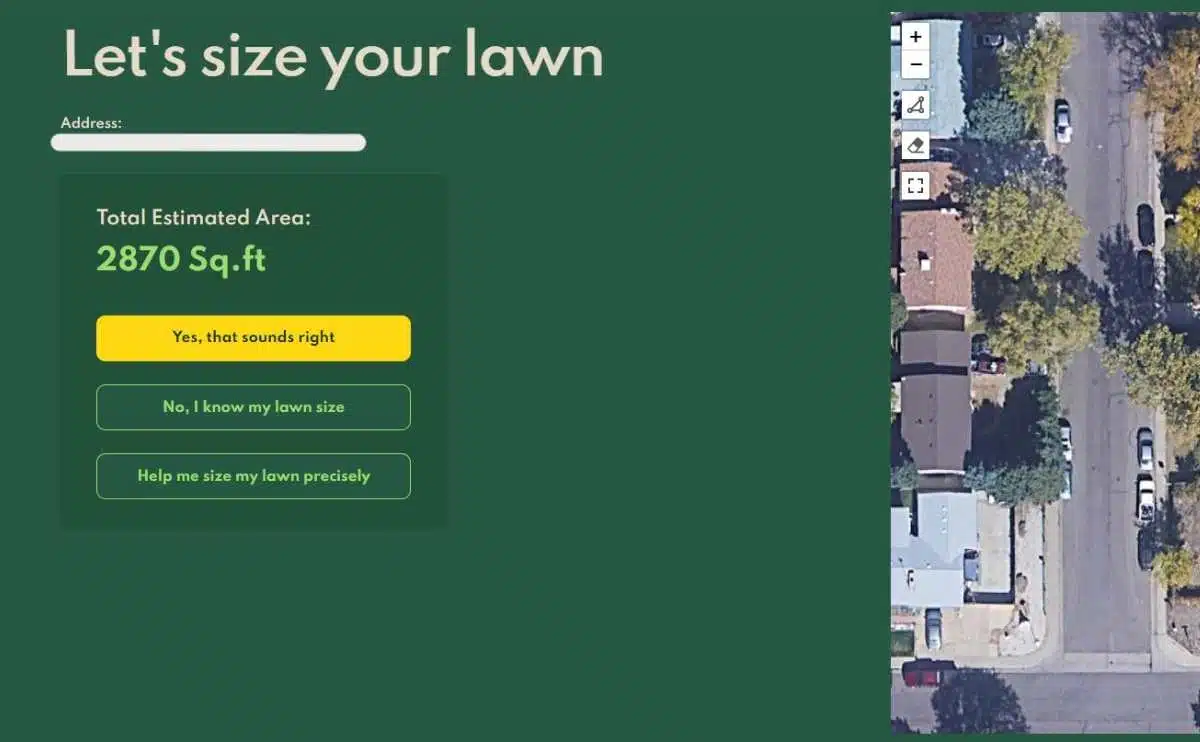 After answering and providing information about your lawn's use, type of grass, and goals, the site recommends a plan based on your information and their internal data and research. Owners can then choose the size of their yard and add on other products as needed, creating a custom plan.
The company also has a tool that allows customers to put in their addresses, and it will estimate the yard size and then work through the survey questions to select the best option. Others who do not want to answer the full survey or do not know exactly what they need can try the Lawn Doctor tool, which allows customers to pick from a list of concerns and get products recommended to help. Prices will vary based on the product selected and the size of the yard.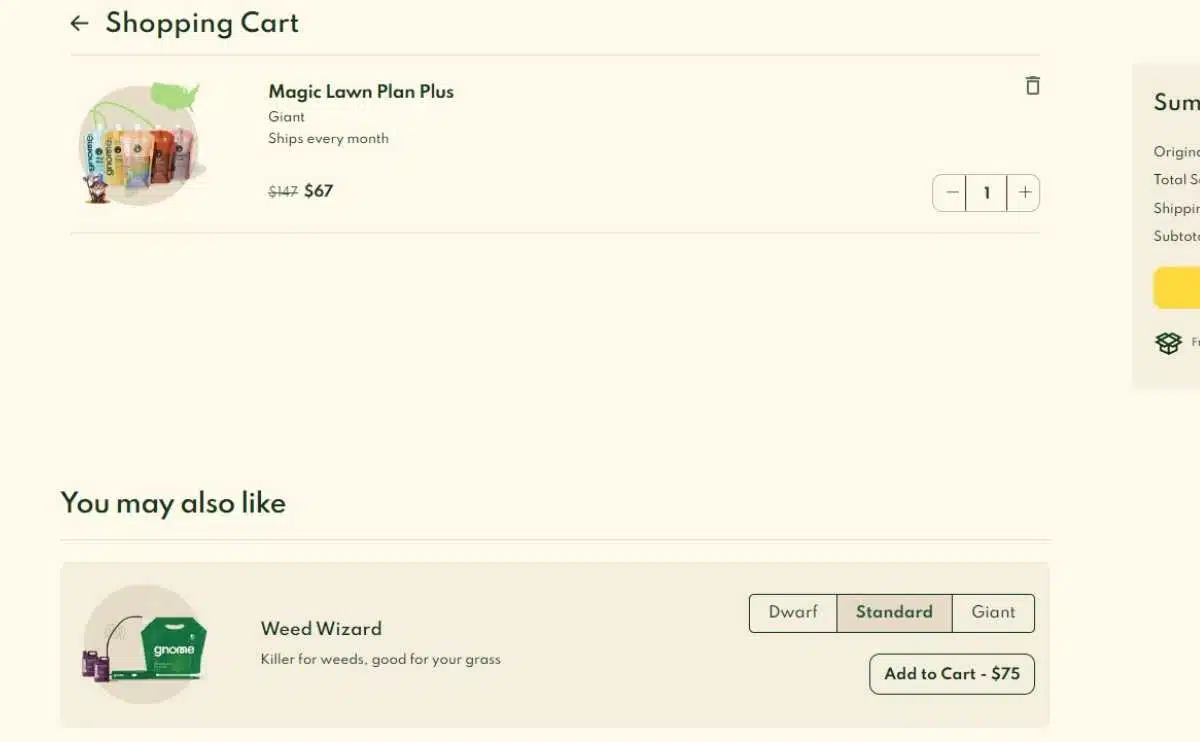 The company offers a fully organic line for customers dedicated to organic-only yard care products. All other products are made from all-natural ingredients, using no artificial elements or harsh toxic chemicals.
3 Yard Sizes
Dwarf – 2,500 square feet
Standard – 2,500-5,000 square feet
Giant – Over 5,000 – square feet
Below, we break down some of the plans and products the company offers. Nutrient pouches cover up to 5,000 square feet. Weed control pouches feed up to 2,500 square feet. Mosquito Defense pouches cover up to 2,500 square feet.
Magic Lawn Plans are designed to help customers get the greenest grass in the neighborhood. Custom care supporting healthy green grass in spring, summer, and fall. These are available on both a monthly and annual basis.
Magic Lawn Plan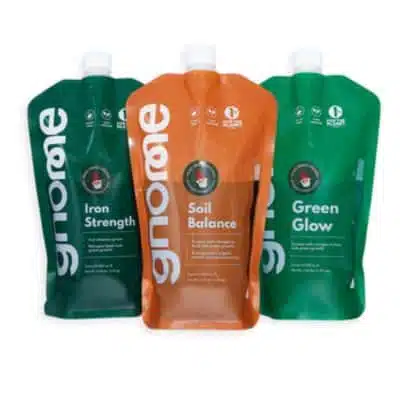 The Magic Lawn Plan is a complete fertilizer plan to keep lawns healthy year-round. The plan includes an All-In-One Liquid fertilizer, Soil Balance, and Green Glow. Depending on the yard size, customers receive three, 6, or 9 pouches, equaling a full year's supply. Most residential lawns do well on the Standard, which covers 2,500 to 5,000 square feet.
Starting at $99 a year for Dwarf, $149 a year for Standard, and $199 a year for Giant.
Magic Lawn Plus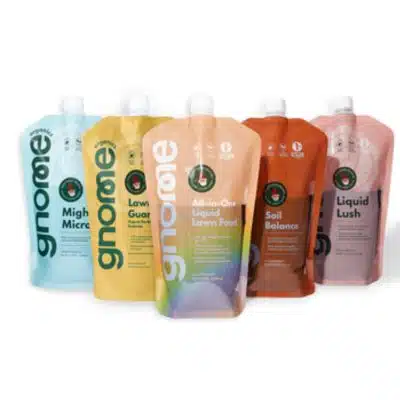 Magic Lawn Plus is a premium plan for people who struggle with weeds. The plan works to turn that weedy patch into pristine weed-free green grass. The plan includes custom nutrient blends and organic pre-emergent weed control. An application schedule is provided based on geographical location, and the products take 10 minutes to apply using a standard garden hose. These products are 100% safe for both kids and pets. The Plus plan is available only on a monthly basis.
Organic Lawn Plan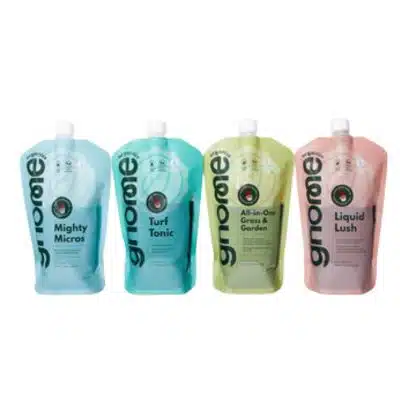 This custom organic yard care plan works on a monthly subscription. It includes four nutrient products: Mighty Macros, Turf Tonic, All-In-One Grass & Garden, and Liquid Lush. The organic plan is formulated to give your lawn the precise mix of organic nutrients required based on your soil, climate, and individual needs. The plan optimizes and designs a feeding schedule specifically for your lawn.
Puppy Patch Repair Kit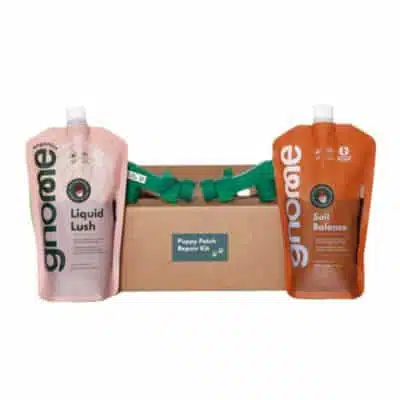 Gnome is committed to helping keep grass healthy and offers a pet-safe puppy patch repair kit. The kit contains premium natural nutrients to help fix pesky brown, yellow, and bare spots. The kit is available on a monthly subscription or as a one-time purchase. The Puppy Patch Repair kit comes with two nutrient pouch products: Liquid Lush and Soil Balance.
Liquid lush is an organic formula that helps condition the soil, and the soil balance provides nitrogen, potassium, phosphorus, and over 70 other vitamins to promote strong root development and generate growth.
The formula works to fix brown and yellow spots quickly while promoting healthy deep root development to keep the growth going. This product is designed to help the grass stay green through pet usage, heat, and drought. It dries in under five hours so that you can let the dogs and kids back outside quickly.
Weed Wizard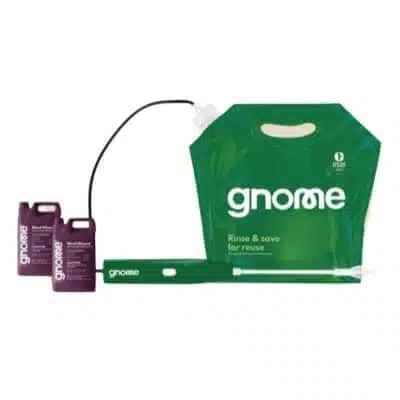 This product offers post-emergent weed control that kills weeds down to the root without damaging the other plants—visible results within just a few hours. The formula works on both broadleaf and grassy weed species. The Weed Wizard does not require a hose and comes with an applicator. No glyphosates or carcinogens. The power behind the natural formula is iron which kills weeds and is an essential micronutrient for lawns. Works to kill dozens of weed species.
Lawn Weed & Feed Kit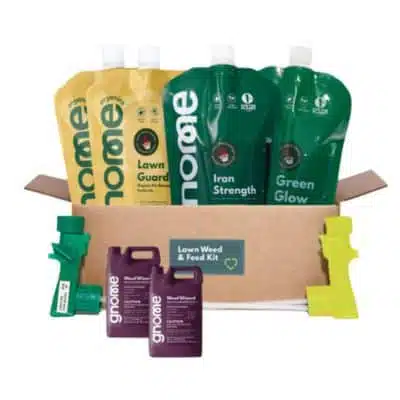 The weed and feed kit includes liquid fertilizer and weed control. It is available as a one-time purchase or yearly subscription with delivery once every 12 months. This kit includes the Lawn Guard, Green Glow, and Iron Strength nutrient blends. Green Glow releases nitrogen to support vibrant green grass. With 30% nitrogen Green Glow has the highest nitrogen level of any liquid fertilizer on the retail market. Iron Strength provides iron to support growth, and Lawn Guard offers organic pre-emergent weed control derived from corn gluten meal.
Mosquito Defense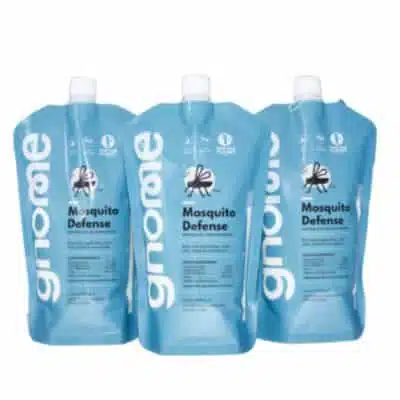 Mosquito defense is an all-in-one solution for mosquitoes, fleas, ticks, ants, and mite control. This is available on a monthly or 3-month subscription. Control and repellency last for four weeks or more. The formula also gives your yard a wonderful aroma as it uses lemongrass and cedar oil.
Soil Test Kit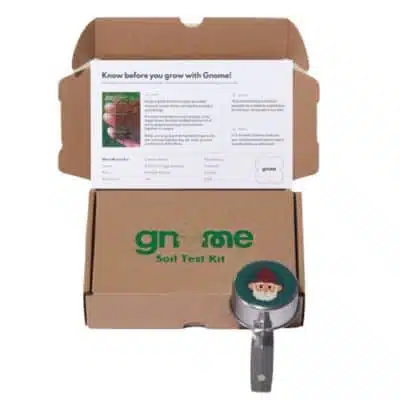 Customers who sign up for a Lawn plan can use the code "FREESOILTEST" to get a free soil test kit. The test kit is a more in-depth way to determine exactly what nutrients your soil might need. The soil test kit is designed to identify deficiencies in the soil, both macro and micronutrients. It also assesses the pH, cation exchange capacity, organic matter, and more. The results will explain in detail what is going on with your yard and lay the groundwork to fix it. Owners are provided with a high-quality PDF report and recommendations once the test is done. The test offers full spectrum results.
Other Products
The company offers other products and kits specifically designed to address specific yard care needs, including seasonal changes. There are kits for summer, fall, and spring, as well as starter kits, pest control, and weed management.
Along with premade kits, customers can also purchase individual products to create a custom plan for their yards. These vary in price and purchase options. The company even sells miniature magical gnome statues to guard your yard.
Frequently Asked Questions
Customers have a lot of questions about this all-natural lawn care company. We cover a few of the most often asked.
How Do You Use Gnome Fertilizer?
The liquid fertilizer concentrate is very easy to use and provides instructions for your specific yard's size. Gnome is applied by attaching your garden hose to the nutrient pouch, using the complementary hose and sprayer, and watering your yard as usual.
Does Gnome Use Chemicals In Weed Control?
No, the company does not use any harsh chemicals or treatments that are harmful to your grass or pets. Weed control, even the product that kills weeds, uses all-natural ingredients like iron. Gnome's weed control products strengthen and enrich the soil, promoting healthy grass growth.
Does Gnome Sell Grass Seed?
No, currently, the company does not sell any seeds or plants. They focus on providing healthy care for every lawn type and climate across the United States.
Is Gnome Lawn Care Safe?
Yes, all the brand's products are made from 100% natural, safe ingredients. Even their pest management and weed-killer use natural ingredients, not harsh or toxic chemicals. These are safe for pets and people.
Gnome vs. Sunday
Another well-known name in the yard care industry is Sunday. Sunday is a pet-safe lawn fertilizer subscription program. It offers a variety of formulas, including pest control, weed control, lawn care, plants, trees, and garden tools. There are a few differences between these two brands. each brand offers non-toxic products that are safe for humans and pets. Both offer subscriptions and address different areas of lawn care needs.
Both companies offer all-natural concentrated spray fertilizers, iron-based weed killers, and subscription plans. Similarly, both brands take information from customers to help direct them to the formulas that will work best in their own yards.
There are a few significant differences between these two brands. Sunday offers more pet-specific products and services for lawns up to 25,000 square feet. Customers will need to purchase multiple Gnome fertilizer pouches to treat the same area. Additionally, all of Sunday's plans come with a free soil analysis. Sunday also offers custom lawn care and pest control plants, which Gnome does not.
Sunday is also more in-depth when collecting information to create a custom lawn care plan. Their survey starts with customers entering their addresses, and then the company uses satellite data, climate information, and soil conditions to create a one-of-a-kind customized plan. Predicted soil analysis includes a regional soil profile, growth potential, temperature graphs, and rainfall information. Customers can then choose from several plan options from basic to very complex, including special needs like repairing pet damage. They have the option to "pay as you go" or pay yearly. Shipping is free with all plans. Plans range in price, with basic ones starting around $109 per season and ranging to about $250 or more.
When comparing the two for individual and customizable subscriptions and pet care options for your yard, Sunday is the winner. However, Gnome is easy to use, affordable, and does address weed control, pest management, lawn care, and pet repair. Gnome is a more affordable option. Both companies allow items to be purchased individually.
Both companies get very positive reviews, with some mixed reviews for each. As with any company, some customers have experienced issues with certain items. Many customers love Gnome, while others report the product did not work for them. Above all, customers appreciate the fully organic product lines available, making it a top pick for eco-conscious customers. We also appreciate that the company will go the extra mile to create a plan that fits every yard's needs.
Read Our Full Sunday Lawn Care Review
Our Final Verdict
Gome is an innovative, dedicated company working to solve a very specific issue regarding grass fertilizer and care. They are dedicated to the environment and are a committed 1% for the Planet Member. The company gives 1% of its revenue, which is then put towards environmental causes and protecting the environment.
Most customers are very pleased with the price, ease of use, and results in their yards. The organic formulas and all-natural ingredients are top-notch, and the company is constantly working to improve and grow its product offerings and knowledge base. Delivery is convenient, and owners have options on how often they want deliveries. Shipping is free, and the company offers a Love Your Lawn Guarantee, with full refunds provided for 100 days after purchase.
Gnome is a growing company serving a specific need for an affordable price. We like the ability to add to subscriptions and customized combinations of products. Gnome is worth a try for smaller yards and those needing pet patch repair, pest control, and soil revitalization. The products are far superior to those sold in the hardware store and are more affordable and less invasive than professional yard services. Additionally, the all-natural formulas and ease of use make Gnome a top choice for pet parents who want to keep their homes and pets safe from toxic chemicals.
Learn more about other pet-safe fertilizer options here.
How Can I Stop My Dog From Peeing On My Plants And Grass?
Do you have a dog that simply will not stop peeing on your flowers and grass? It can be a big downer to look outside and see patchy spots of brown and yellow in your yard. Try as we might, getting dogs to pee in a designated area is a massive challenge. Dog urine is very high in nitrogen, which kills grass in high enough concentrations. While nitrogen is a yard fertilizer, too much causes damage to plants and grass. There are steps owners can take to discourage this behavior, like deterrent sprays, training, or in extreme cases, installing a physical fence, or using a wireless fence or GPS collar to keep your pup off the grass and out of the garden beds.
Using safe products on the lawn and at home to deter peeing and getting pee smells out of the house should always be the top priority. Choosing all-natural, organic products like Gnome is a great start.
Tagged With: Outdoors