As dog owners, we've all been there. You got delayed at the office or running errands, and your dog couldn't hold it any longer. Of course, he picked the perfect place on the carpet to pee. Even worse, your pet has chosen a regular spot to relieve himself in your home because you haven't been able to eliminate the smell. Now you're thinking, "help, my whole carpet smells like dog pee." Do you know how to get dog pee smell out of carpet? Never fear! We'll give you some expert tips on how to get dog pee smell out of carpet for good, including reviews of the best urine smell remover for carpet.
Best Stain & Odor Removers
| Winner | Runner-Up | Third Place |
| --- | --- | --- |
| | | |
| Rocco & Roxie | Nature's Miracle | Sunny & Honey |
| | | |
| | | |
How To Get Dog Pee Out Of Carpet
If you want to know how to clean dog pee from carpet, there are a few issues you have to address — the smell, the carpet stains, and how much of the carpet is saturated, i.e., how long since your dog peed (and how long the urine has had to seep deep into the carpet).
First, the basics. What's the best dog urine remover? You might be surprised to know that it's plain old water. Below are some tips on the first steps to take to get dog urine out of the carpet as soon as you find his "oops" spot(s).
How To Get Dried Dog Pee Out Of Carpet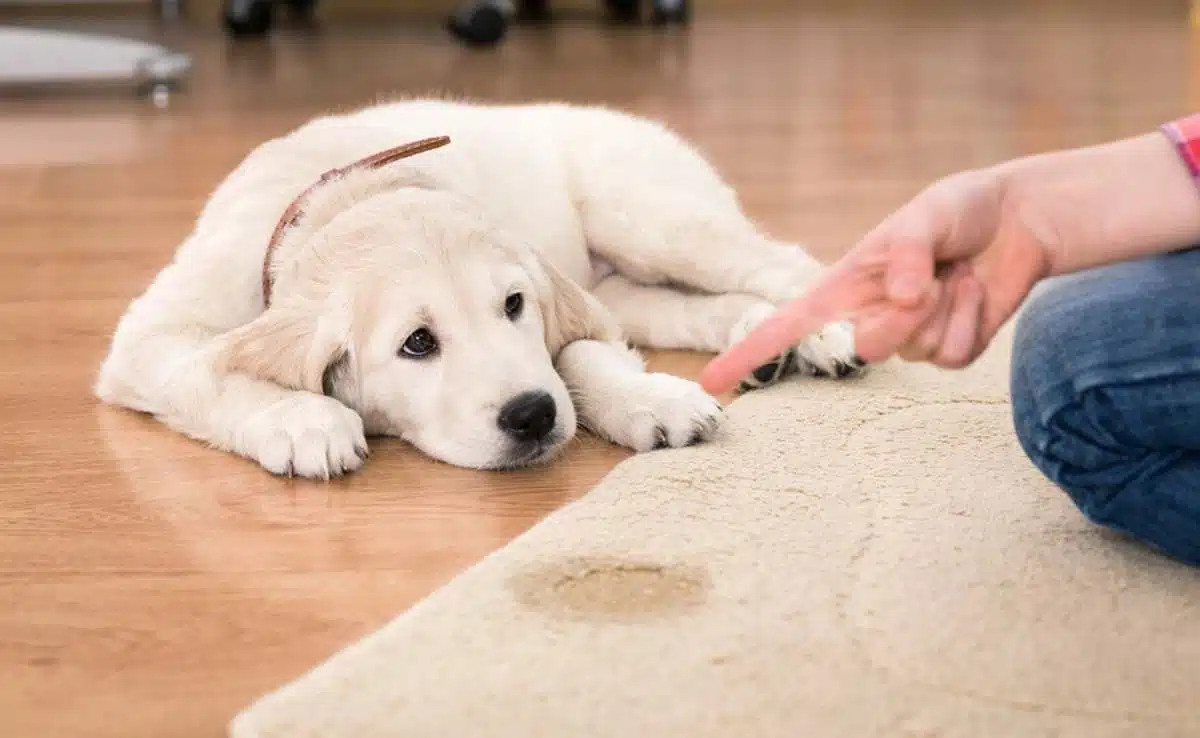 Find the exact location of the stain with a UV flashlight.
Thoroughly rinse the stain with water. A carpet cleaner will do the best job since it saturates the carpet with clean water and sucks up the dirty water. Tip: Don't use a steam cleaner. The heat from a steam cleaner permanently sets the stain and odor.
Apply a pet odor neutralizer (see our recommendations below). Be sure to follow the instructions and test a hidden area of the carpet first to make sure the neutralizer doesn't stain the carpet.
Allow the spot to completely dry.
If the area still looks stained after drying out, use a high-quality carpet stain remover (our picks are below).
If the urine has soaked into the padding under your carpet, you may have no choice but to replace that area of the carpet and padding. Once the carpet pad is wet, it's extremely difficult (if not impossible) to clean and dry it.
Tip: The Humane Society urges you NOT to use heavy cleaning chemicals, like ammonia or vinegar. They actually don't remove the odor, and the strong scent of the chemicals may entice your dog to mark their area again (learn more about why dogs mark their territory).
How To Remove Wet Urine Stains From Carpet
Place a few layers of paper towels over the carpet to soak up the urine.
Cover the paper towels with a clean towel or several layers of newspaper (additional paper towels would work as well).
Place newspaper or a clean towel under the affected area if possible (for example, if it's an area rug).
Press firmly into the stain with an old, clean shoe or something else that you don't mind getting urine on to help absorb as much of the urine as possible.
Replace the paper towels and towels/newspaper if they become soaked, and repeat step 4 (if needed).
Once the urine is soaked up, rinse the area with cool water, and be sure to soak up the water with towels or a wet vac. (If you use a towel, make sure it has been washed multiple times so the dye from the towel is not transferred to the carpet.)
After the area is dry, vacuum the carpet.
How To Get Dog Pee Smell Out Of Carpet
If you're wondering how to get rid of dog pee smell in carpet or how to get old dog urine smell out of carpet, the best way is with a pet odor neutralizer and stain remover. These pet carpet cleaning solutions use natural enzymes that are activated on contact with odors and stains, feeding on ammonia crystals and organic matter until they're eliminated. See below for our top picks.
Best Carpet Cleaner For Dog Urine
All of our top picks are dual-action, so they work as both a pet odor neutralizer and a pet stain remover. Plus, they're all affordable. Read on to find out how to get the urine smell out of carpet next time there's an accident.
Winner: Rocco & Roxie Professional Strength Stain & Odor Eliminator Review
View on Amazon | View on Chewy
Contains natural enzymatic bacteria that are activated on contact with odors and stains
Pet and child-safe (no chlorine or hazardous propellants)
Safe for any surface (carpet, floor, pet bedding, furniture, etc.)
100% satisfaction guarantee
32 fl oz
Learn more in our interview with Rocco & Roxie's Co-Founders
Price
Runner-Up: Nature's Miracle Advanced Pet Trigger Sprayer Review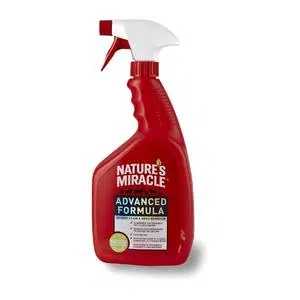 View on Amazon | View On Chewy
Oxygen-infused, bio-enzymatic formula
Fast drying
For use on carpets, furniture, floors, clothing, and more
Guaranteed to permanently eliminate stains and odors
35 fl oz
Price
Personal Experience
I have used Nature's Miracle products for many years. This product is easy to find as it is carried in many grocery and pet stores. It also works well. When used on my carpets, when pee is fresh, I get very good results. It helps with both odor and appearance. I also like that I can use it on my carpet, but also on my couch and laundry. I have used this product for both dog and cat urine and have been very satisfied with the results.

Danielle D., Canine Journal
Third Place: Sunny & Honey Professional Pet Stain And Odor Eliminator Review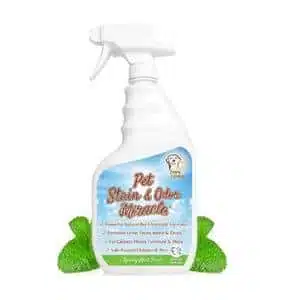 Natural bio-enzymatic formula
Children and pet safe
Multi-surface formula for carpet, rugs, furniture, hardwood, leather, pet beds, crates, and car upholstery
Made in the USA
10% of profits donated to animal rescues and shelters
100% full refund if not satisfied
32 fl oz
Price
Other Items You'll Need
As we mentioned above, there are some other items you'll want to have on hand if you're working on old, dry urine stains. Here are some of our recommendations.
Armor All Wet Vac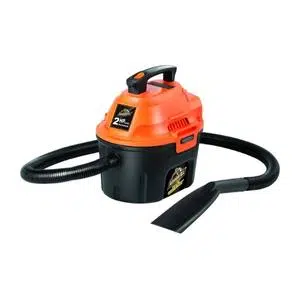 This 2-1/2 gallon wet vac is great at saturating your carpet and sucking up dirty water. It's even powerful enough to suck up solid materials (like pet vomit!). This wet vac is easy to use and small enough to store in a closet. It also makes a great car or workshop vacuum.
Price
Vansky UV Flashlight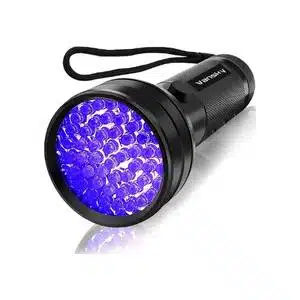 This Amazon-bestselling ultraviolet black light can help you spot hard-to-see pet urine stains on carpets, curtains, furniture, rugs, or any type of fabric. It takes three AA batteries, which aren't included.
Price
I Shampooed My Carpet, And Now It Smells Like Urine
This can sometimes happen with old, dried urine stains that you didn't even know were there and didn't smell before shampooing. When the water and carpet shampoo solution hit the stains, it can reactivate the ammonia in the old urine stain and spread the urine around. And if the shampoo you were using doesn't contain a pet odor neutralizer, you end up in a frustrating situation.
Wondering how to get old urine smell out of carpet? You can use ultraviolet light to find where the urine is located on your carpet. And then treat it with one of the products we review above. However, if your carpet cleaning has spread the urine too far to a wide area, you may want to seek the help of a professional carpet cleaning service.
Personal Experience
Dog pee smell in carpet is a problem I know well. My dog Cookie, a Chihuahua, would pee on the carpet without fail. We tried training her not to do this, but it was a challenge. She just got sneakier and would pee in hidden spots we would not find until much later. Eventually, I ended up replacing our carpeting and crate-training her at night and when we were not home. This helped stop the problem, and I was able to keep my floor looking and smelling nice.

One of the biggest issues I had was the odor. Even when the carpet was cleaned professionally, that smell would creep back a few days later. So, crating her at night and taking her outside regularly every two hours was really the only way to get this problem under control.

Danielle D., Canine Journal
How To Get Dog Poop Out Of Carpet
If your dog poops on your carpet, follow these steps to remove all the poop and poop stains.
Try to remove the poop as soon as possible.
Using a moist paper towel, pinch the carpet fibers to pick up as much excess poop as you can.
Mix two cups of cool water, one tablespoon of white vinegar, and one tablespoon of liquid non-bleach dish soap.
Spray or pour a small amount of the solution into the stain.
Blot the stain with a rag until the carpet absorbs the solution, and repeat until the stain has disappeared. Tip: Blotting, not rubbing, is key. Rubbing the stain can make it worse.
Once the stain is gone, spray or pour a small amount of cold water onto the area and soak it up with a new rag. This helps remove any excess cleaning solution from your carpet.
When it's dry, sprinkle baking soda over the area and let it sit for 10 minutes or so. Then, vacuum.
Oprah, A Pet Stain Removal Expert?
Oprah Winfrey is an expert on many things, including the best stain removers. Who knew?! Check out her advice on how to get pee smell out of carpet on Live with Kelly & Michael (now Live with Kelly and Ryan).
How To Remove Dog Pee Stains From Carpet Infographic
Here's a handy graphic with step-by-step instructions, should you need it.


More Solutions For Pet Odors
As pet parents, we all know that pet odor can go far beyond your carpets. Dogs can get stinky in between baths and make your home smell funky. See our reviews of the best pet odor neutralizers that you can use on your pet and throughout your home. If you're having a dog urine odor problem in your yard, see our experts' tips on how to get rid of pee smells outside. That article also has handy information about how to get your dog's urine from killing your grass.
Tagged With: Cleaning, Comparison