This post may contain affiliate links and we'll be compensated if you make a purchase. This doesn't affect rankings. Our review process.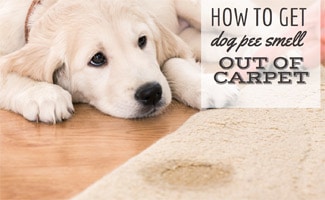 As dog owners, we've all been there. You got delayed at the office or running errands, and your dog couldn't hold it any longer. Of course, he picked the perfect place on the carpet to pee. Or even worse, your pet has chosen a regular spot to relieve himself in your home because you haven't been able to completely eliminate the smell. But do you know how to get dog pee out of carpet? Never fear! We'll give you some expert tips on how to get dog pee smell out of carpet for good!
What's the Best Way to Get Dog Urine Out of Carpet?
When your dog pees on your carpet, there are a few issues you have to address — the smell, the carpet stains and how much the carpet is saturated, i.e. how long since he peed (and how long the urine has had to seep deep into the carpet). First, the basics. What's the best dog urine remover? You might be surprised to know that it's plain old water! Below are some tips on the first steps to take to get dog urine out of carpet as soon as you find his "oops" spot(s).
New Stains (Still Wet)
Place a few layers of paper towels over the affected area of the carpet to soak up the urine.
Cover the paper towels with several layers of newspaper.
Place newspaper under the affected area if possible (for example, if it's an area rug).
Once the urine is soaked up, rinse the area with cool water, and be sure to soak up the water with towels or a wet vac.
Older Stains (Dried)
First, thoroughly rinse out the stain with water. Your best bet is to rent a wet vac — they do the best job at saturating your carpet with clean water and sucking up all the dirty water. Make sure you use plain water — it works better than adding chemicals. Tip: Don't use a steam cleaner! The heat from a steam cleaner permanently sets the stain and odor.
Once the spot is clean, apply a high-quality pet odor neutralizer (see below for our recommendations). Follow instructions carefully and test out a hidden area of the carpet to make sure the neutralizer doesn't stain.
Allow the spot to completely dry.
If the area still looks stained after drying out, use a high-quality carpet stain remover (our picks are below). Tip: The Humane Society urges you not to use heavy cleaning chemicals, like ammonia or vinegar. They actually don't remove the odor, and the strong scent of the chemicals may entice your dog to mark "his" area again (learn more about why dogs mark their territory).
If the urine has soaked into the padding under your carpet, you may have no choice but to replace that area of the carpet and padding.
Best Pet Odor Neutralizers & Best Pet Stain Removers
All of our top picks are dual-action, so they work as both a pet odor neutralizer and a pet stain remover. And they're all affordable! Find out how to get urine smell out of carpet below.
Sunny & Honey Professional Pet Stain and Odor Eliminator Review
Natural bio-enzymatic formula
Children and pet safe
Multi-surface formula for carpet, rugs, furniture, hardwood, leather, pet beds, crates and car upholstery
Made in the USA
10% of profits donated to animal rescues and shelters
100% full refund if not satisfied
#1 Best Seller on Amazon
32 fl oz
Price: $19.97
Rocco & Roxie Professional Strength Stain & Odor Eliminator Review
Contains natural enzymatic bacteria that are activated on contact with odors and stains
Pet and child safe (no chlorine or hazardous propellants)
Safe for any surface (carpet, floor, pet bedding, furniture, etc.)
100% satisfaction guarantee
#1 Best Seller on Amazon
32 fl oz
Price: $19.97
OmegaPet Pet Odor and Stain Remover Review
Professional-grade enzymatic solution eats away odor-causing bacteria caused by pet urine and vomit
Safe on many surfaces (carpet, upholstery, wood floors, pet bedding, cages, cars and more)
Linen-fresh aroma
#1 Best Seller on Amazon
32 fl oz
Price: Out of stock
Nature's Miracle Advanced Pet Trigger Sprayer Review
Oxygen-infused, bio-enzymatic formula
Fast drying
For use on carpets, furniture, floors, clothing and more
Guaranteed to permanently eliminate stain and odors
#1 Best Seller on Amazon
35 fl oz
Price: $18.40
Oprah, a Pet Stain Removal Expert?
Oprah Winfrey is an expert on many things, including best stain removers. Who knew?! Check out her advice on how to get pee smell out of carpet on Live with Kelly & Michael. And she even recommends one of our top picks!
Don't Give Up on Ridding Your Home of Pet Odor
If you've tried everything under the sun with no success, we hope we've given you the cure for how to get dog urine out of carpet, as well as other tips for pet stain removal. We did our research to help you not give up hope! You don't have to live with the smell of dog urine, get rid of that dog pee on carpet today.
What's your secret to getting rid of pet pee odor?
We are a participant in the Amazon Services LLC Associates Program, an affiliate advertising program designed to provide a means for us to earn fees by linking to Amazon.com and affiliated sites.