Does your dog smell in between baths? Besides bathing our pups nearly daily, how can we eliminate their offending odor? By using a scented or unscented dog odor eliminator. The best pet odor neutralizer can double as a neutralizer for floors, furniture, and carpets.
Top 3 Pet Odor Neutralizers
Heare are our top three picks for best odor eliminator for pets.
Winner: Aromatherapy Freshening & Shining Spray For Pets Review
This Aromatherapy Freshening Spray is our overall pick for the best dog odor eliminator. It will remove odors from your dog's coat and provide aromatherapy benefits. Among the ingredients is lavender oil, which fights against bacteria, chamomile oil, suitable for dogs with eczema, and aloe vera, an anti-inflammatory agent, that soothes irritated skin.
This all-natural dog odor spray has a relaxing scent and is cruelty-free, which is why it's our pick for the best pet odor eliminator. And since it is all-natural, it may be a good choice as a puppy odor neutralizer in addition to adult dogs but check with your vet before applying it to a growing pup.
| Pros | Cons |
| --- | --- |
| Made in the USA | Should not use on cats (spray bed instead) |
| Paraben-free, dye-free and cruelty-free | |
| Cleans coat and leaves it shiny | |
| Rehydrates sensitive, dry skin | |
| Some pet parents say it helps calm their dog | |
Pricing
Runner-Up: Paw Choice Dry Dog Shampoo Review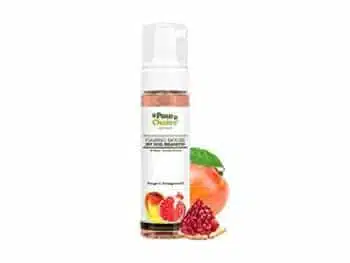 Coming in second in our best pet deodorizer is Paw Choice. Unlike our first pick, this Paw Choice Dry Dog Shampoo is a pomegranate, mango-scented foam mousse that you massage into your dog's coat and let air dry. There is no water required, but it does require a little more work than the typical spray bottle.
However, pet parents are pleased with the performance of this mousse. Paw Choice claims this mousse is better than a spray or cologne because it eliminates the odor and doesn't just mask it.
| Pros | Cons |
| --- | --- |
| Made in the USA | Unsure about use on cats, it says not for internal ingestion on the bottle |
| 30-day satisfaction guarantee | Not as quick to apply as a spray is |
| Cruelty-free | |
| Removes odor-causing bacteria | |
| Good for sensitive skin | |
Pricing
Third Place: Fresh Wave Pet Odor Removing Spray Review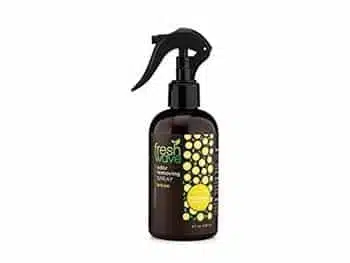 This natural, multi-purpose spray is another good option to consider for pets, their bedding, furniture, clothing, carpet, and more. It has a zesty lemon scent that's pleasing but not overpowering. Fresh Wave's spray uses all-natural ingredients with no parabens, alcohol, phthalates. This spray is powerful, and its professional strength is safe for everyday use.
| Pros | Cons |
| --- | --- |
| Brand has a 30-year history of plant-based odor removers | More expensive than the other top 2 picks (but comes in a larger bottle that lasts longer) |
| Non-toxic, paraben-free and cruelty-free | |
| Can be used on bedding, couches, and dogs | |
| Safe for cats, puppies, and kittens | |
Pricing
Other Pet Odor Neutralizer Reviews
We reviewed some other pet odor eliminator products that didn't make our top 3 list but are popular among consumers.
FURminator deShedding Waterless Pet Spray Review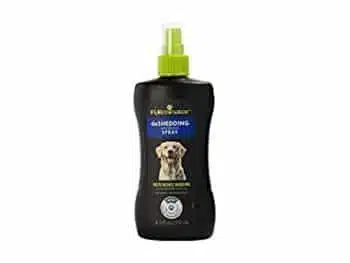 This waterless dog spray will keep your pup smelling good in between baths. It can be used for both cats and dogs and is made in the United States. The biggest complaint is that this spray is not scent-free.
Some customers liken this spray to Febreze — it masks the odor with another scent (but please don't put Febreze directly on your pet). And similar to Febreze, it isn't a long-term solution, only temporary.
| Pros | Cons |
| --- | --- |
| Made in the USA | Doesn't work as long as others |
| Paraben-free, chemical-free | Masks the odor |
| Loosens dead undercoat | |
| Can be used on cats | |
Pricing
Oxyfresh Pet Deodorizer Review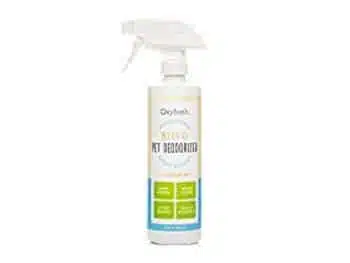 This vet-recommended odor neutralizer is an excellent option if you're looking for a spray without a harsh scent. Oxyfresh eliminates odors rather than just masking them. It even proves effective on cat urine and litter boxes.
| Pros | Cons |
| --- | --- |
| Made in the USA | Little consumer feedback |
| Paraben-free and cruelty-free | |
| Can spray on pets, carpets, bedding, furniture, and more | |
| Safe for dogs and cats | |
Pricing
What Makes Dogs Smell So Bad?
Now that you have a way to cover up their smell with the best dog deodorizing spray, ever wondered why the infamous "wet dog smell" is so strong? This video explains why yeast and bacteria cause this raunchy smell.
How Do I Keep My Home Smelling Fresh?
Is your pup prone to peeing where they shouldn't? Are you tired of your house stinking like urine too? Looking for other dog odor removers? Before treating the pee odor, you'll need to know precisely where it is. The best way to clearly identify the entire stain is to use a UV flashlight. Then you can remove all traces of the pee. Check out our article on how to get dog pee out of the carpet.
Tagged With: Cleaning, Comparison