To sustain this free service, we receive affiliate commissions via some of our links. This doesn't affect rankings. Our review process.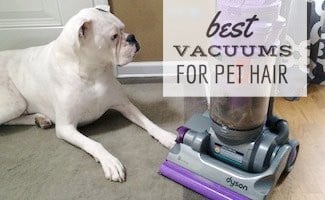 Let's face it: hair is part of the bargain when you decide to become a pet owner. While you can try to cut down on shedding by feeding your pup a high-quality food and brushing him or her more often, it's still no substitute for a good, quality vacuum cleaner to keep the mess contained. However, not all vacuums are created equal, and part of keeping clean means choosing a device that's up to the task. So what is the best vacuum for pet hair? We've taken a look a some of the best picker-uppers in the business and share our top three favorites in this article.
Best Pet Hair Vacuums: Pet Vacuums vs. Regular Vacuums
It's recommended that if you have a pet, you should vacuum in high traffic areas daily. However, you may be asking yourself why you need a vacuum specifically for pet hair. While regular and pet vacuums look and have many, if not all, of the same outward features, pet hair vacuums boast certain enhanced attributes that make them more capable of handling a higher volume of hair and dander.
Three things that make them more suited for handling your household are:
Enhanced suction.
Tailored tools and accessories.
High-performing filtration systems.
What to Consider When Choosing a Pet Hair Vacuum
Before choosing a pet hair vacuum, think about what type of vacuum would work best for your home and needs. Just like regular vacuums, there are different sizes, styles, and performing powers for pet hair picker-uppers. The four main types of vacuums you'll encounter are upright, canister, stick and robotic vacuums. The style you choose will depend on the size of your space, how much hair and dander you're dealing with, and what you're willing and able to pay. Keep reading to learn about all about all three or pick which category you're most interested in using the menu below:
Canister | Stick | Upright Vacuums |Robotic
Best Canister Vacuums
For overall cleaning of various surfaces — from carpet to hardwoods — canister vacuums are typically the best choice. On many, you can turn on and off suction cycles depending on the type of floor you're covering. The largest and most bulky of the three options, canister vacs definitely need more storage space and can be a little more of a pain to drag around, especially up and down stairs.But their overall cleaning power and ability to access tight spaces make them a great option.
Best Canister Vacuum: Eureka 3684F Mighty Mite Review
View on Amazon
The Eureka 3684F canister vacuum has a powerful brush roll to help deep clean your carpets and get every strand of pet hair (or almost – we are not prepared to make a guarantee about all those pesky, wiry hairs 😉 ). A set of tools is provided as well for places like stairs and upholstery. It's great for cleaning your home and the inside of your car (if you take your pet on car trips often this can be handy!). It is also reasonably priced at
$86.51.
Pros

Cons

Great for homes and cars
Lightweight
20-foot cord
1-year warranty
Special pet hair attachment

Not cordless so this may be a hassle for car cleaning
Canister Honorable Mention: Dyson Cinetic Big Ball Animal Plus Allergy
This Dyson vacuum not only helps with pet hair but is also great for those of you with allergies. Although there are a few Dyson products, the best Dyson for pet hair is the Cinetic Big Ball. It has a strong suction, and there is no filter to wash or replace. It has many adjustments to get pet hair out of corners and other difficult to reach places. The downside? The price is pretty hefty, , which is why it is our honorable mention.
Pros

Cons

5-year parts and labor warranty (when purchased from an authorized retailer, including amazon.com)
Turns on a dime to access hard-to-reach areas
35 ft cord
Tangle-free Turbine tool ensures that hair won't tangle around a brush bar

Weighs almost 20 lbs
Expensive
Best Stick Vacuums
If you have a large home and multiple pets, a stick is probably not the best choice, yet for small spaces and small messes, a stick vacuum can be a lifesaver. These slim, upright vacs take up very little space and are often battery charged (no cords!). So while you may only get a certain number of minutes vacuuming time on one charge, you don't have to deal with dragging around a pesky cord. Many stick vacuums also have a built-in hand-held vac that detaches from the main vacuum to make even the smallest messes easy to access and clean.
Best Stick Vacuum: Bissell 1954 Bolt Lithium Ion Pet Review
View on Amazon
This vacuum does a great job of sucking things up that normally you can only get with a broom and dustpan. And, like other stick vacs, this little guy is a grab and go convenient picker upper! The vacuum includes attachments and even separates into a hand-vac option. The structure bends in the middle to make it easy to vacuum in between tables and chairs, and is currently
$119.99.
Pros

Cons

Sucks up debris in tight spaces and along edges well
Easily cleans around furniture legs and area rugs
Swivel head
Dirt cup is easy to empty
Battery operated
Made for all floor types
2-year warranty

Emptying the cup requires more work than the press of a button
Stick Honorable Mention: Electrolux Ergorapido Power Ion
The Electrolux Ergorapido Power Ion is another one of the top vacuums for pet hair. This sleek, slim vac is both an upright and a hand-held, depending on how you choose to use it. Also, it packs quite a punch for its size and is cordless so you can use it anywhere. All while costing
Out of stock. Overall, this stick model is a steal for the price and performance. Just be prepared to replace the batteries sooner rather than later.
Pros

Cons

Combination stick and handheld vac in one
Energy-STAR rated appliance for energy savings
Cordless and bagless design
Lightweight and easy to store
2-year warranty

Doesn't stay charged for longer than 35 minutes at a time
Best Upright Vacuums
For large carpeted areas, the upright typically wins for easy use and maneuverability. It's more compact than a canister vac, yet less so than a stick. So it falls right in the middle when you're considering storage. Until recent years, uprights were less productive on multiple surfaces (i.e. tile, hardwoods, etc.) but with increased attachments and suction capabilities, they are now a top option for vacuum shoppers.
Best Upright Vacuum: Shark Rotator Professional Lift-Away Review
This upright is actually not designed as a pet-specific vacuum, yet its features put it right up there with some of the best for the hairiest jobs as well as the "normal" messes. They have a few versions but we think it's the best Shark vacuum for pets. Portable, lightweight, and affordable, this vac is a serious contender for your pet-cleaning needs. The biggest complaints with this machine are mainly construction-based; when it comes to the Shark Rotator's performance, however, the results are unquestionable. For a pet vacuum that delivers on both price —
$171.17 — and performance, you can't go wrong with the Shark Rotator Professional Lift-Away.
Pros

Cons

3-year warranty
Great suction
Detachable canister for convenience
Anti-Allergen Complete Seal technology locks in 99.9% of contaminants inside vacuum
HEPA (or high-efficiency particulate air) filter traps dust particles that most vacuums would re-circulate back into the household

Small reservoir fills quickly and requires you to empty often
Top-heavy design can make the machine unbalanced when using attachments
Detachable functions are a bit awkward to use
Best Robotic Vacuum for Pets: bObsweep PetHair Robotic Vacuum Cleaner and Mop Review
View on Amazon
Looking for a robotic way to clean up unwanted pet hair? The bobsweet PetHair Robotic Vacuum is a sweeper and mop in one. In addition to sucking up debris and hair, it will also wipe paw prints and slobber from the floor at the same time. It works on all floor types and comes with a 1-liter dustbin (which is relatively small compared to traditional vacuums but large for a robotic cleaner). You can even set it on a schedule to auto clean while you're away, which is a bonus because your dog might bark or play with it.
Pros

Cons

2-year warranty
UV sterilizing and air purifying in addition to vacuuming and sweeping
Self-adjusts to floor type
Can run for over one hour on a single charge
Large dustbin with filtration system
Remote control to adjust speed and functions
Can get in hard to reach places like under the bed
Bag Vs Bagless Vacs
No matter which type you go with, with each of these vacuums you need to consider whether you want a vacuum that requires a bag, or one that is bagless. While bag vacs contain the dirt, hair, and dander more efficiently, they also add an increased expense and aggravation to the cleaning process. A few pros of most bagless vacuums include:
Saving money: With bagless options here are no bags to buy.
Eco-friendly: Bagless vacs are easier on the environment as they don't put another unnecessary bag in the landfill.
Easy to empty: Today's canisters are so easy to empty that you won't even miss the bag.
Transparency: You'll know when your vacuum isn't doing its job because you can see what it's picking up (or not capturing at all).
Video: The Best Way To Vacuum
Did you know there was a proper way to vacuum? Watch this video to learn how to get your floors even cleaner, especially if you pair these tips with a new pet hair cleaning machine like those recommended above.
You Have Options With Pet Vacuums
As with most gadget options, there is not a one size fits all solution for pet fur vacuums! We hope this guide helps you get on the right track so you can enjoy a hair-free home with you furry friend! Read about the Best Dog Shedding Brush and why grooming is another good way to control pet hair around the house.
Does your dog shed a lot year round or just seasonally?
We are a participant in the Amazon Services LLC Associates Program, an affiliate advertising program designed to provide a means for us to earn fees by linking to Amazon.com and affiliated sites.