Hair, hair, everywhere! Sound familiar? If you find yourself continually vacuuming because of your dog's massive amounts of shedding, then you've come to the right place to see our picks for the best deshedding brushes on the market.
| Winner | Runner-Up | Third Place |
| --- | --- | --- |
| | | |
| FURminator | Pet Neat | Oster Shedmonster |
| | | |
| | | |
What Is A Dog Hair Remover?
Whereas dog brushes groom your dog's fur, a dog hair remover physically extracts excess hair.
Nothing can eliminate 100% of the shedding. However, many of the brushes we reviewed claim to remove up to 90% of your dog's shedding fur.
Why Should I Use A Dog Shedding Brush?
Removing excess hair helps canines stay cool during the warmer months
They keep the house and your clothes hair free
A dog shedding brush can eliminate tons of clean-up time (read our article on the best dog vacuums to learn more about the best tools for cleaning up hair)
It keeps your pet's coat looking spiffy
Best De-Shedding Tools
We chose the best deshedding tools based on price, customer reviews, brush quality, ease of use, and more.
Winner: FURminator Review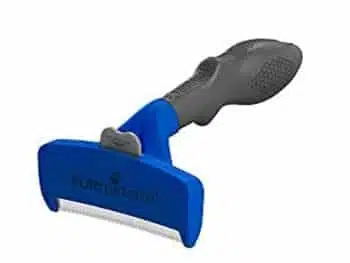 The FURminator brush claims to reduce shedding by up to 90%. It comes in various sizes for short and long-haired dogs, making it easy to find the best style for your pet.
Unlike others in this article, the FURminator has a "FURejector" button to remove loose hairs from the tool for no-hassle cleaning.
The tool's hair ejection feature comes at a higher price tag, and some buyers report the brush breaks. However, this brush is the top pick of most consumers versus the competition.
FURminator also offers a shampoo designed to reduce shedding.
Author's Experience
I've been using this on Sally, my hound mix, for more than three years and love it. It works great for her coat. I make sure I am gentle when I brush her and let the brush do all the work. The FURejector is convenient at helping remove all the hair collected.

– Kimberly A., Canine Journal
| Pros | Cons |
| --- | --- |
| Many brush options/colors for different breeds and sizes | More expensive than others we review |
| Ergonomic comfort-shaped rubber handle | Some complaints of the brush breaking |
| Button cleans and removes loose fur from the tool | |
| Claims to reduce shedding by up to 90% | |
Price
Runner-Up: Pet Neat Pet Grooming Brush Review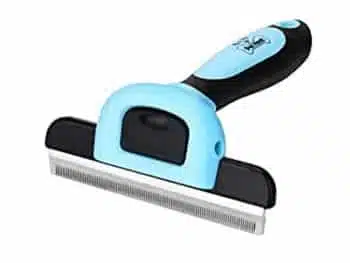 The Pet Neat Pet Grooming Brush is an excellent value for its quality and effectiveness — the manufacturer claims it reduces 95% of shedding. And many users say it's amazing at removing hair and de-tangling their dog's coat.
The durable stainless steel comb detaches with the push of a button for easy cleaning. This de-shedding tool also has a sturdy, easy-grip handle for your comfort.
| Pros | Cons |
| --- | --- |
| Made from sturdy stainless steel | Only comes in one size |
| Detachable comb head for easy cleaning | Comb teeth may not be long enough for double-coated dogs |
| No-slip handle for easy grip | |
| Claims to decrease the amount of shedding by 95% | |
| Great value and inexpensive compared to other brushes | |
Price
Third Place: Oster Shedmonster Review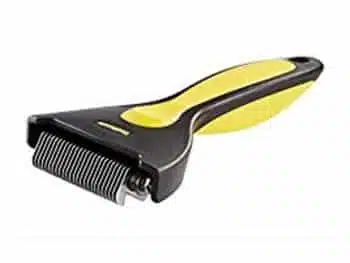 The ShedMonster by Oster is our third choice for the best dog brush for shedding. Depending on your dog's coat, it offers two different brushes: fine/short hair or medium/long hair. The Shedmonster can de-shed, de-mat, and de-tangle, all in one tool.
The ShedMonster also claims to reduce shedding by up to 90%. This brush works great on Labrador Retrievers and other breeds with thick undercoats.
Author's Experience
I've used this brush on labs before, and it works great. I like how sturdy the brush is. It does a good job de-shedding. Since the teeth are not as sharp as the FURminator, I'm not as worried about the possibility of applying too much pressure.

– Kimberly A., Canine Journal
| Pros | Cons |
| --- | --- |
| Buyers have given it many positive reviews | No hair removal button or detachable head to clean the brush |
| Stainless steel teeth that are curved to brush deeply into coat | The reviews for the short hair brush suggest it removes less hair than it claims |
| No-slip handle with ergonomic shape for easy grip | |
| Claims to decrease the amount of shedding by 90% | |
| Great value and inexpensive relative to competition | |
Price
What Are My Other Options?
EquiGroomer Dog Deshedder Brush Review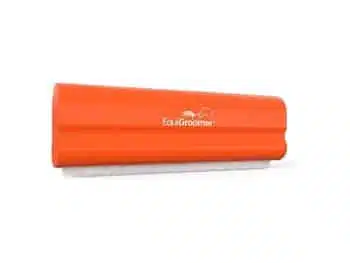 This tool from EquiGroomer removes hair from short and long-haired dogs and cats. The durable wave-style blade prevents rust and also removes dirt while gently massaging their coat. It's versatile for all animals and comes in a variety of colors. Plus, it's made in the U.S. and they have a 100% satisfaction guarantee.
| Pros | Cons |
| --- | --- |
| Claims to decrease the amount of shedding by 95% | Not as easy to use as a traditional brush |
| Slip-resistant handle | |
| Use on various hair lengths and animal types | |
Price
FurGOpet Dog Deshedder Review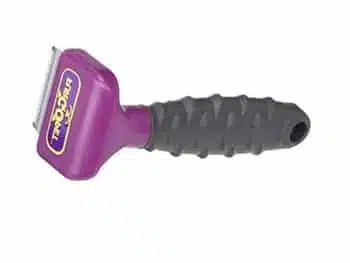 Many pet owners love the FurGOpet and say it successfully removes your dog's undercoat and loose hair to decrease the amount of shedding.
The FurGOPet comes in two sizes: one for smaller pups under 20 pounds and cats and one for larger dogs. However, some users complain that the sizes are just way too small, and even the larger brush won't do the job on thicker coats.
Both are a great value (less than $15) and have solid reviews. Like others, it claims to decrease shedding by 90%.
Price
| Pros | Cons |
| --- | --- |
| Claims to decrease the amount of shedding by 90% | Some users report that it gives "brush burn" easily |
| Buyers are pleased with their purchase | Smaller-sized brush than people expect |
| Sells for a lower price than many competitive products | |
Grommi Deshedder Dog Review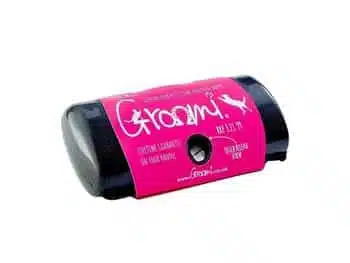 Similar to the Equigroomer this untraditional brush can be used on a variety of animals and coats. It does not penetrate your pet's skin or break the hair, removing excess hair without discomfort. It only comes in one color (pink) and has a satisfaction guarantee if you don't love it.
| Pros | Cons |
| --- | --- |
| Claims to decrease the amount of shedding by 90% | Made and ships from the UK |
| Buyers are pleased with their purchase | More expensive than other brands |
| Comes with a lifetime guarantee | |
Price
Starts at: – [asa tpl='PriceLink']B078SZH7KT[/asa2]
Pet Portal Slicker Pro Review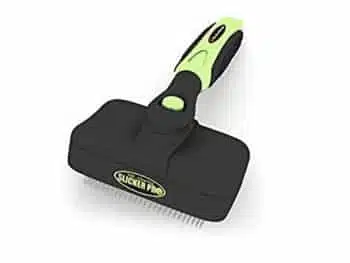 The bristles on the Pet Portal Slicker Pro retract with the click of a button, making cleanup a breeze (just wipe away the hair instead of trying to claw it out). There are some reports of the brush pins bending easily and not retracting back properly.
Personal Experience
"We had the chance to test out this brush in exchange for an honest product review. I tried it out on a 20 pound, short-haired dog, and it did a good job of removing some excess hair. It was easy to clean and a comfortable grip handle. However, the dog was very squeamish and didn't like the feel of the sharp stainless steel bristles at first. But, over time, they learned to like it."

– Sadie C., Canine Journal
| Pros | Cons |
| --- | --- |
| Self-cleaning | Brush bristles can be sharp and bend easily |
| Ergonomic rubber grip handle | Smaller-sized brush than people expect |
| Comes in two colors (black/green and white/blue) and sizes for large and small dogs | |
| Designed and sold by family-owned U.S. business | |
| 5-year guarantee | |
Price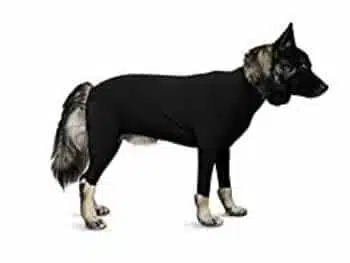 Another way to keep flyaway fur from taking over your house or car is to use the Shed Defender. Featured on Shark Tank in 2019, this unique dog onesie helps contain shedding no matter where you are, but it also has many other uses.
The lightweight, breathable fabric is made from recyclable materials. The Shed Defender fits snugly to help reduce anxiety, and you can also use it to cover hot spots or for post-surgery protection. The zipper stops at the underbelly, giving your dog bathroom access at all times.
Best Pet Vacuum To Clean Up Shedding
Now that you've got your dog's coat cleaned up, unfortunately, the floor and sofa are covered in hair! Based on our personal experience, we highly recommend this handheld Black & Decker Pet Hand Vacuum. It always gets all our dog's hair cleaned up around the house in no time.
If you are looking for a canister, upright, or stick vacuum instead, check out our full pet vacuum reviews to find the best way to keep your house clean. We also have helpful tips for getting pet hair out of your laundry.
Can I Stop My Dog From Shedding?
Unfortunately, there's no cure for dog shedding, but some are non-shedding dogs. You can help eliminate a good portion of the loose fur on your shedding dog by following these tips.
When the weather cooperates, we suggest you use these shedding tools outside. This will keep the hair you brush off away from your couch or carpet (which defeats the purpose, right?).
Dog Hairbrush vs Dog Shedding Brush
Doesn't a dog hairbrush and deshedding brush do the same thing? No.
Dog hairbrushes help keep the hair in good condition. The hairbrush also removes dirt and spreads natural oils throughout your pup's coat keeping your furry friend healthy.
Brushing also gives you time to check your dog for fleas and make sure the coat is in beautiful condition. For this reason, it's essential to groom your dog regularly, too. Should you run into matted hair in your dog, we have a guide to take care of the problem. Lastly, explore useful tools that can effectively remove pet hair from your laundry.
Tagged With: Allergies, Comparison, Grooming, Shedding