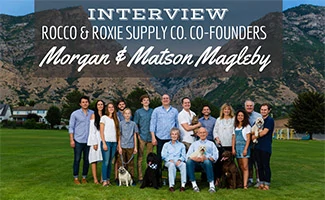 The Magleby family started Rocco & Roxie, a Utah-based dog product company, in 2013. Their lineup includes various products for canine health and wellness, grooming, toys, and award-winning cleaning products (including one of our top picks for pet odor elimination).
This family-run business has a big heart for helping pets and maintaining a high-quality standard for its products. By testing with their own pets, Rocco the dog and Roxie the cat (who the company is named after), they build trust by using only the best ingredients and recipes that their pets use and approve.
Our exclusive interview explores the company, learning how they started and successfully manage a growing national product line with loved ones.
What prompted you to create a dog product?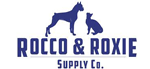 We learned how to be entrepreneurs and took on a business-minded spirit growing up in a house where our dad worked on many different businesses of his own. We knew we wanted to be part of the e-commerce revolution. We love our pets as family members and are particular about the products we use in our homes for ourselves and are no less particular for our pets. So when we thought about getting into e-commerce, it was only natural that we start a pet company that creates the best products we would actually want to buy and consume for our own pets.
Rocco & Roxie was founded by brother-duo Morgan and Matson, along with their dad Hal and their brother-in-law Paul. Matson proposed creating a pet supply company after seeing a hole in the pet market for products for his own dog Rocco. With their dad's wisdom and entrepreneurial advice, they have grown into one of the leading pet supply companies and an Amazon bestseller.
What's it like running a family business?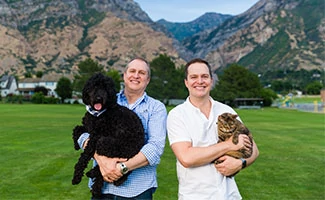 Rocco & Roxie Supply Co. is a fourth-generation family business that feels like a family party every day. Being a family-owned and operated business means more time with our family. It doesn't feel like going to work. We get to spend time with the people we love every day, and there is a high level of commitment to making the very best products and the business successful.
Although the business started with our blood-related family, it has expanded to include our employees who have become honorary family members. Sometimes when we are on a conference call, the mailman will come and all the dogs start barking, or one of the grandkids walks in and wants to say hi. But that kind of chaos is what makes this a family business and not a stuffy corporate office.
"It means I get to spend more time with my kids and our dad. Especially later in his life, every moment we get to spend together is precious," said Matson, co-founder and owner of Rocco, the Labradoodle.
How did you develop your powerful stain & odor eliminator formula?
We tested many different formulas until we found the one that we are using now. We knew that we wanted it to be safe for people and pets, but it also had to actually work. We tried many formulas that were safe, but this was the only one that had the right combination of ingredients to actually eliminate the source of the odor.
Does the product work for other types of stains (cats, smoke, etc.)?
Professional-Strength Stain & Odor Eliminator Eliminator is known to virtually eliminate any stain and odor from urine, feces, vomit, and other organic stains. The formula contains natural enzymatic bacteria that are activated on contact with odors and stains, feeding on ammonia crystals and organic matter until they are completely eliminated. It will not degrade, dissolve, or otherwise damage fabrics, and also discourages pets' attraction to stained areas by making odors disappear while removing stains from most surfaces.
Their Oxy Stain Remover is more of a general-purpose cleaner that gets to work fast releasing active oxygen molecules that break up the gunk. The result: stains lift safely and completely out, leaving carpets, floors, furniture, and other surfaces fresh, and your beloved child or pet newly forgiven. It tackles all kinds of people and pet stains from grape juice, blood, red wine, and ketchup, to urine, vomit, grass, grease stains, and more.
What are the pros and cons of various retail outlets?
We've seen most of our success on Amazon and other e-commerce platforms to date. Through Amazon's marketplace, our customers had the ability to read the thousands of honest, glowing reviews that started flooding in following the success of our Stain & Odor Eliminator's launch – we are now at over 20,000 glowing reviews.
As amazing and convenient as Amazon is, there is something to be said about holding a physical product in your hands and being able to purchase it at your local store right when you need it. E-commerce is growing steadily, but the vast majority of sales are still made in brick-and-mortar stores, which is why we are looking to expand our product availability in this category. Brick-and-mortar retail is a huge market we have just entered, and we want to explore all the opportunities to have our products available anywhere our customers are shopping.
What makes you stand apart from competition?
Our pets are a huge part of our family, which is why we only work with the highest quality ingredients and make sure our products are child and pet safe – we even test them on our own pets first. This allows us to confidently stand behind our products with a 100% total satisfaction guarantee. If a customer is unhappy with the product, we will refund them without question.
This ethos has created trust, brand loyalty and made us stand out as a pet company. We have become more of a household name among pet owners who care very much about the types of cleaning and grooming care products they use for their pets and about the kinds of ingredients their pets consume when it comes to treats and toys. We also work with a team of veterinarian advisors who help us navigate, creating the very best products for our furry friends.
Any customer success stories?
We now have over 20,000 reviews on this product. We love to read them and see how our product has helped so many people. We hear stories all the time of how people were planning to throw out their new couch or rug until they found our product.
What advice do you have for starting a dog business?
Make quality products that you would want for your own pets, then back them with customer service that exceeds expectations. That has been the key to our success. It is hard to build a lasting business on inferior products. Start with great products, and then give such excellent customer service that people want to keep coming back.
What roles do Rocco & Roxie play in the business?
Rocco & Roxie were the inspiration behind the company. We like to think of them as our product testers and companions. All of our products are tested and approved by our pets before we begin selling them.
What do Rocco & Roxie like to do for fun?
Rocco loves to go to the store with Matson. He always takes him to Home Depot or any other pet-friendly stores because he loves to be included.
Roxie is a homebody and loves to take naps in a sunny spot.
What's next?
The next product we are planning to launch will be oral care products – an oral spray and water additive for cleaning tartar. We are looking at creating several different treats, two more supplements formulas, and food toppers. We also plan to expand our brick and mortar and retail presence in 2021.
Thanks for sharing your story with us, and best wishes for the future of Rocco and Roxie, visit their page on Amazon to see all of their products.
Tagged With: