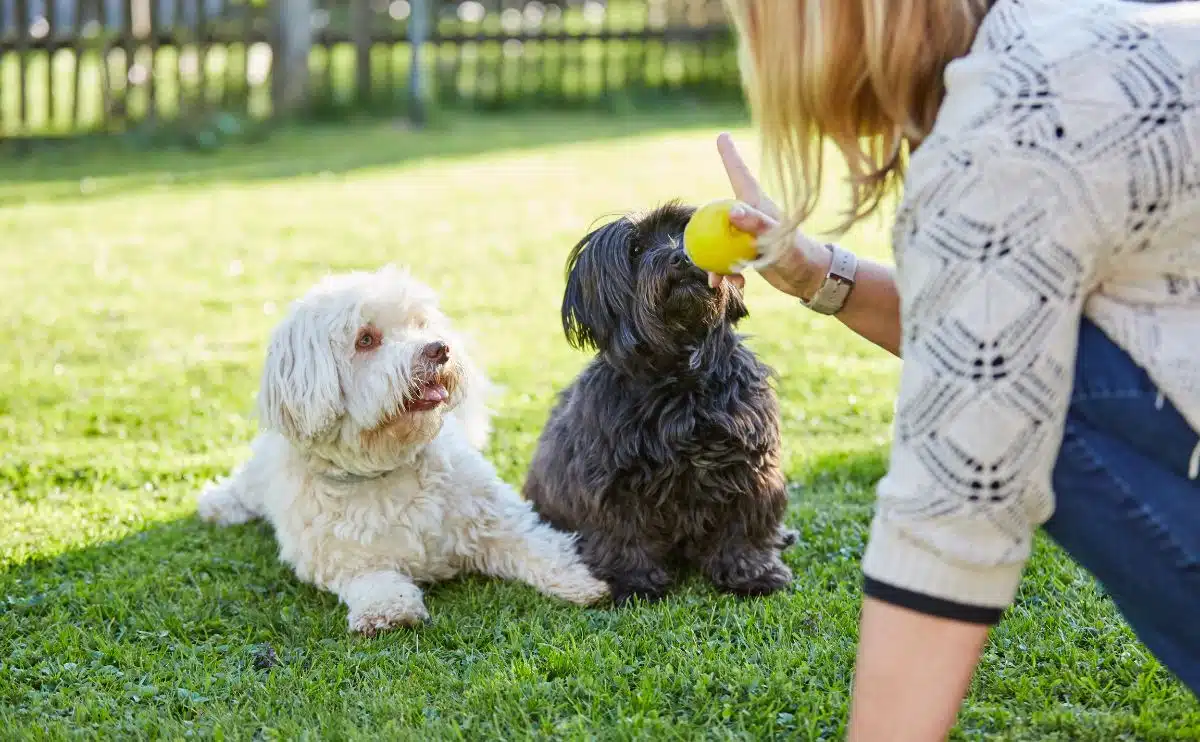 While it's essential to train your four-legged friend to follow your commands and behave properly in many situations, hiring a professional dog trainer is expensive and may not work well with your schedule. A fantastic alternative that's more affordable and convenient is taking online training courses through a service like SpiritDog Training.
Is SpiritDog Training legit? For sure, and you might be surprised at how effective it can be. But is this virtual program the right fit for you and your dog? We've done extensive research into SpiritDog Training and many other top online options to help you make the best decision for your needs.
Visit SpiritDog Training's Website
SpiritDog Training Review

Product Name: SpiritDog Training
Product Description: SpiritDog Training is an online program that offers 17 training courses for beginners to advanced needs.
Summary
Based on our personal experience and the many positive customer reviews we've seen, SpiritDog Training is worth every penny. The lessons are extremely helpful, highly effective, and easy to fit into your busy schedule. 
Our team determines the overall rating based on several factors, including the variety and quality of courses, effectiveness, price, customer service and reputation, and more.
Pros
Wide variety of courses
All lessons taught by certified professional dog trainers (CPDTs)
Uses positive, game-based training methods
Can start right away with instant access
Free intro course
Zoom meetings & community (with Academy membership)
60-day money-back guarantee
Excellent customer reviews
Cons
Pricier than some other top online dog training courses
No mobile app (but you can still view the web-based lessons on your phone)
Key Features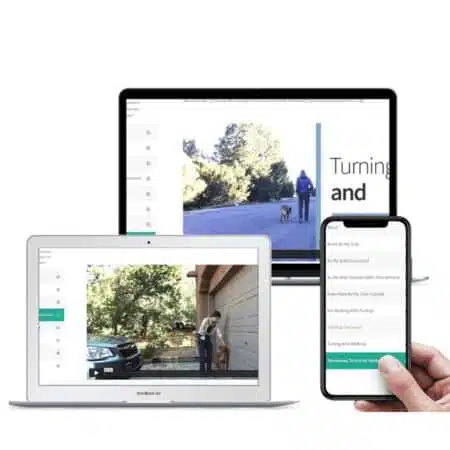 Uses positive, game-based methods to influence dog behavior
All courses include easy-to-follow instructions with videos and the ability to get expert answers to any questions you have during your training
On-demand lessons you can do when it's convenient for your schedule (only takes about 10-15 minutes per day)
Gives you the ability to choose only the courses you need instead of paying a monthly fee like some other top online training programs
SpiritDog Academy option is a cost-effective way to thoroughly train your dog — access to all courses, Zoom meetings, community forum, and 30-minute private remote session each month
Program founder and lead CPDT, Steffi Trott, has studied with European trainers such as multi-world champions in agility and European Open winners, as well as renowned U.S. trainers Kim Terrill and Daisy Peel
Training Courses
SpiritDog offers 17 different courses, which you can purchase separately, but they also offer several discounted bundles that provide a more comprehensive training experience. Each course has multiple step-by-step lessons that show you the training progression of skills from the beginning until your pup masters the entire course.
Topics include basic obedience training, listening skills, focusing when in public, potty training, calming down, leash training, aggression, agility training, and much more. Here's a brief overview of a few popular courses.
Tackling Reactivity Bundle
This SpiritDog Training reactivity bundle is a must if your dog is reactive to other dogs, people, cars, etc., and difficult to walk on a leash. These lessons teach you why your pup reacts the way she does, how to identify what triggers her, and what you can do to calm her down. In less than a month, you can help transform your furry friend into a well-behaved, comfortable companion on walks, at home with visitors, and out in public places.
Ultimate Puppy Program Bundle
A perfect option if you've never trained a puppy or adult dog, this bundle teaches you the basics of training to set you up for success. You'll also work with your new puppy on potty and crate training as well as dozens of skills she'll need for a lifetime of good behavior.
Rescue Dog Bundle
On the flip side, if you've adopted a rescue who's not well-trained, this bundle includes several helpful courses. It covers everything you need to bring your new adult dog up to speed, from basic obedience and crate training to focusing in public and correcting reactive behavior.
Single Courses
While SpiritDog's bundles are extremely popular for their ultimate value, you have many options for tackling specific needs. Some top-selling single courses include:
Basic Obedience
Calm Down
Coming When Called And Outdoor Focus
Loose Leash Walking
Dog Tricks
SpiritDog Parkour
Price
Courses
SpiritDog offers a free 7-day course you can try without any commitment. And it also has a 60-day money-back guarantee on courses or bundles if you're not satisfied.
Single courses range from $9-$149
Bundles range from $49-$499
Academy
SpiritDogAcademy has a $2 one-week trial and a 14-day money-back guarantee, and you can cancel your subscription at any time.
Puppy Starter: $20/month
Super Dog (all courses, Zoom meetings, community): $497/year
Legend Dog (Super Dog access plus 30-min private session every month): $89/month
SpiritDog Training Coupon
Click here to get the best possible price available for SpiritDog training.
Does SpiritDog Training Work? Our First-Hand Experience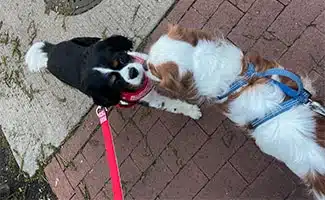 "We tried out the 7-day free class for reactive dogs. Upon signing up, I received an email each day with short videos and a brief background to break down the basics of why dogs are reactive and ways to counter-condition them using positive training tactics. I loved how Steffi's emails and videos were easy to digest and used analogies that humans can relate to help better understand the mindset behind a dog's behavior. We tried the tactics that she taught us, and within a few months of consistent practice, we've seen huge signs of improvement with our 2.5-year-old Cavalier King Charles Spaniel. He's much happier on walks and no longer barks when he sees other dogs from a distance or up close. It's so much more pleasant to have a dog that is happy and calm."

– Sadie C., Canine Journal
What's Our Final Verdict?
Visit SpiritDog Training's Website
From the variety of affordable courses to highly effective training tutorials, we're huge fans of SpiritDog Training. On top of the expert lessons, this program also gives you fantastic customer service, whether you have questions during your training process to any billing issues. The value and results of SpiritDog Training are hard to beat.
If you're not sure SpiritDog Training is the best fit for you and your furry friend, see how it compares to similar options in our reviews of the best online dog training courses and dog training apps. And if you're trying to correct a specific behavior, like whining or digging holes, you can also learn more in our training articles.
Tagged With: Crate Training, Housetraining