To sustain this free service, we receive affiliate commissions via some of our links. This doesn't affect rankings. Our review process.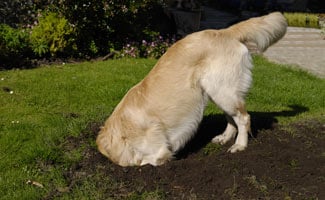 At first, you may think that you've got to do whatever you can to stop your dog from digging holes in the yard. But as it turns out, the dog may be doing this for an important reason. Instead of getting upset at your pup, consider why he or she might be making a minefield out of your backyard. Here are some common reasons your dog might dig holes in your yard and how to stop a dog from digging.
Why Do Dogs Dig Holes?
In classic "dig your way out of prison" fashion, they are attempting to escape the yard.
They may be escaping something they fear — neighborhood dogs or natural events such as thunderstorms.
Anxiety and separation issues that arose from their general lifestyle, not necessarily from the condition of the backyard.
They might hear the sounds of underground creatures and bugs, or smell something buried in the ground, and dig holes to attempt to find them. This will often cause random placement of holes around your yard.
To escape the summer heat — if you live in a hot area, your dog may try to dig himself a cool hole to rest in.
They could be lacking certain minerals in their diet, and dig holes in the hope of finding them in the soil in your yard.
Terrier breeds are natural hunting dogs, and will instinctively dig in the ground for prey or food. There's no point trying to deny their instincts.
Your dog may be digging a hole to stash away food or items of shelter. This is a natural preservation instinct.
Female dogs may dig holes as part of their natural mating behavior.
How Do I Find Out Why My Dog Is Digging Holes In Our Yard?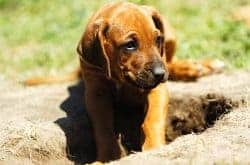 The best way to discourage digging behavior is to first explore the reasons, listed above, that may induce your dog to dig holes. But most importantly, you should realize that digging is a normal doggie trait. According to a national survey, more than 83% of American dog owners have dogs that dig holes. Furthermore, canine experts affirm that digging is a natural adaptive behavior seen in the wild. In other words, dogs are going to dig holes, for one reason or another, and you shouldn't put too much effort into how to stop dogs digging. Hindering dogs from carrying out their natural, predisposed functions is not good for their health and well-being.
How Do I Stop My Dog From Digging Holes?
Depending on the reason above, you need to take different approaches to get your dog to stop digging holes in your yard. If your dog is digging random holes throughout the yard, he or she is most likely smelling or hearing something underground and trying to get to it. How to stop dogs from digging, in this case, is you could try digging a larger hole for them in an acceptable location in the yard and try and motivate them to dig only there by burying treats for them to find.
As far as the other reasons are concerned, in most cases, digging is a natural behavior. The most important thing to confirm is that your dog is well taken care of. Make sure they are getting enough food, but not too much (or they may dig a hole to hide the left-overs ;), and make sure they are kept in an appropriately climate-adjusted environment. They should have a place to sleep, be kept up-to-date with their veterinary appointments, etc. These are all things you need to check off your list as a responsible dog owner before attempting to find fault in your dog's behavior and to stop dog from digging. Even then, a dog's behavior often has a natural source. Unlike humans, dogs don't have the will to be ill-intentioned, and in the case of digging holes in your backyard they are following a natural instinct or learned behavior that, while annoying to you, is out of survival or need for them. Answering the question, "Why do dogs dig holes?" can be as simple as instinctual.
Watch This Dog Get Caught
This dog is so guilty and watching his reaction after he gets caught is hilarious!
https://youtu.be/-2udc9mArac
Training Your Dogs To Not Eat Poop, Roll In Poop, Or Eat Dirt
In addition to digging holes, our canine friends have many more habits that are somewhat curious and maybe even a little gross to us humans. There are some simple ways to combat these habits as well.
You know the feeling: Someone 'forgot' to scoop after his dog left a little present on the lawn, and the next thing you realize, you have turned around to your own dog sniffing and eating it! Making matters worse, he then wants to come up and lick you, proud of his accomplishments. What to do?
Why Do Dogs Eat Poop?
Dogs not only eat poop from other dogs, but they also eat their own feces as well. In fact, this behavior is relatively common, especially among puppies. One of the reasons scientists postulate for this is that animal poop contains nutrients and essential vitamins that the dog lacks in his or her diet. Dogs may also lick poop to smell and taste it to get information about either themselves or another dog. Some further believe that eating the poop after the assessment may be a way to remove the evidence that either the dog himself or the other dog were ever in the area. If you react negatively to the dog eating poop, there is also some behavioral evidence that a dog in want for attention will continue to eat it out of boredom, anxiety or the simple desire to catch your eye.
How To Stop Dog From Eating Poop
Puppies generally are thought to out-grow this behavior. The most common piece of advice that veterinarians give for owners of all ages of dog, however, is to simply bring a bag with you and scoop up poop before the dog has a chance to sniff around it. This is a good habit to get into anyway, as most cities require you to scoop your dog's poop on public property. Although there is little else you can do about your dog eating another dog's feces, you can take a few precautions to help your dog kick the habit:
Do not over-react when you see the dog eating poop. This only gives her anxiety and/or attention.
Redirect a dog who is interested in feces to do something else, and reward her for engaging in the new activity. The new activity could be, for example, a jog, a frisbee, a toy or a treat. Offer this alternate activity and reward with treats or petting, and the dog will learn to ignore the poop and go straight for the other, more rewarding activity.
Feed your dog a balanced diet, even supplementing with vet-approved vitamin pills if you need to.
Make your dog's own fecal matter unappealing by adding canned pumpkin, meat tenderizer or canned pineapple to his food.
Why Do Dogs Roll In Poop?
Another common dog behavior, dogs rolling in poop can give them a terrible odor, and pieces will stick to the dog's fur making it very hard, and very distasteful, to have to get out. Unfortunately, most of this behavior is instinct. Dogs make pheromones from glands near their anal opening, and this can give feces a very alluring odor that a dog might want to coat himself in. Dogs also seem to enjoy the activity, and it feels good to them. Some also speculate that dogs roll in the feces of another dog or animal to disguise their own smells.
How To Stop Dog From Rolling in Poop
Unfortunately, not a whole lot in this case. Re-directing and rewarding is a good choice. Also keep your dog away from poop entirely by keeping him on a leash when walking and moving him away from the poop with commands followed by a reward. Placing a fence around the perimeter of your yard to prevent him from going into the woods and rolling in wild manure, and quickly scooping up any poop in your dog's path are all good alternatives. You'll probably want to give your dog a bath and if he still smells a little funky, try spraying an odor-neutralizer spray on him.
Why Do Dogs Eat Dirt?
There are many reasons why dogs may eat dirt. Some dogs, just like humans, like eating dirt because of an oral fixation. Dirt is around to be chewed on, so dogs will chew it. Same thing goes for dogs who eat dirt out of boredom: Oftentimes, it is something that is simply there for them to do. Some dogs eat dirt searching for nutrients they lack in their diets, or a dog may simply be underfed and ravenous. Finally, some dogs do it because they are anxious, do not receive enough attention, or are doing it intentionally to misbehave. No matter what the cause, eating dirt can actually have some negative consequences on your dog's health. Dirt may contain too many nutrients, harmful organisms, fertilizers and pesticides, all of which can make your dog sick. Seeing your veterinarian is advised if your dog is eating dirt.
Stop Your Dog From Eating Dirt
It may take some detective work to figure out the cause of your dog's behavior, but chances are that you can weed out some possibilities immediately. After that, have your vet help you with the issue. Some common solution to the dirt eating problem:
Make sure your dog is eating a healthy, balanced diet. If your dog is overweight, feed her low-calorie food rather than feeding her less of her regular food, since feeding less might be leaving her hungry and desperate to eat something, even if that something is dirt.
Play with your dog and give him lots of attention. Pet him, play with him, walk him, feed him, give him treats and sit with him. You do not need to spoil your dog with attention, but just be sure he gets as much as he needs to not feel lonely.
Entertain your dog with games and toys to prevent boredom. You can even teach him new tricks, even if he's old!
Provide your dog with chew toys and chewy treats.
Keep your dog indoors during the daytime while you are away.
If you have tried all of the above and nothing seems to help, see your veterinarian immediately! Your dog may have a digestive disease or a medical disorder that requires professional treatment.
What behavior is your dog obsessed with?
Disclaimer: This website contains reviews, opinions and information regarding products and services manufactured or provided by third parties. We are not responsible in any way for such products and services, and nothing contained here should be construed as a guarantee of the functionality, utility, safety or reliability of any product or services reviewed or discussed. Please follow the directions provided by the manufacturer or service provider when using any product or service reviewed or discussed on this website.