Most humans sleep on a bed elevated from the floor, so why shouldn't our beloved dogs? If you consider your pup part of your family, give him the luxury of a raised bed.
An elevated dog bed can be an excellent primary or secondary sleeping space for your pup. And most raised dog beds are practical for the outdoors based on their weather-resistant materials. We'll tell you about all the advantages of an elevated dog bed and give you reviews of some of the best ones you can find.
Benefits Of Elevated Dog Beds
Wondering the elevated dog bed pros and cons? Elevated dog beds are often referred to as dog cots and sometimes platform dog beds or hammocks, and there are tons to choose from. But is there really a big difference for dogs between a regular dog bed vs cot? Are cots good for dogs? Yes, there are many off the ground dog beds help pets.
Keeps dogs cool and warm – A raised dog bed gives your pup a place to sleep that's not on the floor, providing much more air circulation to keep your dog cool during hot days. Dog cots also help keep dogs warmer during the winter because they're not sleeping on the cold floor.
Easier to clean – Most elevated pet beds are much easier to clean than fabric and stuffed dog beds. You can spot clean the aluminum frame and mesh covering or just run a hose over it.
Joint relief – Are elevated dog beds good for older dogs? Yes! When dogs get older, they may have more trouble getting down onto and up from a bed on the floor. Elevated pet beds can help with this problem. Also, the taut fabric design provides firm support, which is ideal for dogs with orthopedic problems like arthritis and hip dysplasia.
Use outdoors – Most elevated dog beds can withstand outdoor elements and keep your dog away from dirt, mud, grass, and crawly critters.
Our Personal Experience With Elevated Dog Beds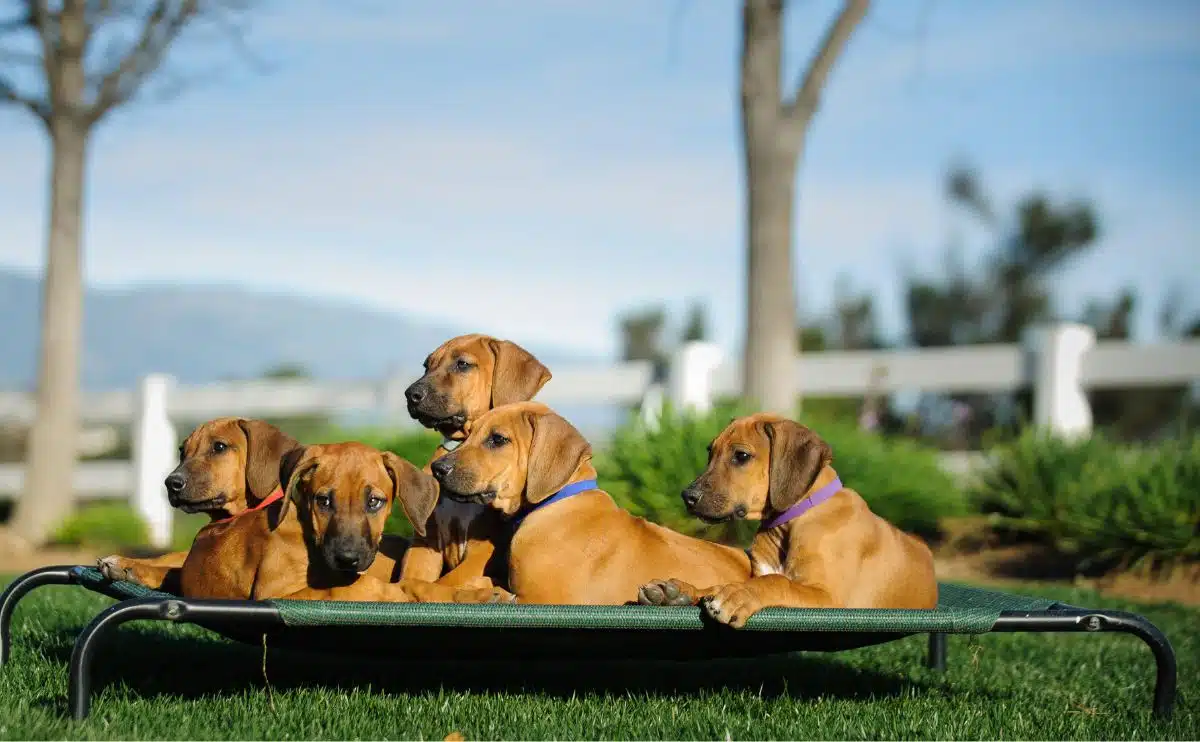 "We have used an Indoor/Outdoor Elevated Dog Bed for two years now. Our dogs lie on the bed in our living room as well as outside on our patio/yard. The bed is cost-effective and well worth the money to let my dogs sunbathe."

– Apiffany G., Canine Journal
How To Choose The Best Bed For Your Needs
When you're shopping around for the best elevated dog bed for your pup, keep these things in mind:
Size – Make sure to measure out the space your dog will need to be comfortable on the bed without hanging his limbs off the sides.
Weight Capacity – Not all elevated beds that measure the same size in length and width can hold the same amount of weight, so be sure to check the weight capacity and size.
Materials – The frame should be sturdy (steel or aluminum are ideal), and the fabric of high quality that pulls tight across the bed and doesn't sag. You'll need to pay particular attention to chew-proof materials for super chewers.
Portability – If you plan on taking your bed on the go, you'll want one that's lightweight and easy to assemble.
Best Elevated Dog Beds By Category
We've chosen the best raised dog beds based on many factors, including quality, durability, customer reviews, pricing, size options, and more. And we've broken these down into categories to help you find the best one for your specific needs.
Best Overall: K&H Pet Products Original Elevated Pet Cot Review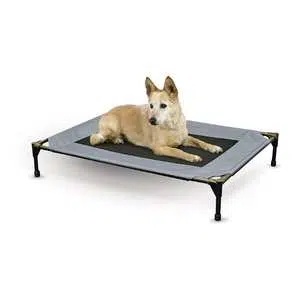 This K&H Elevated Pet Cot is our all-around top choice — it's a fantastic value for the quality and durability you get. The cover is canvas with a water-resistant mesh center that repels moisture, mold, mildew, and odors. And it has rubber feet to prevent slipping and to protect your floors.
It's lightweight and requires no tools for assembly, so it's fairly portable for picnics, travel, camping, etc. It comes in four sizes to fit almost any dog. However, it may not hold up if you have an aggressive chewer. And while many owners of large and giant breeds say it's very durable, some had problems with the cover ripping.
| Pros | Cons |
| --- | --- |
| Budget-friendly | Not for aggressive chewers (some users said their dogs chewed through the canvas) |
| For indoor and outdoor use | Some owners of huge dogs said the seams ripped after several months |
| Maximum weight of 300 pounds | |
| Water-resistant mesh center | |
| Easy to set up and break down (for travel) | |
| Slip-resistant rubber feet | |
| 1-year warranty | |
| Canopy available (not included) | |
Price
Starting at (for small, 200 lbs max; 22″L x 17″W x 7″H): $49.99
Best Chew-Proof: K9 Ballistics Elevated Bed Review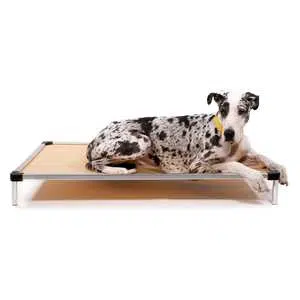 Are you looking for a chew-proof elevated dog bed? Some owners of large to giant-sized dogs that are heavy (and aggressive chewers) have a hard time finding an indestructible dog cot. The K9 Ballistics Chew-Proof Elevated Dog Bed could be the ideal solution. It's our pick for the best large raised dog bed for super chewers and heavy dogs.
The frame, legs, and corners are 100% aluminum, and the ripstop ballistic fabric is designed to be stronger than Kevlar. Like the Kuranda, all fabric edges are covered. A couple of noteworthy items: most of the sizes (except giant) don't sit as far up off the ground as other beds we review here. And the fabric isn't quite as breathable as many others (due to the chew-proof design). But most pet parents rave about this chew-proof dog cot and say it's worth the extra money.
| Pros | Cons |
| --- | --- |
| Heavy-duty materials and construction | Pricey |
| For indoor and outdoor use | A few customers say their pups managed to chew through the fabric |
| Maximum weight is 200+ pounds | |
| Arrives preassembled | |
| 180-day chew-proof warranty | |
Price
Best Cooling: Coolaroo Original Elevated Pet Bed Review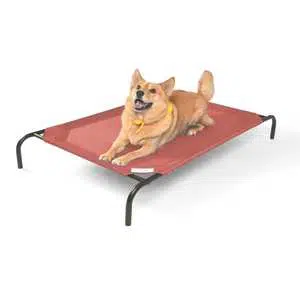 This Coolaroo cooling cot for dogs is one of the most popular elevated dog beds because of its quality build and affordable pricing. The breathable high-density polyethylene (HDPE) fabric helps keep dogs cool, and it's also flea, mite, mold, and mildew resistant. The steel frame is lightweight but sturdy.
It comes in five colors (gray, nutmeg, terracotta, blue, and gunmetal), but not all colors are available in all sizes. It also only comes in three dimensions. Unfortunately, the largest size only accommodates dogs up to 100 pounds, so this isn't an ideal bed for very large breeds.
| Pros | Cons |
| --- | --- |
| Budget-friendly | Maximum weight is 100 pounds |
| For indoor and outdoor use | Not chew-proof |
| Very breathable fabric and sits higher up than many other beds | Several users said assembly was difficult |
| Powder-coated steel frame stands up against outdoor elements | |
| Easy to clean | |
| 1-year fabric warranty against UV degradation | |
Price
Starting at (for small 50 lbs max; 35″L x 22″W x 8″H): $30.16
Best For Shade: Best Choice Products Dog Bed With Canopy Review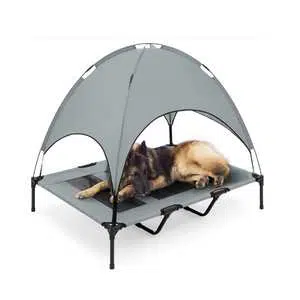 Are you looking for a dog cot with a canopy? This Best Choice Products elevated dog bed is a terrific value. This sturdy cot comes with a removable roof and travel bag.
It's easy to assemble and break down, and the two larger sizes fold up, so it's fantastic for the beach, camping, and other outdoor activities.
The breathable nylon mesh bed and steel frame are also weather-resistant. It sits eight inches off the ground for maximum cooling. But this isn't the best elevated dog bed for very large dogs or super-chewers.
| Pros | Cons |
| --- | --- |
| Excellent value | Maximum weight is 100 pounds |
| For indoor and outdoor use | Not chew-proof |
| Sturdy construction | Canopy sits low down, so may not be ideal for larger dogs |
| Removable canopy and travel bag included | No warranty |
| Easy assembly with no tools needed (for portability) | |
| No-slip rubber feet | |
Price
Starting at (for 30″, 66 lbs max; 30″L x 24″W x 8″H): $44.99
Best For Small & Medium Dogs: HPD Elevated Napper Cot Review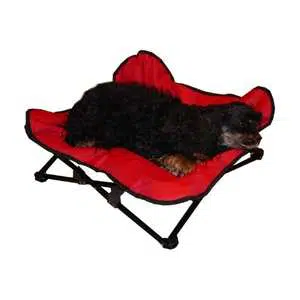 This HPD small dog cot is an excellent solution for people with dogs under 40 pounds who need a space-saving bed. Its frame is powder-coated, rust-resistant steel, and the fabric is a heavy-duty, water-resistant polyester oxford, making it perfect for outdoor use.
This dog hammock bed is also ideal for travel — the lightweight frame folds up quickly for easy portability (similar to fold-up chairs).
It also comes in four colors (black, blue, pink, and red).
| Pros | Cons |
| --- | --- |
| High-quality materials | Maximum weight is 40 pounds |
| For indoor and outdoor use | Not chew-proof |
| No assembly required | Not firm enough for orthopedic needs |
| Excellent portability with travel bag included | Some users say it gets saggy over time |
| Removable cover for easy machine washing | No warranty |
Price
Starting at (for Medium 25 lbs max; 27″L x 27″W x 7.5″H): $42.99
Best For Travel & Camping: Carlson Pet Products Elevated Dog Bed Review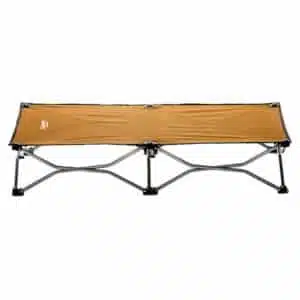 While the HDP dog cot we review above is excellent for travel and camping, it's not big enough for many dogs.
We've chosen this Carlson elevated dog bed as the top pick for those of you who need a larger cot for travel and camping needs. This bed only weighs five pounds, and it folds up within seconds.
The legs are steel, and the waterproof nylon fabric is easy to spot clean. This isn't the sturdiest dog bed based on the customer reviews we've seen. We wouldn't recommend it as your primary dog bed, but it's a terrific option for camping, travel, and occasional outdoor use.
| Pros | Cons |
| --- | --- |
| Affordable pricing | Maximum weight is 90 pounds (but some users say it's more like 75 pounds) |
| For indoor and outdoor use | Not chew-proof |
| No assembly required | Some complaints that the fabric rips easily |
| Lightweight, fold-up design is ideal for travel | Width is too skinny for larger dogs |
| 90-day limited warranty | |
Price
Large (90 lbs max; 47.5″L x 24.5″W x 9″H): $39.42
Best Folding: GigaTent Elevated Pet Cot Review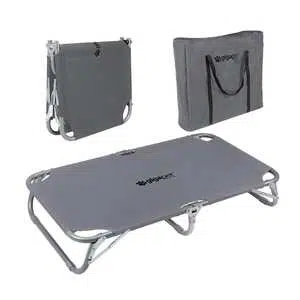 If you want a folding dog cot, this GigaTent elevated pet bed is a solid, well-constructed option. It's made with a tubular steel frame and durable polyester that's easy to spot clean, or hose down.
The large size folds in half for travel or compact storage and comes with a heavy-duty travel bag (the legs fold up in the smaller size). The U-shaped legs distribute weight evenly to support and balance your pup. It comes in four colors (black, gray, green, and tan).
| Pros | Cons |
| --- | --- |
| Sturdy construction | Maximum weight is 100 pounds |
| For indoor or outdoor use | Not chew-proof |
| No assembly required | Users say it slides around on the floor |
| Use for travel and compact storage | Some complaints of the fabric ripping |
| Easy to clean | |
| 3-year warranty | |
Price
What Are My Other Dog Bed Options?
Elevated dog beds can solve many of your canine's rest needs, but you may want to explore other dog beds to give your pup multiple sleeping and napping options during his day. See our reviews of the best dog beds, including pros, cons, features, and pricing for many traditional fabric and plush beds. We also review the best outdoor dog beds and the best orthopedic beds for dogs that our experts have chosen for dogs who need extra support for joint problems.
Tagged With: Comparison, Sleep