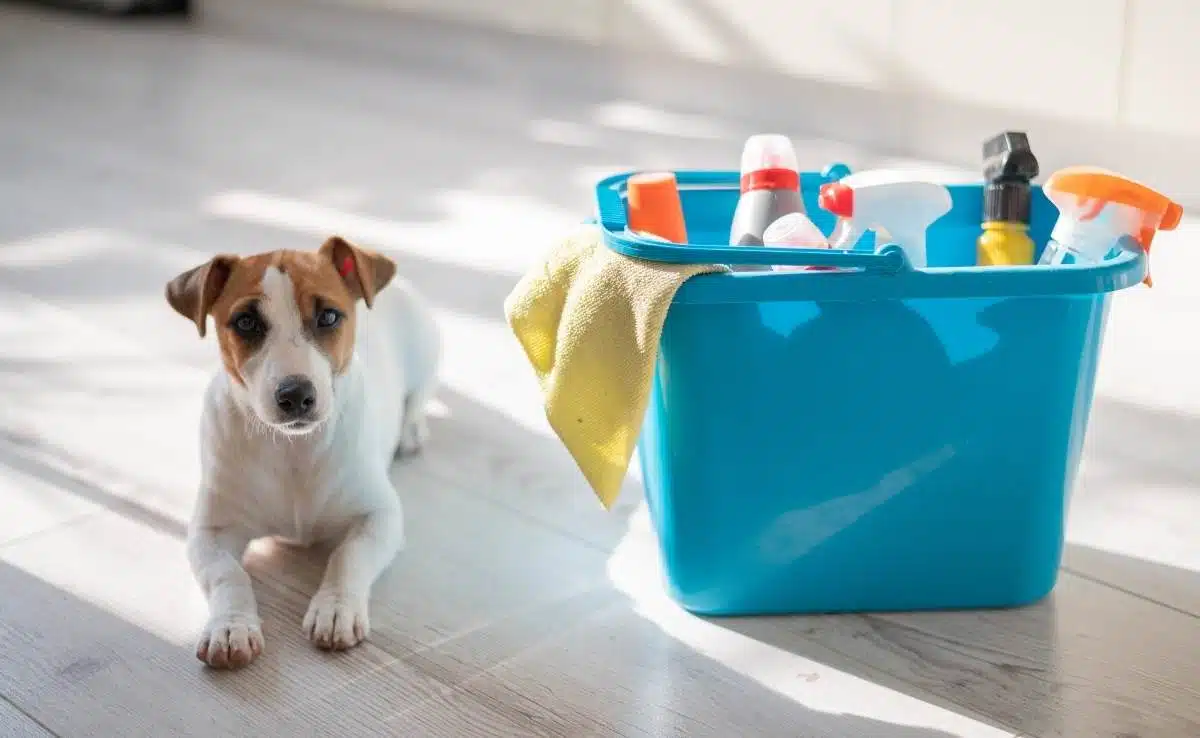 If you use common household cleaners, you could be slowly poisoning your dog without even knowing it. You could be putting your pooch at risk for developing cancer, or kidney or liver damage down the road. In fact, studies have proven the toxic effects of such ingredients as ammonia, bleach, chlorine, glycol ethers, and formaldehyde on humans and pets. And pets are even more vulnerable. Pets pick up residues from cleaning products and then groom themselves, spreading these toxic materials on their skin, coat, mouths, nose, and eyes. As a responsible dog owner, it's time to ditch your chemical-laden cleaners for pet-safe cleaning products!
Which Cleaning Products Are The Most Harmful To Pets?
Many of the most common household cleaners contain toxic chemicals that could be harmful to your pets. You should check your product labels for the following ingredients:
Ammonia
Bleach
Formaldehyde (found in general household cleaners)
Perchloroethylene (found in carpet and rug cleaners)
Phenols (typically found in cleaners with "sol" in the name)
Phthalates (used in conjunction with scented products, like air fresheners)
What Are Some Pet Safe Cleaning Products?
The great thing about pet-safe cleaning products? You're not only protecting your pets but also your children and other members of your family.
All-Natural Household Cleaners You Can Find in Your Cupboard
If you want to go all out and eliminate all manufactured cleaners, there are some typical household products that make great, all-natural DIY household cleaners. They're easy (and really inexpensive) to throw together.
Baking Soda:
Odor absorbent: Baking soda is a natural odor-absorbing product — sprinkle it on carpeting and wood floors to absorb pet accidents.
Mild abrasive: Mix baking soda with equal parts hot water and salt to create a mildly abrasive scrubbing product you can use for countertops, sinks, etc. Just rinse when you're done!
Foaming cleanser: Use baking soda and lemon juice as a replacement for foaming cleansers for your bathroom and kitchen.
White Vinegar:
Wood floor cleaner: White vinegar diluted with warm water makes a great pet-friendly floor cleaner for wood surfaces.
All-purpose cleaner: Dilute 1/2 cup of white vinegar with 1 gallon of water and pour the mixture into a spray bottle to replace an all-purpose cleaner for surfaces. Tip: Add lemon juice if you don't like the scent of vinegar.
Window cleaner: Mix 1 cup of white vinegar with 1 cup of warm water to use as a window cleaner.
Carpet stain cleaner: To use as a carpet stain cleaner, combine 1/2 cup of white vinegar with 2 tablespoons of salt until the salt dissolves. Soak a wash rag with the solution to rub out the stain.
Borax:
Heavy carpet stain cleaner: For heavy carpet stains, mix 1/2 cup white vinegar, 2 tablespoons of salt, and 2 tablespoons of Borax until it's all dissolved. Use a rag soaked in the solution to treat heavy stains.
Laundry stain remover: Include some Borax in place of bleach into your laundry load to whiten your clothes.
Mineral Oil:
Furniture polish: Add lemon juice to mineral oil for an all-natural furniture polish.
Pet-Friendly Cleaning Products on the Market
If you don't have the time for DIY cleansers, no worries! There are still a number of pet-safe cleaners on the market worthy of consideration. Here are some of our recommendations, based on our research.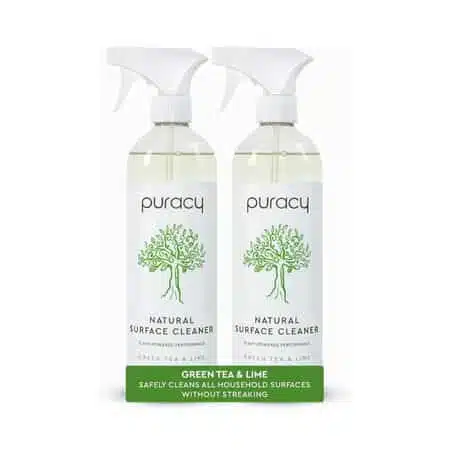 Puracy 100% Natural All-Purpose Cleaner
A plant-based formula that cleans any hard surface without streaking
An effective pet-safe disinfectant
2-pack 25-oz.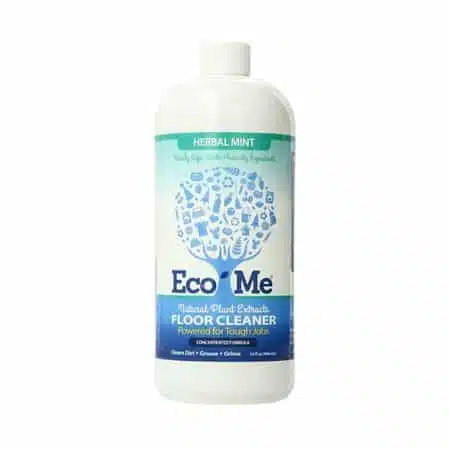 Eco-Me Floor Cleaner, Herbal Mint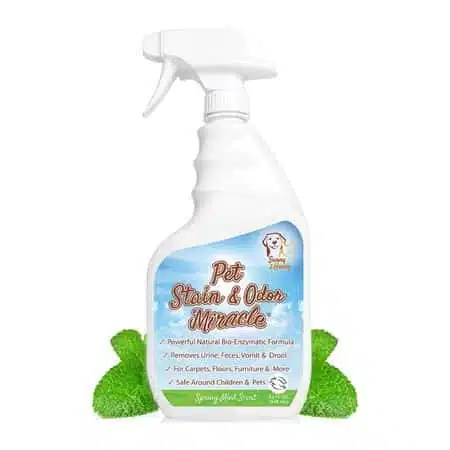 Sunny and Honey Stain and Oder Eliminator
Enzyme-based, all-natural pet stain and odor eliminator
Excellent pet-safe carpet cleaner
32 fluid oz.
Price: $18.99 ($0.59 / Fl Oz)
Frequently Asked Questions
Here are some questions that get asked often about household and commercial cleaning when it comes to pets.
Is baking soda bad for dogs?
When used as a cleaner it is harmless, but if a dog consumes large amounts of baking soda it can be toxic. Be sure to keep baking soda away from pets so they can't get into the box.
What about bleaching floors with pets?
Bleach is made with chlorine which is a chemical that can damage a dog's fur and cause issues if swallowed. Inhaling bleach can have many side effects as well including kidney damage and poisoning. It's best to avoid bleaching your floors when pets are around and use a natural pet-safe alternative instead.
Is ammonia bad for dogs?
Similar to bleach, ammonia is a toxic cleaning agent that can be harmful to pets and humans alike. It can burn mucous membranes and contribute to respiratory issues. So it would be wise to seek a safer alternative.
Are enzyme cleaners safe for pets?
Yes, most enzyme cleaners are safe to use around pets and are a natural alternative to bleach and ammonia. They're made with biodegradable, non-toxic enzymes that break down stains effectively.
What disinfectant is safe for dogs?
We recommend using one of the disinfectants we reviewed above. Our list includes plant-based formulas in addition to other pet-safe options.
What Do You Do If You Suspect Pet Poisoning?
Is your furry friend showing signs of poisoning? If your curious pup got into a toxic household cleaner or drank toilet water laced with a cleanser, what's the best action to take? The American Society for the Prevention of Cruelty to Animals (ASPCA) has an excellent Animal Poison Control Center (APCC) available 24/7/365. Call them immediately at (888) 426-4435. The center is manned by committed animal lovers, who will give you expert veterinary advice. Check out this fun video the ASPCA APCC put together to encourage you to call them.
Why Make The Switch?
As a responsible pet owner, you invest so much time and effort in the training, health, and happiness of your dog. But don't let what you don't know compromise your pup's well-being. We hope we've given you some sound guidelines about how to prevent long-term poisoning from everyday household toxic cleaners. It's worth the minimal effort to switch over to pet-safe cleaning products for your pup's sake (and your entire family's)! Also, consider using pet-safe lawn fertilizer.
Tagged With: Cleaning, Emergency, Poison