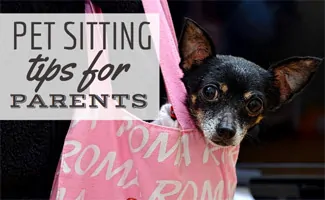 Looking to use a dog sitting service like Rover? It's a convenient alternative to putting your dog in the kennel and gives Fido the luxury of hanging out in a loving home while you're away. I don't have pets myself, but having dog sat hundreds of hours for dozens of dogs over the years, I've learned a few things that are useful for owners to know before dropping your pet off with a caregiver.
Hopefully, these tips for dog parents will help ensure that their sitters are well-prepared to give furry friends the best care possible (while giving you the ultimate peace of mind too).
Provide Detailed Instructions
Does your dog have tendencies that may seem strange to a sitter? Are there specific details you would share about your pup's eating habits? Does your dog take medicine three times a day? Sharing any of those "good to knows" with the dog sitter ensures your dog will be comfortable and well taken care of in your absence. Even if your dog is laid-back, being in a new home without its owner can be a bit scary. In moments of anxiety, having an insider's perspective can help put everyone at ease. Writing these important details down or including in your dog's bio via the app is a good idea so the sitter has a reference it (especially since one can forget each dog's unique needs).
Pack A Bag
Pack a bag with any items that your dog loves or needs to set the dog sitter up for success. Of course, we recommend a personalized dog tote bag with your dog's photo on it to keep your dog's goodies straight from your other canine guests'.
As far as what to put in your pup's bag. Some dogs can be shy when eating or drinking out of a new container. So having a food or water bowl they're familiar with allows them to feel right at home. Blankets, toys and other comforting objects that remind them of you can help them settle in or keep the dog entertained throughout their stay.
If the dog requires food during its stay, pack plenty of extra kibble just in case. Don't expect your sitter to provide the dog food for your pet. It's not only bad etiquette to assume but not good for canine bellies to switch diets quickly. If your dog takes medication of any kind, be sure to include it along with the instructions for how to administer it to avoid any potentially dangerous mixups. If a dog is staying overnight, be sure to pack everything they will need for the stay, including medicines, a bed and maybe even a crate.
ID Your Dog
Nothing is scarier for both a dog sitter and their parent than the fear of them getting off their leash and running away. While this isn't common (thankfully), having a dog tag on your pet is critical to helping them find their way back to home more quickly. Microchips are good, but not nearly as useful in a pinch since they don't have the dog's name and contact information clearly displayed.
Give Plenty Of Notice
Last minute bookings and life happens. But when it does, it's essential to give as much of a heads up to any schedule changes as possible. Flight delays, schedule changes, and traffic are all inevitable, but for the sitter, it's useful to know when they can expect you to drop off and pick up so they can plan their walks and meals accordingly. It is also important to recognize that the sitter is a person with a life too. So on the flip side, if they need to rearrange their schedule be understanding as well. Bottom line: communicate. Plus, sharing when you're in route to pick up or drop off means the sitter will be prepared and can meet you promptly (even curbside).
Leave Your Vet's Contact Info And Get Pet Insurance
Jot down your go-to vet's phone number, address and email just in case, so your pet sitter knows where to go and who to contact right away in the event of illness or an unexpected vet emergency. And if an emergency should arise and your dog needs to go to the vet while you're gone, having pet insurance to cover some (or all) of the costs is peace of mind for both you and your sitter.
Make Your Dog Sitter Feel Good
Your caretaker has a huge responsibility and you are putting your best friend's faith in their hands (literally). So a simple "thank you" and tokens of gratitude are always appreciated. It's also helpful to give feedback to let the sitter know what the dog enjoys most about its stay. For example, "Lucky is always so excited to see you!" or "Lucy is always so well-rested after she comes home from your place" seem silly, but they go a long way! This is especially important if you wish to use this sitter again — a compliment paired with a well-behaved and loving pup is a win-win for everyone.
If you haven't already tried one out, check out our full review of the various dog sitting services and how you can save money and time on doggy daycare (while having a happy, healthy pup to return home to). And if you're interested in being on the other side and taking care of pups, I've got some tips for dog sitters too! (A great idea for lonely dogs to have play dates).
Tagged With: Pet Sitting