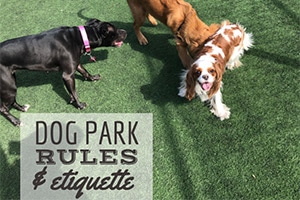 Dog parks are a great way to get out and socialize your companion (and yourself). With the growing number of dog parks in U.S. cities and suburbs and the ever-changing rules and regulations of carrying dogs outside of the house, there has never been a better time to get out and roam off-leash. However, there are guidelines to follow and rules to keep in mind to help you make the most of your time together.
What Is A Dog Park?
A dog park is a designated place for owners to let dogs run with little restrictions and be with other dogs. They are among the last places where you can allow your dog to roam freely in today's world.
Because of this, they are an increasingly popular attraction. In fact, the number of dog parks is up 74% since 2009, according to The Trust for Public Land, making it the highest growth segment for urban parks in the U.S. today.
Per the same study, the top city for dog parks is Boise, Idaho with 5.7 locations per 100,000 residents. Portland, Oregon holds the number two spot, followed by Henderson, Nevada; Norfolk, Virginia; and San Francisco, California.
How To Prepare For Your First Dog Park Visit
There are some key items and precautions you should take care of before you visit the park for the first time. They will keep your pet healthy and also help form new bonds between you and your pet.
Make Sure Vaccinations Are Up To Date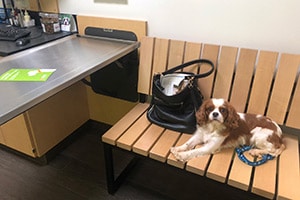 According to the American Veterinary Medical Association, many diseases, such as kennel cough, canine herpes virus (CHV), ringworm and even rabies can spread when dogs come together in one spot. This is natural, but it can also be dangerous.
It is crucial to keep your dog's vaccinations current to avoid medical problems. Sadly, in 2015 alone, pet parents insured by Nationwide spent over $10 million on dog park-related diseases and injuries.
One of the most important vaccines to get before visiting any public place with your pup is a Bordetella shot to keep kennel cough at bay. This is a highly contagious disease that's common in any location where multiple dogs congregate. However, many vets don't offer it as a routine vaccination since dogs who never leave their home or spend time with other dogs don't need it.
Teach Good Behavior
Teaching commands is a great way to keep better control over your dog and for you both to have a positive experience at the dog park. Some common commands include "Come," which will be vital when you need your dog to return to you, or "Leave it," when you want your dog to leave something or someone alone.
It's also important to teach your dog to socialize and interact before going to the park. Some owners may not do this as well as others. If you catch a fight brewing as a result, the best thing to do is to call your dog to you and head somewhere else.
A Puppy's First Visit
If you have a puppy, there are a few extra precautions you should consider.
Before visiting, check with your vet to make sure your puppy has the green light to go to the park and is current on all of its vaccinations. It's recommended to wait at least 10 days after the third round of vaccinations to visit a dog park.
You should also keep your puppy on a long leash while in the park on your first visit, only tugging when you see a problem (note: you'll need a shorter leash to take them in and out of the dog park — the length will depend on your park's specific rules & regulations).
The sense of freedom is what the dog park is all about, so it is important to teach that to your puppy and not to overdo it with your corrections. Making sure the leash is there will keep your puppy out of trouble.
Dog Park Etiquette To Follow On-Site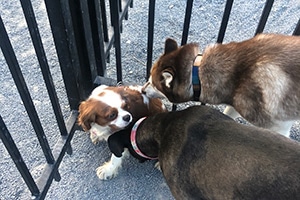 There are also steps you can take at the park to further prevent mishaps.
Supervise Your Pup
When it comes to injuries (and poor behavior as well), the best thing you can do is to keep your dog in view. With supervision, you can prevent most issues from occurring.
Encourage Good Behavior
While you are at the park, it's important to reinforce your dog's positive habits with kind words, rubs and treats. But be careful not to overdo it with the food rewards, especially if there are other dogs who are interested in sharing it. Some dogs can become territorial or envious of food, so it may be best to leave this type of reward for when you get back in the car or at home to avoid a possible fight.
Clean Up After Your Dog
Of course, you should also always remember to bring a pooper scooper and bag for waste disposal. Keeping the park clean is important!
Dog Parks Are No Substitution For Walks
One more thing to remember is that dog parks are no substitute for walks. If you want to take your dog to the park often, you should still remember to take them on walks.
Pup Parks Promise Great Fun For Both Of You
Dog parks are a great way to interact with people and dogs alike and will surely be a fulfilling experience for your canine companion. If you remember to prepare accordingly and follow these basic tips, you and your dog will have a blast and will stay safe while doing it. In fact, you may have such a great time that you are both eager to return soon!
Tagged With: