To sustain this free service, we receive affiliate commissions via some of our links. This doesn't affect rankings. Our review process.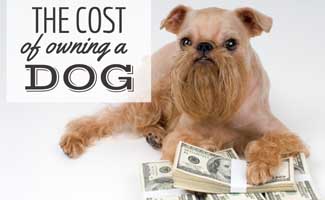 The joy a dog can bring to your family is priceless, but the reality is that owning a dog comes with ongoing costs for years that many don't consider when they first adopt. Can you afford a dog for the long haul? We'll help give you an idea of what expenses you can expect.
Article Overview
Can I Afford A Dog?
The cost of owning a dog can vary widely depending on the breed, where you live, health conditions that may arise and other factors. After the initial expenses of adopting a dog and buying all the accessories you need (see our table below), your monthly cost of a dog could run you anywhere from $27 to $165.
Keep in mind, however, that these figures are for basic costs and don't take into account any extra expenses you might have to incur, like dog walking or pet sitting and emergency vet visits.
Annual Cost Of Owning A Dog
We've broken down the average cost of a dog per year in this table. As you can see, these ranges vary widely. But it's a good starting point to give you a general idea.
Source for pricing averages: Petfinder.com
Additional Expenses To Consider
Of course, the cost of dog ownership can get expensive if you have extra needs, like pet sitting, training and grooming. Here are some of the extras you may need to consider.
Dog Walking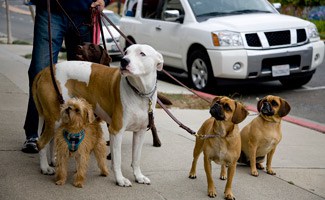 If you're at work all day and don't have a family member who can take your dog out for a potty break during the day, you'll need to factor in dog walking costs. Typically, starting costs are $15 per 30-minute walk for a professional dog walker. So you should budget at least $300 per month if you need this service regularly.
Pet Sitting/Boarding
If you like to travel and can't bring your pup, you may need to board him at a kennel or hire a pet sitter. The national average for boarding is $40 per night per dog. Hiring a professional pet sitter typically runs an average of $20-$40 per day (or $40-$80 per night) for one to come to your home. Of course, these costs differ depending on where you live, how many pets you have and the types of services you want.
Training
Basic obedience training classes can run as low as $250 per year if you only sign up for a few group classes. We have also heard stellar reviews from people who used online dog training services and it is a fraction of the cost of in-home trainers. However, hiring a professional trainer who will come to your home to work with your dog will be much higher. Learn more about training for basic commands and aggressive dogs.
Professional Grooming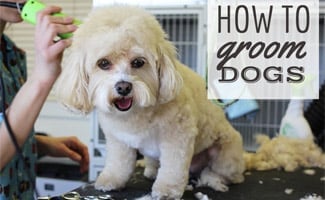 Long-haired breeds or dogs with thick, unruly coats require regular special grooming (including hair trimming) at least once a month. If you don't have the time or patience, you might want to go with a professional groomer.
Major grooming costs can run over $1,000 per year. But even short-haired dogs need a basic wash and nail trimming once a month — and the cost for these basic professional grooming services start at $30 per session.
If you want to save major bucks, you can groom your dog at home with these home grooming tips and kits.
Illness & Emergency Vet Care
Even the heartiest of dogs can fall ill, develop unexpected health conditions, or be involved in accidents requiring expensive vet care that could cost anywhere from several hundred to thousands of dollars. A monthly investment in pet insurance, however, can help save you from such a major financial hit.
Video: How Much Does Vet Care Cost?
Pet care costs are on the rise! We made this quick 1 minute video that summarizes some of the surprising stats.
Should I Consider Pet Insurance?
Get Free Pet Insurance Quotes
One of the highest unknown costs when you own a dog is health care expenses. It's almost impossible to budget for pet accidents or serious health conditions that can arise at any time.
The best way to plan wisely for these situations is to purchase pet health insurance and the younger the dog, the better your prices and coverage will be. See our top pet health insurance picks to learn more.
Since premiums can vary widely, we recommend getting several pet insurance quotes before making a decision. You can use our quote form to instantly get quotes from all of our top rated companies. It's a smart way to safeguard against unexpected hefty vet bills and have the peace of mind that you'll never have to sacrifice your pet's well-being because you can't afford expensive treatment.
Is owning a dog more expensive than you thought?
Disclaimer: This website contains reviews, opinions and information regarding products and services manufactured or provided by third parties. We are not responsible in any way for such products and services, and nothing contained here should be construed as a guarantee of the functionality, utility, safety or reliability of any product or services reviewed or discussed. Please follow the directions provided by the manufacturer or service provider when using any product or service reviewed or discussed on this website.