To sustain this free service, we receive affiliate commissions via some of our links. This doesn't affect rankings. Our review process.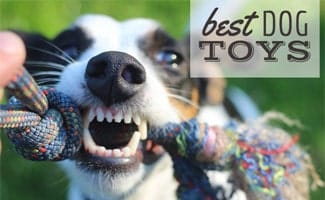 As a dog owner, it is important to understand not only the physical benefits of exercise for your pet but also the intellectual benefits of your interaction with them. Toys are a great way to provide this mental stimulation while also spending time with your dog and strengthening the bond you have with them.
Top 10 Dog Toys
There are thousands of dog toys on the market to choose from and here are 10 of our favorites.
Note: Please inspect your dog's toys regularly to make sure they are in good condition and are safe for play. Your dog should not ingest stuffing, plastic or other harmful materials. Read the toy's packaging, so you know specifically what to look for.
1. Benebone Bacon Flavored Wishbone Chew Toy
This Benebone chew toy has real bacon flavor, so dogs love the taste of it. The curve of the wishbone makes it easy for dogs to grab and bite. This product is made in the USA and is meant for dogs under 70 pounds.
This is made in a facility where it may be in contact with nuts. So if someone in your household has a nut allergy, do not purchase this product.
2. Haute Diggity Dog Muttini Bar Collection
These unique squeaky plush toys are a great gift idea for that friend who has a favorite beverage. From vodka and beer to La Croix, dogs can join their owner for a "dogmestic" or "impawted" beverage.
3. KONG Air Squeaker Tennis Balls
The KONG Air Squeaker Tennis Ball encourage exercise and playtime. This pack of three tennis balls adds an additional element of fun with squeakers in each ball. Made from durable material these balls float and are easy to find in the snow.
4. KONG Rubber Dog Chew Toy
The KONG Rubber Dog Chew Toy has consistently been a best seller since its introduction. This toy is most commonly referred to as "the KONG" and provides an excellent jaw workout for chewers. You can toss the KONG and it will bounce all over, making it great for fetch.
Another way to use it is to fill it with peanut butter and freeze it. Your dog will enjoy chewing and licking it for hours. I have one of these for my dog and I fill it with small training treats. She likes to push the KONG around with her nose until all the treats are dispensed.
Watch Louie the Beagle review this KONG toy!
Read About More Indestructible Dog Toys
5. Kong Rubber Flyer Frisbee Dog Toy
The KONG Rubber Flyer Frisbee Dog Toy is made from all-natural rubber and is durable and flexible. Unlike plastic flyers that can crack and splinter, hurting your dog's mouth, this soft rubber toy is gentle on your dog's mouth.
6. KONG Wild Knots Bears Durable Dog Toys
The KONG Wild Knots Bears Durable Dog Toys has an internal knotted rope to satisfy your dog's natural instinct. There is minimal stuffing, so your pup won't make a huge mess. The toy is soft and durable to last longer than one play cycle. It squeaks to peek your pup's interest and is best for medium to large breeds.
I purchased this for my dog and she loves it. Her favorite toy is her rope, so the knotted rope inside this bear keeps her playing, plus she likes the squeak in the toy too.
7. Mammoth Floss Chews Cottonblend Color 3-Knot Rope Tug
If your dog loves rope toys, this is a great pick that's also inexpensive. Your dog can play tug-of-war with it, fetch or just chew on it some. It's available in various sizes too, so your dog can have the right size toy for them. The fibers in the rope help floss your dog's teeth.
This is my dog's favorite toy. She loves playing tug-of-war with it. We've had it for more than 18 months and it hasn't needed replacing yet.
8. Nylabone Dental Dinosaurs
Nylabone Dental Dinosaurs are another great toy idea from Nylabone, and they come in three shapes – Brontosaurus, Stegosaurus and Tyrannosaurus Rex. These chew toys are naturally flavor-enhanced to encourage chewing, and small nubs make great dental cleaners as the clean teeth and massage your dog's gums.
Read this to learn more about some Nylabone product warnings.
9. Nylabone Galileo Natural Nearly Indestructible Bone
The Nylabone Galileo Natural Nearly Indestructible Bone goes down as the world's strongest nylon dog bone and is proven to help keep your dog's teeth clean. A combination of vigorous teeth cleaning and gum massage come together to help keep your dog's mouth healthy while keeping them entertained at the same time.
10. Outward Hound Hide-A-Squirrel Dog Toys
The Outward Hound Hide-A-Squirrel Dog Toy is every dog's dream come true. This toy includes three squeaky squirrels and a plush tree trunk. You can play hide and seek with your dog, and the two of you will have a blast. The toy comes in various sizes so you can choose the best size for your dog's breed.
Best Puppy Toy: 12pc Teething Toys
Puppies are known for being destructive with their constant chewing. This 12-piece teething, chew set is a must for anyone with a puppy. It includes squeaky, plush, ropes, chew and frisbee toys. Not only are these some of the best dog chew toys, but they also help clean your dog's teeth and control plaque and tartar buildup.
4 Reasons Your Dog Needs Toys
1. Exercise
Exercise is the primary reason why many dog owners invest in toys. Having a ball to throw for a dog helps keep exercise rigorous and also fun for both the dog and you. Exercise is a crucial part of having a healthy dog because without adequate exercise a dog can become obese and fall prey to many illnesses.
2. Intellectual Stimulation
Despite being "domesticated," dogs can easily become bored. There is a saying that a "tired dog is a good dog" and this is particularly true for working breeds such as border collies.
Without adequate intellectual stimulation, dogs can become destructive, disobedient and downright impossible to handle. With a combination of exercise and mental stimulation, however, it is possible for even the most high energy dog to relax.
3. Bonding
A great way to bond with your dog is to engage in playtime that involves their favorite toys. Toys are also a great way to encourage bonding in multiple-dog households. If you have more than one dog, toys can encourage interactive playing and help dogs bond with each other as well as understand their place in the hierarchy of the home.
4. Dental Health
A great way to improve dental health and reduce the need for surgical cleanings is to invest in toys that are designed to clean teeth as your dog plays. These toys encourage chewing which stimulates saliva and helps to diminish plaque and reduce its occurrence.
Which Is The Best Toy For Your Dog?
While your dog would likely choose every one of these toys as their favorite, choosing the right one is up to you. Only you know your dog's likes and dislikes as well as their destructive tendencies.
For example, if you have a dog who loves to play ball, then a Nylabone isn't going to do the trick. If, however, you have a dog that adores plush toys but can get a little carried away then the Outward Hound Hide-A-Squirrel Dog Toy might be the right choice for you.
If you keep your dog's preferences in mind, you won't go wrong with any of these dog toy options. If you're looking for another idea to gift your dog (or pet parent) check out our dog gift guide.
What's your dog's favorite toy and why?
We are a participant in the Amazon Services LLC Associates Program, an affiliate advertising program designed to provide a means for us to earn fees by linking to Amazon.com and affiliated sites.
Disclaimer: This website contains reviews, opinions and information regarding products and services manufactured or provided by third parties. We are not responsible in any way for such products and services, and nothing contained here should be construed as a guarantee of the functionality, utility, safety or reliability of any product or services reviewed or discussed. Please follow the directions provided by the manufacturer or service provider when using any product or service reviewed or discussed on this website.