Keep your furry friend entertained with our picks for the best dog toys. We've got top options for super chewers, fetchers, brainiacs, teething puppies, and more. As a dog owner, it's essential to understand the physical benefits of exercise for your pets and the intellectual benefits of your interaction with them. Toys are a great way to provide this mental stimulation while also spending time with your dog and strengthening the bond you have. So let's find out the top 12 best toys for dogs (plus a bonus pick for puppies).
Top 12 Good Toys For Dogs (Plus A Puppy Bonus)
There are thousands of dog toys on the market to choose from, and here are 12 of our favorites.
Note: Please inspect your dog's toys regularly to ensure they're in good condition and are safe for play. Your dog should not ingest stuffing, plastic, or other harmful materials. Read the toy's packaging to identify any precautions.
1. Benebone Bacon Flavored Wishbone Chew Toy
This Benebone chew toy has real bacon flavor, so dogs love the taste. The curve of the wishbone makes it easy for dogs to grab and bite. This product is made in the USA and comes in five sizes. Also available in chicken and peanut flavors. Made in a facility where nuts may be present, do not purchase this product if someone in your household has a nut allergy.
2. Haute Diggity Dog Muttini Bar Collection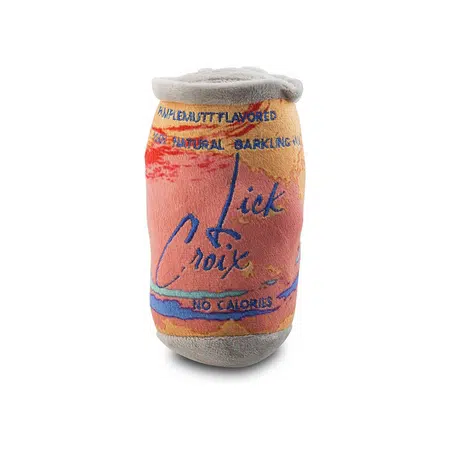 These unique squeaky plush toys are a great gift idea for that friend who has a favorite beverage. From vodka and beer to La Croix, dogs can join their owner for a "dogmestic" or "impawted" drink. They have more than 30 different "drink" options.
3. Chuckit! Ultra Ball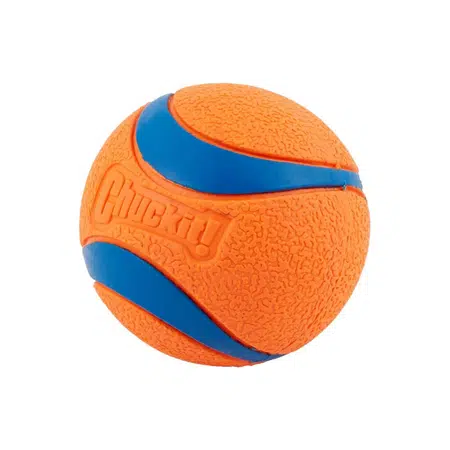 The Chuckit! Ultra Ball encourages exercise and playtime. These balls add an element of fun with high-bounce and buoyant material. These rubber balls are easy to clean and find in the snow and are available in five sizes. They're compatible with Chuckit! Launchers (but be sure to match up the ball and launcher sizes), one of our best dog ball launchers.
Price
4. KONG Classic Rubber Dog Chew Toy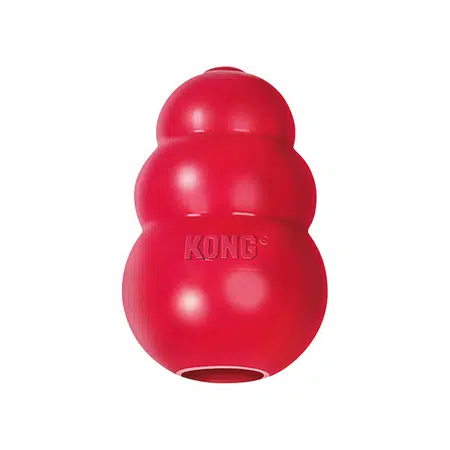 The KONG Rubber Dog Chew Toy has consistently been a bestseller since its introduction. This toy is commonly referred to as "the KONG" and provides an excellent jaw workout for chewers. You can toss the KONG, and it will bounce all over, making it great for fetch.
Another way to use it is to fill it with peanut butter and freeze it. Your dog can enjoy chewing and licking it for hours. KONG dog toys are commonly listed as being some of the best indestructible dog toys.
Author's Experience
"I have one of these for my dog, and I fill it with small training treats. She likes to push the KONG around with her nose until all the treats are dispensed."

– Kimberly A., Canine Journal
5. Kong Rubber Flyer Frisbee Dog Toy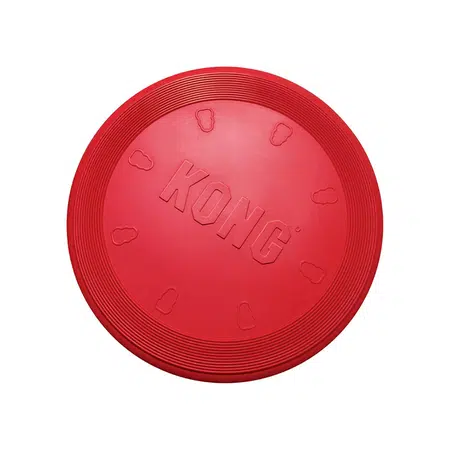 The KONG Rubber Flyer Frisbee Dog Toy is made from all-natural rubber and is durable and flexible. Unlike plastic flyers that can crack and splinter and hurt your dog's mouth, this soft rubber toy is gentle on your dog's mouth.
Subscription Box
You can also sign up to get a monthly KONG Box filled with KONG toys and treats for your dog.
6. Mammoth Floss Chews Cottonblend Color Knotted Rope Tug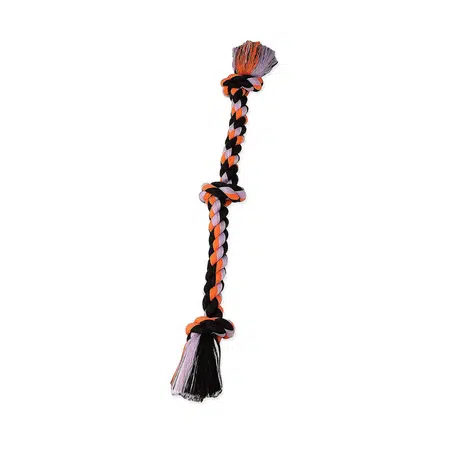 If your dog loves rope toys, this is a great pick that's also inexpensive. Your dog can play tug-of-war, fetch, or chew on it. It's available in various sizes, too, so your dog can have the right size toy. The fibers in the rope also help floss your dog's teeth.
Author's Experience
"This is my dog's favorite toy. She loves playing tug-of-war and fetch with it. It was the first toy we purchased for her, and it lasted more than two years. We recently repurchased it because she loves it that much."

– Kimberly A., Canine Journal
7. BarkBox Dog Squeak Toys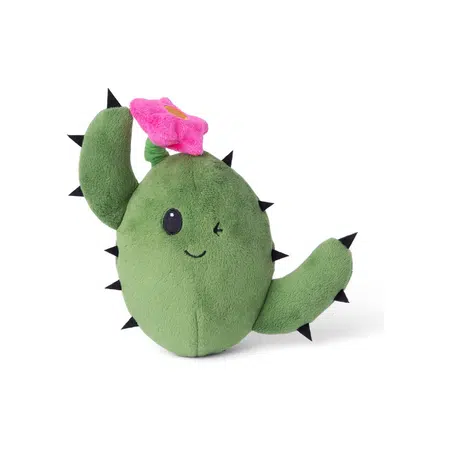 BarkBox is known for its fun and unique toys for dogs in its subscription boxes, including one for super chewers. This 2-in-1 interactive toy is durable and great for more destructive dogs. It has a squeaker to entice play, and if/when the dog destroys the first toy, there's a second toy underneath. It's a pretty novel way to make a toy last longer.
8. Outward Hound Hide-A-Squirrel Dog Toys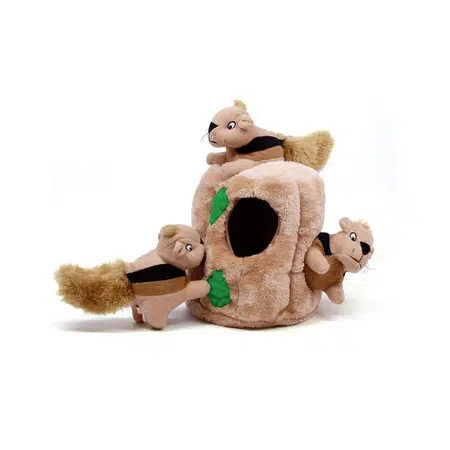 The Outward Hound Hide-A-Squirrel Dog Toy is every dog's dream come true. This toy includes three squeaky squirrels and a plush tree trunk. You can play hide-and-seek with your dog, and the two of you will have a blast. The toy comes in various sizes, so you can choose the best size for your dog's breed.
9. OurPets IQ Treat Ball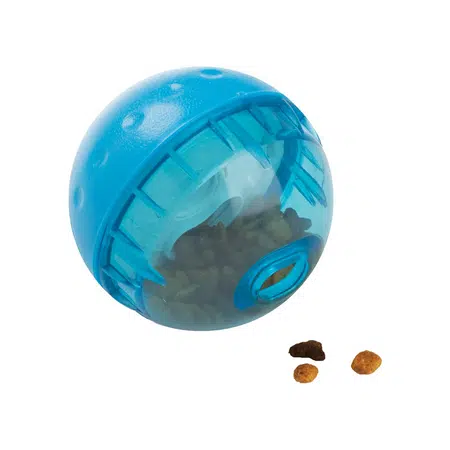 This interactive food dispensing toy will stimulate your dog to continue to play. The toy is available in 3 and 4-inch sizes, and you can adjust the level of difficulty as your dog learns how to obtain treats faster.
Just insert your dog's favorite dry treats or kibble, and your dog is bound to be intrigued by it. The hard plastic can get loud on tile and hardwood floors, but carpeted areas are a great place for dogs to play with this toy. This not only wears your dog out physically, but it's also a great toy for mental stimulation.
Personal Experience
"This toy keeps our nine-month-old puppy occupied for hours. And when Barley stops playing with it, he falls asleep!! It is also impossible for him to chew it up, which means this toy will thankfully last much longer than most in our home."

– Michelle S., Canine Journal
Watch Michelle's pup play with the IQ Treat Ball.
10. SmartPetLove Snuggle Puppy Behavioral Aid Toy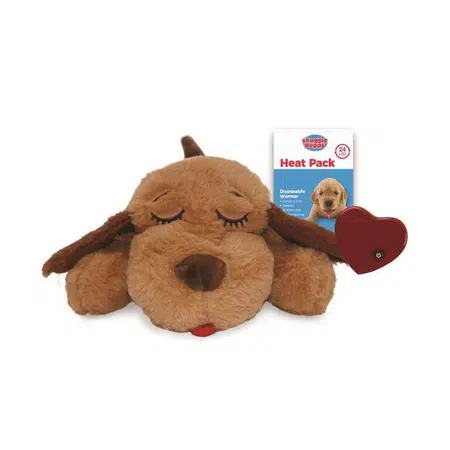 This toy can help with crate training and reduce whining and barking. These toys can help transition a newly adopted pet to their new home and reduce anxiety caused by fireworks and thunderstorms. It has a pulsing heartbeat, is available in multiple colors, and it's machine washable.
11. Outward Hound Interactive Puzzle Game Dog Toys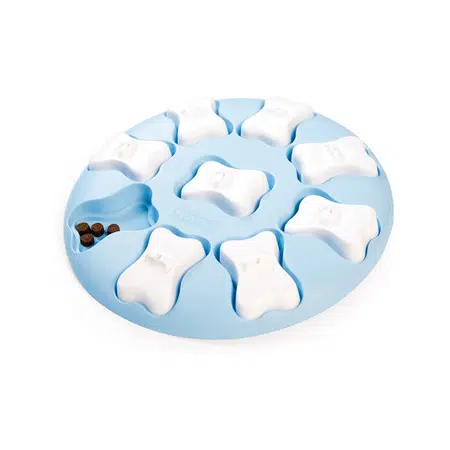 Many dogs need challenging mental stimulation to keep them satisfied. That's where these Outward Hound dog puzzle toys come in super handy. They help reduce boredom and destructive behavior by keeping your pup mentally occupied, especially when you don't have time to play with him. This line of products has varying levels of puzzles to challenge all levels of intelligence.
12. ZippyPaws No Stuffing Squeaky Plush Dog Toys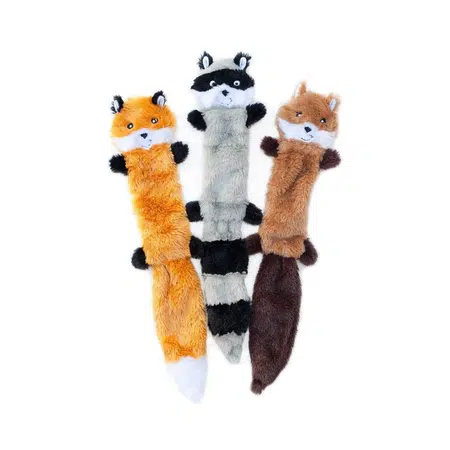 If your dog's a fan of plush, squeaky toys but destroys them within minutes, you may want to consider these ZippyPaws toys. They're more durable than many other plush toys and don't have stuffing to make a mess. However, if you have a super chewer, watch your dog with these cute toys because he likely will get the squeaker out, which could pose a choking hazard.
Price
BONUS: Best Puppy Toys: rocket & rex 6pc Teething Toys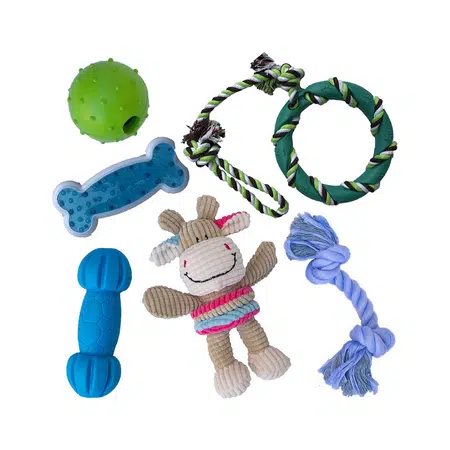 Puppies are known for being destructive with their constant chewing. This six-piece teething chew set is a must for anyone with a puppy as it helps distract them from destructive behaviors. This set is made from durable, non-toxic cotton and rubber and includes squeaky, plush, rope, chew, and ball toys.
Not only are these some of the best, all-natural dog chew toys, but they also help clean your dog's teeth, controlling plaque and tartar buildup. Be sure to keep a close eye on your puppy while he's chewing to make sure the toys are still intact and safe.
4 Reasons Dogs Need Toys
As if you need an excuse to get more toys for your dog, there are actually lots of benefits that can justify your purchase.
1. Exercise
Exercise is the primary reason why many dog owners invest in toys. Throwing a ball helps keep activity rigorous and fun for both you and your dog. Exercise is a crucial part of having a healthy dog because, without adequate activity, a dog can become obese and fall prey to many illnesses.
2. Intellectual Stimulation
Despite being domesticated, dogs can quickly become bored. There's a saying that a "tired dog is a good dog," and this is particularly true for working breeds such as Border Collies.
Without adequate intellectual stimulation, dogs can become destructive, disobedient, and downright impossible to handle. However, with a combination of exercise and mental stimulation, even the most high-energy dog can relax.
3. Bonding
A great way to bond with your dog is to engage in playtime with his favorite toys. Toys also promote bonding in multiple-dog households by helping dogs bond with each other and understand their place in your home's hierarchy.
4. Dental Health
A fun way to improve dental health and reduce the need for surgical cleanings is to invest in toys designed to clean teeth as your dog plays. These toys encourage chewing, which stimulates saliva and diminishes plaque, reduces its recurrence, and helps prevent a tooth infection.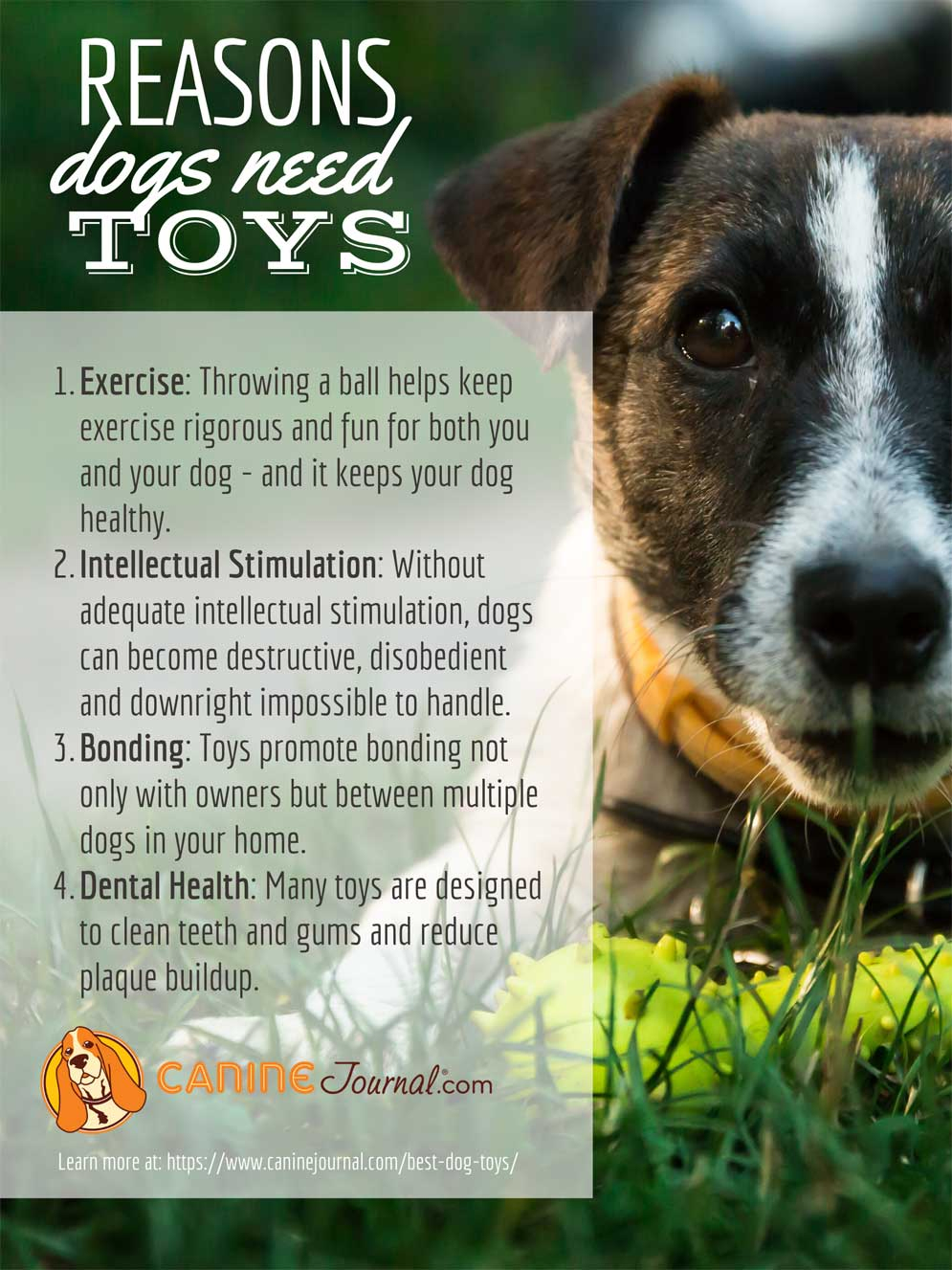 Which Is The Best Toy For Your Dog?
While your dog would likely choose each of these toys, selecting the right one is up to you. Only you know your dog's likes and dislikes as well as his destructive tendencies.
For example, if you have a dog who loves to play ball, then a Nylabone will not do the trick. If, however, you have a dog that adores plush toys but can get a little carried away, then the ZippyPaws toy might be the right choice for you. If you keep your dog's preferences in mind, you won't go wrong with any of these dog toy options.
If you're looking for another idea to gift your dog (or a fellow pet parent), check out our dog gift guide. You can also consider a dog subscription box to receive toys and treats in the mail regularly, so you never run out.
Tagged With: Comparison, Gifts