Want to help your pup use his foraging skills to keep him entertained and engaged? A snuffle mat might be a fun thing for their mental stimulation. Hunting and sniffing is an instinct for many dogs, but our pet pups don't need to go looking for food. Using a foraging mat for dogs, aka a snuffle mat, allows you to put those instincts to use while increasing mental and physical stimulation. We've got all the information you need to find the right snuffle mat for the furry friend in your life.
What Is A Snuffle Mat For Dogs?
A snuffle mat or snuffle rug for dogs mimics the outdoors by using long pieces of fabric tied to a mat. The different lengths and widths of material make it easy to hide treats and food within the layers so your pup can go foraging through the fabric to find them. This game helps encourage slower eating habits and stimulates and engages your pup's mind.
These mats are user-friendly and only require you to spread the food or treats out in them and then let your pup loose to find their rewards. Sniffing helps activate a portion of their brain that releases dopamines that makes dogs feel good. There are other longer-term benefits of dog scent arousal that include better memory, improved mental health, and happier life.
Best Snuffle Mat
We've picked the best snuffle mats in several categories based on factors like price, ease of use, customer reviews, durability, and more to help you decide what would work best for you.
Best Overall Snuffle Mat: Paw5 Wooly Snuffle Mat Review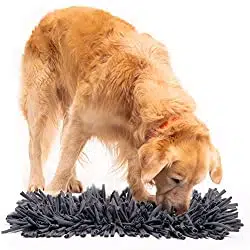 Our pick for the best overall snuffle mat is the Paw5 Wooly Snuffle Mat. This mat is easy to fill by just sprinkling food over the top. Your dog will enjoy foraging through this mat, sniffing out, and looking for his treats. This machine-washable mat is easy to clean and also sustainably handmade from non-toxic, safe materials. Some customers complain that the mat is small and may not hold up to intense chewing.
| Pros | Cons |
| --- | --- |
| Easy to fill | No anti-slip backing |
| Machine-washable | May not hold up to intense chewing |
| For any breed or size dog | |
| Sustainably made | |
Price
Best Washable Snuffle Mat: YEPPUPPY 23″ Durable Snuffle Mat Review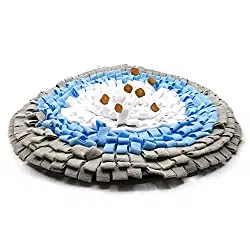 If you're looking for a washable snuffle mat, we chose the YEPPUPPY as the best in this category. This mat is durably made and sewn so it won't deform after washing. It's easy to fill, the polar fleece material is soft and sturdy, and the non-slip bottom keeps the mat from sliding around. Unfortunately, some customers say this mat is not very challenging and heavy chewers may tear the material.
| Pros | Cons |
| --- | --- |
| Easy to fill | Not the most challenging mat |
| Machine-washable | Heavy chewers may tear the material |
| Anti-slip backing | |
| Made of eco-friendly polar fleece | |
Price
Best Portable Snuffle Mat: ALOYA Snuffle Mat Review
Need a snuffle mat to take on the go? The ALOYA Snuffle Mat is our winner of the best portable snuffle mat. With an outer edge, you can cinch this mat up to take on the go or just tighten it a bit to make treat finding a more significant challenge. This mat is easy to fill, machine-washable, and made of durable, non-toxic materials. There is no non-slip bottom, so it may slide around during foraging, and some customers complain it doesn't hide the treats very well.
| Pros | Cons |
| --- | --- |
| Easy to fill | No anti-slip backing |
| Machine-washable | May not hide treats well |
| Folds up for portability | |
| Made of non-toxic durable material | |
Price
Best Versatile Snuffle Mat: STELLAIRE CHERN Snuffle Mat Review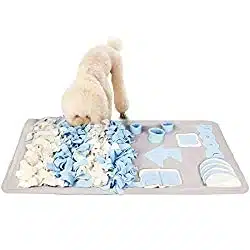 What makes the STELLAIRE CHERN Snuffle Mat the most versatile choice is the multiple options for foraging. This mat has a section that looks like other foraging mats and other types of cups, folds, and pockets to increase entertainment. Though it does take longer to fill with treats, and customers say it isn't very durable, it does have an anti-slip backing and folds up easily for storage or to take on the go.
| Pros | Cons |
| --- | --- |
| Machine-washable | Takes longer to fill |
| Anti-slip backing | Not super durable |
| Folds up for portability | |
| Made with upcycled materials | |
Price
What Are My Other Options?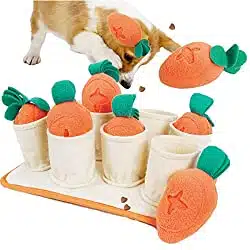 Not sure a snuffle mat is right for your pup? You have some other options to encourage foraging, including snuffle toys. Some snuffle toys like this carrot puzzle by MeijieM keep your pup guessing where treats are hidden while also including squeaky toys to make it more fun. Other snuffle toys have pockets to hide treats like the Spanomic Plush Snuffle Chew Toy.
Suppose slow feeding is the goal. In our ultimate dog food bowl guide, we point out the Outward Hound Fun Feeder as the best in this category. There is something for every pup. You just might need to try a few different things.
DIY Snuffle Mat
If you're wondering how to make a snuffle mat, this five-minute video from Bishop Animal Shelter shows you how to make DIY snuffle mats, how to use, and seeing it in action.
Brain Games For Mental Stimulation
Snuffle mats can be engaging, stimulating, and lots of fun. Brain games might be a good choice if you're looking for other ways to keep your pup mentally sharp. Every dog is different, but brain games for dogs and interactive dog toys give you a lot of ideas on keeping your furry friend entertained so he's happy and well behaved.
Tagged With: Comparison, Mental Health