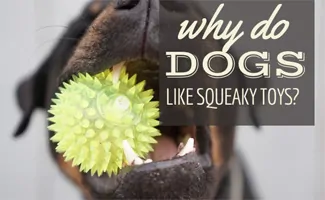 You may think your dog is just trying to annoy you with its constant chewing on the squeak toy, but that's not it. There are reasons that your dog loves that "squeak, squeak" sound and it has to do with its instincts.
Once owners understand why dogs like squeaky toys, the annoying behavior may not seem so bothersome.
Instantly Rewarding
Dog's love the noise that comes from biting the squeaky toy. The sound that comes from their action tells them they have an effective bite that is enough to create a reaction. The squeak tells your dog to continue biting, whereas a toy without a squeaker gives no feedback at all. Canines crave interaction, and these toys give them more than a toy that they simply destroy.
This donut dog toy contains no stuffing and 2 squeakers. It is available in various sizes to fit your breed best.
Hunting Instincts Kick In
Dogs descended from wolves, and we all know wolves hunt for their food. It's this predator and prey relationship that attracts dogs to squeak toys. They are tuning in to that ancient instinct to hunt for prey. Of course, this is better to do on a squeaky toy than the family cat, or even an owner or stranger.
Why Do Dog Toys Squeak?
The squeak in the toy sounds like an animal that is injured or scared. This sound sparks your dog's inner drive to attack. Once the toy stops squeaking (aka, your dog has broken the squeaker), it tells your dog that it has successfully "killed" its prey and it no longer needs to attack.
A strong hunting instinct is common in terriers, sporting and herding breeds. This fun hedgehog toy has 6 squeakers in it for your dog to chew and bite. The circular shape makes it fun to put your dog's nose through and figure out how to escape too.
Another option is the classic hide a squirrel. If your dog loves squirrels, this is the toy for them. The squirrels squeak, and you can hide them in the tree trunk for your dog to find.
Personal Experience With Squeaky Squirrel Dog Toys
"My dog Daisy, a Pitbull Labrador mix, absolutely loves this squeaky squirrel toy. I have purchased multiple of them over the last few years. They usually last us about 6 months. Daisy will hide the squirrels, hide the log, and cuddle the squirrels like they are her babies. She has one that stays on her bed, and she will eventually rip up the others and the log. When we replace the toy, she starts all over again. Highly recommend these. There are multiple sizes to pick from, I have purchased the large and medium, and I love that you can order replacement squirrels."

–Danielle DeGroot, Pitbull and Poogle parent
Health Benefits
Allowing your dog to act on these hunting instincts is healthy for them and lets them be a dog. Letting them "hunt" their squeaky toys allows them to relieve pent-up energy and explore that wild side in them. If your dog has adequate play time, it reduces the chances of unwanted behavior towards items that aren't toys like your couch or flowerbed.
The squeak can get your dog's attention, so you can use it as a reward. Offer your dog the squeak toy if it is doing something undesirable. For example, if your dog has your shoe in its mouth, offer the toy instead as an alternative.
Video: Why Dogs Like Squeaky Toys Explained
Check out this video to learn more about why dogs like the squeaky noise.
Pup Swallows Rope Toy & Needs $6,220 Surgery
It's important to always monitor your pet when they are playing with toys or eating treats, so you know when something goes awry. Read Maverick's story and how pet insurance saved Kristin from a financial disaster.
Pet Parent: Kristin
Pet: Maverick (black lab, 5-months-old)
Diagnosis & Treatment: FBO – Maverick swallowed the squeaker from a rope toy
Incident Claims: $6,220
Healthy Paws Reimbursement: $4,798 (80% reimbursement rate, $200 deductible)
Kristin's (and her Labrador Retriever Maverick's) story begins as most emergency vet situations do – at 6pm on a Friday! The then five-month-old puppy suddenly became very sick with vomiting and excreting pieces of a toy: "I decided immediately to take him to the emergency vet! He chewed up a rope toy and I was worried he'd swallowed a knot in it."
After X-rays, the emergency vet determined that there was an obstruction. By this time the night had progressed to 1am and Kristin had to leave Maverick overnight. "Nothing prepares you to leave your new baby at the vet's office and have to sign a paper giving them the rights to do major surgery (or whatever it takes) to save your dog in your absence," she says.
The very next day, they performed foreign body obstruction (FBO) surgery on Maverick and removed a squeaker from the rope toy ("We didn't even know it was in there!" exclaims Kristin) that he'd swallowed. He stayed in the hospital for four full nights, and the bill was hefty: $6,220 for foreign body removal surgery and follow-up care. Maverick has since recovered and is doing fabulous today: "You cannot see his scar anymore on his belly and he is back to being a crazy 10-month old pup!" And Kristin is thankful she signed up for pet insurance and was reimbursed $4,798 in vet bills.
If you love your dog like family but wouldn't be prepared to pay thousands of dollars for an unexpected accident or illness, consider pet insurance. By enrolling as soon as possible, your furry family member is covered, and so is your wallet. Start by getting a free quote.
Always Inspect Dog Toys Regularly
You should never let your dog play with a toy unsupervised. Toys wear down after enough play, and dogs should not ingest most parts. Always check your dog's toys for holes and replace them if stuffing or squeakers are coming out.
If you want to treat your dog to some new toys (with or without squeakers), check out our list of the best dog toys. It includes squeaky toys, toys to play catch with, chew toys and more. you can also consider tasty dog treats, and heavy duty chew toys if your pup is an aggressive chewer.
Tagged With: Chewing, pet-insurance