Does your dog get bored quickly, destructive when not stimulated, or anxious when you're not at home? As much as we'd love to be able to give our dogs all the attention and mental stimulation they need, we can't always be on hand to play with them. But we've found some clever and unique dog stimulation toys that can bust boredom and alleviate anxiety. See our top picks for the best interactive dog toys to give you and your pup peace of mind.
There are so many different interactive dog toys that range from inexpensive treat-dispensing puzzles to toys that move and make noise and even high-tech smart devices. We've researched dozens of interactive dog toys and give you our top picks.
Note: Please inspect your dogs' toys regularly (regardless of if they are dog mental stimulation toys or not) to ensure they're in working condition and are safe for play. Your dog should not ingest stuffing, plastic, or other harmful materials. Read the toy's packaging to identify any precautions. Some of these toys require supervision when using too.
Best Treat Puzzles For Dogs
Treat-dispensing puzzles offer pups the mental stimulation to keep them from getting bored. They come in varying degrees of difficulty, from beginners to experts. We've chosen two intermediate-level puzzles as our top picks, but our favorite dog puzzle manufacturers, Outward Hound and TRIXIE, have many other excellent options.
Winner: Nina Ottosson By Outward Hound
With this fun interactive puzzle, your dog has to figure out that he needs to remove, flip, and slide the plastic bricks to get to his treats. With three different problem-solving challenges in one puzzle, this toy provides a lot of mental stimulation for your pup. Many of us at Canine Journal bought this puzzle, and our dogs love it.
Price
Our Experience With Outward Hound Dog Brick Puzzle
"My dog, Tiny, loves toys but gets bored easily with the usuals. But this puzzle is a huge hit. He's very treat-motivated, so he has so much fun trying to get to the treats. Even after he figured it out, he still enjoys the "game." I love Outward Hound's puzzles because they have even more challenging ones you can rotate with your pup. And they're really affordable for a high-quality product."

– Sally Jones, Mixed Breed Dog Parent
TRIXIE Dog Activity Mad Scientist Puzzle
Another popular treat puzzle with many pup parents, this Mad Scientist Puzzle requires your dog to master flipping each beaker over and making sure they balance correctly to release the treats. It comes with two lid types, so you can adjust the difficulty or mix the lids up for an added challenge.
Price
Best Responsive Dog Toys
Responsive dog toys respond automatically to your dog's activity, providing a lot of entertainment without you having to lift a finger. They're great when you're too busy to play with your pup.
Winner: Floppy Fish Dog Toy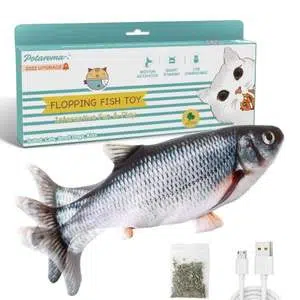 The interactive Floppy Fish Dog Toy has become a fad among dog and cat owners. Its realistic flopping and flipping motion, just like a fish out of water, can keep your pup entertained for a long time. It automatically adjusts its flopping speed by sensing the motion around it and will slow down and stop moving when left alone. It also has a good battery life that's rechargeable with the included USB cord. You can choose from four different fish species, and the manufacturer offers a 30-day satisfaction guarantee. Despite the claims, we did not find this a good match for a power-chewing dog.
Price
Our First-Hand Experience With Floppy Fish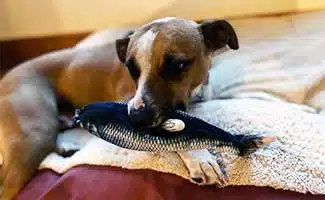 "When we first saw the Flappy fish, we knew that our pup Barley had to have it! He is very smart and thus in constant need of mental stimulation to keep him out of trouble. This did the trick – perplexing and entertaining him for quite some time. I would recommend this for owners of small dogs that do not enjoy power chewing and destroying their toys (like Barley did). Ha!"

– Michelle Schenker, Mixed Breed Dog Parent
Watch Barley play with the Floppy Fish in this hilarious video (along with commentary by his parents).
Wicked Ball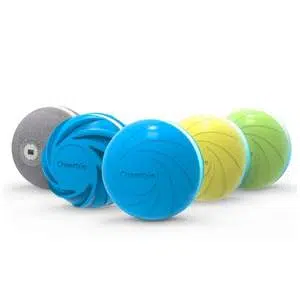 Cheerble's Wicked Ball can keep your pup entertained and active through its various self-activated motions. This busy ball intuitively lights up, rolls, spins, and bounces around the room to entice your dog to play. It has a built-in obstacle avoidance sensor and a rechargeable battery with good battery life. The original version is 3 inches, and the newer SE model is 2.2 inches. While the SE version has a more durable natural rubber outer shell than the original, neither is ideal for very aggressive chewers. Many pet parents say their dogs love this ball.
Price
Our Experience With Wicked Ball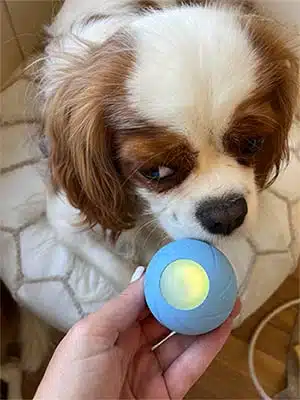 "Wicked Ball SE was a challenge to turn on the first time — I had to push really hard. Then after that initial power on, it was easy to use and turn on and off (or change modes). The ball bounces, lights up different colors, and vibrates when touched, making it very interactive. The material is extremely durable and easy to clean, and the ball lasts a good while before it needs charging. It's slightly bigger than a golf ball but smaller than a tennis ball. The SE is 2.2 inches and probably best for small to medium-sized dogs, whereas the regular Wicked Ball is 3 inches and has an outer shell you can swap out."

– Sadie Cornelius, Cavalier King Charles Spaniel Parent
Hyper Pet Doggie Pal Monster
This plush dog toy wiggles, vibrates, and barks to keep your dog engaged in play. Every time your dog shakes, rolls, or tosses the toy, it moves and makes noise for about 10 seconds. It has a convenient on/off switch when you don't want the toy to be active. To switch things up for your pup, you can even get replacement covers for the battery-operated ball in a few different styles (monster, unicorn, crab, and dog tail).
Price
PetDroid Interactive Dog/Cat Ball
This motion-activated ball can keep your pup entertained for hours and is an excellent choice if you're looking for an interactive dog toy that moves. It has two modes: rolling with a few bounces and active bouncing. And it lights up for added stimulation. Attach the included feather or another small toy to the hook on the outside of the ball to enhance your pup's chasing instincts.
Charge it with a phone charger, and it lasts for five hours of continuous play. It also has an automatic shut-off to save battery life. Although the product description says it's only for hardwood floors, many customers say it works well on the carpet.
Price
Pet Qwerks Babble Ball Interactive Dog Toy
The Babble Ball interacts with your dog by making more than 20 different phrases and sounds. As your pup walks past it or breathes on it, the ball's sounds activate to entice your dog to play. It's a perfect option for dogs with separation anxiety. Unlike the PetDroid we review above, this hard plastic ball doesn't roll or bounce on its own. But many pet parents say their dogs love the noises. It comes in three sizes and requires three LR44 batteries (included), and automatically shuts off when your dog's done playing.
Price
"Smart" Dog Enrichment Toys
These smart devices allow you to use your smartphone to control your dog's toy. They make excellent interactive toys for dogs at home alone when you're at work or out running errands for a long time.
Winner: Wickedbone Smart Bone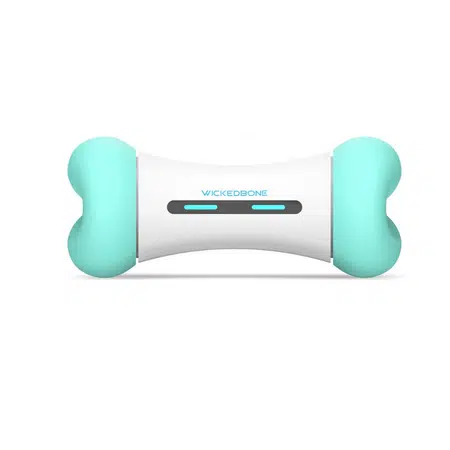 You can use Cheerble's Wickedbone Smart Bone as a remote control dog toy using the virtual joystick in the mobile app or set it to interactive auto-play mode. It has nine different play modes and can automatically adjust how it reacts based on your dog's different types of interaction with it (chasing, teasing, avoiding, etc.). The rechargeable battery can last for four hours in interactive mode.
The downsides to this toy? It likely won't hold up with aggressive chewers and is too large for small dogs. Also, we saw several customer reviews that the apps crash often.
Price
Our First-Hand Experience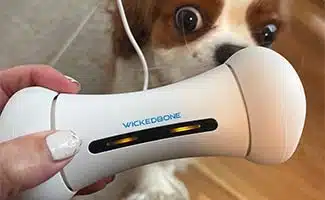 "We had the chance to try out the Wickedbone. It arrived uncharged but comes with a USB cord to charge, and after an hour or so it was ready to go. You sync it up via Bluetooth using their app and then pick one of the movements for it to do. Some are more subtle than others which can be a bit aggressive. Our Cavalier was a bit confused at first but then thought it was something to chase. He's too small to pick up the bone, but that's probably for the best that he doesn't chew on the gadget."

– Sadie Cornelius, Cavalier King Charles Spaniel Parent
Other Stimulating Dog Toys
Here are some other fun interactive dog toys that will entertain your dog without breaking your budget.
iFetch Interactive Ball Launcher
This automatic dog ball thrower is a fetch lover's dream come true. It comes in two sizes for small and large dogs and is excellent for indoor and outdoor use. Teach your pup to retrieve the ball and place it in the launcher for endless interactive fun and exercise. You can set it to throw 10, 20, or 30 feet for the small size and 10, 25, or 40 feet for the large size — or set it to "random" to mix up the fun.
The large launcher uses standard-size tennis balls (three included). The small launcher requires mini-balls, but it comes with three. You don't have to worry about replacing batteries with a built-in rechargeable battery.
Price
More Top Picks For Ball Launchers
Starmark Bob-A-Lot Interactive Dog Toy
A huge hit with many dogs (and pet parents), the Starmark food/treat-dispensing Bob-A-Lot toy provides mental and physical stimulation. The design makes the toy wobble around, encouraging your dog to play. You can fit up to three cups of kibble and adjust the openings for the size of food or difficulty level. It's also useful to slow down fast eaters and comes in two sizes.
Price
Outward Hound Hide-A-Squirrel Dog Toys
Hide-and-seek toys, like this Outward Hound Hide-A-Squirrel plush toy, are a great option if you want to provide your dog mental stimulation without food as a motivation. As a bonus, the squirrels have squeakers for lots of entertainment. It's a perfect interactive puppy toy, but it likely won't last long with aggressive chewers. It comes in a variety of sizes or other options to hide-a hedgehog, llama, bee, and more.
Price
Our Experience With Outward Hound Hide-A-Squirrel Toy
"My dog Daisy absolutely loves this toy. She is almost 11 years old, and weighs about 70 pounds. I have purchased this toy for her at least 3 times. She cannot get enough of it. As soon as we open the package, she is dancing around like a puppy with excitement. The log keeps the squirrels nice and cozy, and she likes to work them out of it. However, her favorite part is the little squirrels. She hides the squirrels all over the house and will keep one on her bed next to her to sleep with. Eventually, she will destroy them, but we have never had any issue with her eating the parts. I keep replacing it because she has so much fun with it. One toy usually lasts us about 4 months."

– Danielle DeGroot, Labrador Mix Dog Parent
LOOBANI Outdoor Bungee Tug Toy
This interactive bungee tug toy can keep your dog entertained and active while he's outside. Your dog can tug, pull, and swing from this device all on his own — and it's strong enough for very heavy dogs. Simply hang it from a tree limb or wrap it around a trunk. The bungee provides fun spring-back motion, and the strong tether toy attached at the bottom is suitable for all types of chewers. It gets excellent customer reviews from owners of all dog sizes.
Price
Paw5 Wooly Snuffle Mat
While not nearly as challenging as the treat puzzles above, the Paw5 Wooly Snuffle Mat still provides treat-motivated entertainment for your pup. All you have to do is sprinkle treats over the top, and your dog will forage and sniff them out. It's made out of non-toxic materials and is machine-washable.
Price
More Top Picks For Snuffle Mats
Our Experience With Snuffle Mats
"Our dog has major separation anxiety and the snuffle mat is the perfect way to distract him when we leave or he needs something to keep entertained. Since he's highly food motivated, hiding treats in the mat gives him something to sniff out while calming his nerves."

– Sadie Cornelius, Cavalier King Charles Spaniel Parent
Pet Zone IQ Treat Ball
The IQ Treat Ball is an inexpensive toy every dog parent should have. This interactive food-dispensing toy can keep your pup occupied for a long period of time. And you can change the level of difficulty to give your dog an added challenge. It's a fun alternative to snuffle mats if you want to limit the number of treats your dog gets. The plastic ball comes in two sizes. It can be loud on the floor but not as noisy on a rug or carpet.
Price
Our Experience With Pet Zone IQ Treat Ball
"The Pet Zone IQ Treat Ball keeps our puppy occupied for hours. And, when Barley stops playing with it, he falls asleep!! It is also impossible for him to chew, which means this toy will thankfully last much longer than most in our home."

– Michelle Schenker, Mixed Breed Dog Parent
Keep Your Toys Stocked Up
It can be hard to keep stimulating dog toys on hand for your pup. If you don't have a lot of time to shop, you may want to consider a dog subscription box to receive toys and treats in the mail regularly so you never run out. You can even get a special dog subscription box for heavy chewers that come with some of the toughest toys around, including mentally stimulating dog toys.
Tagged With: Comparison, Gifts