To sustain this free service, we receive affiliate commissions via some of our links. This doesn't affect rankings. Our review process.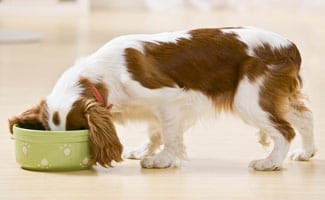 This question for our Pet Doc comes from the concerned owner of a three year old Shih Tsu named Toby Jo.
What Do I Do if My Dog Eats too Fast?
We got Toby Jo 6 months ago. He was running the streets (downtown area) for who knows how long. He was hit by a car. Toby was rescued off the streets by a friend who took him to the Vet. They x-rayed him, etc. He was filthy, and had a lot of fleas. The vet gave Toby a bath and two kinds of flea meds. He didn't have a collar or computer chip.
The vet said to find him a good home because someone had just let him go. So that is how
we ended up with him. I named him. He is lovely but the vet said he is a glutton. In other words, he eats very fast. That was his lifestyle on the streets. The vet suggested that we spread his dog food out on a large cookie sheet so he has to hunt for it and that might slow him down.
Well, we used this technique for a long time and it seemed he was doing good, not eating quite as fast. Then this past week, he started throwing up again. Today he threw up twice. I gave him cottage cheese the other day instead of food for one meal. That seemed to work. Then we put him back on his dog food. I buy Fromm Gold Nutritionals dog food which should be good for him. We also give him all natural dog treats.
Toby Jo gets very excited when we come home and jumps up like a Jack Russell. He is a pure bread Shih Tzu though. He loves to take walks everyday, and loves to sun out on the deck. I don't really know what to do. We feed him one fourth a cup, three times a day.
Do I need to cut that in half more often during the day? He is up-to-date on all his vaccines and he has been fixed. He just got his booster shots also. Please help Toby eat slower and keep his food down Pet Doc! Any advice would be helpful.
When Did Toby Start Eating So Fast?
When we first got him six months ago.
How has his eating habit changed?
Not a whole lot. I asked his vet about it and he said he is just a piggy eater, and that we should put food on a cookie sheet to slow down his eating. But it still happens once in a while where he eats too fast and can't keep his food down.
When Your Dog Eats Too Fast… Our Pet Doc Responds
Thanks for the question. When your dog eats too fast, I have also recommended spreading dog food out like this to help keep dogs engaged and slow down a voracious eater. It has worked at times, and at others it won't, in my experience. If this is Toby's only issue, then I would recommend trying smaller and even more frequent feedings. That can be difficult as life does not allow for that at times.
I am not a big fan of soft dog foods but this may help as well. Try mixing dry dog food with canned food. Lightly moistening the kibble could be of help as well. If all else fails, then visit our dog vomiting article for advice or ask your veterinarian for suggestions on antacids or other medications that may be valuable to you and Toby. He or she will be able to make the best suggestion, being familiar with your dog. I hope this helps and please keep us informed.
Disclaimer: The information provided through this website should not be used for diagnosing or treating a health problem or a disease. It is not a substitute for professional care. If you have or suspect you may have a health problem, you should consult your health care provider.
Disclaimer: This website contains reviews, opinions and information regarding products and services manufactured or provided by third parties. We are not responsible in any way for such products and services, and nothing contained here should be construed as a guarantee of the functionality, utility, safety or reliability of any product or services reviewed or discussed. Please follow the directions provided by the manufacturer or service provider when using any product or service reviewed or discussed on this website.