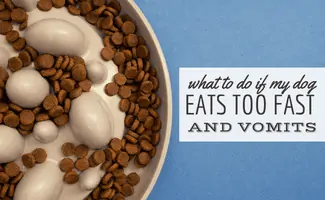 Eating isn't a race, but explaining that to our dogs is easier said than done. Guzzling food can result in choking, vomiting, and even bloating. However, you can help slow your dog down and try to prevent these things from happening.
What Do I Do If My Dog Eats Too Fast And Throws Up?
If your dog eats too fast and then vomits, you'll want to try and remediate the issue — not only because cleaning up dog vomit around your house is a smelly, messy job, but also because your dog's stomach is now empty, and he is more likely to eat fast at the next meal due to his extreme hunger. We have several ideas you can try at home to slow your dog's eating down.
Cookie Sheet Trick
Spread your dog's food out onto a large cookie sheet. This makes it so he has to hunt for his food. With each bite he takes, he will get less food in his mouth than if it were piled on top of itself in a dog bowl.
Split Meals Up
Try to give your dog smaller, more frequent feedings if your schedule allows. For example, if you typically feed your dog once in the morning and again in the evening, try splitting those two meals into three by adding a meal around noon.
Remember to give the same amount of food during those three meals as you initially did with two meals, so you don't overfeed your dog and cause him to be obese. So if you give your dog one cup of food in the morning and one cup in the evening, then you could give him 3/4 cup in the morning, 1/2 cup around noon, and 3/4 cup in the evening.
Moisten Your Dog's Food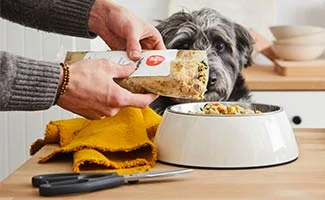 If you give your dog kibble, adding canned wet food or a little water to it can help slow him down. The water can also help hydrate him. You can also consider changing to fresh dog food, like The Farmer's Dog, which is typically more easily digestable than kibble.
Slow Feeder Dog Bowl
A slow-feeder dog bowl is like a maze for your dog's food. Several members of Canine Journal have used these for their gluttonous pups and have had great success.
Muffin Tin & Tennis Balls
Put your dog's kibble in a muffin tin and cover it with tennis balls. This will slow your dog's eating down and act as a fun brain activity for him.
Load A Snuffle Mat
A snuffle mat is an interactive feed game that lets your dog sniff out and eat his food. The mat has fleece strips that hide pieces of kibble for your dog to find. This can help slow your dog down and can be an excellent way to relieve stress and release excess energy.
Vet Intervention May Be Necessary
If your dog is still vomiting, there could be other things causing it. Our dog vomiting article may be helpful to you, but we also recommend talking to your veterinarian about your dog's health status.
Did you know that pet insurance covers gastrointestinal issues like vomiting if they aren't related to pre-existing conditions? Pet insurance covers many other things like accidents, illnesses, canine bloat, and more. By enrolling your dog in a pet insurance policy, you're more able to afford the best vet care for him should he need it. Find out if pet insurance is worth it for your dog.
Tagged With: Gastrointestinal