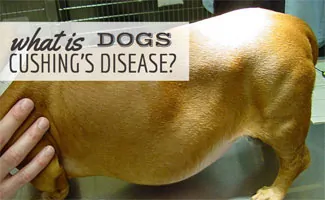 Cushing's disease is a lifelong, uncommonly cured, condition in dogs. There is treatment to help your dog live more comfortably, but it will not prolong your dog's life. Find out how you can help your dog live contently with Cushing's disease.
What Is Cushing's Disease In Dogs?
Cushing's disease, also known as hyperadrenocorticism, occurs when the body produces too much cortisol. Cortisol is a hormone produced and stored by the adrenals, which are two small glands that are above the kidneys. Cortisol helps the body during times of stress, regulates appropriate body weight, skin condition and tissue structure. However, too much cortisol can weaken the immune system.
Two Types Of Cushing's Disease
The type of Cushing's your dog has determines the treatment prescribed. Blood tests are used to diagnose Cushing's to help differentiate between the 2 types. An ultrasound may also be used to detect a tumor on an adrenal gland.
Pituitary-Dependent
80% to 85% of Cushing's falls within the pituitary-dependent type. This means a tumor triggers it on the pituitary gland at the base of the brain.
The pituitary gland produces hormones including the adrenocorticotropic hormone (ACTH). The tumor causes the pituitary to overproduce ACTH which is then dispersed throughout the bloodstream to the adrenal glands causing them to produce more cortisol.
Adrenal-Dependent
The remaining 15% to 20% of Cushing's cases involve a tumor located in one or both adrenal glands causing them to produce excess cortisol.
Symptoms
Commonly found in middle-aged to older dogs
Drinking more
More frequent urination
Increased appetite
Decrease in activity
Excessive panting
Fragile skin
Hair loss
Skin infections like Pyoderma
Enlarged abdomen (potbellied appearance)
Treatment
Treating Cushing's disease in dogs takes careful monitoring and regular checkups with the vet. However, dogs can live a good, happy life if you are responsible with your dog's care.
Medications
Medication is commonly used to help manage the symptoms of both pituitary and adrenal types of Cushing's disease. Your dog's vet will schedule regular appointments and conduct blood tests to monitor your dog's response to treatment. The veterinarian may adjust the dose to help improve your dog's reaction to medication.
Vetoryl (trilostane) is the only drug approved by the FDA to treat both types of Cushing's. This prescription stops the production of cortisol in the adrenal glands.
Anipryl (selegiline) is FDA-approved to treat uncomplicated, pituitary-dependent Cushing's in dogs.
Lysodren (mitotane) is often used to treat dogs with Cushing's. It is a chemotherapy drug for humans that destroys the layers of the adrenal gland that produce cortisol. This prescription is "off-label," meaning vets can legally prescribe human drugs to animals and at different dosages than those listed on the label.
CBD Oil
Many pet parents ask if CBD oil can help treat Cushing's disease. There are many benefits of CBD oil including its ability to help ease pain, reduce chronic inflammation, anxiety and more.
If you feel that your dog is suffering from any of these things, CBD oil may help relieve some of the symptoms. You should speak with your vet about giving your dog anything with CBD to ensure it's safe for your dog.
Once you've verified its safety with your vet, check out CBD oil or CBD-infused treats to see how they might help your pet.
Natural Remedies
Dandelion is known to normalize adrenal functions1
Burdock is good at cleansing unwanted substances from the body1
Arsenicum treats excessive thirst1
Hepar Sulph heals irritated skin1
Sulfur improves skin health1
Lignans impede 2 enzymes (different from melatonin) required to produce cortisol, which decreases cortisol levels2
Frequently Asked Questions
What If My Dog Is Non-Symptomatic?
Some vets say giving non-symptomatic Cushing's dogs SAM-e (S-Adenosyl-Methionine) with milk thistle can help naturally treat low severity cases. Here are two supplements we found that pet parents have had success with.
K9 Select Multi-Formula – $17.99

10mg HMR Lignans
1mg Melatonin
20mg Milk Thistle

Wanderfound Pets SAMe – $16.98
Check with your vet before giving you dog it and ensure your dog doesn't need further medical treatment.
What Is The Recommended Diet For Dogs With Cushing's?
Ask your vet about the best dog food to give your dog if they have Cushing's disease.
Does Pet Insurance Cover Cushing's?
Yes, pet insurance covers Cushing's as long as no signs or symptoms appear until after policy enrollment and waiting periods have passed.
Is There A Cure?
The only cure for Cushing's disease is to remove the adrenal tumor if your dog is adrenal-dependant and the cancer hasn't spread elsewhere. However, this can be difficult and risky, so most cases of Cushing's disease are treated with medication. Pituitary-dependent dogs do not commonly have surgery because techniques are still under development.
What If You Don't Treat A Dog With Cushing's Disease?
A dog untreated for Cushing's disease can live just as long as a dog with treatment. However, the dog without treatment will experience more symptoms; therefore, having a lower quality of life. This is something we suggest discussing with your veterinarian if you are considering treating or not treating your dog's Cushing's disease.
Prognosis
Medication can control small Cushing's tumors for many years. However, for larger tumors that affect the brain, the prognosis isn't as good. If your dog has a malignant adrenal tumor, the prognosis is poor. The life expectancy for a dog with pituitary-dependent Cushing's is 2 years.
When To Put Your Dog With Cushing's Down
First of all, we're so sorry you have to consider this. We can't imagine the pain you are feeling nor how difficult of a decision this is. We recommend speaking with your vet about signs to look for in your dog that may show the time may be approaching.
When the time does come, you may find this article helpful. It discusses grieving the loss of your dog.
Sources: [1] Holistic Pet Info, [2] Cushing's In Dogs, [3] Vetinfo
Tagged With: Endocrine