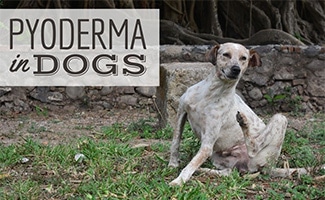 It can be unnerving to see your pup with patches of irritated skin and bumps. If you don't know what you're looking at, you definitely won't know how to deal with it. Pyoderma could be the culprit, so you may want to familiarize yourself with this condition. Understanding the causes and symptoms may help you make the right decisions for your dog's health.
What Is Pyoderma?
Pyoderma is a bacterial skin infection that literally means "pus in the skin". It appears as small, raised, red bumps, some with pus in them (or pyogenic), that look a lot like pimples. You may also notice scaly, dry, flakey patches, redness, and inflammation.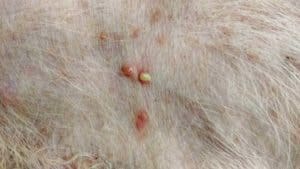 This infection is sometimes compared to impetigo, mainly when referring to puppies. Impetigo is a skin infection common in human children, and the main difference is that impetigo is contagious, while pyoderma is not contagious.
Types Of Pyoderma
There are three types of pyoderma in dogs:
1. Surface Pyoderma: In this type of pyoderma, the infection is in the top layer of the skin.
2. Superficial Pyoderma: When the infection gets into the first epidermal layer of the skin, just below the surface and the hair follicles, it's superficial. This type is the most common form of pyoderma.
3. Deep Pyoderma: This type of infection gets into the root of the hair follicle. When this occurs, it can be harder to treat.
Where Does Pyoderma Appear?
A dog can have pyoderma anywhere on his body. However, here are some places where a deep infection is more likely to occur:
Chin
Elbow
Hocks
Knees
Lip fold
Skin folds
Muzzle
Spaces between the toes
Vulvar folds
What Causes Pyoderma In Dogs?
Pyoderma is usually a secondary infection, which means something else causes the skin to be irritated or broken. Then the bacteria get in the skin, causing pyoderma. Some of the reasons that the skin may be susceptible to an infection include:
Changes to normal skin bacterial
Excessive moisture
Excessive scratching
Fleas, ticks, or mites
Fungal skin infection
Immune system suppression
Immunosuppression drugs
Lack of blood flow to the skin
Malnutrition
Yeast infections
Pyoderma In Puppies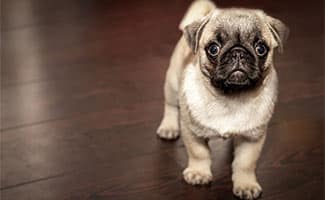 Puppies have extra sensitive skin that's more susceptible to skin infections, which is why puppy pyoderma can occur. The main difference with puppy pyoderma is the underlying cause of it is just being a puppy.
Puppy pyoderma is most common in areas where the skin doesn't have hair to protect it, especially their super cute, soft belly. This form of pyoderma looks similar to adult pyoderma but usually requires less intervention to treat. If your vet decides medication is necessary, they may only recommend a topical spray or ointment as needed.
Diagnosis
Most vets can diagnose pyoderma by looking at the signs and symptoms. However, they may also need to take a skin sample to examine under the microscope to look for bacteria. Sometimes they'll do a fungal test to rule out other things like ringworm.
An essential part of the diagnosis also involves determining the underlying cause. Your vet may conduct various tests and blood work to get to the bottom of it.
Treatment
There are a few ways to treat pyoderma in dogs. Just remember, it's always smart to check with your vet before using any treatment or home remedy.
Antibiotics
Because pyoderma is a bacterial infection, your vet may prescribe antibiotics. Amoxicillin, cephalexin, and clindamycin are common prescriptions for this type of infection. The typical treatment time is three to four weeks but can be extended to eight to twelve weeks if necessary.
Topical Treatment
Topical treatments your vet recommends may include sprays and medicated shampoos that treat and soothe bacterial skin infections. These include products like:
Home Remedies
If you're looking for a home remedy, you may want to try apple cider vinegar or coconut oil.
Apple cider vinegar has antibacterial properties and may help treat the infection and relieve irritation, inflammation, and itching.
Coconut oil can be used as a natural moisturizer to soothe dry, cracked, and itchy skin. Place the coconut oil on the affected area and let it sit for five minutes before rinsing with water.
Diagnosing and treating pyoderma can be expensive. It would be wise to explore whether pet insurance is worth it for your pet while he is young and healthy. If they develop an ailment before you start coverage, any pre-existing conditions may prevent the insurer from covering related expensive medical needs later in life.
How To Use Apple Cider Vinegar To Help
This five-minute video from All Natural Home talks about how apple cider vinegar helps relieve itching and how to mix up an easy solution to use.
CBD Oil And Pyoderma
Pyoderma can frustrate your dog with skin irritation, itching, and pain. One way to deal with the discomfort is to explore the benefits of CBD oil. After discussing this all-natural alternative treatment with your vet, you can read our expert picks for the best CBD oil and CBD treats. Many of the companies we review carry topical CBD skin ointments or creams that can help soothe skin irritation.
Has your dog struggled with skin infections?