To sustain this free service, we receive affiliate commissions via some of our links. This doesn't affect rankings. Our review process.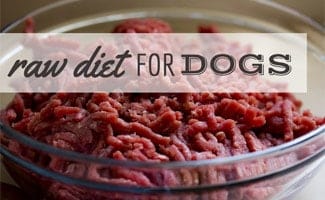 Raw dog food diets are controversial. While some think this is the way dogs were meant to eat before dogs became our pets, others think dry dog food is the correct diet for our four-legged fur balls. In this article, we're going to lay out the facts about raw food diets for dogs so you can draw your own conclusion about whether this diet is good or bad for dogs.
What Is a Raw Food Diet for Dogs?
A raw dog food diet emphasizes raw meat (often muscle and organ meat), whole or crushed bones, fruits, vegetables, raw eggs and some dairy. Raw diets started with racing greyhounds and sled dogs. It wasn't until more recently, in 1993, when Australian veterinarian Ian Billinghurst proposed extending these diets to family dogs. He called this the BARF diet for dogs, which stands for Bones and Raw Food or Biologically Appropriate Raw Food. He suggested dogs would flourish on BARF dog food since this is how they ate prior to being domesticated. He argued that commercial pet foods were harmful to the health of dogs. However, many vets and the FDA disagree with Billinghurst's views.
Billinghurst and his supporters say the benefits include:
shinier coats
healthier skin
cleaner teeth
more energy
smaller stool
Risks include:
bacteria in raw meat pose a threat to dog and human health
if given whole bones they are a threat for choking, breaking teeth or causing internal punctures
Transitioning Your Dog from Dry Food to Raw
It's important to remember that transitioning your dog to a different diet is a slow process. Below is a rough schedule you can use for this dietary shift. If you notice your dog isn't feeling well, you should go back a day and proceed slower. For example, if your dog struggles with 1/2 serving, shift back to 1/4 serving for another day or two and then move forward.
Another thing we'd like to mention is that raw diets are only safe for dogs 12 weeks and older.
Day 1: give your dog only water, no food
Day 2: 1/4 of raw diet serving and 3/4 of regular diet
Day 3: 1/2 of raw diet serving and 1/2 of regular diet
Day 4: 3/4 of raw diet serving and 1/4 of regular diet
Day 5: full raw diet serving size
The daily serving size should be broken into two meals per day: one in the morning and one in the evening.
How to Determine Serving Size
We found this online raw dog food serving size calculator to help you know how much to feed your dog, or at least give you a starting point.
Learn more about a Raw diet in this video:
Raw Dog Food Recipes
Want to get your dog started on a raw diet? Here is a recipe you can try out.
Ingredients
2 1/2 lbs ground beef
4 oz chicken livers
1 carrot, chopped
1 small apple, cored
1/2 c baby spinach
2 whole eggs (including shell)
1/2 c plain yogurt
1 tbsp ground flaxseed
1 tbsp olive oil
Directions
Put carrot, apple and spinach in food processor. Process until finely chopped. Add remaining ingredients except beef and process until well combined. Transfer mixture to a large bowl and add the beef until well mixed. Form into patties the size of your palm and place on parchment lined baking sheet. Freeze patties and transfer to a storage container and keep frozen. Remove patties the night before and place in refrigerator to thaw before serving. Check out this video to learn more:
Raw Dog Food Brands
Billinghurst's book, Give Your Dog a Bone, has sparked commercially processed raw dog food diets to help pet parents who are short on time. These foods are freeze-dried or frozen to maintain their nutrients. They consist of grains, vitamins and vegetables. The pet owner purchases raw meat separately and adds it to the mix. Below is a list of the best raw dog food brands:
Why are you considering feeding your dog a raw diet?
We are a participant in the Amazon Services LLC Associates Program, an affiliate advertising program designed to provide a means for us to earn fees by linking to Amazon.com and affiliated sites.
Disclaimer: The information provided through this website should not be used for diagnosing or treating a health problem or a disease. It is not a substitute for professional care. If you have or suspect you may have a health problem, you should consult your health care provider.
Disclaimer: This website contains reviews, opinions and information regarding products and services manufactured or provided by third parties. We are not responsible in any way for such products and services, and nothing contained here should be construed as a guarantee of the functionality, utility, safety or reliability of any product or services reviewed or discussed. Please follow the directions provided by the manufacturer or service provider when using any product or service reviewed or discussed on this website.