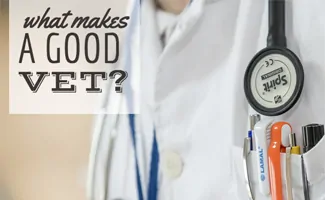 It's important to find service professionals in your life you like and can trust. There's nothing worse than having an appointment with a doctor or meeting with your lawyer and they don't remember you or any of the information you've provided them with in the past. Similarly, you want an empathetic vet you trust and get along with because they are ultimately responsible for taking care of your furry friend in good times and in bad. But what attributes make up a good vet exactly? Read on to learn how to find a good vet and what to look for when seeking high-quality veterinary care.
How To Find A Good Vet
According to the American Veterinary Medical Association, there were a total of 105,000 U.S. veterinarians in 2015. With so many to choose from, how do you "vet" the best vets and go about finding the best fit for you and your precious pet? Here are some tips for how to find a good vet.
Ask For Recommendations
Neighbors are a great resource for finding a vet since they most likely have ones that are in the same geographic area as you. While you're out on a walk or if you notice another pet owner with their pup, ask if they have any worthwhile experiences to share and a vet's office to whom they would recommend. Join Nextdoor (a social network for neighborhoods) and post a question or search the existing forums for ideas.
Fellow pup owning friends in your town, at your church or in a local organization you belong to are great resources as well. You might even use Facebook to search for "vet" or "veterinarian" and then narrow down the results by geographic location. The great perk of using social media for this search is that you can filter content to just your friends and see if they checked in or shared any posts about their pet doc experiences.
Finally, you might try calling a nearby animal shelter or ASPCA to see if they can recommend someone.
Read Reviews
A few obvious places to look are Yelp, Foursquare and Facebook for people's ratings and personal experiences. But other sites like the Better Business Bureau and your city's chamber of commerce are other good sources for service provider reviews. Make sure you read both positive and negative feedback as people often take the time to leave their two cents if they've had a bad experience, but not so much when they've had a good one. Look for trends of similar positive or negative things said about any particular practice. We also have reviews of the leading online vet services.
Look For Accreditations
Having a board certification is a bonus because it requires a vet to pass an additional exam and two to four years of study in a specialty area. Another thing to find out is if the clinic is certified by the American Animal Hospital Association (AAHA) which is a voluntary stamp of approval that signifies the office meets and maintain a high standard of equipment, facility and quality of care.
American Animal Hospital Association
You can use the AAHA website to locate your nearest accredited animal hospital.
It's also good to know if your pet's doctor is involved with any outside volunteer or charitable organizations. If so, this demonstrates they have a vested interest in giving back and helping others (including your pup).
Make An Appointment
Once you narrow down your list to a few favorites, ask to schedule a consultation which gives your pet a chance to sniff them out (literally) and to see if there's a nice connection between your dog or cat and the vet. Depending on their office environment and the people there, your pet might have a better experience at one place over another. Since your pup or kitty can't tell you their thoughts, pay attention to symptoms like anxiety, barking and take note if they establish a good rapport with the office staff. It also gives you a chance to ask questions about their policies, pricing and philosophies. This can give you a better perspective and provide extra peace of mind when it comes to making a decision.
What Makes A Good Vet: Other Things To Consider
Here are some additional characteristics and qualities to look for when finding a good vet.
Quality of Facility: Is the office sanitary, comfortable and accommodating?
Characteristics of Vet & Staff: Are they professional, helpful and knowledgeable? Are they caring, nurturing and calm with you and your pet?
Location: How easy is the vet to get to from your home or office? Is parking a problem and/or is it accessible by public transit?
Convenience: Do they provide any added value options like house visits or follow-up calls?
Accessibility: Do you need an appointment for urgent or last minute needs? What are the office hours? Do they have emergency vet hours?
Personalization: How many vets are there? If there are multiple, will you always see the same one?
Communication: How often and what methods do they use to let you know about appointment and vaccination reminders? Are they good about explaining things and answering your questions?
Experience: How long has the hospital been around and practicing veterinary medicine?
Of course, pricing is a huge factor too, but luckily, if you have a pet insurance plan, then your plan will reimburse you for some (if not all) of any emergency or illness related costs depending, on your plan and the treatment or procedure.
When It Comes To Finding A Good Vet, Don't Risk It
Your dog's health is too important to compromise when it comes to finding a good veterinarian. This is crucial because you share valuable information with them. But, perhaps more importantly, because they are responsible for taking care of your best friend. Finding a good vet might take a little more time up front, but it's well worth it in the long run (and will keep your dog's tail wagging for years to come).
If you're on the hunt for a vet and have a question that isn't life-threatening, consider trying out this online vet service for your pet-related question.
Tagged With: