If you're looking for expert veterinarian advice without having to spend the time and money visiting your vet's office — and especially if you're self-isolating during the COVID-19 crisis — what are your options? Fortunately, there are several reliable and surprisingly affordable services online that connect you with licensed vets who can evaluate your pet's situation and give treatment advice without the need for in-person visits. Read on to learn which ones are your best options.
Article Overview
Best Websites For Veterinarian Advice
Our reviews and rankings are based on several factors, including quality of advice, accessible hours, response time, cost and more.
PetCoach Review
#1
PetCoach by Petco Animal Supplies Stores is an excellent resource for people looking for non-immediate, free vet advice for their pets. The site has over 400,000 articles and answers to all kinds of questions posed by users and answered by their vet experts over the years. You can easily search these for your specific needs.
They also have an "Ask A Vet" feature. You can submit a question and receive a brief answer from a vet tech or licensed veterinarian for free within a day (but many users say it only takes a few hours to hear back). You also have the option to pay $8 for an immediate answer. They also offer in-depth consultations for $30 with a licensed vet via text messaging that includes any follow-up needed.
| | |
| --- | --- |
| Pros | Cons |
| | In-depth consults are only done via text messaging |
JustAnswer Review: Ask A Vet
#2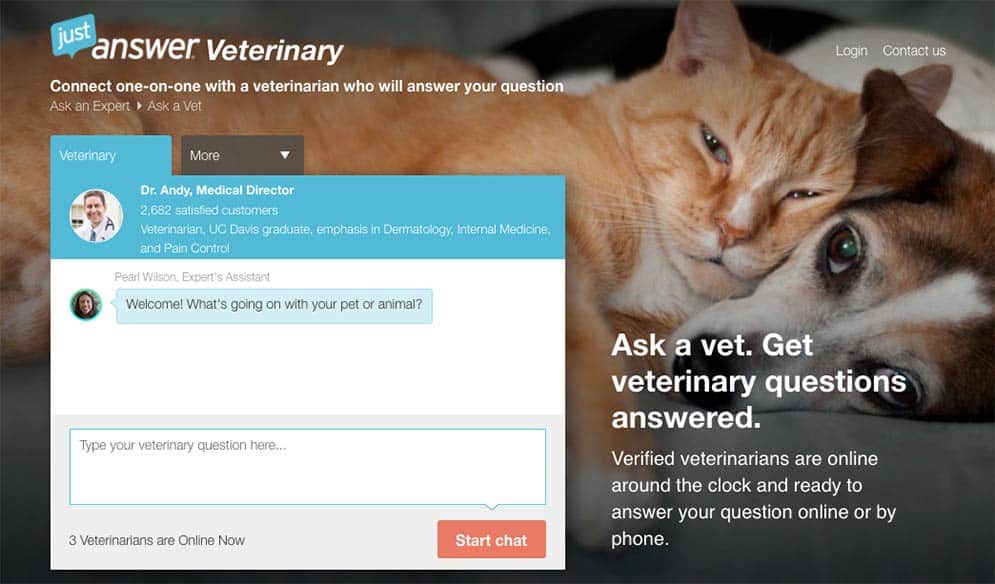 JustAnswer is a popular expert Q & A website that connects visitors with
verified experts in a wide variety of categories including medical, legal, automotive, tech support and veterinary medicine. Once you submit a question about your pet, they'll notify you by text or email when your answer is ready. They say their average response time is 6-7 minutes.
They offer a 7-day trial for $1, so that's the best way to try them out. But make sure you cancel your trial or you'll be charged a monthly membership fee if you don't want to continue using their services. Monthly membership fees vary depending on the urgency and amount of detail needed to answer your questions.
Unfortunately, we couldn't find any concrete idea of how much they charge (even a range of pricing). But based on our research, users say it costs far less then what you'd spend at a vet's office. And with a monthly membership, you get access to all their experts, not just vets.
Pros

Cons

24/7 access to licensed veterinarians
Mobile apps for Android and iPhone (for members only)
Generally good user reviews for quality of advice and helpful experts
You can browse previously asked questions and answers for free

No free personal advice
Must cancel the 7-day trial or you'll get charged a monthly fee
Come user complaints about billing errors
VetLIVE Review
#3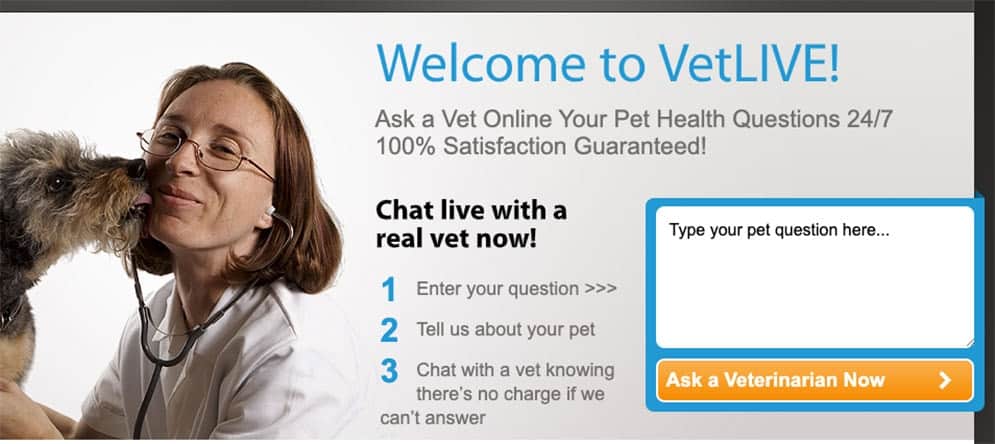 VetLIVE is one of the top online vet consultation sites and gives you on-demand access to licensed veterinarians around the clock. The site's owners, long-time veterinarians themselves, personally vet and monitor all of their experts. Depending on the time of day and the urgency of your request, you'll incur a one-time consultation charge of $16.95 to $59.95.
VetLIVE also offers a nutritional consult for $29.95 and a second opinion consult for $34.95. All you have to do is upload your pet's medical records for them to give a second opinion on his condition.
Pros

Cons

24/7 access to licensed veterinarians
Live chat available
Second opinion and nutritional consults available
Contributes to pet-related charities

Can be expensive
No free content and very limited articles on pet health
No mobile apps
What Are My Other Online Vet Options?
MyPetDoc (Ask.Vet) | Vet Chat™ From Banfield
MyPetDoc (Ask.Vet) Review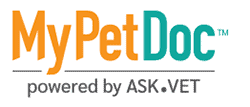 MyPetDoc is a well-established web portal that gives pet owners 24/7 access to licensed veterinarians 365 days a year. You can live chat with their experts for $19.99 per session or $9.99 per month for unlimited live chat sessions. Their monthly plan also includes six annual phone calls with a vet and webinars and educational videos with tips on keeping your pet healthy.
Pros

Cons

24/7 access to licensed veterinarians
Very competitive pricing for in-depth consultations via live chat
Monthly plan gives you unlimited sessions and 6 phone calls a year

No free advice or online content
No mobile apps
Vet Chat™ From Banfield Review

If you're already a member of Banfield Pet Hospitals' wellness plan (or want to join), you get 24/7 on-demand access to their licensed vets through their handy Vet Chat™ app. They can give you general advice for many questions, but this is a pricey option if you're not a member and just want occasional online advice.
Banfield's wellness plans offer preventive care, which includes bi-annual comprehensive wellness exams that can cover vaccinations, parasite control, dental, nutrition and behavioral consultations. The plan requires a one-time sign-up fee and monthly payments that start at $21.95 for cats and $29.95 for dogs.
Pros

Cons

Must have a Banfield wellness plan to use Vet Chat™
Several user complaints that the apps are glitchy
Read our Banfield Wellness Plan Review
When Pet Insurance Can Help
While these online vets are a great alternative for everyday advice and less serious issues, there are definite times you'll need to visit a vet. Vet costs for serious conditions and accidents can rack up quickly — sometimes into thousands of dollars — so you may want to consider getting pet insurance. It can help protect your wallet from a major blow while ensuring that your pet receives the care that he needs. See our reviews of the best pet insurance companies to learn more.
Why are you considering using an online vet service? What's most important to you?