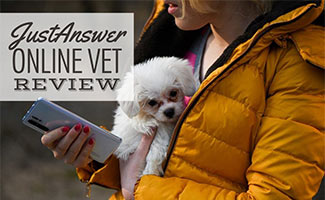 Are you considering using an online veterinarian to get advice for your pup? Several websites like JustAnswer give you 24/7 access to licensed vets to help you with medical and behavioral issues from the comfort of your home.
JustAnswer, a popular Q&A site, promises quality veterinary advice and fast response times. But you may wonder, is JustAnswer legit? Are their vet experts really qualified to offer the best advice for your pup's concerns? We've got the lowdown on what you can expect with this online vet service.
Article Overview
JustAnswer
Pros
24/7 access to licensed veterinarians
User-friendly mobile apps for Android and iOS (for members only)
Generally good user reviews for quality of advice and helpful experts
Cons
Must cancel the 7-day trial or you'll get charged a monthly fee
No video chat available
Some customers say cancelling is difficult
Key Features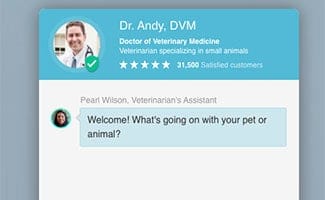 JustAnswer verifies the licensing and credentials for all experts
24/7 chat sessions with experts via your choice of email or text, as well as phone availability (for an added fee)
Ability to send photos of your pet
Average response time is 6 minutes
In business since 2003, with more than 10 million customers over the years
Customer support via live chat, phone, and email
We think JustAnswer is an excellent solution for your online vet needs. From all the customer feedback we've seen online (and there's a lot), their experts are knowledgeable and quick to respond with solid advice.
Price
The best way to try out JustAnswer is to sign up for their 7-day trial for $1, which gives you unlimited chat sessions. However, after the trial, they start charging you for their monthly membership, so be sure to cancel if you don't want to join.
$5 base price to post a single question, but additional fees vary based on the length of your chat session (you can also request to talk by phone for an added fee)
$74 per month for membership, according to their website (but we also saw a lot of customer feedback online saying people were charged anywhere from $45 to $74 per month)
JustAnswer Veterinary: Reviews By Consumers
Positive Reviews
Dr. [name redacted] was professional, knowledgeable, and supportive when addressing my concerns about our pup! She helped me in determining whether I needed to take our pup to the ER or not. So appreciate her! Pricing was perfect and it was so quick and easy to get to speak with an experienced Vet through Just Answer! I highly recommend them! – gail g., BBB 2/23/2021
When I needed a veterinarian on a Sunday I tried every Avenue online, calling talking to Veterinarian Hospital with no comfort regarding my sick dog. When i found JustAnswer i figured it was worth a shot. Dr. [name redacted] responded quickly to every question i had. He asked about every detail regarding my elderly Yorkie and helped me through the scary morning. I took his advice and my pup is a bit better today and now i can take him to my regular Veterinarian today and get him checked out. I was very impressed with the service. And appreciated it so much. – Julie V., Trustpilot 2/22/2021
Complaints
I asked a question because I had seen the ad for Just Answer(Ask) and my dog was acting sick. The website said it was $5.00 to ask a question. Since then I have been charged $58.00, plus the original $5.00, because they have a misleading website. Now I'm being told that I'm not entitled to a refund because somehow I'm now a member and have to pay "membership" fees. I never signed up for a membership and never wanted a membership and I have never even revisited the site, I just wanted to speak to a vet and ask a question, it was a Sunday, I would have gone to my regular vet any other day. – Mary S., Trustpilot 2/25/2021
They did not answer my problem at all. You gave me the same information I already had from Google. Then they charged me $46 for a service I did not want and claimed they sent me an email giving me seven days to opt out. I checked, there was no email. Then they said you would refund my money in three days, but they did not. If this is not a scam, I don't understand the definition of scam. I suspect their good reviews are written by them and their staff. – Scammed, Sitejabber 10/23/2020
How To Cancel JustAnswer
JustAnswer makes canceling your free trial or membership simple. All you have to do is:
Click on "My Account" at the top right of the JustAnswer homepage
Log in to your account
Once you're in your account, go the Membership panel
On the Membership page, click on "Cancel Membership"
What Else Can JustAnswer Help Me With? (Video)
In addition to licensed veterinarians, JustAnswer has thousands of experts on-hand to give you advice for a wide variety of issues. Check out this brief video to learn more about what they offer.
What's Our Final Verdict?
We think JustAnswer is an excellent solution for your online vet needs. From all the customer feedback we've seen online (and there's a lot), their experts are knowledgeable and quick to respond with solid advice.
We're not crazy about their less-than-transparent pricing when it comes to knowing how much single chat sessions will run you — several other online vet sites have set fees for their sessions, so you know what to expect upfront. But JustAnswer will still save you a significant amount compared to visiting a vet in person. And it's a great solution if you need expert advice when your vet's office is closed.
If you're not sure JustAnswer is your best option for pet advice, there are several alternatives. See our reviews of the best online veterinarians, where we give you each site's features, availability, pros, cons, pricing, and more.
Have you used an online vet before?