Freeze-dried dog treats and food have been gaining in popularity over the last few years. Freeze-drying is a process that preserves nutrients in raw food ingredients, producing a shelf-stable and lightweight dog food product. Are freeze-dried dog treats safe? Are freeze-dried dog treats healthy? And what are the best ones you can find? We'll share with you the pros and cons of freeze-dried dog treats. We also chose some of the best freeze-dried meat dog treats on the market and give you a couple of homemade recipes.
Best Freeze-Dried Dog Treats
We chose our top picks based on the quality of ingredients, company food safety practices and reputation, customer reviews, pricing, and more. In addition, we've picked various proteins, whether you're looking for the popular beef liver or chicken options or a novel protein like venison.
Freeze-Dried Liver Treats: Stewart Pro-Treat Beef Liver Review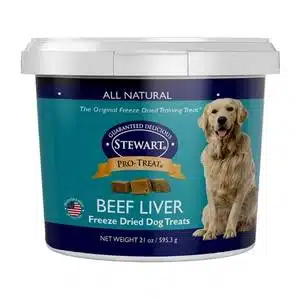 Are freeze-dried beef liver treats good for dogs? Yes, as long as they're high quality and given in moderation. These Stewart Freeze Dried Liver Dog Treats only contain one ingredient: 100% USDA-certified beef liver. They're free of grains, gluten, soy, and corn and have no preservatives, artificial colors, or flavors. They're also sourced and made in the USA.
They're perfect to use as training treats or as dog food toppers. These also make great freeze-dried liver treats for puppies. In addition, Stewart offers many other types of freeze-dried dog snacks: chicken liver, turkey liver, pork liver, wild salmon, chicken breast, duck liver, lamb liver, and cheddar cheese.
Can freeze-dried liver treats cause diarrhea in dogs? Possibly if they have too many treats or after the first time, it might upset their stomach a little.
Price
Freeze-Dried Chicken Dog Treats: Pupford Training Treats Review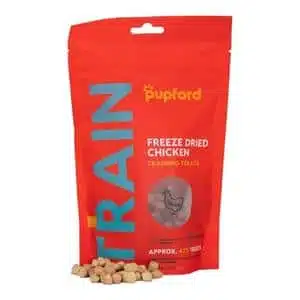 If you're looking for healthy, low-calorie training treats, Pupford's Freeze Dried Chicken Treats are a good value for a high-quality product. They're made only with chicken and mixed tocopherols, an antioxidant that also helps to hold the treats together so they don't crumble at the bottom of the bag.
Pupford sources its ingredients and makes all of its treats in the USA. They also offer freeze-dried beef liver, rabbit, salmon, and sweet potato training treats. You get 450+ treats in each bag, but the treats are small, so you'll go through a lot if you have a large dog.
Price
Freeze-Dried Salmon Dog Treats: IMK9 Premium Salmon Treats Review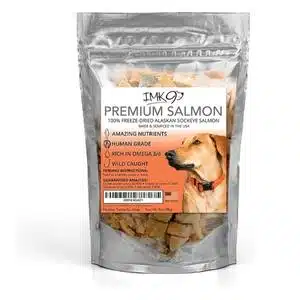 View on Amazon
These IMK9 Freeze-Dried Treats are made with 100% wild-caught salmon that's low-fat and high in protein. The freeze-drying process helps lock in the beneficial nutrients of salmon, including fatty acids like Omega 3 and 6, magnesium, potassium, zinc, and vitamins A, B12, D, and more. They're made in the USA and contain no artificial ingredients, fillers, or preservatives. However, some customers complain that the treats crumble easily.
Price
Freeze-Dried Venison Dog Treats: Roam Pet Treats Bucky Slices Review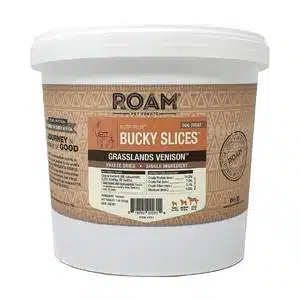 These Roam Freeze-Dried Treats are made with 100% free-roaming venison and no other ingredients. The treats are non-GMO and preservative-free with no antibiotics or growth hormones. Like many of the treats here, they're also low in fat and calories. Venison can be a good protein source for dogs who have food allergies.
Price
Freeze-Dried Bison Dog Treats: Northwest Naturals Raw Rewards Bison Liver Treats Review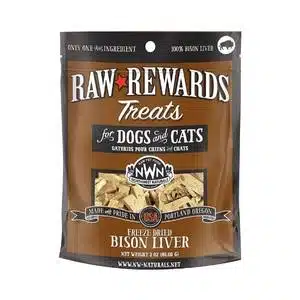 Bison is another good protein option for dogs with food allergies, and these freeze-dried dog treats contain 100% USA bison liver as the sole ingredient. They're rich in vitamins A, D, C, and B- complex, iron, calcium, copper, and phosphorus and are antibiotic and hormone-free. They're easy to break up to use as training treats or as a dog food topper, and customers say they don't have a strong odor.
Price
Are Freeze-Dried Dog Treats Safe?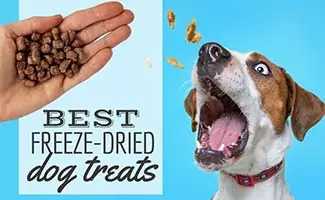 There's some controversy over the safety of freeze-dried dog food and treats. Raw diets are a growing trend in the dog food industry (particularly freeze-dried food and treats), but the concern is that raw foods, especially meats, can be contaminated with bacteria, such as Salmonella, E. coli, and Listeria. And the freeze-drying process doesn't normally involve cooking meat before freeze-drying it.
However, the best manufacturers of freeze-dried dog food and treats use high-pressure processing (HPP), a pasteurization process used to eliminate bacteria before the freeze-drying process. Still, the FDA and major veterinary organizations advocate strongly against raw food diets for dogs, so we suggest you speak with your vet before feeding your dog raw or freeze-dried treats and food.
What Are The Pros Of Freeze Drying?
Most freeze-dried dog treats are made with healthy, all-natural ingredients, so they could be a healthier option than many commercial treats that are packed with artificial ingredients and preservatives. Freeze-drying also helps preserve nutrients better than the typical baking process that uses high heat. And freeze-dried dog food and treats are lightweight and shelf-stable.
Check out this two-minute video from Chewy that goes into more detail about how freeze-dried food and treats may benefit your pup.
How To Make Freeze-Dried Dog Treats
If you're wondering how to freeze dry meat for dog treats, the best way is to use a freeze dryer. But that's not something most of us have at home (and they're super expensive). So we've found a couple of easy recipes to help you make homemade freeze-dried dog treats.
Freeze-Dried Beef Liver Dog Treats Recipe
This recipe1 uses beef liver as the only ingredient, and it calls for boiling the liver, so you don't have to worry about unsafe meat.
Rinse the beef liver with cool water
Boil a large pot of water on the stove and add liver
Simmer for 30 to 45 minutes until the liver is well-done
Remove from the stove and let the liver cool in the pot
Cut liver into bite-sized pieces
Spread them out on a foil-covered baking sheet
Place them in your kitchen freezer or a deep freezer for at least 5 to 7 days (the longer, the better)
Test your liver treats — take a piece out of the freezer and allow it to thaw. If there's any moisture left, you'll need to keep them in the freezer for longer.
Once they're entirely dried out, store them in a plastic bag or jar in a cool, dry place for about a week (or in your freezer for an even longer shelf life)
How To Freeze Dry Chicken Liver Dog Treats
This recipe2 uses chicken livers as the only ingredient for your dog treats, and it requires boiling the chicken livers before freeze-drying, so it's a safe option.
Fill a pot halfway with water and bring to a boil
Add in chicken livers; bring to a boil again, and then reduce heat to a simmer
Simmer for 30 minutes
Remove the pot from heat and let the chicken livers cool in the pot
Cut chicken livers into small, bite-sized pieces
Put parchment paper on a cookie sheet
Place your chicken liver bites on the cookie sheet and cover with plastic wrap
Put the cookie sheet in the freezer for one week
Test a chicken liver treat to make sure there's no moisture left — take it out and let it thaw to room temperature. If there's any moisture in it, continue freezing all treats for at least three more days. Test again following the same process.
Once there's no more moisture in the treats, place them in a jar (good at room temp for up to 1 week) or bag and freeze for longer storage
More Dog Treat Options
If you want to explore other types of dog treats that we recommend, we've got you covered. Our experts review a variety of the best dog treats for dogs of all sizes and ages, dogs with sensitive stomachs, low-calorie treats, and more. We also give you our top picks for the best CBD dog treats if you're looking for treats that may help your dog with anxiety, chronic pain, and other health conditions. We also review the best freeze-dried dog food options.
Sources: [1] BreedingBusiness, [2] DogTipper
Tagged With: Comparison, Treats