Most dogs are motivated to do anything if you place the right food in front of them. Whether you're trying to train your dog or you just want to treat them for doing a good job on a walk, we've got the treats for you in our dog treat reviews. And if you're looking for a convenient way to carry your treats on walks and during training, we recommend this pouch that can hold treats, poop bags, and even a few other items you may need on your walk.
Dog Treat Reviews: Best Dog Treats For…
We've selected the best treats for various types of dogs based on size, age, health factors, and more. Below are our top-rated products, so your dog can snack on the best healthy dog treats.
Best Dog Treats For Large Dogs: StarMark Everlasting Treats Review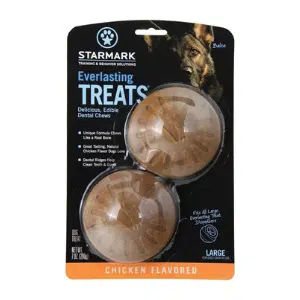 This pack of Everlasting Treats includes two treats you can give on their own or with a StarMark's ball. Since many large dogs can be aggressive chewers, we thought this Everlasting Treat was a great option.
As a bonus, this treat has raised dental ridges to help clean your dog's teeth. This treat should last your dog for hours of chewing, and they're pretty inexpensive. These treats are available in chicken, liver, wheat-free chicken, wheat/corn/soy-free, and vanilla mint.
Price
Best Dog Treats For Small Dogs: Milk-Bone Small Bones Review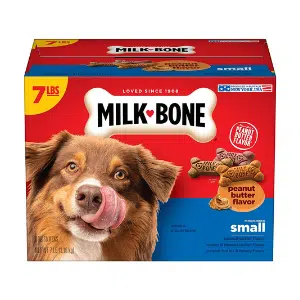 Milk-Bone is one of the most popular dog treat brands, and it's widely known. This snack comes in large seven-pound boxes that can last you weeks or even months. They're available in bacon, beef, chicken, sausage, turkey, and peanut butter flavors.
The crunchy texture helps remove plaque and tartar build-up as well as freshen your dog's breath. These American-made dog treats are a hit with many different dog breeds. However, if you are looking for a natural, dye-free product, skip ahead to this one.
Price
Best Dog Treats For Older Dogs: Hill's Science Diet Soft Savories Dog Treats Review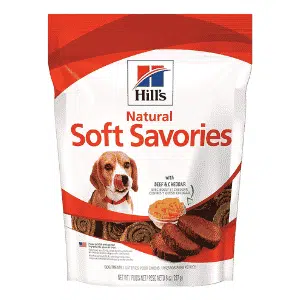 Unfortunately, many older dogs have a few teeth missing, which can make eating treats a challenge. Fortunately, your senior dog can enjoy these Soft Savories from Hill's.
These American-made dog treats have a 100% money-back guarantee. They feature no corn, artificial colors, flavors, or preservatives. Beef is the #1 ingredient, and your dog is sure to enjoy these soft dog treats.
Price
Best Dog Treats For Puppies: Old Mother Hubbard Natural Puppy Treats Review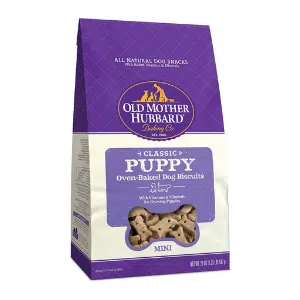 Old Mother Hubbard treats are made in Canada and contain no artificial preservatives. These puppy-formulated treats include specific vitamins and minerals needed for growing puppies. These all-natural treats are great for puppies to use during the training process, too.
Price
Best Dog Training Treats: Pet Botanics Training Reward Review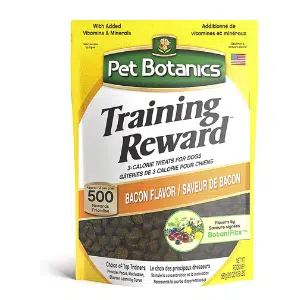 Pet Botanics Training Reward is our top pick for the best dog training treats. These nutritional treats are pea-sized and only three calories each — just right for rewarding repetitive training tasks.
They offer regular, mini, and grain-free treats in several flavors, including chicken, bacon, duck and bacon, beef, and salmon. And the pricing is very competitive for high-quality training treats.
Our Firsthand Experience
When we adopted our 9-month-old-dog from our local rescue shelter, he was in dire need of some behavior training. Nothing motivates him more than food, so we use these small treats as the perfect low-calorie reward to keep him working towards his goals. The large quantity is also very convenient for repetitive training – no need to return to the store every week for more.

– Michelle. S., Canine Journal
Price
Best Dental Treats For Dogs: Greenies Original Dental Treats Review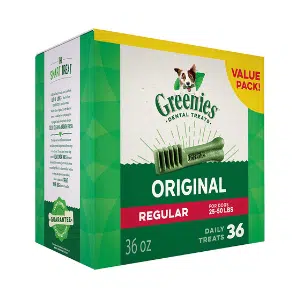 Want to keep your dog's teeth and gums healthy? One of our top picks for the best dog teeth cleaning treats and the best dog treats for bad breath are Greenies Original Dental Treats. These treats are made from natural ingredients and contain vitamins, minerals, and other nutrients. They help fight plaque and tartar build-up and are designed to clean down to the gumline. They come in several sizes for all kinds of breeds.
Price
Best Dog Treats (By Type)
Below are the best dog treats for specific health factors or treat types.
Best Dog Treats For Sensitive Stomachs: Royal Canin Gastrointestinal Canine Treats Review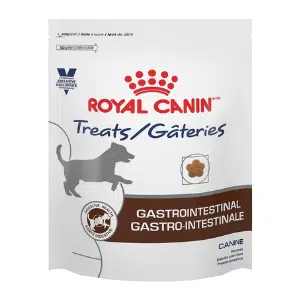 The Royal Canin Gastrointestinal Canine Treats are easier on your dog's digestive system. These treats are specifically formulated to include nutrients your dog needs, but they still have low-fat content.
If your dog is on a prescription diet due to health issues, these treats may be a good option. We read reviews that dogs with GI issues and pancreatitis love these treats.
Price
Best CBD Dog Treats: Honest Paws CBD Bites & Chews Review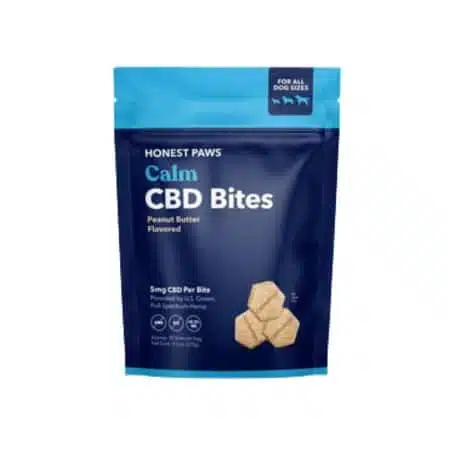 Is your pet prone to pain, or does he struggle with anxiety? Treats made with cannabidiol (aka CBD) might help. Honest Paws is our top pick for the best CBD dog treats, and their all-natural bites and soft chews contain full-spectrum CBD (5mg each) that's been proven to reduce stress, ease arthritis symptoms, and much more.
They offer several different treat types and flavors (peanut butter, coconut, chicken, etc.). In addition to CBD, their Mobility Soft Chews contain glucosamine, chondroitin, and other ingredients to improve joint health and stiffness. And their Calm Soft Chews combine CBD with L-theanine and L-tryptophan to help tackle anxiety. In case you are unaware, CBD is different from marijuana, so your dog will only get "high" on happiness from these treats.
Note: The FDA does not currently regulate CBD products for pets and humans.
Price
Bags contain approximately 30 treats. You can subscribe for monthly deliveries and save 15%. See more CBD subscription options for dogs.
Use this link to take advantage of the best offers from Honest Paws.
Best Calming Treats For Dogs: Premium Care Calming Chews Review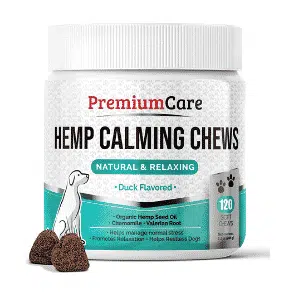 If you're looking for an alternative calming treat to CBD treats, these duck-flavored Premium Care Calming Chews are a fantastic option. Made with organic and natural calming ingredients, these treats can help relax your pup without making him drowsy. They can help dogs with anxiety, nervousness, hyperactivity, or dogs stressed by environmental factors (like fireworks or thunderstorms).
Price
Best Dog Treats With Lower Calories: Good'n'Fun Triple Flavored Kabobs Review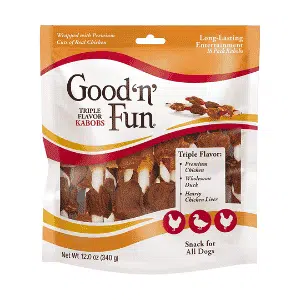 If your dog is trying to lose a few pounds, these Good'n'Fun Kabobs are low in calories. The rawhides are wrapped with premium cuts of real meat. Your dog will be snacking for a long time, enjoying the chicken, duck, and liver.
These treats have 54 ME (Metabolism Energy) kcal/treat, which may sound like a higher calorie treat, but we selected it because all the other "low cal" treats are tiny and don't last long. For example, Pet Botanicals training treats have three calories per treat, but you'd have to give your dog a lot to last as long as this rawhide.
If you are looking for a natural, dye-free product, skip ahead to this one. Warning: Be sure to read our rawhide warnings before selecting this option and consider rawhide alternatives for your pup.
Price
Best Diabetic Dog Treats: Old Dog Cookie Co. Diabetic Cookies Review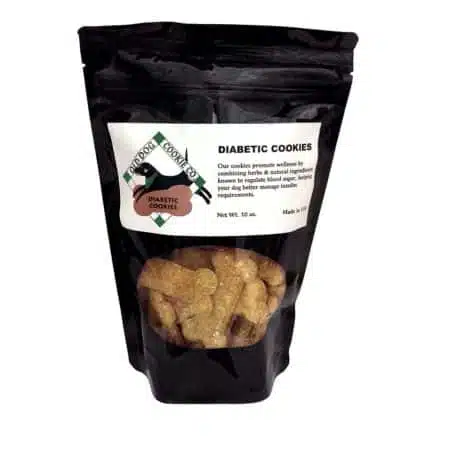 Finding safe treats for diabetic dogs can be a major challenge, but Old Dog Cookie Co. formulates these baked cookies with vet-approved ingredients to meet the special dietary needs of dogs with this chronic condition. High in fiber and low in fat, these treats contain veggies, herbs, and other ingredients that are known to help regulate blood glucose levels.
The U.S.-based Old Dog Cookie Co. makes these cookies in small batches to ensure quality and safety. And they've been in business for more than 20 years. Most pup parents give these treats five-star ratings for how effective they are in not spiking their dog's blood sugar (and for how much their pups like them).
Price
Best Organic Dog Treats: Fruitables Baked Dog Treats Review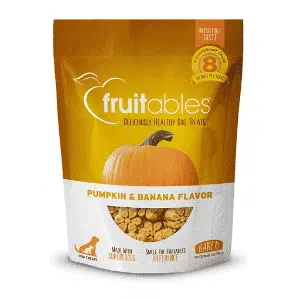 Looking for the healthiest dog treats? These Fruitables Baked Treats are some of the best natural dog treats. The baked biscuits have a crunchy texture and work great for training or just simply treating your dog.
As a bonus, these American-made dog treats are also lower in calories (fewer than 9 calories in each), so if you want another low-cal option, this one's excellent.
Did you know you can also make your own homemade organic dog treats? We share a few recipes that are pretty simple to do from your home.
Price
Best Dog Jerky Treats: Full Moon Natural Jerky Treats Review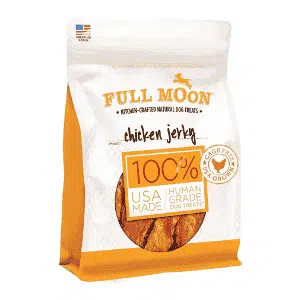 Full Moon's chicken and beef jerky treats, made with all-natural and minimal ingredients, are a super healthy option for your pup. These treats contain no glycerin, grains, corn, wheat, or soy, and they're totally free from fillers, preservatives, and artificial flavors and colors. They're made in the USA using regionally sourced ingredients, including antibiotic-free chicken or beef.
Price
Best Filled Bones: Redbarn Peanut Butter Filled Bone Review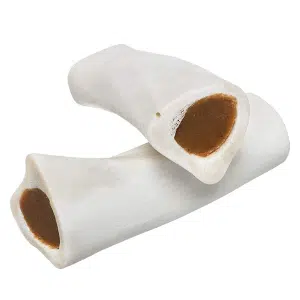 Redbarn sent my dog, Sally, some treats to try out in exchange for an unbiased review. She tested the peanut butter-filled bone as well as the beef and chicken cuts.
Sally has probably spent five hours (at least) licking the filled bone, and there is still plenty of filling in it. She loves the treat, and it's a nice way for her to wind down at the end of the day. The moment she sees me get it out of the cupboard for her, she begins to jump with excitement.
This is a great, long-lasting treat that you can refill once it empties if you'd like. Redbarn treats and food are made in the USA, and they offer many other treats and food for your dog.
Price
Safest & Worst Dog Treats
In the end, the safest and worst dog treats will come down to the ingredients used to make the treats. Obviously, you'll want to consider any allergies or food intolerances your dog may have and avoid those ingredients in their treats.
Aside from that, our recommendation is if you can't pronounce it or can't picture what it looks like, it's probably not good for your dog. For example, you recognize pumpkin as a natural ingredient; however, do you know what FD&C Red #40 is? Probably not.
Note: We included a few more processed products in our reviews alongside all-natural alternatives, allowing you to make your own choice.
Purchasing dog treats with known ingredients is going to be a safer option in the end. However, treats without preservatives or artificial flavors and colors can mean a higher cost. Ultimately, it's up to you to decide what is safest for your dog to ingest.
Dog Goes Shopping For Treats (Video)
This is probably one of the greatest videos on the internet. This dog goes shopping for his own dog treats, puts them in the basket himself, pays the cashier, and even gets a little treat for his bowl at the end. It's absolutely precious.
Looking For The Best Dog Food?
Are you or your pup unhappy with your current dog food? Do you want to learn about healthier options? Check out our article on the best dog foods, where we choose our top picks for most diet types, ages, health concerns, and more.
We also encourage you to read our article on the best dog food delivery services, where we review fresh dog food companies, fresh shelf-stable options, personalized kibble, all-natural kibble, and more. And make sure your dog is getting the best diet by considering any vitamins or supplements as well.
Tagged With: Chewing, Comparison, Treats