If you've been a dog parent for a while, you may have heard about the dangers of giving your pup rawhide treats — even though you can find rawhide products in almost any pet store. Rawhide is so popular because it's a cheap, long-lasting chew that can keep dogs entertained for hours. But the dangers far outweigh the benefits.
The good news is there are many equally hardy chews on the market that are much safer. Which are the best rawhide alternatives for your type of chewer? Can you buy safe rawhide-free dog bones? Yes! We give you our top picks and some other ideas to keep your dog or puppy from chewing up your house.
Why Should I Choose A Rawhide Alternative?
Rawhide is the inner soft hide or skin of an animal. It's most commonly made from cows but can be made from any cleft-hoofed livestock. The hides are cleaned and cut or ground, and then pressed into chewable dog treats. Many rawhide bones and treats contain beef, chicken, and other flavorings and fillers. The quality of rawhide treats for dogs can vary widely.
Choosing a high-quality rawhide alternative can provide a safe way to satisfy the need to chew, help maintain your dog's teeth, and keep him busy for hours.
Many veterinarians warn that rawhide isn't safe for dogs because it causes choking and blockage risks. Rawhide isn't easily digestible, and if your dog swallows large pieces of rawhide, these pieces can get stuck in the esophagus or other parts of the digestive tract causing severe health concerns and even death.
Best Rawhide Alternative
We've selected the best rawhide alternative chews for various types of chewers.
Overall Winner: Tibetan Dog Chew Yak Cheese Himalayan Chew Review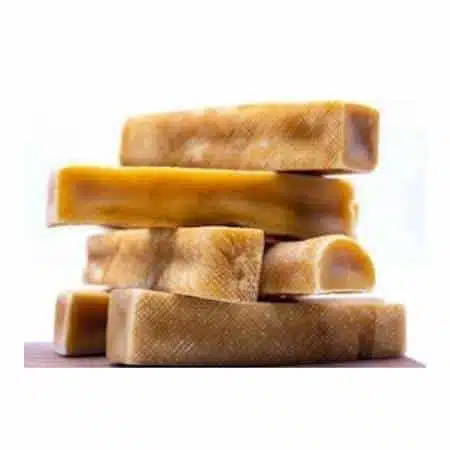 It can be hard to find rawhide alternatives that don't give off a harsh odor and are all-natural, but Himalayan yak cheese chews are an excellent option for most types of chewers. There are many on the market, but our top choice is Tibetan Dog Chew's treats. They're made from yak's milk using a method in Nepal that makes them hard and thick but non-choking and easily digestible. They're also all-natural and high in healthy proteins, containing only yak milk, cow milk, salt, and lime juice.
Our Personal Experience
Barley, our power chewer dog, loves these, and they last longer than some of the other rawhide alternatives we've tried. – Michelle S., Canine Journal
| Pros | Cons |
| --- | --- |
| Long-lasting compared to many other rawhide-free products | On the pricey side |
| All-natural, gluten-free and grain-free | A few complaints that they're too hard, while a few complain that they don't last long enough |
| Odorless | |
| Non-staining | |
| Comes in variety of sizes | |
| Promotes good oral health | |
| No complaints about them causing digestive issues | |
Price
Bulk orders and subscriptions through Amazon are available in some sizes.
Powerful Chewers: Pet Parents Gnawtlers Review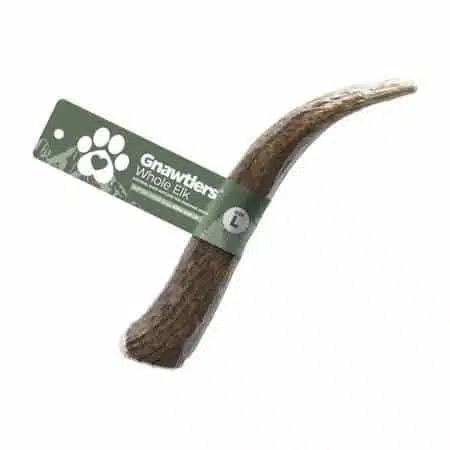 Is your dog an aggressive chewer? Do you have a tough time finding chews that are both safe and that can satisfy your dog's insatiable chewing habits? These Gnawtlers elk antlers could be the solution you've been looking for. Gnawtlers are only sourced from naturally shed antlers found in the Rocky Mountain and Heartland regions. They're all-natural and packed with calcium, phosphorus, manganese, and zinc and contain no dyes, preservatives, or contaminants. And each chew is vacuum-sealed to preserve its safety. They also make an excellent rawhide alternative for puppies of medium-to-large-sized breeds.
Our Personal Experience
This is a favorite with Barley, our super chewer dog. He can chew on it for months before we have to replace one! An elk antler is one of the best chew solutions we've found for dogs that tear up other bones and toys. – Michelle S., Canine Journal
| Pros | Cons |
| --- | --- |
| Long-lasting compared to many other rawhide-free products | On the pricey side |
| All-natural and cruelty-free | Doesn't have much flavor |
| Odorless | Some users say you must monitor use with super aggressive chewers because it can splinter |
| Non-staining | |
| Comes in various sizes | |
| Good for teething | |
Price
Moderate Chewers: Wild Eats Water Buffalo Natural Ear Dog Chews Review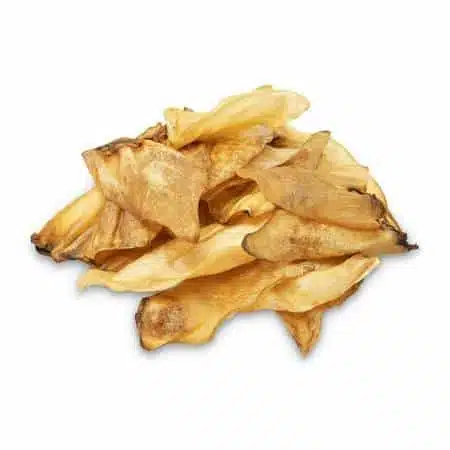 Many pet parents rave about how much their dogs love these Wild Eats dog chews, and they make a great alternative to rawhide and overly-processed pig ears. These chews are all-natural and sourced from grass-fed, free-range water buffalo raised without any added hormones. They're high in protein and low in fat and contain no chemicals, preservatives, or additives. They're thin and crispy but hard and chewy and are hardy enough to satisfy moderate chewers. However, be aware that some people say they're smelly (but not as bad as pig ears).
| Pros | Cons |
| --- | --- |
| Good value | Some say that they're smelly |
| All-natural and grain-free | A few complaints that some pieces are small in the bag |
| Higher in protein and lower in fat than pig ears | |
| Free-range and sustainably sourced | |
| No worries about splintering | |
| Many owners say they last a while | |
Price
Gentle Chewers: SmartBones SmartSticks Review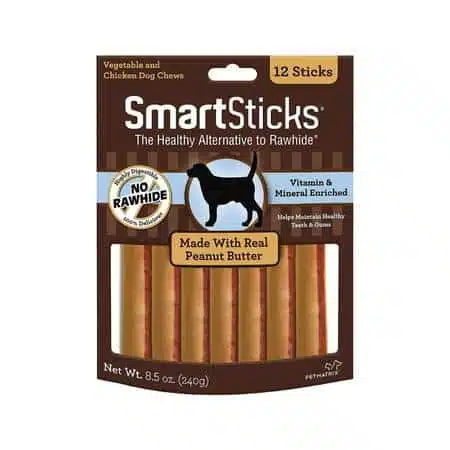 SmartBones SmartSticks are popular rawhide-free dog chews for tons of pet parents. They're full of flavor and healthy ingredients. The ones we review here are peanut butter, but some also come in chicken, beef, and sweet potato flavors. These chew sticks are made of peanut butter and vegetables wrapped around an actual chicken center. They also contain essential vitamins and minerals, including vitamins E and B12, riboflavin, and more, but they're not all-natural. They're also a bit softer than the other products we review here, so they're more like treats than a hard rawhide alternative.
Our Personal Experience
Our dogs enjoy these, but they don't last as long as other chews. – Michelle S., Canine Journal
| Pros | Cons |
| --- | --- |
| Affordable | Only come in one size |
| Easy to digest for most dogs of all sizes | Contain artificial flavoring and coloring and some preservatives |
| Good for dogs with sensitive teeth and gums | Don't last long for hearty chewers |
| Users say they're not very smelly | |
Price
What About Bully Sticks & Dental Chews?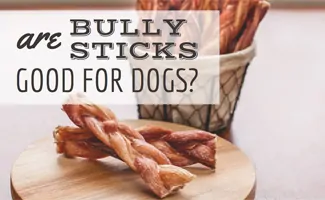 Here are some other ideas to satisfy your chewer in addition to the best rawhide-free dog bones above. Click on the links to learn more about each option.
What Are The Dangers Of Rawhide?
This three-minute video from KGW News talks with Dr. Ladan Mohammad-Zadeh at the DoveLewis emergency hospital about the dangers of rawhide.
Need Toys For Your Powerful Chewer?
Are you always looking for toys and treats that can withstand your dog's massive desire to chew? Does he demolish every toy you buy within minutes? You can keep him satisfied regularly with a monthly subscription box tailored to heavy chewers. These boxes contain heavy-duty toys that are hard to find and built to last. And some boxes include high-quality treats to boot. Or see our article on six of the best indestructible toys.
Tagged With: Chewing, Comparison, Dental, Treats