You get some new tough dog toys, and your dog loves them. But within minutes, stuffing is everywhere, the squeakers extracted, and your dog has destroyed $20 worth of new toys. We all know this situation far too well. Maybe you perform reconstructive surgery on the toy by duct-taping it, but that only lasts a short period before your dog tears it to shreds all over again. So much for tough. Quit wasting your money on toys that barely last five minutes and start getting dog toys designed for heavy chewers delivered to your doorstep on a regular basis.
Best Dog Toy Subscription For Heavy Chewers
We chose our dog toy subscription for heavy chewers winners based on price, number of products, and customization options.
Best Flexible & Customized: Bullymake Review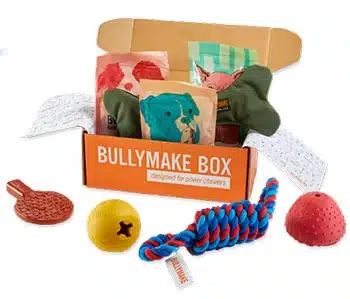 Once you place your Bullymake order, they ship a themed box the next business day. After that, you'll receive a package every 30 days. You can choose between toys and treats or a toy-only box. You can also reach out to customer service to change the frequency of deliveries. So instead of receiving a box monthly, you could ask to receive one every other month, once a quarter, etc. You are also able to change the date you receive the boxes.
For example, Michelle, the co-founder of Canine Journal, signed up and received her first box for Barley at the end of November. But sadly, it was Thanksgiving-themed, and turkey day was over. While Barley didn't discriminate against the turkey leg chew toy, Michelle was a little sad that he didn't have Christmas-themed toys to enjoy. So she emailed customer service, and they promptly changed the date for future boxes to ship on the first of the month instead. Now they have more time to enjoy the new month's theme.
Our Personal Experience With Bullymake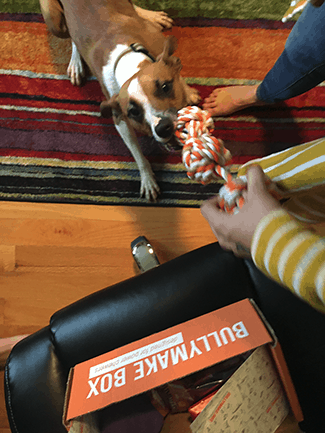 When we adopted Barley (photo above), we quickly discovered that he LOVES to chew! We tried store-bought toys, but he destroyed every one. In our search for a long-term solution, we researched Super Chewer and Bullymake boxes.

We tried both out, but we chose Bullymake because they offer a toy-only box at the same price. We can buy treats anywhere, but toys are our primary issue (and a rapidly growing expense!). Four new Bullymake toys each month is the perfect solution for Barley.

– Michelle S., Co-Founder of Canine Journal
Bullymake has four types of toys: nylon, rubber, rope, and ballistic. Depending on your dog's toy and play preference, one or two styles may be a better fit. See some of the toys and treats you can expect to receive from Bullymake in the short video below.
We think Bullymake offers the best dog subscription box for heavy chewers. They have a toy-only option, competitive prices, you can choose the toy materials your dog likes best, and you can change the delivery frequency.
| Pros | Cons |
| --- | --- |
| Free shipping within the USA | Subscriptions automatically renew, making canceling necessary |
| Caters to beef, chicken, and grain allergies | No multi-pet discount |
| Will replace toys destroyed within 14 days | |
| Toys and treats made in the USA | |
| An easy-to-navigate website with good FAQs, blog, and customer service features | |
| Can customize box frequency | |
| Some toys have a holiday or theme-oriented scents (e.g., black bat smelled like licorice) | |
| Toy-only option available | |
Price
Each box includes two to 3 super chewer dog toys and 3 treats or chews. Toy-only box contains 4 to 5 toys and no treats.
$45/box for 1 month
$36/box if you pre-pay for 3 months
$34/box if you pre-pay for 6 months
$31/box if you pre-pay for 12 months
Add an extra toy to your box for $9/month
Best Variety & Value: Barkbox Super Chewer Review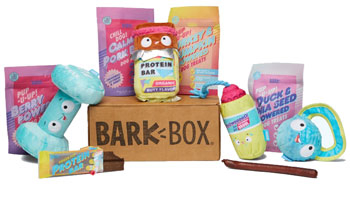 Each Super Chewer box from Barkbox includes a seasonal box of more than $45 worth of toys and treats. The first box ships immediately, and all following boxes ship on the 15th of every month. Boxes have fun themes like The Knights of the Hound Table, Paradise Unleashes, and Age of the Fur-aoh. So if your dog is easily bored, this box will continue to surprise them with new things. And if a toy isn't tough enough for your super chewer, Barkbox will replace it for free, no questions asked.
Our Personal Experience With Super Chewer Barkbox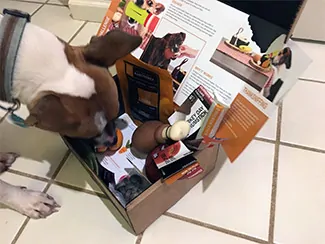 My power chewing dog especially loved the bouncy rubber carrot that arrived for Thanksgiving! It smelled like almonds, and while he quickly chewed off the "stems," he still loves chasing the bouncing carrot all over the house, even months later.

– Michelle S., Co-Founder of Canine Journal
Customer service is quick to help via text, live chat, and email. And if your dog isn't a super chewer, Barkbox also has a standard box option, which you can learn more about in our Barkbox review. Even though Barkbox isn't our #1 pick, we still think it's highly reputable, and it's even slightly less than Bullymake when you sign up for the 6 or 12-month subscription making it a great value. We like their 100% satisfaction guarantee and that they cater to allergies. Plus, every new subscriber gets a bonus gift (worth up to $50+).
| Pros | Cons |
| --- | --- |
| Free shipping inside the contiguous 48 United States | Subscriptions automatically renew, making canceling necessary |
| 100% satisfaction guaranteed | No multi-pet discount |
| Allergy-friendly boxes can exclude beef, chicken, and turkey | |
| No wheat, corn, or soy | |
| An easy-to-navigate website with good FAQ, blog, and customer service features | |
| 6 full-sized products in every box | |
| Many toys have a holiday or theme-oriented scents (e.g., toy turkey leg smelled like chicken) | |
| Toy-only option available must contact customer service | |
| Made in the United States | |
Price
Each box includes 2 tough and fluff-free toys, 2 full-sized bags of treats made in the USA or Canada, and two all-natural meaty chews. You can reach out to Barkbox's customer service for a toy-only option, but we're unsure if the price changes for those boxes.
$45 per box for month-to-month plan
$33 per box for 6-month subscription
$30 per box for 12-month subscription
Bark Box offers new subscribers a free gift (that changes seasonally) with their first box (ranging from a Yeti dog bowl to a dog camera and more). No promo code is needed. Just use this link and click on "claim offer" to take advantage of these offers. You can also visit our dedicated BarkBox coupon code page.
Read Our Full Review Of Barkbox Super Chewer
Best Training & Toys: Kong Club Review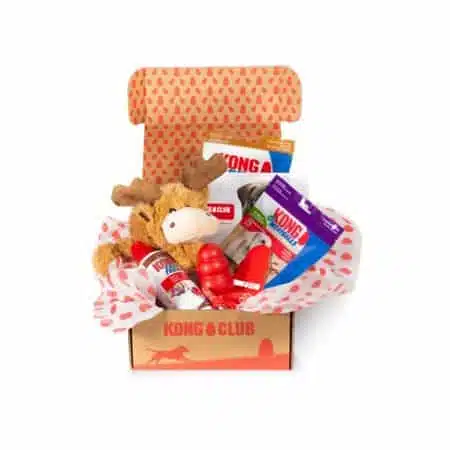 The popular dog toy manufacturer Kong also offers a monthly membership box subscription that is primarily for heavy chewers. Each box contains 3 Kong toys and 3 Kong treats, customized based on your dog's profile (size, age, chewing habits, behavioral and health issues, etc.).
What sets Kong apart from the other two picks is its app and one-on-one vet-led guidance for every stage of your pet's life. Membership gives you access to a personalized, vet-guided experience with 24/7 support. Kong Club members also have behavior and nutrition guides and tips to support you in every step of your journey of pup parenthood.
The Kong Box is a fantastic deal — you can save up to $50 by ordering the box rather than purchasing each item individually. And it's a helpful way to stay stocked up on toys and treats. Spoil your pet even more with a mystery bonus item each month, handpicked by their vets!
Our Personal Experience With Kong Club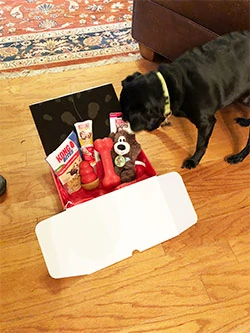 I received a Kong Club Box in exchange for an unbiased review. I got the medium-sized dog box for my super chewer. My Kong box was amazing. It included the original Classic Kong toy, the Kong Goodie Bone, and the Kong Wil Knots teddy bear toy, a sturdy plush toy with a squeaker inside (all three have held up over weeks for my chewing champion). It also came with three different treats to fit in the Kong toys — medium-sized Kong bites, a tube of a squeezable sweet potato treat to put in the Kong original and Kong bone, and a chicken-flavored treat you insert into the bottom of the Kong classic toy. Additionally, they included an easy summer picnic recipe card and a card with tips to deal with boredom (one of my dog's issues). My dog was crazy about all of them. When I put the insertable treat in the classic Kong toy, he was occupied for a good hour with it. It's well worth the value for what you get in a Kong Box.

– Sally, Canine Journal
| Pros | Cons |
| --- | --- |
| Sizeable discounts on Kong products | Can't add additional products to your box |
| Toys are high-quality and durable | No multi-pet discount |
| Customizations for size, chewing styles, weight management, etc. | |
| Deeper discounts on six or 12-month subscriptions | |
| Training tips based on your dog's issues | |
Pricing
Box includes 3 toys, 3 treats, training tips, and a recipe.
Month-to-month: $44.99/month
6 months: $39.99/month
12 months: $394.99/month
Comparison Table: Bullymake vs Barkbox Super Chewer vs Kong Club
This comparison table may help you see the key differences more easily between the 3 companies we reviewed.
Bullymake
Barkbox Super Chewer
Kong Club
1 Month Subscription
$45
$45
$44.99
3 Month Subscription
$39
N/A
N/A
6 Month Subscription
$35
$33
$39.99
12 Month Subscription
$31
$30
$34.99
Add Extra Toy
$9
$9
N/A
Each Box Includes
2-3 Toys & 3 Treats/Chews
(4-5 Toys In Toy Only Box)
2 Toys, 2 Bags Of Treats, 2 Meaty Chews
3 Toys, 3 Treats
Toy Only Box
Contact Customer Service
N/A
Free Shipping
Within The United States
Contiguous 48 United States
Within The United States
Satisfaction Guarantee
Within 14 Days
Any Time
Unavailable
Choose Toy Material
Caters To Allergies
Change Delivery Frequency
Themed Boxes
Best Indestructible Dog Toys You Can Buy On Their Own
If you'd rather skip the subscription boxes and purchase toys individually for your heavy chewer, consider these indestructible dog toys. These toys have some of the best reviews from pet parents with super chewers.
Tagged With: Chewing, Comparison, Subscription