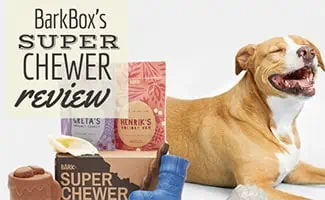 Are you tired of spending money on new toys for your dog only to have her tear them apart within 10 seconds? BarkBox offers a Super Chewer dog subscription box for pups who need tougher and more durable toys. Find out if the Super Chewer box can help your dog's playtime last longer.
BarkBox Super Chewer
Summary
Our team determines the overall rating based on several factors, including toy and treat variety, product quality, size, delivery options and reliability, pricing, customer service, reputation, and more.
BarkBox has a solution if you find yourself frustrated with constantly buying new toys for your furry friend, only to have them destroyed within second. With their Super Chewer dog subscription box, designed specifically for pups who require toys that are tougher and more durable.
Pros
Free shipping inside the contiguous 48 United States
100% satisfaction guaranteed
Allergy-friendly boxes can exclude beef, chicken and turkey
No wheat, corn or soy
Easy to navigate website with good FAQ, blog and customer service features
6 full-sized products in every box
Cons
Subscriptions automatically renew, making manual cancelation necessary
Key Features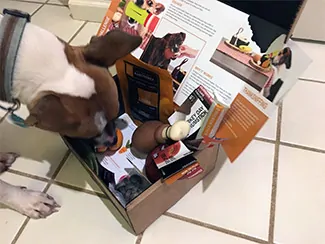 Each box includes:

Two tough and fluff-free toys
Two full-size bags of treats made in the USA or Canada (can customize for diet)
Two all-natural meaty chews

Every box has more than $45 worth of toys and treats
First box ships immediately; following boxes ship on the 15th of every month
Boxes have themes (e.g., The Knights of the Hound Table, Paradise Unleashed, and Age of the Furaoh)
Price
$45 per box for month-to-month plan
$35 per box for six-month subscription
$30 per box for 12-month subscription
Extra Toy Club can be added on to get a third toy in every box for $9/month
Plans automatically renew.
BarkBox Coupon Codes
BarkBox: Our readers can receive a free month of BarkBox. Click here to take advantage of this offer (no discount code needed).
Super Chewer: Subscribe to Super Chewer today and receive a free splash pad. Click here to take advantage of this offer.
No promo code needed just use this link and click on "claim offer" to take advantage of these offers. You can also visit our dedicated BarkBox coupon code page.
What Do People Think?
Positive Reviews
Molly was chewing the toys in the beginning, the customer service team gets an amazing review from me moving her to a super chewer and fixing the problem! She got replacement toys, and now she gets only toys in her box monthly! Molly looks forward to the mailman to bring her bark box monthly??? They get 5 stars from us!! – Gayle, Consumer Affairs 6/14/2019
We rescued our 50lb pittie, Hershey from a city shelter. She's in the prime of her life, maybe 3-4 years. She can go through a toy in seconds, minutes if it's a little tougher than normal. But with Super Chewer, she gets spoiled monthly! She always loves everything in her package, and for the price I feel it is definitely a bargain on my wallet. She gets 2 decent sized bags of awesomely flavored treats, including flavors like pork, lamb, all kinds of vegetables and she gobbles them up pretty quick. The ingredients are superb! No fillers or fake junk in these! – Brittney, Consumer Affairs 3/22/2019
Negative Reviews
Okay, I made a mistake not reading everything through when I subscribed, including that there was no trial period. I subscribed for a box a month for 6 months. First box cost $8 and the other 5 cost $35 each. I thought I could cancel at any time but I can't. But my big problem is that every toy they sent me so far is way too big for my little 14 pound terrier. He can't even get them into his mouth to chew and is not even interested in them. He is an avid chewer, a super chewer if you will. I have to buy small and x-small toys for him for Petco and online stores. – Susan, Consumer Affairs 3/21/2019
The treat ball was not super chewer quality. My dogs were able to open it up in less than 5 minutes and ended up destroying the top black rubbery portion of the ball quite easily. Typically your super chewer toys can be damaged and marred but are still usable. We still have the original toys from the first super chewer box that came in October. Was very disappointed with this treat ball. – Jodene, Consumer Affairs 1/26/2019
How BarkBox Makes Its Toys
BarkBox makes all of its toys in-house; see the process below. It's actually pretty cool!
Super Chewer vs The Competition
BarkBox offers other dog subscription boxes that you might consider if your dogs is not a "super chewer." If you're curious about other power chewer boxes or just dog subscription boxes in general, read our dog subscription box comparison. Bullymake also offers a similar box for heavy chewers, but do the toys hold up like they say they do? We cover this in our comparison.
Tagged With: Chewing, Subscription