To sustain this free service, we receive affiliate commissions via some of our links. This doesn't affect rankings. Our review process.
Dog subscription box services are a growing trend, and a great solution to having plenty of toys, treats and health items on hand for your pup delivered to your door each month.
They're also an excellent way to keep your pup entertained during the COVID-19 quarantine and stock up on treats without having to leave the house.
Yes, similar to monthly subscription clubs for humans, you can get doggie boxes delivered to your home every month, too. Learn more in our best dog subscription box review.
Article Overview
Why Get Dog Subscription Boxes?
Here are just some of the reasons why dog subscriptions are a great idea:
The best, high-quality, all-natural products hand-picked by experts
Items aren't always available at the local grocery or pet store
Skip the hassle of trying to purchase one-of-kind items from specialty shops
Saves you money, as products usually cost a fraction of what you'd pay at retail
Fun for you both to unveil what's inside

Many boxes help dogs in need and benefit a cause
Support local businesses, as many products are made in the USA by small companies
Most include organic and healthy treat options and satisfaction guarantees
Which Is The Best Dog Subscription Box?
All of the "best of" services we reviewed send you expertly curated toys, treats, dental health and grooming products every month — much more than just a simple toy in a box.
Surprisingly, there are many companies to choose from, each providing a variety of goodies for your canine companion. So read our reviews to help you choose the best dog subscription box for you and get ready to spoil your pooch.
BarkBox Review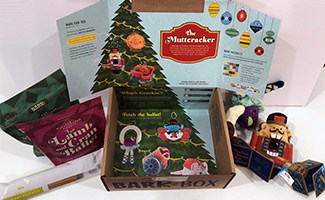 #1
BarkBox is the leader of the monthly dog box pack in both sales and name recognition. This company lives up to the hype with high-quality, reliable products that deliver canine satisfaction. They've had over 2 million pups subscribe and best of all, they're among the least expensive services you'll find.
BarkBox has fun themed boxes. Previous themes include The Knights of the Round Table, Chewrassic Bark, The Good The Bad And The Pugly, Throwback Thursday and more. Each box contains 2 innovative toys, 2 all-natural bags of treats and a chew centered around a theme. And if your pup doesn't love an item, they'll send a free replacement.
Super Chewer Box By BarkBox
Does your dog tear through any toy in 2 seconds? BarkBox also offers a Super Chewer box option that's backed by a 100% guarantee if the toys aren't tough enough. It comes with 2 tough and fluff-free toys, 2 full-size treat bags and 2 all-natural meaty chews.
Pros

Cons

Easy to navigate website with good FAQ, blog and customer service features
Discount for committing to more months
Shipping included
Reliable delivery with tracking information sent to you
10% of proceeds donated to rescue organizations
Online and text ordering available
Mobile apps for iPhone and Android
Multi-dog discount
Treats made in the USA or Canada

Subscriptions automatically renew, making canceling necessary
No cat boxes available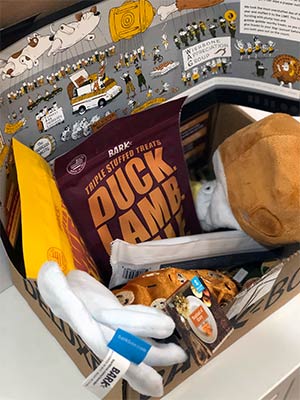 Pricing
BarkBox Includes: 5-6 full-sized products
$29 for 1 box
$25 per box for a 6-month subscription
$22 per box for a 12-month subscription
Super Chewer BarkBox Includes: 6 full-sized products
$39 for 1 box (month-to-month plan)
$34 per box for a 6-month subscription
$29 per box for a 12-month subscription
Free shipping for all boxes.
Coupon Code
BarkBox: Our readers can order their first box for only $10. Click here to take advantage of this offer.
Super Chewer: Subscribe to Super Chewer today and receive $9 off your first box. Click here to take advantage of this offer.
Offers are subject to change.
A Personal Experience With BarkBox
As part of our in-depth analysis of all things canine, we employed two furry friends in the field, Lily, 10, and Walter, 1.5 years of age, to put BarkBox to the test with a Mardi Gras themed box that arrived in February.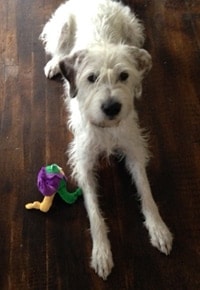 As owner Seton observed, Walter goes straight for the Mardi Gras rope toy and Lily for the Catfish Po' Boy treats. "It's a fun surprise for me and the pups," says Seton. "I swear Walter knows what the box looks like now and goes crazy when it arrives."
Seton says there's always something for both her dogs. "Walter goes through a toy a week, so the new toys that come every month are always a big hit. And Lily gets to enjoy the treats. It keeps my treat supply well stocked; I think I'm out of treats and then remember I have some in the pantry squirreled away from last month's box."
Any BarkBox Negatives?
"The cost is a little more than I should be spending on something like this," Seton chimes in. "And it would be nice to get something else besides toys and treats… maybe a pet-friendly car accessory or dog sweater." But as far as Walter and Lily are concerned, it's two paws up.
What's Inside BarkBox? Unboxing Video
See our first-hand experience with BarkBox in this unboxing video.
Read Our In-Depth BarkBox Review
Pet Treater Review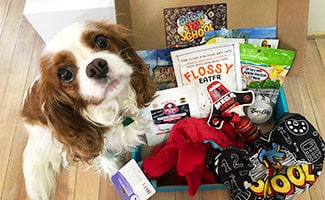 #2
Pet Treater has three different box sizes to choose from based on your pet's weight. Your dog or cat receives a box monthly that may include treats, toys, poop bags, grooming supplies, outfits and other accessories. They send Items that are cheaper than the full retail prices.
The first box your pet receives will be a little different than the rest because it's a combination of highly loved items from previous boxes. We like the low prices for PetTreater's pet boxes, which is why it's our second pick for the best pet box subscription.
Pros

Cons

Easy to navigate website with a good FAQ section
All treats made in the USA or Canada
For every box shipped, donate an item to an animal shelter
Toy-only or treat-only options for small dog packs
You can specify diet restrictions and special requests (but it's not entirely clear on the website, enter the info in the notes at checkout)
Cat boxes available

Subscriptions automatically renew, making canceling necessary
No multi-dog discount (or for pre-paid multiple months)

Pricing
Dog Pack – $15.00 per pack (3-4 items)
Treats Only Pack – $15.00 per pack (3-4 treats)
Deluxe Dog Box – $25.00 per box (5-8 items)
Cat Pack – $15.00 per pack (3-4 items)
Multi-Cat Pack – $25 per pack (5-8 items)
Free shipping for all boxes.
Coupon Code
Our readers can save
20% off their first month
of any subscription with the code
CANINEJOURNAL20
.
Click here
to take advantage of this offer.
A Personal Experience with Pet Treater
"Pet Treater gifted me with a free box to test. I was very impressed with the quality and quantity of treats inside. The box came with two large, durable chew toys, three full-sized bags of treats, two extra cookies, and a bandana. There were also a handful of coupons included for discounts on future purchases of the items included. The box's theme was "Back To School" (which was timely since it arrived in August). The only downside is that my dog isn't a fan of chew toys (but they have a treats-only pack that she would enjoy). The package arrived in a cute blue box, and it would make an affordable present for a new dog owner or birthday." – Sadie Cornelius, Marketing at Canine Journal
Pooch Perks Review
#3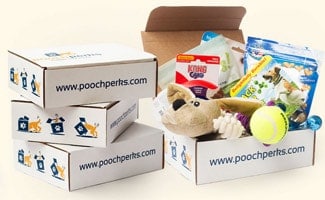 Visit Website
Named "Best in America" by Fox Business, Pooch Perks prides itself on customization and customer satisfaction. You can select the dog's size, food allergies, plush or durable premium toys, and delivery frequency.
They offer the option for a "booster," an extra toy for $7.99 more. There is also a smaller sample box if you want to give it a try first.
Pooch Perks also offers gifts with custom messages and single items. So if your pooch is particular about a perk, you can get more. The company stands by its Pet Parent Promise, and, like many of the other boxes we reviewed, their products are all-natural and made in the USA.
The major downside vs. competitors is that shipping charges are extra.
Pro

Cons

Treats made in the USA (tested by human bakers and their favorite pooches)
Predominantly natural, organic, non-GMO, and gluten and grain-free with no added artificial preservatives
Employee's dogs test toys for durability, safety and fun and held to the same standards as children's toys
Most of their Premium Plush toys are 2-ply tough and double-stitched as well as guaranteed by manufacturers
Save 8% by buying a year's worth of boxes in advance
Pricing
Popular Pooch (5-6 items) starting at $23.75
Pampered Pooch (8-9 items) starting at $45.00
Toys Only starting at $21.15
Shipping varies by location.
Coupon Code
Use
this link
to get the best possible deal on Pooch Perks.
Other Dog Subscription Boxes
Below are some reviews of subscription boxes that didn't make our top three but still have great delivery services. Be sure to check them out!
Bullymake | Dapper Dog | Kong Box | PetBox | PupBox | PupJoy | Surprise My Pet | SurprisePawty
Bullymake Review: For Heavy Chewers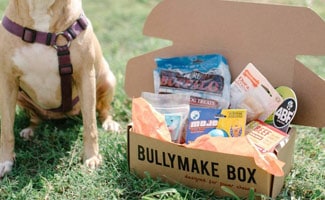 Bullymake designed this monthly dog subscription box for power chewers. Your dog won't get any easily destructible plush toys in this box.
Toys and treats are then catered to your dog's size, which we like because some toys and treats may be too big or small for your dog.
Bullymake doesn't offer a multi-pet discount, but if you have two dogs, you can add another toy to the monthly box for an extra $9 per month. If your dog is picky with his treats, you can opt for a "toys only" box. See how Bullymake stacks up against Super Chewer from Barkbox.
Pros

Cons

Designed for super chewers with heavy duty toys
Caters to beef, chicken and grain allergies
Will replace destroyed toys within 14 days
Toys and treats made in the USA
To customize the frequency you receive boxes, contact customercare@bullymake.com
Toy only option available

More expensive than others
Subscriptions automatically renew, making canceling necessary
No cat boxes available
No multi-pet discount
Pricing
Box Includes: 2-3 toys and 3-4 treats or chews. Toy-only box contains 4 toys.
$39/box for 1 month
$36/box if you pre-pay for 3 months
$34/box if you pre-pay for 6 months
$31/box if you pre-pay for 12 months
Free shipping for all boxes within the USA
My puppy chews everything up, so I had to find a solution! Bullymake's toy only box was the best thing that could have happened for our puppy's happiness and our home's safety! – Michelle, puppy mom
Dapper Dog Review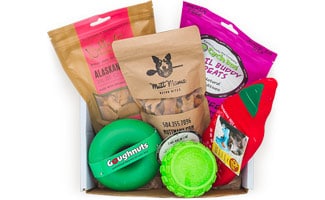 Dapper Dog customizes your box to fit his needs according to his size, allergies and chewing style. Each box includes a combination of toys, USA-made treats, bandanas and other dog accessories valued at over $60. On average, your dog will receive 2 treats, 2 toys and 1 bandana.
All of the treats sent to your dog are 100% natural and sometimes organic, too, which we think is fantastic. You have the option to skip a month or cancel whenever you like.
Pros

Cons

Customizations available for allergies
No wheat, soy or corn
All products made in the USA
100% natural (and often organic) treats
If you don't love something Dapper Dog will replace it for free
Every purchase supports shelter dogs

Subscriptions automatically renew, making canceling necessary
No cat boxes available
Only a ten-day guarantee
No multi-pet discount
Pricing
Box Includes: 5 full-size treats, toys and a bandana
$36/box for a month
Save 5% more if you prepay for your subscription
Free shipping for all boxes within the USA.
Kong Box Review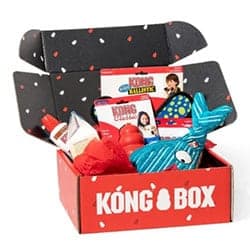 The popular dog toy manufacturer Kong offers a monthly box subscription that is especially great for heavy chewers. Each box contains three Kong toys and three Kong treats, customized based on your dog's profile (size, age, chewing habits, behavioral and health issues, etc.). It also includes an easy-to-make recipe and personality/training tips.
The Kong Box is a fantastic deal — you can save up to $50 by going with a box rather than purchasing each item individually. And it's a great way to stay stocked up on toys and treats.
Pros

Cons

Sizeable discounts on Kong products
Toys are high-quality and durable
Customizations for size, chewing styles, weight management, etc.
Deeper discounts on six or 12-month subscriptions
Training tips based on your dog's issues

Can't add additional products to your box
No cat boxes available
No multi-pet discount
Pricing
Box includes: three toys, three treats, training tips, and a recipe
Month-to-month: $39.95/month
Six months: $34.95/month
12 months: $29.95/month
A Personal Experience With Kong Box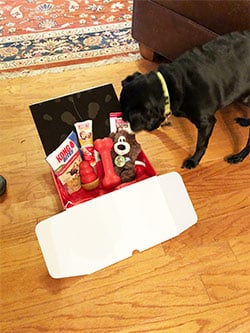 I received a Kong Box in exchange for an unbiased review. I got the medium-sized dog box for my super chewer. My Kong box was amazing. It included the original Classic Kong toy, the Kong Goodie Bone, and the Kong Wil Knots teddy bear toy, a sturdy plush toy with a squeaker inside (all three have held up over weeks for my chewing champion). It also came with three different treats to fit in the Kong toys — medium-sized Kong bites, a tube of a squeezable sweet potato treat to put in the Kong original and Kong bone, and a chicken-flavored treat you insert into the bottom of the Kong classic toy. Additionally, they included an easy summer picnic recipe card and a card with tips to deal with boredom (one of my dog's issues). My dog was crazy about all of them. When I put the insertable treat in the classic Kong toy, he was occupied for a good hour with it. It's well worth the value for what you get in a Kong Box. – Sally, Canine Journal
PetBox Review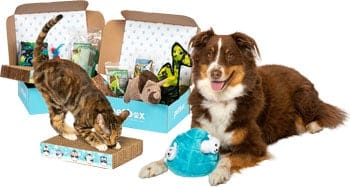 PetBox delivers a monthly themed collection of toys and treats curated by actress and animal-lover Jennie Garth. Their pricing is competitive, and they offer both dog and cat boxes. PetBox includes 5 toys and treats in each box.
PetBox acquired PawPack, a company that we previously reviewed. The Gift Box now owns PetBox and we are unsure how that might affect this product.
Pros

Cons

A portion of proceeds go to animal rescue charities
Offers both dog and cat boxes
100% satisfaction guarantee
Can cancel or pause subscription anytime

You must reach out to customer support about allergy issues
Price
PetBox's pricing is the same for dog and cat boxes.
$29.99/month for month-to-month
$24.99/month for a 12-month subscription
Free shipping for all boxes within the USA
PupBox Review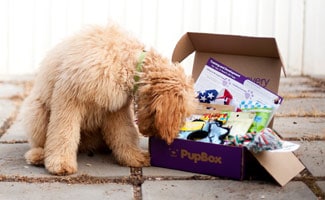 Visit Website
As seen on Shark Tank, PupBox is a pet subscription service geared towards puppies, although you can sign up adult dogs too. Each box from PupBox contains 5-7 products, one of which is a bag of training treats.
Your dog may be sent specific products to fit its life stage. For example, if your dog is teething, you may get extra chew toys, or if your dog is potty training, you may get pee spray.
Pros

Cons

Boxes include a training guide by Andrea Arden
All treats made in the USA and Canada
Items are chosen based on the dog's stage in life
Ability to specify allergies in the notes section

More expensive than other boxes
Subscriptions automatically renew, making canceling necessary
No cat box option
Pricing
Box Includes: 5-7 products (with a value of more than $40)
$39/box for 1-month
$34/box for a 3-month subscription
$32/box for a 6-month subscription
$29/box for a 12-month subscription
Free shipping for all boxes within the USA
PupJoy Review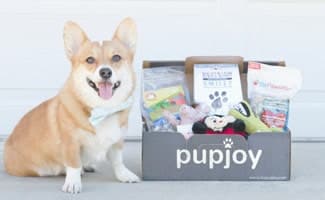 Visit Website
PupJoy lets you customize your dog's subscription. Choose Uno or Grande (small or large) box sizes, as well as the types of items you want in your box (treats and toys).
If your dog has allergies, you can specify them as well as choosing all-natural, organic, grain-free or protein sensitive options.
Is your dog a toy destroyer? Choose the more durable toys option.
Pros

Cons

Specify diet restrictions
Product from small USA businesses
Easy to navigate website with a good FAQ section
Get boxes monthly, bimonthly or quarterly
Excellent customer service
$2 of your purchase donated to charity

More expensive
No cat box option
Pricing
Prices vary depending on the dietary restrictions, dog size and delivery frequency you choose for your dog. From what we could calculate, prices start around $26 per month and can be around $44 per month, depending on your preferences.
Coupon Code
Our readers can get
50% off
any new Pupjoy subscription.
Click here
to take advantage of this offer.
ShaggySwag Review
As of April 2020, ShaggySwag is no longer in business.
Surprise My Pet Review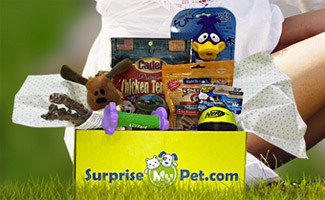 Surprise My Pet rounds out our top three best monthly dog box subscription boxes.
Launched in early 2015, Surprise My Pet stands out for its unique features, namely its paw for paw guarantee — if your dog is uninterested in one of the products, you can email them, and they'll send you a replacement item for free.
Surprise My Pet is more expensive than most, but the sheer number of goodies was vast, and so was the quality of the food products.
A Personal Experience With Surprise My Pet
At our request, SurpriseMyPet.com provided us with one free box of goodies for testing with two not-so-picky rescue pups, Bella and Lily. We tested this service to help us conduct a thorough review.
Bella and Lily enjoyed the variety of treats and toys inside their box. They were also surprised by how much came in the box. In our experience, the box was 100% full of treats and toys — there is no filler in this package.
Pros

Cons

Extra-small dog box option
All treats made in the USA or Canada
Free replacement item guarantee
A fraction of proceeds donated to animal charities
Cat box option (and multi-cats)
Discount for multi-month subscriptions

No phone customer support
Plans automatically renew, so canceling is necessary
No allergy customizations
No multi-pet discount for dogs
Pricing
Box Includes: 5-7 full-sized products
$42/box for 1 month for both dogs and cats ($48 for multi-cats)
$39/box for a 3-month subscription for both dogs and cats ($45 for multi-cats)
$33/box for a 12-month subscription for both dogs and cats ($35 for multi-cats)
Free shipping for all boxes.
Coupon Code
Use
this link
to get the best possible deal from Surprise My Pet.
Surprise Pawty Review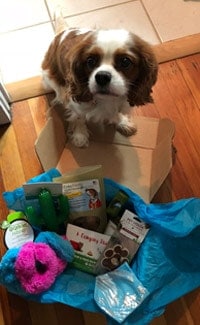 Visit Website
Surprise Pawty brings the party to you and gives you a reason to celebrate every month. Each box is themed around a seasonal trend and includes natural, organic treats and durable, safe toys.
They don't offer full-year subscriptions, which is unusual compared to other companies, and the savings from adding more months to your plan are not enough to incentivize most to commit.
We like that they customize the box if you make notes about your dog's preferences and even send a special treat and message for your dog's birthday month.
Pros

Cons

A special treat and custom design on dog's birthday month
100% satisfaction
Phone and email support
Customized for your dog
All-natural and organic treats made in the USA
Donates a portion of proceeds to shelters, rescues, & other nonprofit organizations that provide a better life for dogs in need

No annual plan

Shipping not included
No cat box
Pricing
Box Includes: 5-6 premium-grade items
$35/box for 1 month
$33/box if you pre-pay for 3 months
$32/box if you pre-pay for 6 months
Shipping is $4.99 per box in the USA and $9.99 to Canada.
Video: Benefits Of A Dog Box Subscription
Watch this video to see how your pup and other animals can benefit from a monthly dog box.
Dog Solutions Beyond Subscription Services
Dogs get bored with the "same old, same old" just as humans do. So spice up their life (just as you would your own) and keep them stimulated with a box full of different treats and toys each month. After all, a content canine makes for a much happier owner.
If you're not into purchasing a subscription box, you can buy treats and toys individually. And if you like getting dog-related things delivered regularly, you should check out fresh dog food delivery as a way to never run low on grub for your pup.
Does your pup get a monthly dog box? Is it worth the money?
Disclaimer: The information provided through this website should not be used for diagnosing or treating a health problem or a disease. It is not a substitute for professional care. If you have or suspect you may have a health problem, you should consult your health care provider.
Disclaimer: This website contains reviews, opinions and information regarding products and services manufactured or provided by third parties. We are not responsible in any way for such products and services, and nothing contained here should be construed as a guarantee of the functionality, utility, safety or reliability of any product or services reviewed or discussed. Please follow the directions provided by the manufacturer or service provider when using any product or service reviewed or discussed on this website.