How do we keep this site running? This post may contain affiliate links — the cost is the same to you, but we get a referral fee. Compensation does not affect rankings. Thanks!
Struggling to find time in your schedule to run basic errands, let alone keep your dog's goodie stash supplied? Dog subscription box services are a growing trend and may be the solution to having enough toys, treats and health items on hand for your pup. We all reward our dogs with new toys and treats, but we don't want to give them just any dog product. The best, high-quality, all-natural products aren't always available at the local grocery store and finding the time to purchase them from a specialty shop can be a hassle. Having dog subscription boxes delivered to your home saves you time and makes providing fun, healthy treats for your pup easy!
Which Is the Best Monthly Dog Box?
Yes, similar to wine or fruit of the month clubs, you can actually get a doggie box delivered to your home every month. And there are a surprising number of companies to choose from, each providing a variety of goodies for your canine companion. The "best of" services we reviewed send you expertly selected toys, treats, dental health and grooming products every month – much more than just a simple toy in a box. So read our reviews to help you choose the best dog subscription box for you and your picky pooch.
BarkBox Review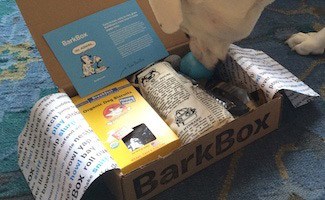 #1
BarkBox is the leader of the monthly dog box pack in both sales and name recognition. This company lives up to the hype with high-quality, reliable products that deliver canine satisfaction. Best of all, they're one of the least expensive services you'll find. After launching in 2011, BarkBox was bringing in more than $1 million in revenues per month after only 2 short years in business. Who knew that the dog subscription box business could be so lucrative?

Pros

Cons

Easy to navigate website with good FAQ, blog and customer service features
Reliable delivery with tracking information sent to you
10% of proceeds donated to rescue organizations
Online and text ordering available
Mobile apps for iPhone and Android
Multi-dog discount

Subscriptions automatically renew, making canceling necessary
No cat boxes available
Bark Box Pricing
Free shipping; 4-6 full-sized products
$29 for one month
$25 per month for 6-month subscription
$21 per month for 12-month subscription
Our BarkBox Results?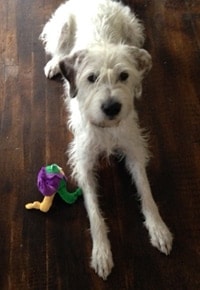 As part of our in-depth analysis of all things canine, we employed two top experts in the field, Lily, 10, and Walter, 1.5 years of age, to put BarkBox to the test with a surprise (and super cute) Mardi Gras themed box that arrived in February. As owner Seton McGowan observed, Walter goes straight for the Mardi Gras rope toy and Lily for the Catfish Po' Boy treats. "It's a fun surprise for me and the pups," says Seton. "I swear Walter knows what the box looks like now and goes crazy when it arrives."
Seton says there's always something for both her dogs. "Walter goes through a toy a week, so the new toys that come every month are always a big hit. And Lily gets to enjoy the treats. It keeps my treat supply well stocked; I think I'm out of treats and then remember I have some in the pantry squirreled away from last month's box."
Any BarkBox Negatives?
"The cost is a little more than I should be spending on something like this," Seton chimes in. "And it would be nice to get something else besides toys and treats.. maybe a pet friendly car accessory or dog sweater." But as far as Walter and Lily are concerned, it's two paws up.
Coupon Code
Limited Time: Get 1 free extra toy in every box (that is up to a $150 value)! Ongoing: Our readers can get $5 off any new Barkbox subscription. Click here to take advantage of this offer.
Read our in-depth BarkBox review
PawPack Review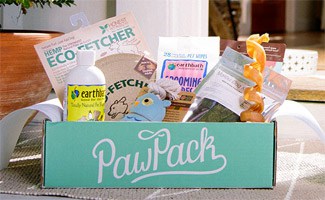 #2
Pawpack, our number two pick for best dog subscription box, places a major focus on all-natural, eco-friendly products. This sets them apart from their competition. They even have a 100% allergy guarantee – if your dog is allergic to anything in your monthly dog box, they'll send you another treat for free. Each month, you typically get 4 or more full-sized items, plus a number of samples and discount codes for PawPack's providing companies. Their customer support reputation is excellent, and they have an easy 24-hour cancellation process.
Pros

Cons

Focus on hypoallergenic products
Durable toys
Excellent customer service
10% of proceeds go to animal rescue charities
Blog updated daily with helpful information
Cat boxes available

On the expensive side
No extra-small dog option
Slightly less variety of treat products
Paw Pack Pricing
Free shipping; 4+ full-sized products, plus samples and discount codes
$35 for one month
$30 per month for 6-month subscription
$25 per month for 12-month subscription
Coupon Code
Use coupon code welcome50 to get 50% off your first order with PawPack via this link!
How Can Your Subscription Make a Difference?
Watch this video to see how your pup and other animals can benefit from PawPack's monthly dog box.
Surprise My Pet Review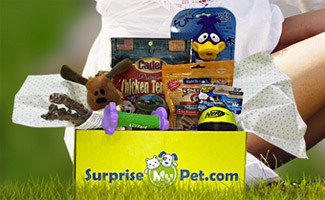 #3
Surprise My Pet rounds out our top three best monthly dog box subscription boxes as a newcomer that's already making a paw print among its competition. Launched in early 2015, Surprise My Pet stands out for its unique features, namely its paw for paw guarantee – if your dog is totally uninterested in one of the products, you can email them, and they'll send you a replacement item for free. Surprise My Pet is more expensive than most but the sheer number of goodies was vast and so was the quality of the food products. This subscription box company is still a little too new to make it to the top of our list, but we're keeping an eye on this impressive start-up.
At our request, SurpriseMyPet.com provided us with one free box of goodies for testing with two not-so-picky rescue pups, Bella and Lily. We tested this service to help us conduct a thorough review. Bella and Lily enjoyed the variety of treats and toy inside their box and were surprised by how much came in the box.
Pros

Cons

Extra-small dog box option
Free replacement item guarantee
A fraction of proceeds donated to animal charities
Save 3% on your order if you "like" them on Facebook
Cat box option
In our experience, the box was 100% full of treats and toys – there is no filler in this package!

A newcomer, so not much track record to go on
No phone customer support
SurpriseMyPet Pricing
Free shipping for all orders; 5-7 full-sized products
$24/month if you pre-pay for an annual subscription
$28/month if you pre-pay for 3 months
$30/month for a subscription that is paid month to month
Coupon Code
Use the coupon code CRATEJOY via this link to get 10% off!
Other Dog Subscription Boxes
Below are some reviews of subscription boxes that didn't make our top three but still have great delivery services. Be sure to check them out!
Pet Treater | PetGiftBox | PupBox | PupJoy
Pet Treater Review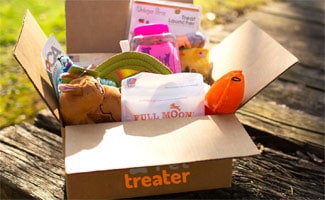 Pet Treater has three different box sizes to choose from based off your dog's weight. Your dog is shipped a box monthly that may include treats, toys, poop bags, grooming supplies, outfits and other accessories. Items are sent to you without you having to pay the full retail price.
Pros

Cons

Easy to navigate website with good FAQ
All treats are made in the United States or Canada
For every box shipped, an item is donated to an animal shelter in need
You can specify diet restrictions and special requests (but it's not quite clear on the website, enter the info in the notes at checkout)

Subscriptions automatically renew, making canceling necessary
No cat boxes available
No multi-dog discount
Pet Treater Pricing
$34.99 per month
$24.99 per month for 1-month subscription (auto-renew)
$68.97 for 3-month subscription (auto-renew)
$131.94 for 6-month subscription (auto-renew)
$239.88 for 12-month subscription (auto-renew)
Coupon Code
FREE-PTBED – get a free dog bed when you subscribe to a 3, 6 or 12 month plan
PetGiftBox Review
PetGiftBox offers a low monthly price for good quality products. It's as easy as 3 steps. Simply enter the type of pet (cat or dog) size (if dog) and the sex (male or female), then select the length of the subscription plan you want to buy/give and enter your credit card info and you'll receive your box in the mail in no time. The boxes are themed around the relevant holidays and the packaging itself is made to look like a gift with a bow and to/from tag on the design so it is a nice option for those looking to give as a present to other pups. The box we tested had two types of treats (that were both American made) two toys and a scented candle for masking pet smells. Although they don't offer any money back guarantee or cancellation, they do make sure to support veterans in need and all toys and treats are tested by pets before shipping to customers. PetGiftBox is another great and affordable option especially for someone looking to give a gift to a pet-loving friend, client or family member.
PetGiftBox provided us with one free box of goodies for review. We tested this box subscription service to help us conduct a thorough review. Rescue pups Bella and Lily enjoyed their toys (although not one for liking toys) and Lucy the Cavalier thought the treats were delicious!

Pros

Cons

Dog or cat boxes and large, medium or small breed options
Purchase helps support America's VetDogs®, providing assistance to veterans with disabilities
Low price point
Gifts are relevant to season
All treats/toys are tested on pets for "paw print of satisfaction" before shipping to customers
Treats are American/US made
Receive tracking info

No phone support or app
No refund policy if you cancel, must pay for full subscription
Smaller/newer company
Pet Giftbox Pricing
Free shipping; 5-7 products
$28.99 for one month
$23.99 per month for 3-month subscription
$20.99 per month for 6-month subscription
$18.99 per month 12-month subscription (34% savings)
Coupon
Get 50% off your first month of The Pet Gift Box just by using this link!
PupBox Review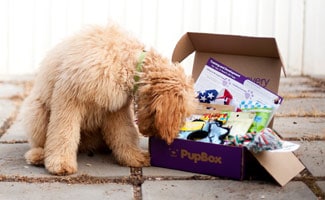 Visit Website
As seen on Shark Tank, PupBox is a pet subscription service geared towards pups. Each box from PupBox contains 5-7 products, one of which is a bag of training treats. Depending on what stage of life your dog is going through, you may be sent specific life products. For example, if your dog is teething you may get extra chew toys, or if your dog is potty training you may get pee spray.
Pros

Cons

Each box includes 5-7 products valued over $40
All treats are made in the United States and Canada
Items are chosen based on the dog's stage in life

More expensive than other boxes
Subscriptions automatically renew, making canceling necessary
Cannot specify diet restrictions
No cat box option
PupBox Pricing
All PupBox subscriptions auto-renew.
$39 for 1-month subscription
$102 for 3-month subscription
$192 for 6-month subscription
$348 for 12-month subscription
PupJoy Review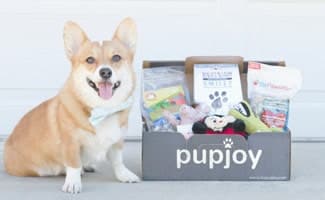 Visit Website
PupJoy lets you customize your dog's subscription. Choose Uno or Grande (small or large) box sizes, as well as the types of items you want shipped in the box (treats, toys and accessories). If your dog has allergies you can specify them as well as choosing all natural and organic options. Is your dog a toy destroyer? Choose more durable toys as an option, too! PupJoy has the potential of breaking into our top three, the only thing holding them back is the price.
Pros

Cons

Specify diet restrictions
Choose organic options
Product from small US businesses
Easy to navigate website with good FAQ
Get boxes monthly, bimonthly or quarterly
Excellent customer service

More expensive
No cat box option
PupJoy Pricing
Prices vary depending on the dietary restrictions, dog size and delivery frequency you choose for your dog.
Coupon Code
GREENMONDAY – 20% off when you spend $50 or more
PetBox Review
Our article previously included PetBox but they have since gone out of business. We cannot find any information regarding the reason for PetBox going out of business but their website and social media sites have not been active since Fall 2015.
What's In It (the Box) for You?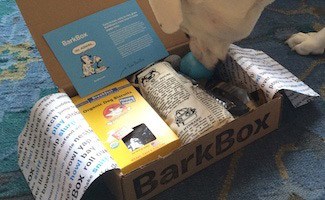 Dogs get bored with the "same old, same old" just as we humans do. Dogs are most interested in anything new and perceive new toys and treats as if they're prey, as reported in Cesar's Way. So spice up your pet's life (just as you would your own) with a box full of different treats and toys each month. After all, a content canine makes for a much happier owner!
Does your pup get a monthly dog box? Is it worth the money?