To sustain this free service, we receive affiliate commissions via some of our links. This doesn't affect rankings. Our review process.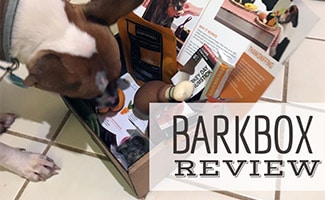 Does your household suffer from bored dog syndrome? Feel like you can't keep your pooch satisfied? Let BarkBox come to the rescue. A BarkBox subscription gives your pup a surprise gift box every month, full of new toys, healthy treats and grooming products.
BarkBox saves you time shopping around for a variety of quality toys and all-natural treats your dog will love. Winner of our Best Dog Subscription Box comparison, BarkBox delivers compared to the dozens of other dog subscription boxes on the market. Read our BarkBox review to see why.
BarkBox
Pros
Easy to navigate website with good FAQ, blog and customer service features
4-6 full-sized products in every box
10% of proceeds donated to rescue organizations
Online and text ordering available
Mobile apps for iPhone and Android
Multi-dog discount
Cons
Subscriptions automatically renew, making canceling necessary
No cat boxes available
Key Features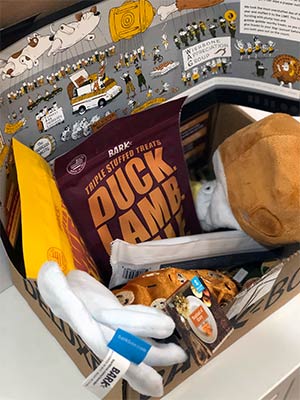 After launching in 2011, BarkBox saw more than $1 million in revenues per month after only 2 years in business. By February 2014, they reached $25 million in revenue per year. It's no wonder so many other monthly dog box companies popped up after BarkBox's initial (and continuing) success. Here are the features that make BarkBox a winner for you and your pooch:

All toys are from high-quality vendors.
Every treat is all-natural.
Information card in every box includes details about each item.
Dog size choice for monthly boxes includes extra-small, small, medium or large.
Scout's Honor Guarantee: if your dog sticks his snout up at a product, they'll replace it with a new one.
Reliable delivery every month with tracking information sent to you.
Super Chewer box option that's backed by a 100% guarantee if the toys aren't tough enough.
Online store has variety of quality products that your dog will love.
Pricing
Regular Box: includes 5-6 full-sized products (2 innovative toys, 2 all-natural bags of treats and a chew or 2)
$29 for one month
$25 per month for 6-month subscription
$22 per month for 12-month subscription
Super Chewer Box: includes 6 full-sized products (2 tough and fluff-free toys, 2 full-size treat bags and 2 all-natural meaty chews)
$39 for 1 box (month-to-month plan)
$34 per box for 6-month subscription
$29 per box for 12-month subscription
Free shipping for all boxes.
BarkBox Coupon Code
BarkBox: Our readers can order their first box for only $10. Click here to take advantage of this offer.
Super Chewer: Subscribe to Super Chewer today and receive $9 off your first box. Click here to take advantage of this offer.
Offers are subject to change.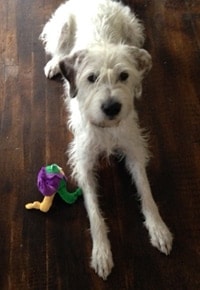 Our BarkBox Challenge Results
We put BarkBox to the test with our resident volunteers, Lily, 10, and Walter 1-1/2. This challenge was not their first encounter with BarkBox, as was apparent when both pups immediately recognized the special delivery box.
After lots of barking, jumping and sniffing, the grand opening presented a super cute Mardi Gras theme with the toys and treats inside. Walter quickly claimed the Mardi Gras rope toy, and Lily went straight for the Catfish Po' Boy treats.
"It's a fun surprise for me and the pups," said owner Seton. "There's always something for both my dogs. Walter goes through a toy a week, so the new toys that come every month are always a big hit. And Lily gets to enjoy the treats. It keeps my treat supply well stocked; I think I'm out of treats and then remember I have some in the pantry squirreled away from last month's box."
Seton says the price is a bit more than she should be spending in her budget, but she likes to spoil her dogs. Walter and Lily certainly have no objections!
Dog Lovers Sound Off About BarkBox
As with many products and services, consumer BarkBox reviews are across the board. Here's a sample of real consumer feedback we found around the web.
Positive Reviews
I love BarkBox ! We switch [sic] from petbox to here because we heard they offered much more variety ! Which they definitely did ! Amazing way of trying new products out for your pup big or small . It's like Christmas every month for my Lhasa apso when the mailman delivers his barkbox ! Again worth it for the money! — Maddie R., Influenster.com, 6/17/2015
We've received our 2nd month of BarkBox… Our boxes both months have been completely different. We got great boxes, I'm just surprised at the variation. This month our theme was movie night. Pizza & popcorn items. — Bets, mysubscriptionaddiction.com, 4/26/2015
Negative Reviews
We received 3 months as a gift. However since our pup has food allergies I contacted Bark Box to change the food and snacks provided. Response time is horrible. I had to email several times… When they did reply they confirmed that they would put us on their list of dogs with special dietary restrictions. But the boxes never changed. — Gerry B., Influenster.com, 6/12/2015
Unfortunately I had to cancel my bark box subscription. I have huge dogs, aggressive chewers. Each month they send a toy, a stuffed toy. Which lasts all of 15 minutes with my dogs… I contacted Bark box month after month requesting non stuffed toys. Each month they stated OK we will fix this, each month a stuffed toy. — Kathleen K., k9ofmine.com, 2/23/2015
What's Inside BarkBox? Unboxing Video
See our first-hand experience with BarkBox in this unboxing video.
How Can BarkBox Better Your Pup's Life?
BarkBox isn't the be-all, end-all for solving boredom or behavior problems that stem from lack of stimulation. As most dog owners know, dogs want your attention and interaction more than anything else. But when you can't spend time with him, new toys and treats are a great alternative. Dogs are almost always interested in anything new, according to results from a study published in the journal Animal Cognition.
The study also found that toys that dogs can chew and manipulate are best to keep your pooch occupied on his own. BarkBox does its research when choosing the best toys and treats to include in each month's box to make sure you get the best products available.
Love getting treats and toys on a regular basis? Check out our full review of the best pet boxes.
Are you a BarkBox subscriber? How do your dogs react to their special delivery?
Disclaimer: The information provided through this website should not be used for diagnosing or treating a health problem or a disease. It is not a substitute for professional care. If you have or suspect you may have a health problem, you should consult your health care provider.
Disclaimer: This website contains reviews, opinions and information regarding products and services manufactured or provided by third parties. We are not responsible in any way for such products and services, and nothing contained here should be construed as a guarantee of the functionality, utility, safety or reliability of any product or services reviewed or discussed. Please follow the directions provided by the manufacturer or service provider when using any product or service reviewed or discussed on this website.