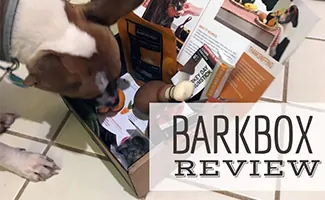 Does your household suffer from bored dog syndrome? Feel like you can't keep your pooch satisfied? Let BarkBox come to the rescue. A BarkBox subscription gives your pup a surprise gift box every month, full of new toys, healthy treats, and grooming products.
BarkBox saves you time shopping around for a variety of quality toys and all-natural treats your dog will love. Winner of our best dog subscription box comparison, BarkBox delivers compared to the dozens of other dog subscription boxes on the market. Read our BarkBox review to see why.
BarkBox
Summary
Our team determines the overall rating based on several factors, including toy and treat variety, product quality, size, delivery options and reliability, pricing, customer service, reputation, and more.
Although BarkBox can offer some relief from boredom and behavior problems that stem from lack of stimulation, it's essential to recognize that it's not a one-stop solution. As most dog owners already know, dogs crave their owner's attention and interaction above all else. However, when time is limited, introducing new toys and treats can be a fantastic alternative.
Pros
Easy to navigate website with good FAQ, blog and customer service features
4-6 full-sized products in every box
No cat boxes available
10% of proceeds donated to rescue organizations
Online and text ordering available
Mobile apps for iPhone and Android
Multi-dog discount
Cons
Subscriptions automatically renew, making canceling necessary
Key Features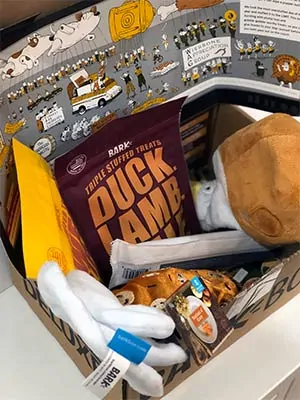 After launching in 2011, BarkBox saw more than $1 million in revenues per month after only two years in business. By February 2014, they reached $25 million in revenue per year. It's no wonder so many other monthly dog box companies popped up after BarkBox's initial (and continuing) success. Here are the features that make BarkBox a winner for you and your pooch:

All toys are from high-quality vendors.
Every treat is all-natural.
Information card in every box includes details about each item.
Dog size choice for monthly boxes includes extra-small, small, medium, or large.
Scout's Honor Guarantee: if your dog sticks his snout up at a product, they'll replace it with a new one.
Reliable delivery every month with tracking information sent to you.
Super Chewer box option that's backed by a 100% guarantee if the toys aren't tough enough.
Online store has variety of quality products that your dog will love.
Pricing
Regular Box: includes five to six full-sized products (two innovative toys, two all-natural bags of treats, and a chew or two)
$35 per box for a month-to-month plan
$26 per box for a 6-month subscription
$23 per box for a 12-month subscription
Super Chewer Box: includes six full-sized products (two tough and fluff-free toys, two full-size treat bags, and two all-natural meaty chews)
$45 per box for a month-to-month plan
$33 per box for a 6-month subscription
$30 per box for a 12-month subscription
Free shipping for all boxes.
BarkBox Coupon Codes
Visit our dedicated BarkBox coupon code page to find out the latest promo codes and how to save on your first box.
Our BarkBox Experience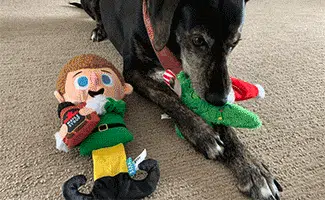 "BarkBox sent me some toys for my dog, Sally, to try out in exchange for an unbiased review. A little background on Sally, she isn't the most aggressive chewer. Her favorite type of playstyle is tug of war and playing fetch with squeak toys. Sally's favorite toy that BarkBox sent was the Herbie Holidaze, which features a squeaker and crinkle, which entice her to play longer. She also received the Ginormous Buddy The Elf, which has a squeaker and crinkle that she loves. It also has a bungee that is fun for her to play tug of war with. So far both toys have held up well and she's enjoyed playing with."

– Kimberly A., Canine Journal
Dog Lovers Sound Off About BarkBox
As with many products and services, consumer BarkBox reviews are across the board. Here's a sample of real consumer feedback we found around the web.
Positive Reviews
I have the Super Chewer BarkBox for my male Aussie, and its amazing! We've used it since he was a baby (he's about a year and a half old now), and while he's destroyed specific parts of a couple toys, most are still alive. The regular BarkBox toys won't last with a destructive dog, but Super Chewer is worth it! It also keeps his treat jar well stocked. 🙂 – Izzy, Trustpilot 8/4/2020
My dogs go insane over Bark Box. They get so excited when the box comes and have loved every single toy they have gotten. I can't even describe how they get when they see a new toy. They start jumping and barking and that's how I know they are excited. In the past they just laid around all day. Now they are constantly playing with the toys. Don't even get me started on the treats. The only thing bad about the treats is that the bags aren't bigger! I could probably get my dogs to do anything when I pull out the bark box treats. Thank you so much! – Katie, ConsumerAffairs 11/15/2019
Negative Reviews
Horrible company. Wonderful products. Horrific service. Love the toys. Love the treats. But you cannot cancel this subscription. At first I thought it was my fault. You have to go online and turn off the auto-renew before your introductory subscription expires. But I did that. It did not end. I texted their help text. Endless runaround and endless questions. Not cancelled. I emailed. 10 times. No response. I contacted CHAT. Again endless questions and not cancelled. I have finally stopped payment. That is the only way to stop. – Laura M., Trustpilot 9/5/2020
I was excited to hear about the "Barkbox" from a friend who raves about it. The first box arrived, I was flooded with emails prior to the arrival and after. The treats were amazing, the toys not so much. I added an extra toy, my mini Aussie torn them to shreds before the evening was over. I responded to one of the multiple emails and they said they would send replacement toys. They also informed me of a "tougher" Barkbox at an additional cost. Foolishly I fell for it. It has been over three weeks and no replacement toys. – Sharon B., Sitejabber 7/31/2020
What's Inside BarkBox? Unboxing Video
See our first-hand experience with BarkBox in this unboxing video.
How Can BarkBox Better Your Pup's Life?
BarkBox isn't the be-all, end-all for solving boredom or behavior problems that stem from lack of stimulation. As most dog owners know, dogs want your attention and interaction more than anything else. But when you can't spend time with him, new toys and treats are a great alternative. Dogs are almost always interested in anything new, according to results from a study published in the journal Animal Cognition.
The study also found that toys that dogs can chew and manipulate are best to keep your pooch occupied on his own. BarkBox does its research when choosing the best toys and treats to include in each month's box to make sure you get the best products available.
Love getting treats and toys on a regular basis? Check out our full review of the best pet boxes.
Tagged With: Gifts, Subscription