You walk in the door, and your dog jumps on you and gives you all the puppy kisses in the world. How sweet, but wow, her breath stinks! Your precious pup is just trying to show you how much she missed you, but you're not enjoying the affection because it's so smelly. Thankfully, we've found the best dental chews for dogs to help with this stinky situation. Not only can they freshen your pup's breath, but they can also help with gum health and reduce plaque and tartar build-up.
A word of warning: Chronic bad breath in dogs is NOT normal. If your furry friend's breath is usually stinky, it's most likely a sign that she has dental disease. This requires a consultation with your vet to get her dental health evaluated and any necessary treatment to help prevent disease progression.
At A Glance: Best Dental Chews For Dogs
Before You Give Dental Chews For Dogs
Make sure there is always fresh drinking water available when you give your dog one of these treats. Also, be sure to monitor your dog and don't leave her alone while she's eating a treat in case she bites off too large of a chunk and has difficulties.
Best Dental Chews For Dogs: Greenies vs Dentastix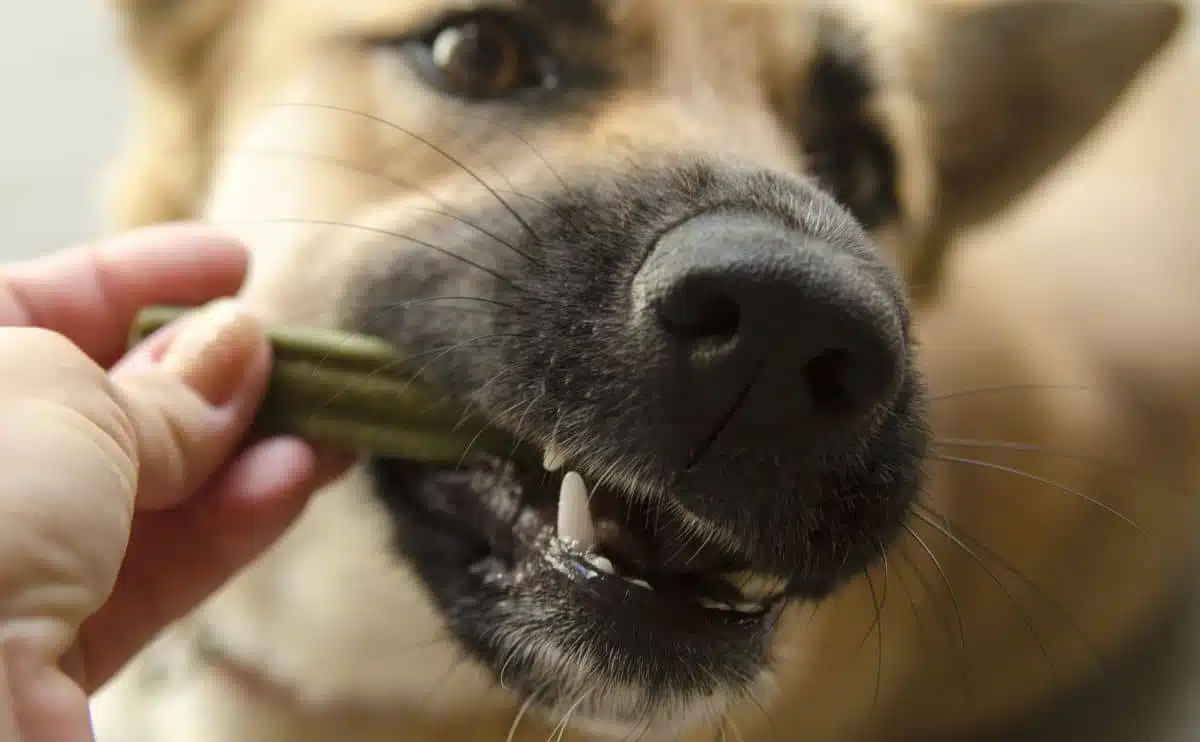 What are the best dog dental chews? It really depends on your dog's preference, eating habits, and dental needs. Two of the best dental treats for dogs are Greenies and Pedigree's Dentastix, but which one is better?
We compared these dog dental chews against one another. Greenies are known for their minty taste, and Dentastix comes in more traditional dog treat flavors (in addition to fresh). Dentastix are less expensive but tend not to last as long as Greenies.
Greenies Dental Dog Treats & Dog Chew Review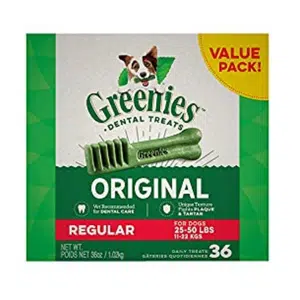 These Greenies dental sticks for dogs help fight plaque and tartar build-up to keep your dog's oral hygiene in check. If they love to give you lots of kisses, you'll like these too since they help with bad breath. These natural dog chews are low-fat and include vitamins to keep your pup healthy.
Are Greenies good for dogs? Yes, they can help maintain healthy teeth and gums when used correctly. However, if dogs eat them too quickly, they can swallow sharp pieces and hurt their throat or internal organs. So it's crucial to keep an eye on your pet while enjoying this or any chew or toy.
Our First-Hand Experience
Greenies are pricier than Dentastix, but we found they work slightly better for our dog Lexie. They are harder and thus last a little longer. She goes crazy over these things, but it's only effective (and safe) when she takes her time versus swallowing it quickly.

– Sadie C., Canine Journal
| Pros | Cons |
| --- | --- |
| Available in teenie, petite, regular, large, and jumbo | Not for dogs under 5 pounds |
| Helps fight plaque and tartar build-up | Contains gluten (if your dog is gluten intolerant) |
| Minty flavor combats bad breath | More expensive |
| Long-lasting | |
| Made in the U.S. | |
Price
Pedigree Dentastix Dental Dog Treats Review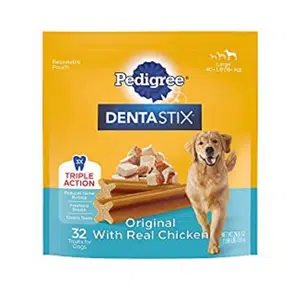 Pedigree Dentastix has a patented x shape to help with plaque and tartar build-up. They are available in multiple flavors, so hopefully, you can find one that your dog loves. Give your dog one treat a day to get that pearly white smile for maximum effectiveness.
Author's Experience
We use Dentastix for our dog, Sally. She can get some gnarly breath, and these have helped reduce the smell drastically. Our vet always comments on how great her teeth are too. We like the Fresh ones instead of the Original or Beef Flavor ones because we find the mint smell more pleasing than the others. However, Sally gobbles down any of them within seconds!

– Kimberly A., Canine Journal
| Pros | Cons |
| --- | --- |
| Available in various flavors (bacon, beef, chicken, and fresh) | Not for dogs under 5 pounds |
| Available in mini and large | Contains gluten (if your dog is gluten intolerant) |
| Reduces plaque and tartar build-up | |
| Freshens breath | |
| Made in the U.S. | |
| Good value | |
Price
Best Monthly Dental Kit: Bark Bright Review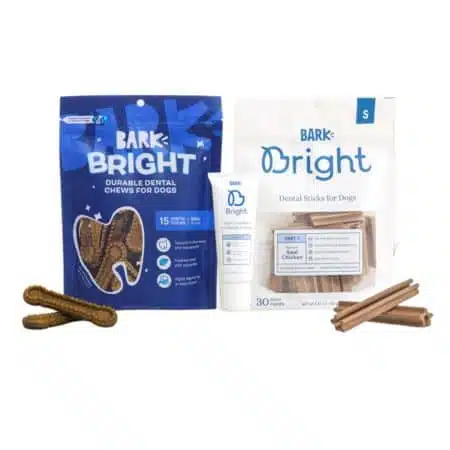 Make sure you always have your dog's daily dental needs on hand with the Bark Bright Dental Kit. This subscription-based service delivers high-quality doggy toothpaste and grain-free dental chews to your door every month so you never run out. Even better, the toothpaste requires no brushing; you simply squeeze it into a groove on each chew, and your pup's chewing will do the job for you.
Although the chews only come in chicken flavor, we love that they offer durable, long-lasting dental sticks for aggressive chewers in addition to regular dental sticks. And you can add the Bark Bright Dental Kit to the company's BarkBox or Super Chewer subscription for a regular delivery of dog toys.
| Pros | Cons |
| --- | --- |
| Get automatic deliveries of toothpaste and dental chews | Not for dogs under 15 pounds |
| Chews available in small, medium, and large | Only one flavor (chicken) |
| All-natural with no grain, corn, or artificial colors or flavors | |
| Reduces plaque and tartar build-up and freshens breath | |
| Option for super chewers | |
| 30-day money-back guarantee | |
| Made in the U.S. | |
Price
You can sign up for a month-to-month, 6-month, or 12-month subscription. All products are the same price regardless of the size your dog needs.
What About Whimzees, Virbec & More?
Here are some alternatives to Greenies, Dentastix, and Bark Bright that might be better options, especially if your dog is gluten-intolerant.
Blue Buffalo Dental Bones Review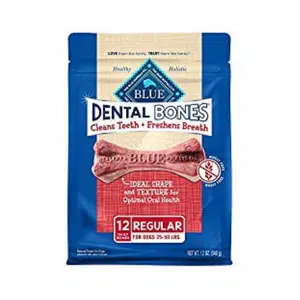 The Blue Buffalo dog dental bones are available in different sizes, from small to jumbo. The treats are textured to help soothe your dog's sore gums, which are great for when she is teething. They only come in one flavor, but their product is gluten-free, unlike Greenies and Dentastix. So if your dog has a wheat allergy, this could be a good option for you.
Included is DHA to help with cognitive development, Taurine for a healthy heart, and vitamins for her immune system. Like most dental chews, these will clean your dog's teeth and give them fresh breath.
| Pros | Cons |
| --- | --- |
| Available in mini, small, regular, and large sizes | Doesn't mention the prevention of plaque or tartar build-up |
| All-natural ingredients | Only one flavor |
| Made in the U.S. | |
| 100% grain and gluten-free | |
Price
Whimzees Toothbrush Dental Treat For Dogs Review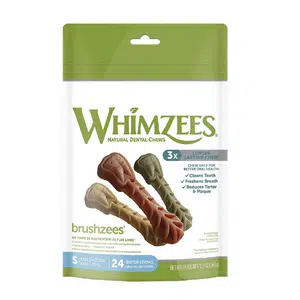 Whimzees dog teeth cleaning treats are toothbrush-shaped and made of vegetables with no added chemicals. They help freshen your dog's breath while fighting plaque and tartar build-up. These treats are low-fat and high in fiber.
Our Personal Experience
We love these Whimzees chews that our dog's dentist gave us to try out after Barley's last dental cleaning. They last longer than others we have tried, so they're a bit more like a bone than a treat. Barley goes through other dental chews in less than two minutes, but these take him more like 4-5 minutes!

– Michele S., Canine Journal
| Pros | Cons |
| --- | --- |
| Available in x-small, small, medium, large, and x-large | Made in Holland (if you are looking for American-made) |
| Gluten-free and vegetarian | Not for dogs under 5 pounds |
| Fights control plaque and tartar | |
| Combats bad breath | |
Price
Virbac C.E.T. Veggiedent FR3SH Review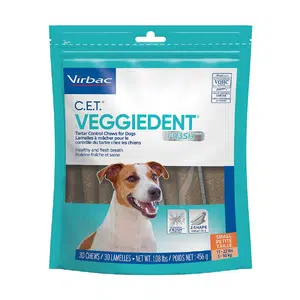 Virbac's tartar control chews for dogs help eliminate and control plaque using select plant-based ingredients. They are gluten-free and have a probiotic that aids in digestion and intestinal health. They come in a unique Z-shape design that scrapes the tartar off teeth while chewing.
| Pros | Cons |
| --- | --- |
| Available in small, medium, large, and x-large | Not made in the U.S. |
| Reduces plaque build-up | |
| Contains probiotics | |
| Gluten-free and vegetarian | |
Price
Water Additive: Oxyfresh Water Additive Pet Dental Care Review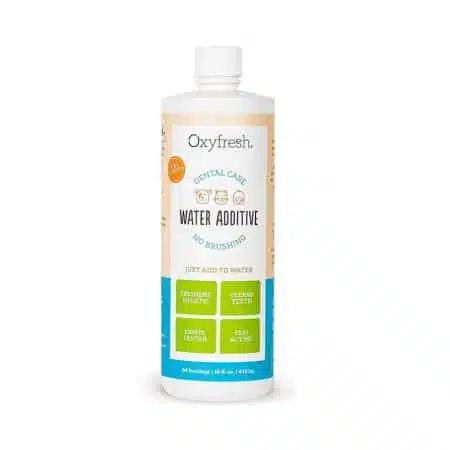 If dental sticks do not seem to be working or you want extra protection, you could try this product that you simply add to your dog's water bowl. It claims to fight tartar, plaque, and gum disease. This is another easy way to clean your dog's teeth between brushing (like mouthwash for humans). All you do is add a capful to your dog's drinking water each day. The liquid is odorless and tasteless, so your dog won't notice it's there.
We suggest you check with your vet before giving this to your dog to ensure it won't conflict with any other health issues.
Our Personal Experience with Oxyfresh
"We purchased Oxyfresh for our Cavalier King Charles Spaniel after hearing good things about it. We use it daily with our dog's water, and it only takes a little droplet in each bowl of water. Georgie doesn't even notice it's in there! We do it more as a preventative measure, along with regular brushing and wipes."

– Sadie C., Canine Journal
| Pros | Cons |
| --- | --- |
| Helps fight plaque and tartar build-up | Doesn't scrape plaque and tartar off teeth as effectively as chews do |
| Minimizes bad breath | |
| Non-toxic | |
| Made in the U.S. | |
Pricing
Dog Dental Health Matters
While dental chews can help to keep plaque at bay, they're no substitute for brushing your dog's teeth to prevent infections and gum disease. And most vets recommend daily brushing. We know it can be hard to convince your dog of the value of this activity, so we put together a dog teeth-brushing guide to help guide you through this sticky situation.
This video from Greenies has some stats that show us why it's important to give our dogs dental chews and keep their teeth clean.
Best Pet Insurance For Dental Needs
If your dog is predisposed to dental issues, you may want to consider pet insurance. However, not all pet insurance covers the same dental conditions. You can learn all about which company we recommend for pet dental insurance. If you want to dive in deep, you can read our comparison article, including detailed information for multiple pet insurance companies.
Are Dogs' Mouths Cleaner Than Humans' Mouths?
We've all heard it. Dogs' mouths are cleaner than ours. Some of us believe this, while others think it's a bunch of malarkey. Is their saliva "cleaner" than ours? It can be hard to believe since they get into, lick, and sometimes eat some not-so-good things.
Some veterinarians say it's not true that dogs' mouths are cleaner, but most of the bacteria found in a dog's mouth won't harm humans. So, if you want to kiss your pup — go ahead! Just make sure they are up to date on all their shots and parasite control medications.
Check this out if you are looking for other ways to get rid of your dog's bad breath or if you're curious about how many teeth your dog has. If you're looking for treats to reward your dog, we have you covered as well.
Tagged With: Chewing, Comparison, Dental