To sustain this free service, we receive affiliate commissions via some of our links. This doesn't affect rankings. Our review process.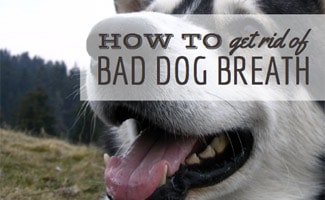 Snuggling up with your dog is the best ending to any day. But when he turns to give you a big slobbery kiss and his breath hits you in the face like a skunk — Yuck! Why does your dog's breath stink so bad? What did he eat? We're going to give you the low down on what causes puppy bad breath and how you can cure your dog's stinky breath.
What Causes Bad Breath in Dogs?
Your dog's breath stinks because there is a build up of odorous bacteria in his mouth, lungs or gut. If your dog's breath is consistently smelly he probably needs better dental care. However, it could be that there is something wrong in his kidneys, liver or gastrointestinal tract. Smaller dogs are especially prone to plaque and tartar so you'll have to take extra good care of their mouths. Before jumping to the worst possible scenario talk to your veterinarian. They are the best at determining the cause of your dog's gnarly breath.
To learn more about the cause of bad breath in dogs, check out this video.
How To Prevent Bad Breath in Dogs
Most of us associate a dog's bad breath as something that we can't control. This isn't true though. Being proactive about your pooch's oral hygiene will help you when it comes time for all those kisses at the end of the day, plus it's good for your dog! Find out how to make dog's breath smell better by testing out some of these home remedies for bad dog breath.
Schedule regular checkups to make sure he's in the best health and there isn't an underlying medical issue that is causing the bad breath.
Give your dog food that is easy for him to digest and is high quality.
Brush your dog's teeth every day (or as close to that as possible). Be sure to use toothpaste that is made for dogs (human toothpaste can give your dog a belly ache). Learn more about brushing your dog's teeth.
Give your dog hard chew toys that are safe for him. These can help clean your dogs teeth in a natural way due to the chewing.
Get some dog treats that are formulated to improve dog bad breath.
How to Freshen Dogs' Breath
If you talk to your vet about the bad puppy breath you're dealing with they might recommend one of these products.
Orapup Review
Dogs either love or hate this solution for curing their bad breath. To use it, place some of the beef and bacon Lickies on the brush and let your dog lick the tasty flavor away. Some dogs are weary at first and then eventually give it while others are not into it at all. If your dog isn't having it, try placing his favorite treat on the brush and setting it down. This may help him feel more comfortable with it. We do suggest that you try it a few times with your pup before you give up. For the dogs who have liked it, their parents say it works wonders.
What's a Lickie?
The Orapup Lickie is an all-natural enzyme fighting paste that you apply to this special brush. Together, they work to grow the good bacteria on the your dog's tongue without hurting any of the natural defenses in your dog's mouth. This creates a delicious experience for your dog that also fights odor creating bacteria in the mouth to minimize stinky breath. It's a win-win for dogs and owners alike with little effort for either party!
Tropiclean Review
View on Amazon
Tropiclean has better reviews than Orapup but its application process is a little more invasive. First you apply a few drops to your finger and then rub it on the sides of your dog's teeth. Again, some dogs aren't crazy about this so try to ease into it. Some people swear by this product while others seem to be at odds with it.
How to Get Rid of Dog Breath
Unfortunately, 78% of dogs suffer from dental disease and bad breath is an early warning sign. Talk with your vet before giving your dog Orapup or Tropiclean. If they approve it, know that with Tropiclean you must put your fingers in your dog's mouth. So if your dog likes to nibble or just won't allow it, you may want to try Orapup. All your dog has to do is lick the gel, but it's not as controllable as Tropiclean since the dog has to do it on his own terms.
How did you fix your dog's bad breath?
Disclaimer: The information provided through this website should not be used for diagnosing or treating a health problem or a disease. It is not a substitute for professional care. If you have or suspect you may have a health problem, you should consult your health care provider.
Disclaimer: This website contains reviews, opinions and information regarding products and services manufactured or provided by third parties. We are not responsible in any way for such products and services, and nothing contained here should be construed as a guarantee of the functionality, utility, safety or reliability of any product or services reviewed or discussed. Please follow the directions provided by the manufacturer or service provider when using any product or service reviewed or discussed on this website.