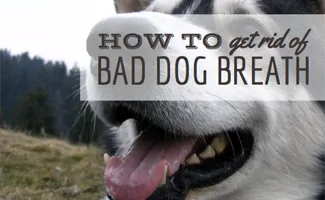 Snuggling up with your dog is the best ending to any day. But when he turns to give you a big slobbery kiss, and his breath hits you in the face like a skunk — yuck! Why does your dog's breath stink so bad? What did he eat? We're going to give you the lowdown on possible causes, how to get rid of your dog's bad breath, and preventative tips.
Why Does My Dog's Breath Smell?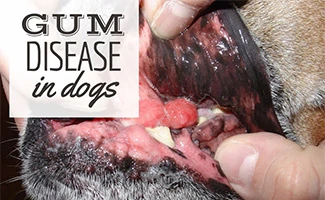 Contrary to popular belief, bad breath is not normal for dogs. Unfortunately, more than two-thirds of dogs suffer from dental disease, and bad breath is an early warning sign. It's likely that your dog's breath stinks because there's a build-up of odorous bacteria in his mouth, lungs, or gut.
If your dog's breath is consistently smelly, he probably needs better dental care. However, it could be that there's something wrong with his kidneys, liver, or gastrointestinal tract so be sure to consult your vet about your dog's bad breath.
Smaller dogs are especially prone to plaque and tartar, so you'll have to take extra good care of their mouths. But no matter your furry friend's size, veterinarians recommend that you brush your pup's teeth every day.
Before jumping to the worst possible scenario, talk to your veterinarian. They're the best source to determine the cause of your dog's gnarly breath. To learn more about the causes of dog bad breath, check out the video below.
How To Freshen Dogs' Breath
If you talk to your vet about the bad puppy breath you're dealing with, they might recommend one of these products.
Tropiclean Fresh Breath Review
Fresh Breath by Tropiclean has excellent reviews, but its application process is a little more invasive. First, you apply a few drops to your finger and then rub it on the sides of your dog's teeth. Some dogs aren't crazy about this, so try to ease into it. Some pet parents swear by this product, while others seem at odds with it.
Price
PetHonesty Oral Hygiene Review

You can add PetHonesty's Oral Hygiene dental water solution to your dog's water to help reduce plaque and tartar, reduce bad bacteria in the mouth, and freshen breath.
It contains all-natural ingredients like enzymes, grape seed extract, zinc, cinnamon, and yucca root and is a healthy alternative to some other commercial dog dental waters that contain chemicals.
Price
Bark Bright Dental Chews Review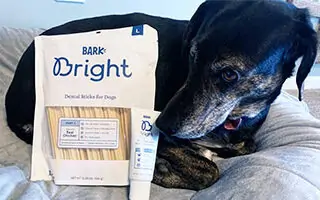 Bark sent a Bark Bright Dental Kit for my dog, Sally, to test out in exchange for an honest review. The kit includes 30 daily chews and one tube of triple enzymatic toothpaste.
Unlike other dental chews, these are meant to be used with the toothpaste. The dental chew has a groove for you to squeeze a line of toothpaste along the full length. Encouraging your dog to chew the treat can help freshen breath and reduce plaque on your dog's teeth in just one or two weeks.
Since using these dental chews, Sally's breath has been unnoticeable, which is how I prefer it. She enjoys the taste of the treat as well. They're made with real chicken and contain no grains, corn, or soy.
Price
Dog Bad Breath Home Remedy
If you're wondering how to make your dog's breath smell better naturally, you have a few home remedy options.
Parsley – Add 1 to 3 teaspoons of parsley to your dog's meals every 2-3 days to help freshen breath
Apple cider vinegar – Add about 1 teaspoon to your dog's water to help kill off odor-causing bacteria on the teeth and tongue
Coconut oil – Use some coconut oil when brushing your dog's teeth to help reduce bad bacteria and get rid of bad dog breath
How To Prevent Bad Breath In Dogs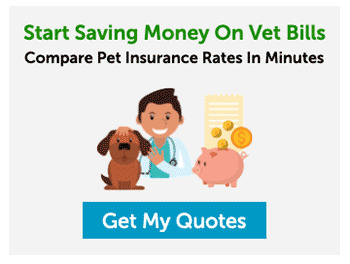 Most of us associate a dog's bad breath with something we can't control. This is far from the truth, though. Being proactive about your pooch's oral hygiene will help you when it comes time for all those kisses at the end of the day; plus, it's good for your dog.
Schedule regular checkups to make sure he's in the best health and there isn't an underlying medical issue causing the bad breath.
Feed your dog high-quality food that's easy to digest.
Brush your dog's teeth every day (or as regularly as possible). Be sure to use toothpaste that's for dogs (human toothpaste can give your dog a bellyache). There is even meat-flavored toothpaste, especially for dogs.
Give your pup dental chews regularly. They're a yummy treat for your dog, and they help reduce plaque and tartar build-up.
Take your dog for annual dental cleanings.
Give your dog safe, hard chew toys. Rope toys are a good option too. Chewing helps naturally clean your dog's teeth.
Edible chews are also a good option, but be sure to avoid natural bones because they're hard enough to fracture your pup's teeth.
Getting Rid Of Your Dog's Body Odor
Bad dog breath isn't the only offending odor many pup parents face. Is your dog stinky, even though you bathe him adequately? Unfortunately, some dogs get smelly even with regular bathing. If this sounds like your pup, you might want to consider getting a pet odor neutralizer that you can apply to your dog's coat to keep all of your pup smelling fresh.
Tagged With: Dental