Dental home care is an essential part of caring for your pup. And veterinarians recommend brushing your dog's teeth every day to prevent dental disease. But how do you know which toothpaste you should use? The choices can be overwhelming.
Our experts help you weed through the products to find the right dog toothpaste and the best puppy toothpaste for your pup. The best dog toothpaste is Sentry. We also discover the best for bad breath (Virbac CET) and the best brushless toothpaste is PetSmile. But not every dog is the same, so we review several options for every need and budget. 
How Do I Know What My Dog Needs?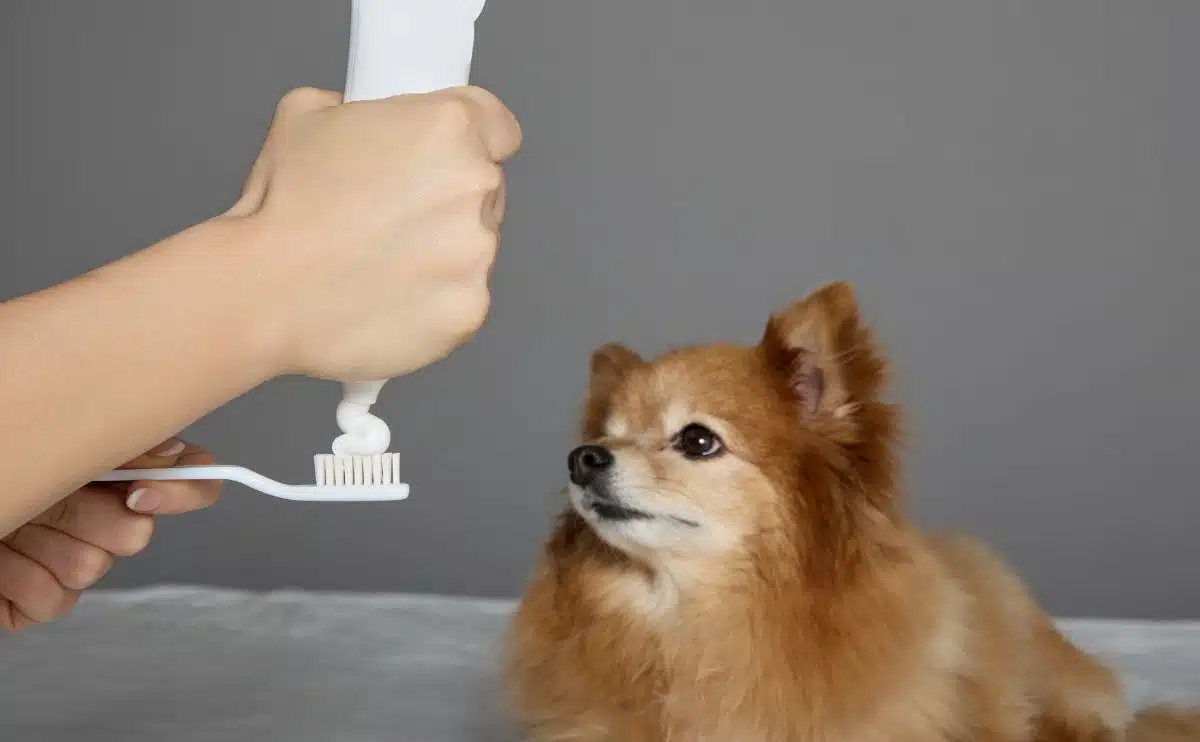 How much do you know about your dog's teeth? The first step to understanding your pup's dental needs is to learn more about his teeth. In our article, "how many teeth do dogs have?" our experts break down the basics of your dog's mouth.
Once you grasp that, it helps to understand the kind of concerns that can occur in your dog's mouth. For instance, did you know gum disease is the most common disease affecting pet dogs? If you know what's going on in your dog's mouth, that information can guide you to make the right choice for toothpaste.
Talk To Your Vet About Dental Health
Does your dog have bad breath? Despite common beliefs, bad breath is NOT normal for dogs. It likely means he has some form of dental disease. Taking your pup to his annual checkup is a great time to ask about his dental health. A dental exam is a routine part of the checkup, so use this opportunity to ask your vet about any dental concerns you may have and how to best care for your sweet pup's teeth.
Types Of Dog Toothpaste
There are lots of different types of dog toothpaste on the market. Different brands and products may be available to meet your pup's specific needs. Some toothpaste helps to curb bad breath or to get plaque under control. Others may target stain removal or help dogs at different ages. All should be dog safe toothpastes (not human toothpaste).
What Flavors Are Available?
It's essential that your dog like the taste of the toothpaste you are using if you want him to let you brush his teeth. Luckily, there are lots of flavors to choose from. You can get toothpaste with a traditional mint flavor or go the opposite direction with a meat-flavored paste. Whatever you decide, just make sure your pup likes it, so he gets excited when it's time to brush.
Best Dog Toothpaste
We look at all the brands on the market to see which products will work the best. Our experts picked the top choices in these categories:
Best Dog Enzymatic Toothpaste: Sentry Petrodex Enzymatic Toothpaste For Dogs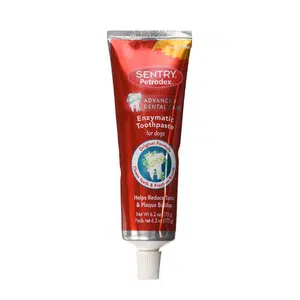 Dog enzymatic toothpaste is a popular choice for cleaning dog teeth and fighting oral diseases because the enzymes break down food and bacteria. Sentry Petrodex uses patented enzymes to set itself apart from other brands, and that is why we chose them as our pick for the best enzyme toothpaste for dogs. This non-foaming formula comes in a delicious poultry flavor that your pup may love. It reduces the plaque and bacteria that can cause oral disease.
Price
Best Baking Soda Toothpaste: Arm & Hammer Fresh Spectrum
Can I brush my dog's teeth with baking soda? Baking soda is an effective cleaning agent due to its abrasive nature and its ability to whiten and brighten teeth. Arm & Hammer dog toothpaste leads the pack as the best baking soda toothpaste for dogs. The Fresh Spectrum toothpaste comes in a coconut mint flavor and neutralizes odor while cleaning away plaque and whitening teeth. This paste is an adult dog toothpaste, so it's not for puppies.
Price
Best Toothpaste For Bad Breath: Virbac CET Enzymatic Toothpaste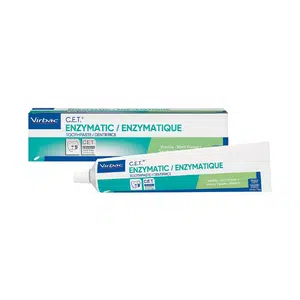 Virbac makes our number one choice when you are seeking the best dog toothpaste for bad breath. This toothpaste uses enzymes to quickly break down food and bacteria, reducing the amount of plaque in your dog's mouth. The vanilla mint flavor is a bonus that leaves your dog's mouth feeling and smelling fresh. It also comes in other dog-friendly flavors (poultry, beef, seafood, malt).
You can buy the toothpaste alone or get it as a set with a toothbrush. Vibrac also makes oral hygiene chews that can help reduce plaque and bacteria.
If bad breath is an issue for your pup, check out what our experts have to say about other ways to get rid of bad breath.
Price
Our Personal Experience With Virbac CET Toothpaste
"We have used the poultry flavor of Virbac enzyme toothpaste for years. While they did not take to teeth brushing the first few times, now, our dogs come running when we take the Virbac tube and brush set out. To say they enjoy the taste and, thus, the toothbrushing experience is an understatement."

– Michelle S., Canine Journal
Best Brushless Toothpaste: Petsmile Professional Dog Toothpaste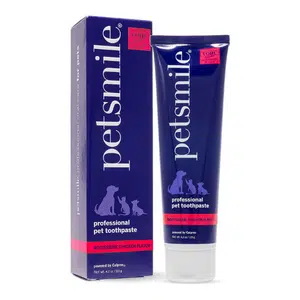 Recommended by Veterinary Dentists, Petsmile is the only Veterinary Oral Health Council (VOHC) accepted toothpaste. Their propriety Calprox formulation is clinically proven to stop plaque and tartar buildup while whitening your pet's teeth.
It's also an excellent option if your pup isn't a big toothbrush fan. You can apply this brushless toothpaste on your dog's teeth with your fingers or swabs (sold separately) and let his tongue do the brushing for you. It comes in three flavors: London broil, rotisserie chicken, and "say cheese."
Price
Our Personal Experience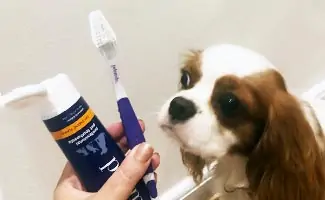 "I've tried many teeth cleaning methods over the years on our Cavalier King Charles Spaniels. Our dog Georgie loved the experience with Petsmile. The "Say Cheese" flavored toothpaste excites him to open his mouth and let us brush his teeth. He licks the toothbrush afterward (and drinks the entire cup of water we dip it in.) The toothpaste doesn't smell, and Georgie loves the taste.

The dual-brush is at a 45-degree angle, making it easier to use than any other toothbrushes we've tried. The bristles are super soft, and in a triangle shape, so you can get into hard-to-reach places like the back of his mouth. And the middle of the brush head has a tiny hole, so the toothpaste squirts in without it coming off."

– Sadie C., Canine Journal
Best Monthly Dental Kit (Toothpaste + Dental Chews): Bark Bright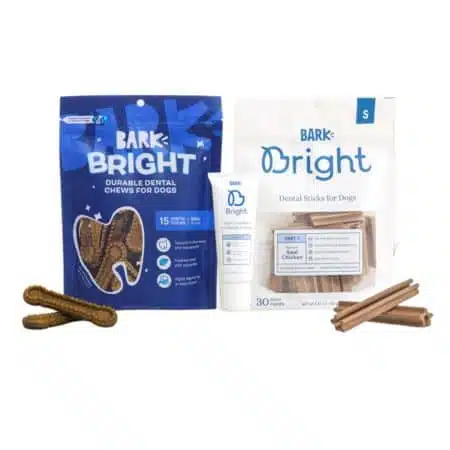 The Bark Bright subscription-based service delivers high-quality dog toothpaste and grain-free dental chews every month so you'll always have your pup's daily dental needs on hand. Another bonus, the chicken-flavored toothpaste requires no brushing. All you have to do is squeeze it into a groove on each dental stick, and your pup's chewing will take care of applying the toothpaste to his teeth.
The toothpaste contains special prebiotic cultures to rid your dog's mouth of harmful bacteria and other natural ingredients to reduce plaque and tartar and freshen breath. We also love that they offer a choice of regular chews or durable, long-lasting dental sticks for aggressive chewers. And you can add the Bark Bright Dental Kit to the company's BarkBox or Super Chewer subscription for a regular delivery of dog toys.
Price
You can sign up for a month-to-month, 6-month, or 12-month subscription. It comes in 3 sizes, but all products are the same price regardless of the size your dog needs.
Full Bark Bright Dental Review
Best Toothpaste For Puppies: RADIUS USDA Organic Dental Solutions Puppy Kit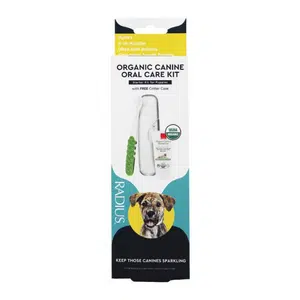 Puppies have a lot going on in their mouths, with new teeth growing and losing baby teeth. These changes can leave their mouths feeling tender. Our experts recommend the RADIUS puppy kit, which includes our choice for the best toothpaste for puppies. This toothpaste is gentle and soothing for a puppy's tender mouth while also being strong and effective at fighting plaque and preventing cavities.
You won't find any harmful chemicals in this product. There is also no xylitol, preservatives, dyes, GMOs, glutens, fluoride, saccharin, artificial additives, sweeteners, or flavors. It's also latex, SLS and SLES, BPA, and BPS-free.
In addition to the paste, the kit includes a puppy toothbrush that is extra soft and recommended for puppies up to 18 months.
Price
Frequently Asked Questions
You may find you have lots of questions when it comes to dog toothpaste. Our experts put together a list of questions that we think our readers will want to know about.
Can Dogs Use Human Toothpaste?
No, dogs can't have human toothpaste. The reason is that you are not supposed to swallow human toothpaste. It's nearly impossible to brush your dog's teeth and rinse their mouth out too. So there is a good chance they will ingest whatever toothpaste you put in their mouths. This is why it's essential that you use dog-safe toothpaste when brushing your pup's teeth.
What's The Best Dog Toothbrush?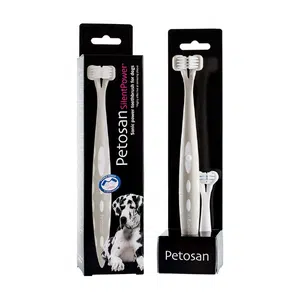 When it comes to dog toothbrushes, you have many options. There are regular brushes like the Woobamboo pet toothbrush or a sonic toothbrush that use sound waves and fast bristle movement to remove plaque. However, those don't work for everyone. You could also try a finger toothbrush if that's more effective and makes your dog more comfortable.
Can Dogs Eat Toothpaste?
Since dogs can't rinse or spit their toothpaste out, they often ingest some dog toothpaste. You still don't want them to eat a whole tube, but swallowing a little dog toothpaste is ok.
My Dog Ate My Toothpaste: What Should I Do?
If you find that your dog ate human toothpaste, you'll want to take action right away. Separate your dog from the toothpaste so he can't eat anymore. Next, call your vet, the pet poison helpline at 1-855-764-7661, or use our "Ask A Vet" feature to get quick guidance on how to proceed.
What Is Dog Tooth Gel?
If your dog doesn't like to have his teeth brushed, you can use a dog tooth gel. You apply the gel to the dog's teeth, and he will naturally rub it around with his tongue. Brushing is better at fighting plaque build-up, but if you can't brush their teeth, the gel is a great backup plan.
Do I Need A Dog Tooth Cleaning Kit?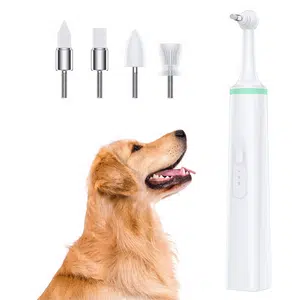 If you feel like brushing alone isn't cutting it, you may want to get a tooth-cleaning kit. The Mothermed electric cleaner is a kit with several cleaning brush head tips you can use on an electric base.
You can also try the Mudder pet teeth cleaning kit that has a set of dental tools as you might find in your own dentist's office. The big thing to remember here is that these tools can be dangerous. So be careful and cautious if you decide to use them.
What Is Brushless Toothpaste?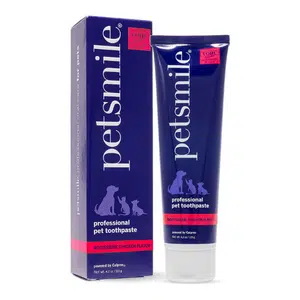 Brushless toothpaste for dogs is another option for dental homecare when toothbrushing just isn't working. Petsmile is the only vet-recommended dog toothpaste awarded the seal of acceptance by the Veterinary Oral Health Council (VOHC). Simply rub this beef-flavored toothpaste on your dog's teeth instead of brushing.
Can Dogs Use Mouthwash?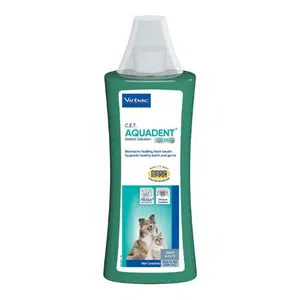 Since dogs can't rinse and spit, there isn't a traditional mouthwash for dogs. However, there is a product called dental wash that you can add to your pup's water that helps fight plaque-causing bacteria. Our experts recommend Virbac as the best dental wash for dogs.
Are There Treats I Can Give My Dog To Help Clean His Teeth?
Some treats can help your dog improve his dental health. Dental chews for dogs, rawhide bones, or safer rawhide alternatives can help reduce plaque and tartar buildup and increase gum health. However, avoid giving your pup natural bones because they're hard enough to fracture teeth.
Can I Make Homemade Dog Toothpaste?
Homemade dog toothpaste may be an option. In this five-minute video from Veterinary Secrets, Dr. Jones shows you how to make a DIY dog toothpaste recipe.
Ensure Your Pup's Dental Health
Finding the right toothpaste that your dog loves can be the best way to keep your dog's teeth healthy. However, even with proper home care, dental emergencies, and tooth infections can occur, and they can be costly. If you want to ensure that you'll be able to care for your dog's teeth throughout his life, you may want to consider signing up for pet dental insurance as a proactive measure before your dog has issues. Our experts give you the info you need to understand regarding the best pet dental insurance and what it covers.
Tagged With: Comparison, Dental