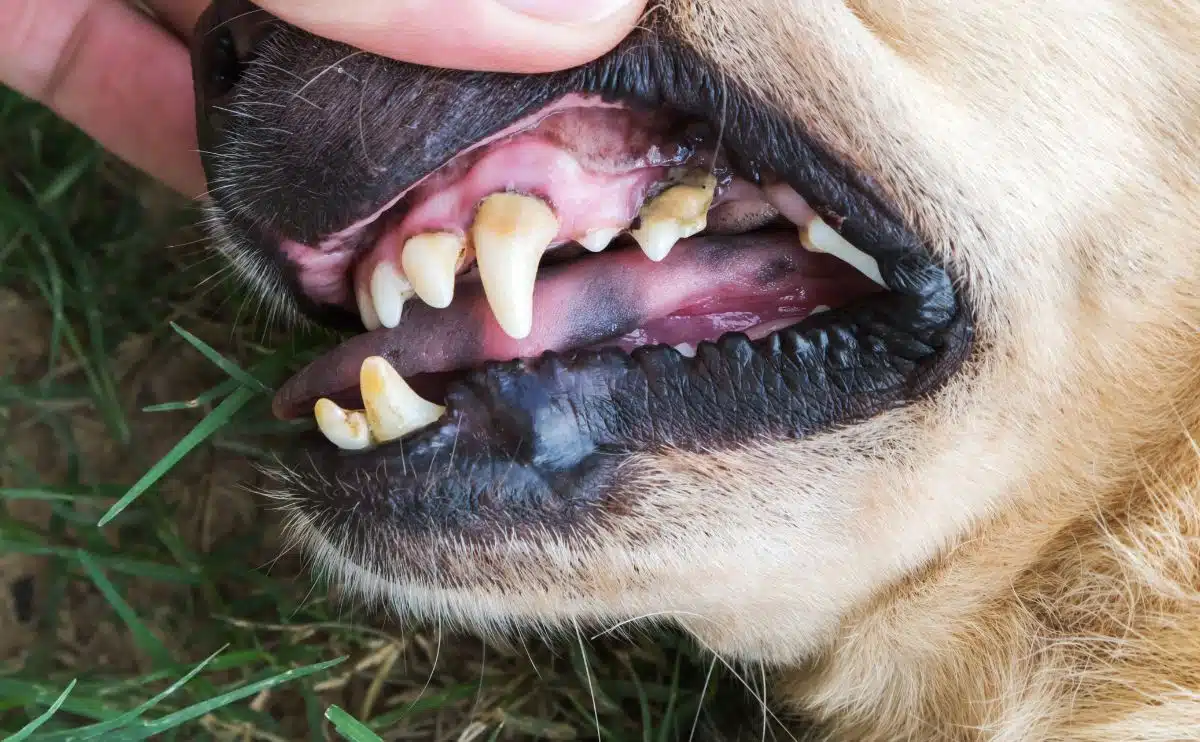 Keeping your dog's teeth clean is a big job. It is estimated that nearly 80% of dogs will have periodontal disease by their third birthday. On top of that, over half of dog owners have never brushed their pup's teeth. Many owners are intimidated by the prospect and give up when their pets resist or refuse to let them get the job done. One option is BARK Bright Dental, a dog-specific dental kit from the team behind BARK Box and BARK Food. BARK offers doggie toothpaste fortified with enzymes in a unique, owner-friendly kit. Let's get into the details in our BARK Bright Dental reviews.
BARK Bright Dental Reviews

Product Name: BARK Bright Dental Kits
Product Description: BARK Bright Dental makes a unique dog teeth cleaning system with enzyme toothpaste and special dental chews.
Summary
BARK Bright makes a unique system of enzyme-laden chicken-flavored toothpaste combined with proprietary dental chews. These work together to remove plaque and tartar from teeth, keeping dogs' mouths cleaner and healthier.
Pros
Triple enzyme toothpaste
Chicken flavor paste
Dogs like it
Effective
Aids in cleaning teeth, whitening, and fresh breath
Shipped to your door
Items can be purchased individually
Cons
Expensive
Not a full substitute for brushing
Not VOHC approved
Key Features
Triple enzyme toothpaste
Meaty flavored toothpaste
No brush tooth cleaning kits
Made in the USA
For puppies with adult teeth and adult dogs
Tough and tasty
Easy to use and set a daily routine
Monthly subscription, products can be purchased alone as well
Free shipping on all orders
100% Happiness Guarantee
Canine Dental Health
Periodontal disease is a huge health concern among canines. It is a common issue seen in the vet's office and can be prevented with regular teeth cleaning. Research shows that 80-90% of canines older than three years old have some form of oral disease or decay. The risk for oral and periodontal disease is much higher in smaller breeds. The risk also grows the older a dog gets. Sadly, periodontal and gum disease is not often diagnosed until it is in the later stages, meaning it is harder to treat.
The main driver of periodontal disease is plaque that gets under a dog's gums. Plaque is full of bacteria and can cause gum inflammation, gingivitis, bad breath, decay, and damage to periodontal tissue. This can lead to tooth loss, pain, and a lower life expectancy. Prevention is the best defense and should start early.
Signs Of Dental Disease
Your dog will exhibit some clear signs of discomfort when battling periodontal disease. These include:
Difficulty or disinterest in eating dry kibble
Unable to chew kibble or firm treats
Drooling
Dropping food from the mouth
Pawing at mouth
Foul-smelling breath
Loose teeth
Chewing on one side of the mouth only
Blood in the mouth or water bowl
Weight loss
Low energy
BARK Bright Products & Pricing
The company offers products on a subscription plan. Owners can set delivery every 2, 4, or 8 weeks. Some products can be found on third-party retailers like Amazon or in stores like Petco, Target, and PetSmart. The company offers dental kits, chews, and toothpaste. The toothpaste and chew work together to keep dogs in a healthy oral routine. Products work to reduce plaque and tartar buildup, keeping teeth clean and preventing periodontal disease. This is a brush-free method, and products should be used together for the best results. The company sells products in kits and individually.
The process involves applying the enzyme toothpaste to a specially-made cleaning chew and then allowing pups to enjoy it. The toothpaste and chew work together while being broken down to clean and scrub teeth. This chewing action also works to support gum health and maintenance.
Bark Bright Toothpaste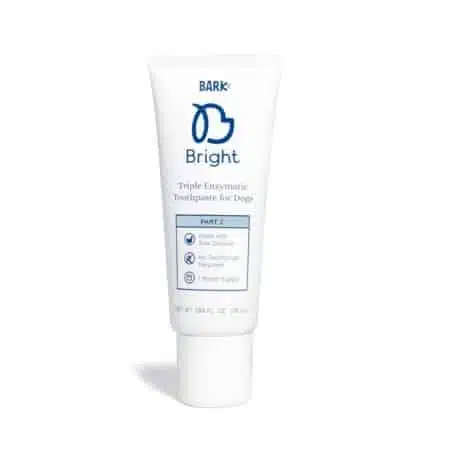 Toothpaste is made with real chicken
Contains three active enzymes: amyloglucosidase (AMG), Glucose oxidase (GOX), and Lactoperoxidase,
Does not need a toothbrush to be applied
1.89 fluid ounce tube lasts for one month
Easy to digest
$20.00 Subscription price, $25 one-time purchase
BARK Bright Dental Sticks
Original recipe chews
Chicken Flavored
No artificial colors or fillers
No grain or corn fillers
Three sizes
A groove down the center for toothpaste
Ridges help to reduce plaque and tartar
Easy to chew and digest
Starts at $8.80 subscription price, $11.00 one-time purchase (For small, price increases with chew size)
BARK Bright Durable Dental Chews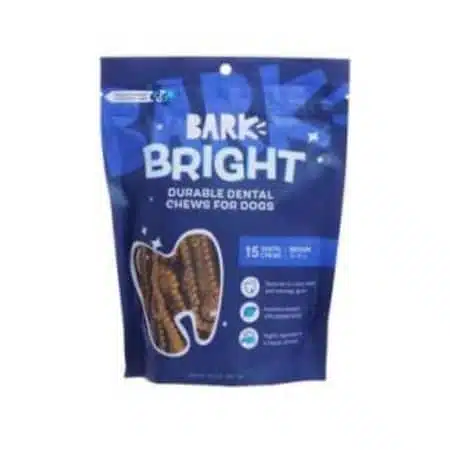 These last three times longer than the original chews
Great for super chewers
Three sizes
Rub and groove technology to clean teeth and massage gums
Allergy-friendly
Easy to digest
Freshens breath
Slows down chewing
Starts at $11.20 subscription price, $14.00 one-time purchase (For small, price increases with chew size)
BARK Bright Dental Kits
The company offers two options for dental kits. Boxes come with a thirty-day supply.
Bright Original Dental Kit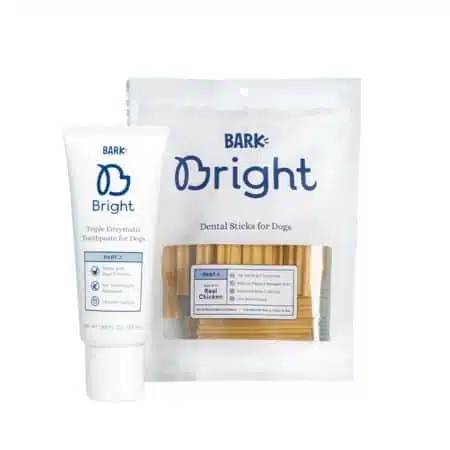 Includes chicken-flavored toothpaste and Original BB chews
Three sizes
Prevents plaque and tartar buildup
Use one chew and toothpaste combo every day
Starts at $26.40 subscription price, $33.00 one-time purchase (For small, price increases with size)
Bright Durable Dental Kit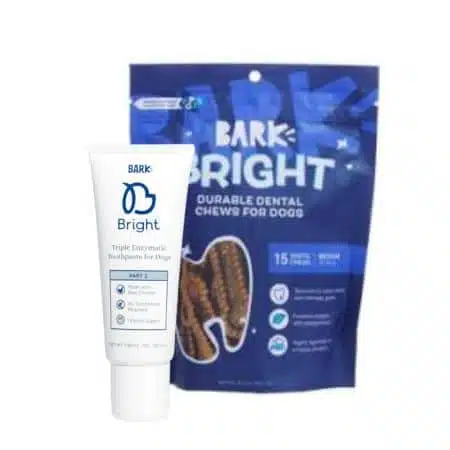 Features Durable chews and chicken-flavored toothpaste
For super chewers
Fresh breath and clean teeth in one month
Rub and groove technology to clean teeth
Three sizes
Starts at $30.40 subscription price, $38.00 single purchase (For small, price increases with size)
Bark Bright Promo Code
Receive a FREE Navy YETI Dog Bowl ($40 value) when you sign-up for a multi-month BARK Bright plan! While supplies last.
Our Personal Experience With BARK Bright
I was excited to try the BARK Bright with my dogs. Both Daisy and Falkor are resistant to regular teeth brushing, so a treat that is designed to help keep the mouth fresh is ideal for us. Daisy has particularly bad breath, which seems to be a constant problem. She is an 11-year-old Pitbull mix and has never liked getting her teeth cleaned. We have typically used other brands of dental chews with her to help keep her teeth clean and her breath fresh. She does not like all of them, and most do not really help, or they do only for a short time. She will often take a dental chew from me when offered but hide it rather than chew. So, it has been an ongoing challenge to keep her breath fresh.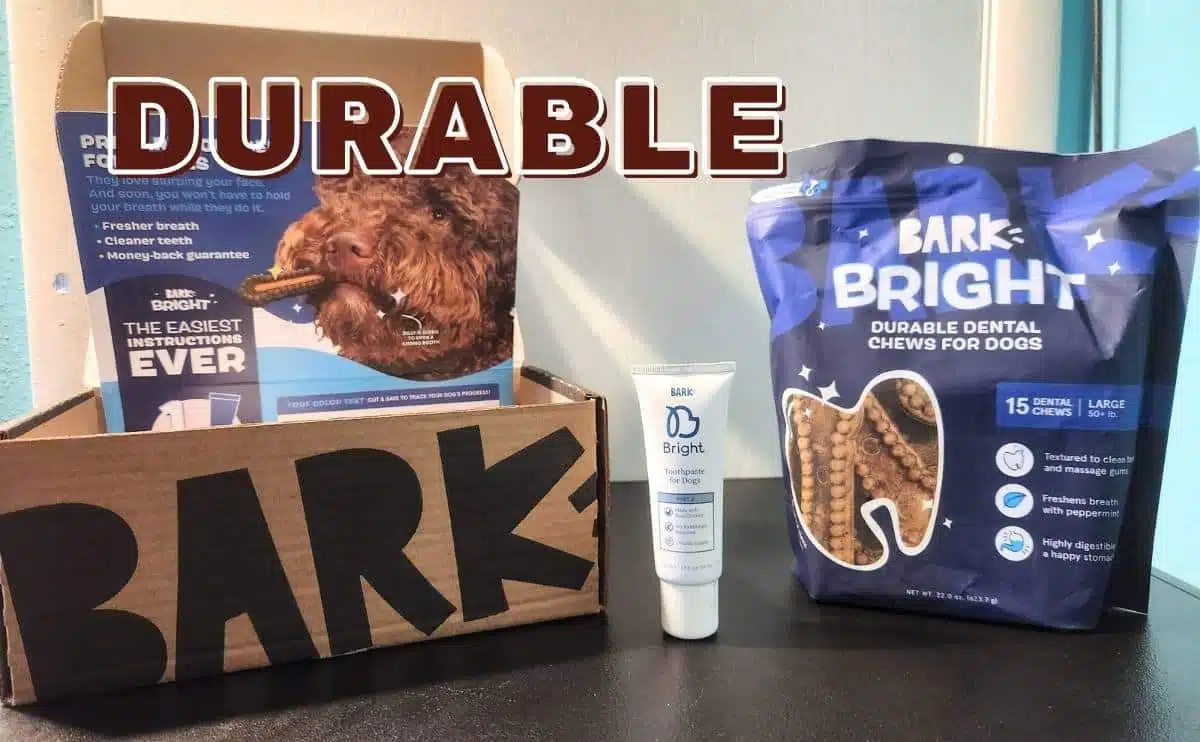 Daisy loves the taste of Durable Chews with the chicken toothpaste. She happily gobbles them down, and we noticed a significant change in her breath. The effects on her breath last, even after just a few days of use. Unlike other dental chews, it does not feel like the product is simply covering up bad breath. Overall, her mouth seems much cleaner.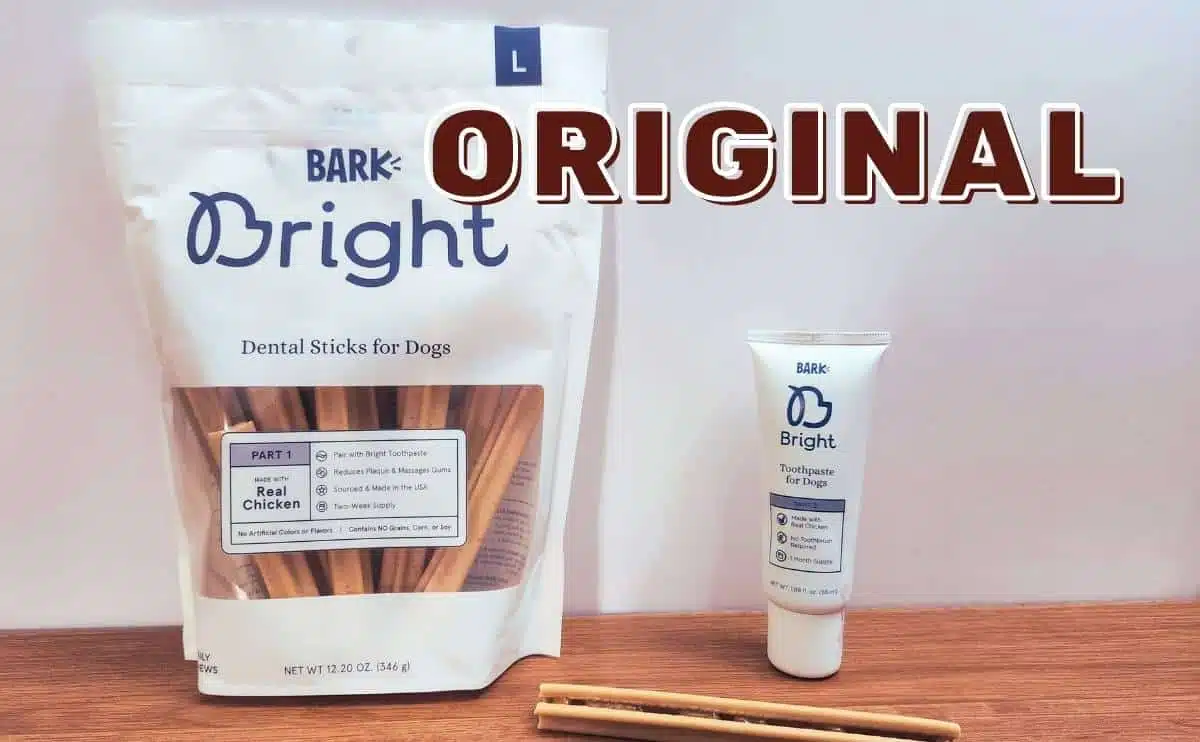 Daisy has also tried the Original Chews and chicken toothpaste, but she likes the flavor of the Durable Chew better. However, my smaller dog, Falkor, a Poodle Beagle mix, enjoys the Original Chew, which has a different smell. I have also not noticed as much improvement with the breath as the Durable Chew. The Original Chew has a stronger, different smell. Falkor was hesitant at first, but once he tasted the toothpaste, he was interested. We have noticed his breath is fresher, and his mouth is looking cleaner since using the Original Chew.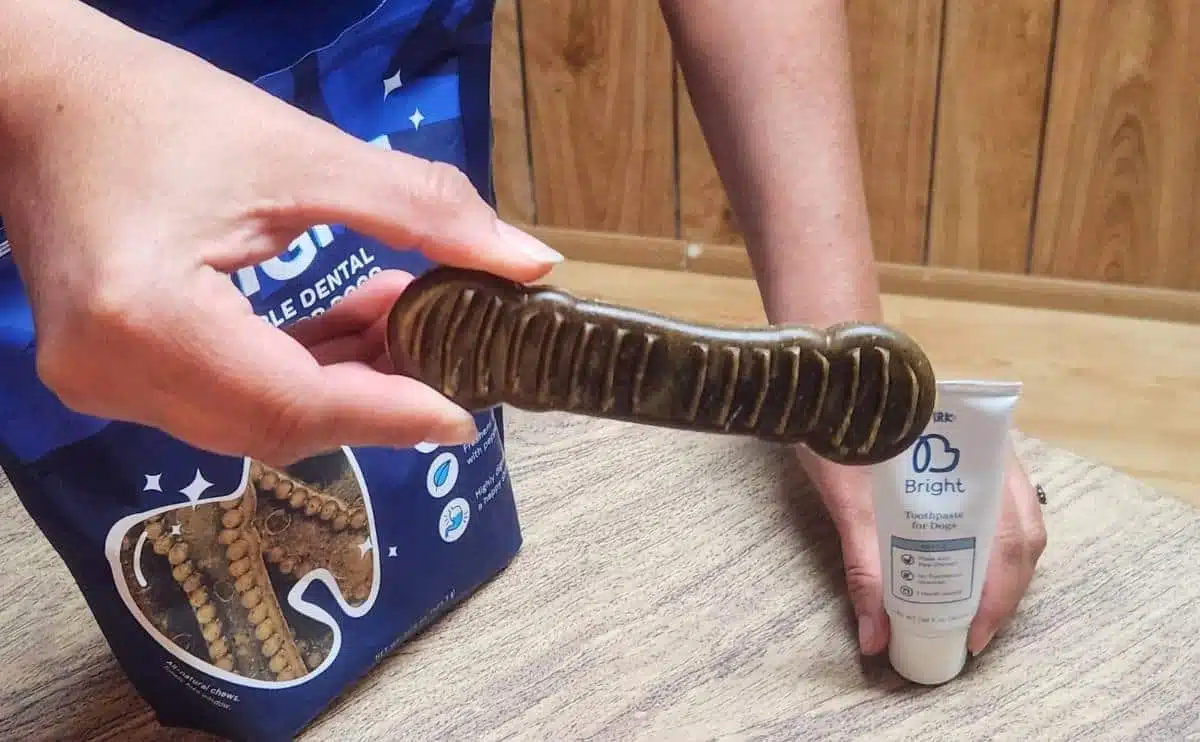 Both Original and Durable Chews are durable but soft enough that they do not hurt the mouth or teeth. They break down and do not turn into clumps or bits that are too large. There is also no debris or crumbs left on the floor after they are eaten.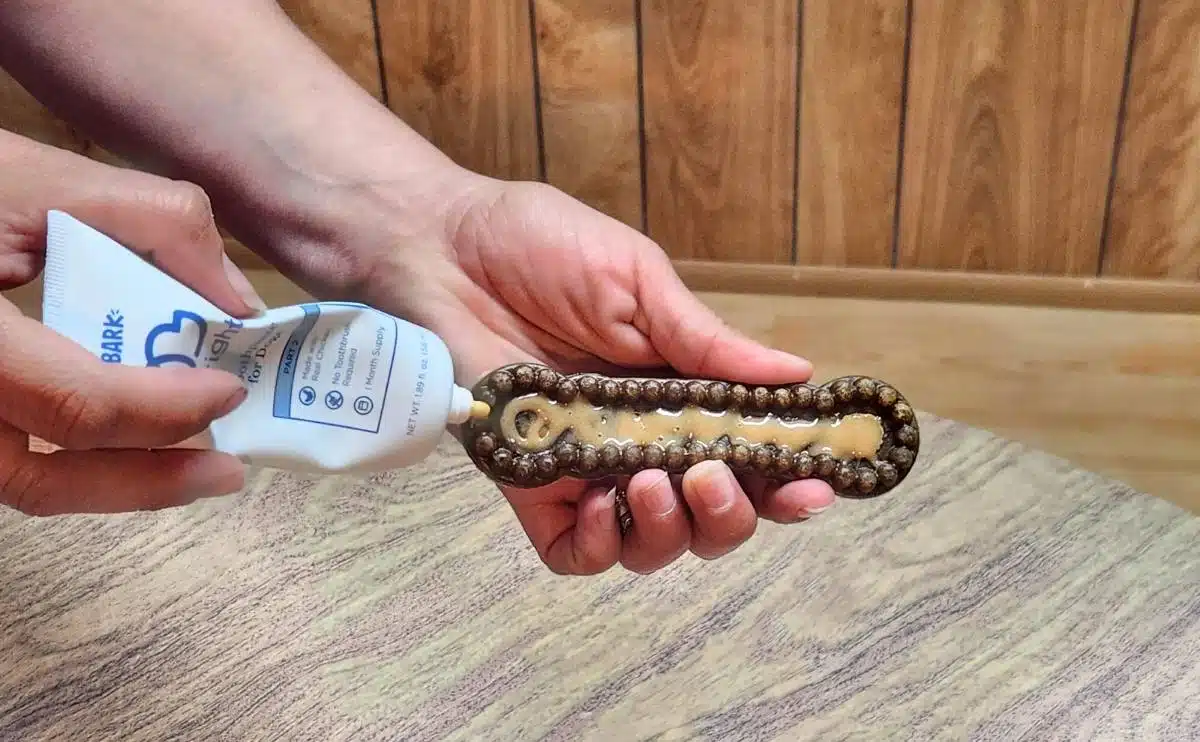 Both dogs love the chicken toothpaste flavor and get excited when they see me reach for it. I like that this system is so simple and easy to use. My dogs have both shown significant improvement with fresher breath and cleaner mouths in just two weeks of starting use.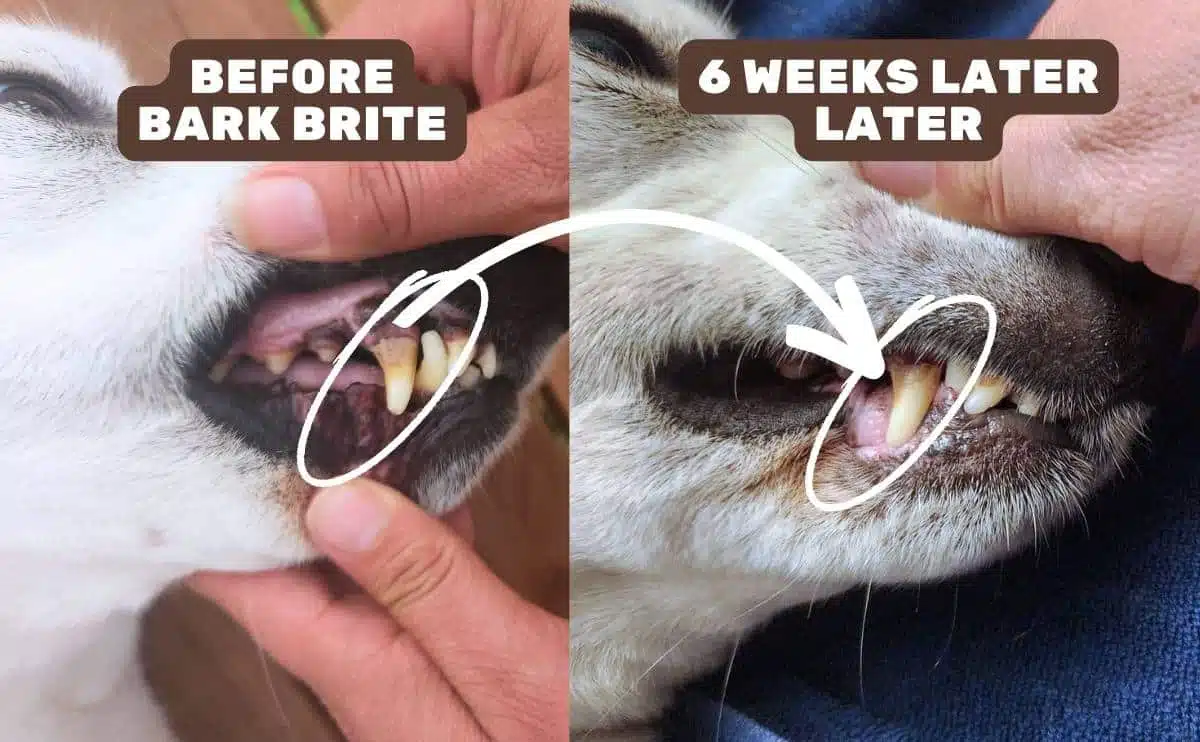 After about 6 weeks, I have not noticed a sudden whitening of the teeth, but I have noticed that they look better, a little whiter, and overall cleaner. Overall, these have improved both the breath and appearance of teeth for both dogs. The chews themselves smell good and are not overpowering. I think the toothpaste is a big part of why this works. My dogs like the taste and get excited when they see me pick up the bottle. They look forward to the chews and do not hide them or refuse to eat them as they have done in the past.
Video How BARK Bright Works
See for yourself how to use BARK Brite in this quick video we made.
Does BARK Bright Work?
According to customer reviews, yes, these products work. They are convenient and far easier to use than traditional toothbrushes and toothpaste. It is a good choice for pups afraid to have their teeth brushed. Dogs like the flavor, with some owners reporting they would eat more than one if they could. Keep in mind these are not regular treats or bones. One a day is all they need. Results will differ for every dog, but customer reviews are good, and most report seeing improvement. The enzymes in the toothpaste stay active long after the chew is eaten.
Is BARK Bright Safe For Dogs?
Yes, these products are safe for dogs. They are made specifically for canine oral health needs and contain only ingredients safe for their consumption. Some dogs with allergies to chicken or other ingredients may not be able to use these.
Make sure fresh drinking water is always available when you give your dog one of these treats. Also, be sure to monitor your dog and do not leave her alone while she is eating a treat in case she bites off too large of a chunk and has difficulties.
BARK Bright vs. Greenies
Another top pick for dental chews is Greenies. Owners often ask about the difference between the two. Greenies have a soft and flexible texture and are a standalone product. The chews help to scrape away debris, plaque, and leftover food and use natural ingredients. Greenies chews are available as a subscription option and are also available online and in several other retailers.
There are a few differences between these two products. Greenies offer several flavors, as well as a grain-free option. Flavors include blueberry, sweet potato, and original flavor. Products are made in the USA.
A big difference between the two is that Greenies contain wheat gluten and flour, but BB chews do not. Greenies do not have any meat flavors in their current offerings of oral hygienic chews. They are not recommended for dogs under 5 pounds. They come in four sizes and work to clean teeth and freshen breath.
These two products are similar but different. Price-wise, they are close, but BARK Bright is a better value as a whole. Their kits come with both toothpaste and chew. Greenies rely on the chew alone, without any enzyme toothpaste. Additionally, dogs may not like the plant-based flavors of Greenies in comparison to the chicken flavor of BARK's toothpaste. With the inclusion of gluten and wheat flour, Greenies may be harder to digest.
Both products get high customer ratings and are fairly easy to find. Each works to support healthy teeth and gums and uses the scraping action of chewing to remove plaque, leftover food, and tartar. Both are likely to improve your dog's oral health. One other thing to point out, Greenies are approved by the Veterinary Oral Health Council (VOHC), but BARK Bright products, as of this writing, are not.
What's Our Final Verdict?
While BARK Bright is a higher-priced option than some other oral hygiene chews, it is well worth the investment. The monthly deliveries are convenient, and the products work well. Dogs love the taste, and the combination of the grooved chews and enzyme toothpaste make a very effective combination. This product consistently gets positive reviews from customers. This is a very good pick for keeping your dog's choppers and mouth clean and healthy without the trauma and stress of daily brushing. They are our top pick for monthly dental kits for dogs.
Keep in mind dental chews cannot fully replace the benefits of brushing and work differently for every pup, so it is wise to brush at least once a week and do not skip those regular cleanings from the vet.
If you are still determining if this product is right for your pup, there are plenty of other dental chews to chew from. Along with regular tooth cleaning at home, dogs should also have periodic professional teeth cleaning by the veterinarian. Some dogs may even need braces, especially if they have misaligned or crowded teeth or persistent baby choppers. Many dogs are prone to teeth grinding or infection, which owners may need to take steps or get medication to treat. All this dental care can get expensive, so owners may want to learn more about pet dental insurance and what it covers.
Tagged With: Dental