One of the major challenges of dog ownership is dealing with pesky parasites. Flea and tick prevention is an ongoing necessity to keep these pests at bay, but it's much easier to tackle if you have the products you need on hand. We've found your best options to receive automatic shipments of monthly flea and tick topical treatments and all-natural sprays to rid your home and yard of these seasonal intruders.
At A Glance: Best Flea & Tick Subscriptions For…
Why Is Flea And Tick Prevention So Important?
Protecting your furry friends from fleas and ticks is a crucial part of basic pet care. Not only is a home flea infestation a major headache to eradicate, but fleas can create a host of health problems for dogs. Some dogs suffer from flea allergy dermatitis (FAD), which causes severe skin allergic reactions from a flea bite. Dogs can also get tapeworms from eating an infected flea. And ticks can transmit serious illnesses, like Lyme disease, to dogs as well as humans.
Best Flea And Tick Subscriptions For Dogs
We've chosen our top picks based on the quality of products available, recurring subscription options, customer service, user feedback, pricing, and more. With all of these services, you can set up auto-shipments to get you through your area's flea and tick season and then pause or cancel your subscription.
Best Product Variety: Chewy Autoship Review

The largest online pet store, Chewy has an excellent reputation for its variety of quality products and customer service that exceeds expectations. This retail giant carries most vet-recommended over-the-counter (OTC) and prescription flea and tick preventatives, including monthly topicals, pills and chewables, collars, shampoos, and more. You may also be able to get your pup's prescriptions at a lower price than at your vet's office.
In addition to buying your dog's flea and tick treatment from Chewy, you can also set up dog food, treats, and other pup supplies for auto-shipping. You can save 35% on your first auto-ship purchase and 5% on all subsequent recurring deliveries. They also offer many delivery frequency options.
| Pros | Cons |
| --- | --- |
| Has an extensive inventory of OTC and prescription preventatives | Some customer complaints about problems getting prescriptions refilled |
| Also carries home and yard flea/tick treatments | |
| One-stop shopping for dog food, treats, toys, etc. | |
| Save 5% with every auto-ship order | |
| Easy to skip, pause, or cancel anytime | |
| Excellent customer service reputation | |
Price
Best All-Natural Supplements: Pet Honesty Review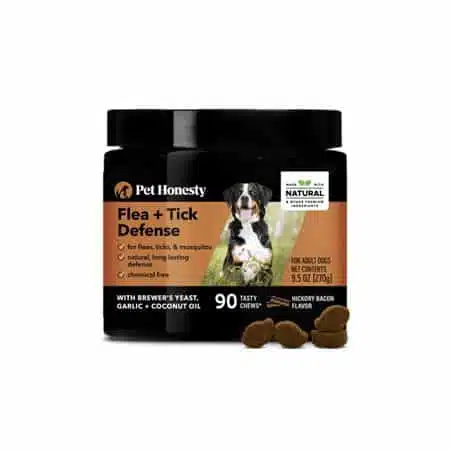 Many pup owners find that Pet Honesty's chemical-free, all-natural Flea + Tick Defense daily supplements are effective at keeping critters off their dogs. Not only do they help your furry friend's body build up resistance to fleas, ticks, and mosquitos, but they also contain ingredients to support immune, skin, and joint health.
These bacon-flavored soft chews include brewers yeast, garlic powder (a non-toxic amount for dogs), coconut oil, flaxseed, apple cider vinegar, hemp seed oil, and other natural ingredients. Simply feed your pup one chew per 25 pounds of body weight per day to help keep the bloodsuckers away. You can set up auto-shipment (which saves you 20%) every three, four, or six weeks or every three months.
| Pros | Cons |
| --- | --- |
| High-quality, all-natural solution | Some customers said they weren't effective enough |
| Quality seal of approval from National Animal Supplement Council (NASC) for safe manufacturing practices | Not meant to replace other flea/tick solutions, according to Pet Honesty's website |
| Made in FDA-approved facility in the U.S. | |
| Save 20% with auto-shipping | |
| 30-day satisfaction guarantee | |
Price
Subscribe and save 20% off the following price with every shipment.
For Your Home & Yard: Sunday Pest Control Review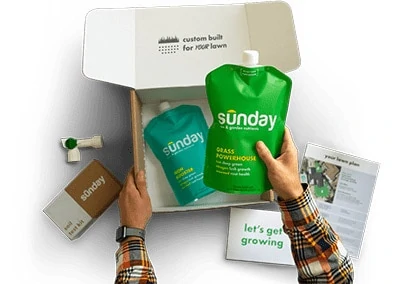 Looking for a flea and tick subscription box to help you keep your home and yard pest-free using non-toxic ingredients? Sunday specializes in high-quality chemical-free pest control and lawn care products you can trust. They carry several products that kill and repel fleas, ticks, and many other critters in your home and yard. One of their most popular products is Mosquito Deleto, which not only kills mosquitoes, fleas, and ticks on contact in your yard but also repels newcomers for up to four weeks.
With Sunday, you can purchase products individually or sign up for a customized pest control plan. You fill out their online quiz to tell them which pests you're having problems with and where. Then, they suggest the product(s) best suited for your needs. You can save a lot of money with an annual subscription (up to 50%, depending on the plan). We highly recommend Sunday for both pet-safe pest control and lawn care.
Our First Hand Experience With Sunday Pest Control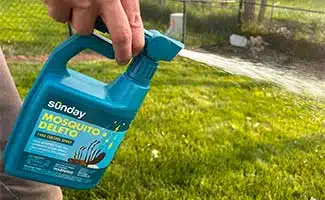 "Sunday sent me some products in exchange for an unbiased review. While doing yard work, we noticed how buggy it was outside and even came across a tick. It reminded me of the Sunday products that I wanted to try out. We sprayed the Mosquito Delete and Nix Ticks on our lawn. The application process was easy, and I noticed results within the next day. When I go out to water my plants, mosquitos and other bugs don't swarm me. The only downside is that the application only lasts up to 4 weeks, so we'll need to reapply every 2-4 weeks."

– Kimberly A., Canine Journal
| Pros | Cons |
| --- | --- |
| Offers a customized subscription plan or individual product purchases | Doesn't carry any topical preventatives |
| Natural and organic ingredients | Only offers an annual plan (but it's one shipment to last you all year) |
| All products are non-toxic for pets | |
| Excellent value with subscription | |
| Free shipping | |
Price
Learn about Sunday's Nix Ticks product and how it can rid your yard of these disease-ridden pests as well as fleas and mosquitos.
Honorable Mention: Wondercide Review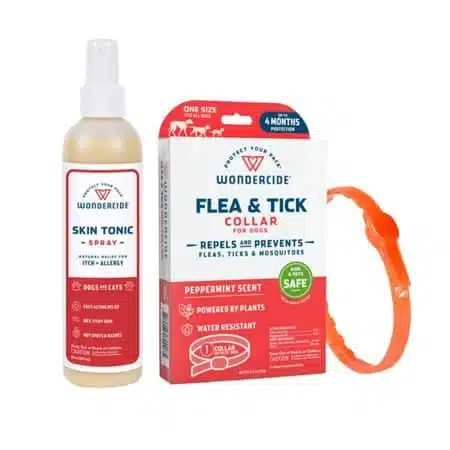 If you're wary of the chemicals in many dog flea and tick control products, Wondercide has a fantastic assortment of all-natural options. While not a subscription service, you can make it a subscription service by signing up via subscribe and save on Amazon prime. This popular company offers flea and tick spot-on monthly treatments, collars, sprays, shampoos, home and yard treatments, and more. All of their products use safely-diluted essential oils, carefully selected for their natural flea and tick-repellant properties.
Our First Hand Experience with Wondercide Flea & Tick Collar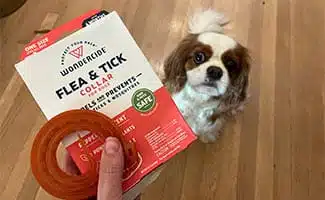 "We got the opportunity to try Wondercide's flea & tick collar in exchange for an honest review. The collar comes in one-size so it fits dogs of all breeds and is adjustable. The smell is very potent but not overwhelming. We only use on Georgie when we are outside and since it last four months, we can use it all summer season (May-August). We are using it in conjunction with his preventative oral medication as another measure to help mitigate unwanted pests. Georgie doesn't seem to mind wearing it since it's lightweight and fits over his normal collar."

– Sadie C., Canine Journal
| Pros | Cons |
| --- | --- |
| All products are chemical free | Some customers say their products aren't totally effective |
| Offers topical treatments, collars, home & yard spray, etc. | A few complaints that the odor of their dog and home sprays is too strong |
| Lab-tested, vegan, and cruelty-free | Not safe for cats |
| Made in the USA | |
| 30-day satisfaction guarantee | |
Price
More Flea And Tick Subscription Boxes
Although these companies didn't make our top choices, you could find a fantastic fit for your pup's ongoing flea/tick prevention and control needs with one of these options.
Amazon Subscribe & Save Review

Amazon carries all the vet-recommended and popular OTC flea and tick preventatives and treatments; however, you'll have to go with Chewy for prescription items. This massive retail site offers recurring deliveries through its Subscribe and Save program. By signing up for their program, you can save 5% on your purchase (15% when you receive 5 or more products in one auto-delivery). And you can opt for delivery every two to seven weeks or monthly up to every six months.
| Pros | Cons |
| --- | --- |
| Huge variety of OTC flea and tick preventatives | No prescription flea and tick products available |
| Also carries home and yard flea/tick treatments | |
| One-stop shopping for dog food, treats, toys, etc. | |
| Save up to 15% by subscribing for recurring deliveries | |
| Easy to cancel anytime | |
| Users report excellent customer service | |
Price
Fuzzy Pet Health Review

Fuzzy is primarily a veterinary telehealth service that gives you unlimited live chat sessions with licensed veterinarians 24/7 for $79 per year, but they also have an online store that offers flea and tick products, a wide variety of pet supplements, and much more. Signing up for auto-shipping gives you 50% off your first order and then 10% off all recurring monthly orders. And Fuzzy telehealth members get an additional 10% off and free shipping with every purchase.
Unfortunately, their flea and tick offerings are limited to Virbac Effipro Plus flea and tick monthly topical preventative, Capstar (nitenpyram) oral flea infestation treatment, MyCodex Flea & Tick Spray, and a few other flea-related products for dogs and cats. They also only offer tick and flea treatment monthly deliveries. Still, if you want unlimited access to veterinarians for a reasonable annual fee (or are already a Fuzzy member), you can benefit from some good discounts with Fuzzy.
| Pros | Cons |
| --- | --- |
| Good savings if you're a Fuzzy member | Limited OTC flea and tick products |
| May be able to get a new prescription online (laws vary by state) | Product pricing isn't as competitive as Chewy and Amazon |
| Affordable annual membership gives you 24/7 access to licensed vets and other perks | |
| Free 7-day trial | |
Price
PetFriendly Box Review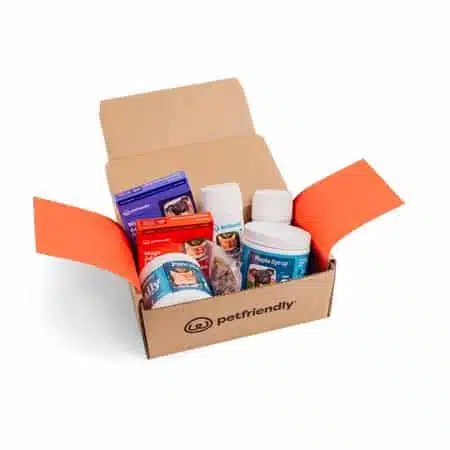 PetFriendly offers a customized monthly flea and tick subscription box, and you can add other pet wellness products for your pup's ongoing at-home health care. You start by taking a short quiz about your dog, and they match him with the appropriate flea and tick monthly treatment for his age and weight.
Their products include Wags Advance flea and tick topical preventative, which contains the same active ingredients as Elanco's K9 Advantix II, an easy-to-administer vet-formulated dental gel, and an all-natural daily multivitamin containing probiotics, glucosamine, biotin, and more.
While they have limited products, it's such a convenient way to ensure you're keeping your pup as healthy as possible and doing your part to help prevent fleas, dental diseases, and more. You can change, pause, or cancel your monthly subscription anytime. And if you have multiple pets in your home, you get discounts (and they even put your pet's name and photo on each product).
| Pros | Cons |
| --- | --- |
| Budget-friendly pricing | Only one flea and tick product available |
| Can add on monthly dental health and vitamin supplements | |
| Multi-pet discounts | |
| Can pause or cancel anytime | |
| Also offers flea and tick preventative for cats | |
Price
You can save 50% off your first box, and they offer free shipping.
Comprehensive Guide To Flea And Tick Control
Be sure to read our ultimate guide on how to get rid of fleas on dogs, so you're armed with all the information you need for a flea-free dog and home. Also, see our reviews of the best flea and tick prevention products with tips to keep your yard tick-free. You may also want to check out our article on home remedies for fleas if you prefer to avoid chemicals.
Tagged With: Comparison, Fleas, Subscription, Ticks