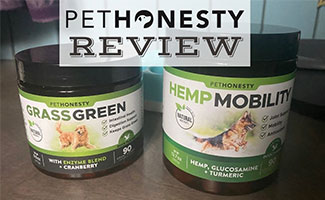 Many commercial dog treats on the market aren't healthy for your pup and can even contribute to obesity. That's why the owners of PetHonesty launched their line of healthy pet treats and other health-related pet products in 2018 — to fill what they saw as a major gap in the marketplace.
PetHonesty now offers an extensive line of vitamins, chews, oils, and other products made with natural, super-healthy ingredients.
What health issues do their many products address? And are their products effective and safe to help your pet? We give you our expert review of PetHonesty to answer these questions and more.
Article Overview
PetHonesty
Pros
Wide variety of healthy, natural treats and supplements
Treats contain no artificial preservatives, corn, wheat, or GMOs
Competitive pricing for high-quality products
30-day money-back guarantee
Subscribe for auto-shipping and save 20%
A majority of positive reviews for effective products and customer support
Cons
Some customers say their dogs don't like the taste
A handful of customers report that their allergy relief products weren't effective
Key Features
Company is based in Austin, TX, and all treats, oils, etc., are made in an FDA-approved facility in the U.S. They follow all good manufacturing process (GMP) guidelines and are SQF (Safe Quality Food) Level 3 certified
Their team has a combined 75 years of experience in the pet and animal health industry, including product development, formulation, and production
110% 30-day satisfaction guarantee – they'll refund your entire purchase plus give you 10% back if you're not happy with their products
Company makes charitable contributions to Austin Pets Alive, a rescue shelter, and The Dog Alliance, a pet therapy nonprofit
Customer support via phone and email
Products & Pricing
Here are some of PetHonesty's most popular products. The following prices are for a one-time purchase, or you can subscribe and save 20%. They also offer more than a dozen different bundles as well as multi-packs for savings of 10% or more. Shipping is free on orders over $49.
Coupon
Get free shipping over $49 – no coupon code required. Use this link to take advantage of this offer.
Soft Chews
All soft chew bottles are 90-count. They recommend storing treats in a cool, dry, and dark place.
10-For-1 Multivitamin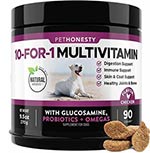 A daily vitamin for joint, heart, brain, eyes, skin, kidney, and immune health
Contains essential vitamins and minerals, glucosamine, probiotics, fish oil, pumpkin
Chicken flavor
Also available: Advanced Multivitamins
Allergy Support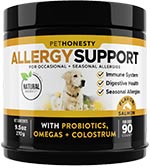 Helps relieve seasonal, environmental, skin, and food allergies and maintain normal histamine levels; improves immunity and digestion; supports joints
Contains omega-3s, colostrum, probiotics, salmon oil, turmeric, vitamin C
Salmon flavor
Other allergy chews available: Allergy SkinHealth, Advanced Allergy SkinHealth, and Salmon SkinHealth
Advanced Hip+Joint
Helps relieve joint pain while helping rebuild joint cartilage and connective tissue to increase flexibility, movement, and mobility; supports a healthy inflammatory response
Contains glucosamine HCI, chondroitin sulfate, MSM, turmeric, vitamin C
Chicken flavor
Other joint and mobility chews available: Hemp Mobility, Pure Mobility, and Turmeric Joint Health
Calming Hemp
Helps reduce stress, anxiety, and hyperactivity
Contains valerian root, chamomile, organic hemp seed oil and powder (no THC), organic ginger root and passionflower, L-Tryptophan
Chicken flavor
Also available: Premium Calming Hemp
CranBladder Health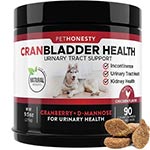 Helps reduce incontinence, UTIs, and bladder infections; strengthens bladder control; supports bladder and urinary tract health; supports immune health
Contains cranberry, D-Mannose, marshmallow root, echinacea
Chicken flavor
Digestive Probiotics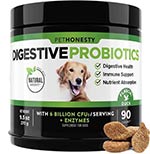 Improves digestion, immunity, and skin issues; helps support proper digestion and bowel health; helps maintain proper gut flora and pH
With 6 billion CFUs per serving, 7 probiotic strains, enzyme blend, pumpkin
Duck or pumpkin flavor
Keep Grass Green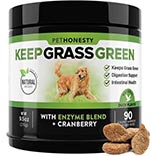 Balances nitrogen in urine to reduce yellow grass spots on your lawn; improves immunity and digestion
Contains DL-Methionine, apple cider vinegar, cranberry extract, brewer's yeast, probiotics
Duck flavor
Our Experience With PetHonesty's Grass Green
When we adopted our new dog 1.5 years ago, we were surprised by how stinky his pee was and how it was killing our grass wherever he peed! So, we found this product and have been giving it to him ever since, with much success. There's no more foul odor in our yard, and the lawn stays green. I highly recommend this product. – Michelle S., Canine Journal
Oils & Other Products
Anti-Scratch Salmon Oil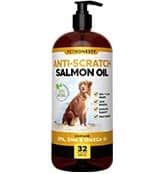 Helps improve itchy, red skin; promotes the immune system and joint, heart, skin, coat, and brain health
Pump directly onto food and mix well (can use for cats too)
Contains all-natural Alaskan salmon oil (no filler oils), EPA omega-3, DHA omega-3
$29.99 (32 oz)
Salmon Oil With Hemp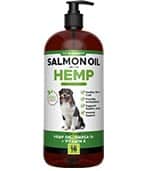 Promotes healthy inflammatory pathways, supports healthy skin and joints, and maintains a normal immune response
Pump directly onto food and mix well (can use for cats too)
Contains all-natural Alaskan salmon oil, hemp seed oil (no THC), omega-3s, vitamin E
$34.99 (16 oz)
Wild Caught Omega-3 Fish Oil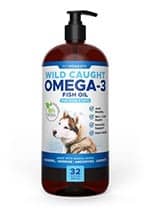 Supports health for skin, coat, joints, brain, heart, and immune systes
Pump directly onto food and mix well (can use for cats too)
Contains anchovy oil, herring oil, mackerel oil, sardine oil, EPA omega-3, DHA omega-3
$29.99 (32 oz)
Chlorhexidine Itch-Relief Shampoo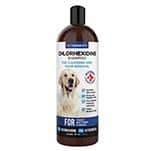 For dogs, cats, and horses suffering from wounds, skin infections, rashes, hot spots, and itchiness
Use with warm water and rinse
Contains 2% chlorhexidine, 1% ketoconazole, soothing aloe
$24.99 (16 oz)
Otic Ear Cleaner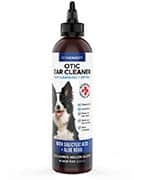 Helps prevent ear infections, itching, and odor
Contains salicylic acid, benzoic acid, propylene glycol, aloe
$17.99 (8 oz)
What Do Customers Think Of PetHonesty?
Positive Reviews
I love the products I've been using on my 2 year old blue pit. she had awful skin allergies and I have spent thousands of dollars at the vet this year. she has even had allergy testing and on allergies drops daily. I did not see improvement until we started using the skin chews and allergy chews. She loves them and I plan to continue ordering and using. Great results. – Sarah F., Facebook 1/3/2021
Allergy relief immunity supplement – great product for my 10 year old English Bulldog. She suffers from itchy skin and allergies and this seems to be helping with that. They are stinky but she loves the flavor! – Nicocallie, Trustpilot 12/12/2020
Negative Reviews
No stars – Was hopeful but extremely disappointed. Gave Allergy Relief and Probiotics went through two containers of each. Gave her one of each per day. Did nothing for her. Maybe a better product will help to improve results. Waste of time and money. – Carrie D., Facebook 11/3/2020
I really had hopes for the advanced hip + joint for my 11 yr old German Shepherd but he absolutely hates them and no matter what I do he will not eat them which is not like him at all. He is a dog who will literally eat anything, so since I have to put them down his throat I'd rate a 1 star sadly and will have to find something else to go with his super snouts green lipped muscle powder. – Trish F., Facebook 9/22/2020
Helping Dogs With Arthritis
In this brief video, a holistic veterinarian shares her knowledge about helping dogs of all ages with arthritis and how PetHonesty's Hemp Mobility chews can help your dog's aches and pains.
Are You Looking For Healthier Dog Food?
If you believe that your dog deserves the highest-quality treats, we think PetHonesty's products will do the trick. We've seen hundreds of positive online reviews from satisfied customers, including members of our team here at Canine Journal.
But don't just stop at healthy dog treats and supplements. You may also want to make sure your dog is getting the best all-natural dog food. If you're not a fan of over-processed commercial kibble, see our article on the best dog foods by type. We review many fresh dog food options that the companies can customize food for your dog's individual health needs and all-natural kibble if your dog prefers dry food. It also covers raw, organic, vegetarian, grain-free, and many other types of dog food that you may not have even considered.