To keep the lights on, we receive affiliate commissions via some of our links. Our review process.
Urinary tract infections (UTIs) in dogs are caused by bacteria that make their way into the bladder (and sometimes travel up to the kidneys). If your dog is prone to UTIs, you probably feel helpless at times.
What can you give a dog for a urinary tract infection? Is there a dog UTI treatment over the counter? How can you help prevent your dog from getting UTIs? We'll answer these questions and more.
Dog UTI Treatment
First, you'll want to be sure that your dog has a urinary tract infection. You should take your dog to the vet to diagnose the UTI (unless your dog suffers from regular UTIs and you have a game plan that you have gone over with your dog's vet.)
Your vet will analyze your dog's urine and may take some x-rays or perform an ultrasound to get a closer look at your dog's urinary tract, especially the bladder. For treatment, your veterinarian will prescribe medication, such as antibiotics, to treat the infection.
Dog UTI Symptoms
What are the signs of UTI in dogs? Common symptoms include:
Needing to urinate more frequently
Accidents in the house
Straining or crying out when urinating
Urine that's bloody, cloudy, or both
Licking the genital area
Urine with a strong odor
Fever
Watch this video by Pets Best Insurance to help you know what to look for in a UTI.
Dog UTI Home Remedy
There are many dog UTI home treatment options to help your dog feel more comfortable and recover. Below are six dog UTI home remedy options.
Please check with your vet before administering a dog UTI treatment at home.
Add one teaspoon (for small dogs) or 1-2 tablespoons (for large dogs) of apple cider vinegar to your dog's water bowl. Repeat up to 2 times per day for up to 7 to 10 days, depending on how severe the UTI is. Be sure to have a second bowl of water without apple cider vinegar in case your dog doesn't like the taste.
Have your dog soak in a hot bath (make sure it's not too hot and the level isn't too deep) for 10 minutes to help relieve the muscles. Wash your dog with a mild soap and pay attention to the genital area. Don't leave soap on the area for too long, and be sure to rinse the area with clean, warm water. Do this every few days until the UTI is gone. Learn more about bathing your dog.
Encourage your dog to drink more water by placing extra water bowls around the house. Change the water once or twice a day to make sure it's fresh.
Crush one 500mg Vitamin C tablet and sprinkle it over your dog's food. Do this once per day for 7 days.
Give your dog 1-3 teaspoons of citrus juice. The juice should NOT be from concentrate and SHOULD be all-natural. Make sure there is no added sugar because it could aggravate your dog's UTI.
Add about 2 teaspoons of chopped blueberries or cranberries to your dog's food. Do this twice per day for 7 to 10 days.
Can I Give My Dog Cranberry Juice?
We have heard time and time again that cranberry juice can help get rid of a UTI for humans. But what about dogs? Is cranberry juice for a dog UTI safe? We recommend speaking to your dog's vet about this. Each dog is unique, and what works for one may be dangerous for another. We strongly urge you to speak with your dog's vet before administering any type of treatment.
Can I Give My Dog Cranberry Pills?
Our answer is the same as above. Please check with your dog's veterinarian before giving cranberry pills to your dog.
Pet Insurance Can Help You And Your Pup
If you'd rather leave UTI treatment to the experts — especially if you're worried about your dog developing a bladder or urinary tract ailment, you're not alone. Bladder/urinary tract disease is one of the top 10 most vet-treated conditions for dogs,1,2 and continued treatment can hit your finances.
You may want to consider signing up for pet insurance as a proactive measure to lower your financial risk for potential health threats during your dog's lifetime. Why? Pet insurance is one of the best things you can do for your dog — not only for the health of your pup, but to save you from financial trouble should an accident, illness, or pet emergency arise.
Humans have health insurance, so our furry friends should too. That way you'll never have to choose between an expensive treatment and your pet's suffering or even his life. Pet insurance gives you peace of mind, so you can make better and less emotional decisions in the face of a crisis.
Read about the best pet insurance providers to learn more.
Does My Dog Have An Inherited Urinary Disease?

Some inherited diseases can cause chronic urinary problems in dogs — and you can test your dog to see if he's at risk. EasyDNA has an at-home DNA test kit that you can give your dog, mail it in, and get results in just a few weeks. Diseases tested for include:
Hyperuricosuria: a genetic disorder that involves elevated levels of uric acid in the urine, which can cause the formation of stones in their bladders and sometimes kidneys. This EasyDNA test is available for all dog breeds.
Cystinuria: another autosomal recessive disorder that causes the kidneys to fail to reabsorb amino acids (cystine). This can lead to the formation of cystine crystals and stones in the urinary tract, leading to possible blockage of the urethra. This EasyDNA test is available for Labrador Retrievers and Newfoundlands.
How To Prevent UTI In Dogs (Infographic)
Below are three tips for preventing bladder infection in dogs.
Make sure your dog is drinking plenty of fresh water
Keep your dog well-groomed, especially around the genital area
Encourage potty breaks for your dog; the longer urine sits in the bladder, the more opportunity there is for harmful bacteria to multiply and cause an infection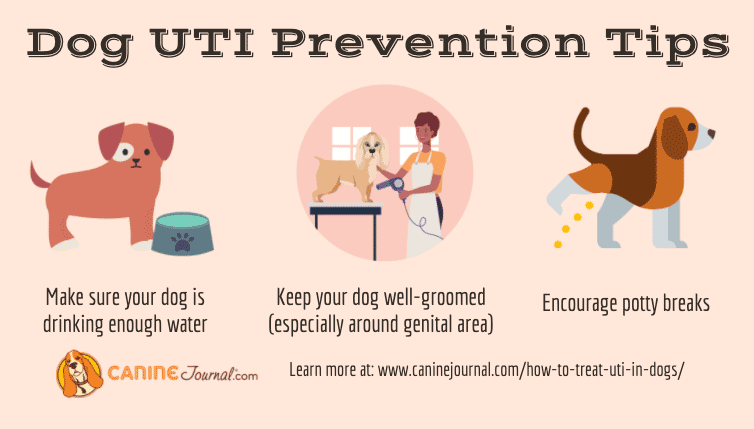 Frequently Asked Questions
Here are some of the questions our readers ask most often about UTIs in dogs.
How Do Dogs Get A UTI?
The most common cause of a UTI in dogs is bacteria that enter the urethral opening and travels up the urethra and into the bladder, where it then multiplies and causes infection. This bacteria can come from feces or debris that enters the area. Bacteria is also more likely to develop if your dog has a weakened immune system.
Can Male Dogs Get A UTI?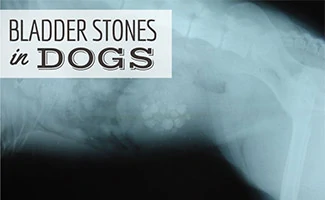 Female dogs are more prone than male dogs to getting UTIs, but male dogs can still get them. Older female dogs, dogs with diabetes, and dogs who have bladder stones are most at risk. But other health problems, such as Cushing's disease and chronic kidney disease, can also contribute to increased UTIs.
What Antibiotic Is Used To Treat UTI In Dogs?
Often, veterinarians will prescribe an antibiotic to help provide immediate relief to a dog with a UTI. It's common for vets to prescribe broad-spectrum antibiotics, such as amoxicillin, amoxicillin-clavulanic acid, ampicillin, and potentiated sulfonamides. These antibiotics target a wide array of UTI-causing bacteria.
Your vet may decide to do a urine culture to determine the specific type of bacteria that's causing your dog's UTI. This will allow your vet to prescribe the antibiotic that most effectively targets that bacteria.
How Long Does A Dog UTI Last?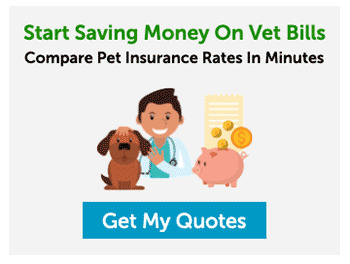 Antibiotic treatment typically lasts from 10 to 14 days, and dogs usually feel better within just a few days. In complicated cases, treatment could take up to four to six weeks for the UTI to entirely clear up. Veterinarians typically do one or more follow-up cultures to make sure the antibiotic is being effective.
Even if your dog feels better within a few days, give them the full course of treatment. Do not stop treatment early. Stopping the treatment early means that not all of the infection-causing bacteria will be killed. Also, the bacteria that are still lingering around increase the risk of future antibacterial resistance.
Can A Dog UTI Cure Itself?
It's very risky to leave a dog UTI untreated. UTIs can lead to serious and even life-threatening problems without treatment, including dysfunction of the lower urinary tract, prostate gland inflammation, blood poisoning, kidney infection, and kidney failure.
Are UTIs Contagious In Dogs?
No, UTIs are not contagious from pet to pet or from pets to humans.
Why Does My Dog Keep Getting UTIs?
Unfortunately, some dogs are more prone to recurrent UTIs. This could be due to an underlying health condition, like diabetes, bladder stones, or a weakened immune system. In some female dogs, chronic UTIs can occur if there are excessive skin folds around the vulva or vagina. These folds can trap moisture, creating a breeding ground for bacteria.
If your dog has had several UTIs in close succession, it could be that the infection never totally cleared up. Relapse UTIs usually occur because the infection didn't respond to the antibiotic (or a least it wasn't completely eliminated). Signs of a relapse infection can take anywhere from a week to a month or longer to appear.
Dog UTI Test
Did you know you can find out if your dog has a UTI without visiting the vet? Try one of these dog UTI tests to detect a urinary tract infection in dogs as well as other illnesses. It could save you time and money at the vet's office, especially if your dog is prone to UTIs. If the test comes back positive, you can then call your vet to get advice on how to proceed with treatment.
Sources: [1] Nationwide Pet Insurance, [2] Healthy Paws Pet Insurance
Tagged With: Reviewed By Dr. Pendergrass, DVM, Urinary