To sustain this free service, we receive affiliate commissions via some of our links. This doesn't affect rankings. Our review process.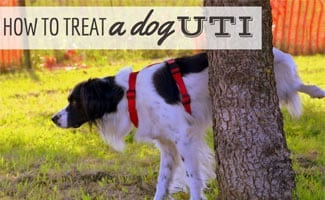 If your dog is prone to urinary tract infections (UTIs), you probably feel helpless at times. What can you give a dog for a urinary tract infection? Is there a dog UTI treatment over-the-counter? How can you help prevent your dog from getting UTIs? We'll answer these questions and more.
Article Overview
Dog UTI Treatment
First, you'll want to be certain that it is a urinary tract infection that your dog has. We suggest taking your dog to the vet to confirm the UTI (unless your dog suffers from regular UTIs and you have a game plan that you have gone over with your dog's vet.) Your veterinarian may suggest some dog UTI medicine or dog UTI antibiotics.
Dog UTI Symptoms
Watch this video by Pets Best Insurance to help you know what to look for in a UTI.
Dog UTI Home Remedy
Get 4 Free Pet Insurance Quotes
There are many dog UTI home treatment options to help your dog feel more comfortable and recover. Below are six dog urinary tract infection home remedy options.
Please check with your vet before administering a dog urinary tract infection treatment.
Add one teaspoon (for small dogs) or 1-2 tablespoons (for big dogs) of apple cider vinegar to your dog's water bowl. Repeat up to two times per day for up to seven to ten days, depending on how severe the UTI is. Be sure to have a second bowl of water without apple cider vinegar in case your dog doesn't like the taste.
Have your dog soak in a hot bath (make sure it's not too hot and the level isn't too deep) for ten minutes to help relieve the muscles. Wash your dog with a mild soap and pay attention to the genital area. Don't leave soap on the area for too long and be sure to rinse the area with clean, warm water. Do this every few days until the UTI is gone. Learn more about bathing your dog.
Encourage your dog to drink more water by placing extra water bowls around the house. Change the water once or twice a day to make sure it's fresh.
Crush one 500mg Vitamin C tablet and sprinkle it over your dog's food. Do this once per day for seven days.
Give your dog one to three teaspoons of citrus juice. The juice should NOT be from concentrate and SHOULD be all natural. Make sure there is no added sugar because it could aggravate your dog's UTI further.
Add about two teaspoons of chopped blueberries or cranberries to your dog's food. Do this twice per day for seven to ten days.
Can I Give My Dog Cranberry Juice?
We have heard time and time again that for humans, cranberry juice can help get rid of a UTI. But what about dogs? How much cranberry juice for a dog UTI and is it safe? We recommend speaking to your dog's vet about this. Each dog is unique and what works for one, may be dangerous for another. We strongly urge you to speak with your dog's vet before administering any type of treatment.
Can I Give My Dog Cranberry Pills
We don't want to sound like a politician here, but our answer is the same as above. Please check with your dog's veterinarian before giving cranberry pills to your dog.
3 Dog UTI Prevention Tips
Below are three tips for preventing bladder infection in dogs.
Make sure your dog is drinking enough water
Keep your dog well-groomed, especially around the genital area
Encourage potty breaks for your dog; the longer urine sits in the bladder; the more opportunity for bacteria to multiply.
Dog UTI Test
Did you know you can find out if your dog has a UTI without visiting the vet? Try one of these dog UTI tests to detect a urinary tract infection in dogs as well as other illnesses. It could save you time and money at the vet's office, especially if your dog is prone to UTIs. If the test comes back positive, you can then call your vet to get advice on how to proceed with treatment.
How often does your dog get a UTI?
Disclaimer: Information regarding insurance company offerings, pricing and other contract details are subject to change by the insurance company at any time and are not under the control of this website. Information published on this website is intended for reference use only. Please review your policy carefully before signing up for a new pet health insurance contract or any other contract as your unique circumstances will differ from those of others who may be used for example purposes in this article.
We are a participant in the Amazon Services LLC Associates Program, an affiliate advertising program designed to provide a means for us to earn fees by linking to Amazon.com and affiliated sites.
Disclaimer: The information provided through this website should not be used for diagnosing or treating a health problem or a disease. It is not a substitute for professional care. If you have or suspect you may have a health problem, you should consult your health care provider.
Disclaimer: This website contains reviews, opinions and information regarding products and services manufactured or provided by third parties. We are not responsible in any way for such products and services, and nothing contained here should be construed as a guarantee of the functionality, utility, safety or reliability of any product or services reviewed or discussed. Please follow the directions provided by the manufacturer or service provider when using any product or service reviewed or discussed on this website.