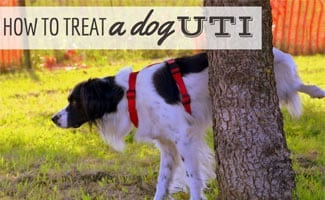 If your dog is prone to urinary tract infections (UTIs), you probably feel helpless at times. What can you give a dog for a urinary tract infection? Is there a dog UTI treatment over-the-counter? How can you help prevent your dog from getting UTIs? We'll answer these questions and more.
Article Overview
Dog UTI Treatment
First, you'll want to be certain that it is a urinary tract infection that your dog has. We suggest taking your dog to the vet to confirm the UTI (unless your dog suffers from regular UTIs and you have a game plan that you have gone over with your dog's vet.) Your veterinarian may suggest some dog UTI medicine or dog UTI antibiotics.
Dog UTI Symptoms
Watch this video by Pets Best Insurance to help you know what to look for in a UTI.
Dog UTI Home Remedy
There are many dog UTI home treatment options to help your dog feel more comfortable and recover. Below are six dog urinary tract infection home remedy options.
Please check with your vet before administering a dog urinary tract infection treatment.
Add one teaspoon (for small dogs) or 1-2 tablespoons (for big dogs) of apple cider vinegar to your dog's water bowl. Repeat up to two times per day for up to seven to ten days, depending on how severe the UTI is. Be sure to have a second bowl of water without apple cider vinegar in case your dog doesn't like the taste.
Have your dog soak in a hot bath (make sure it's not too hot and the level isn't too deep) for ten minutes to help relieve the muscles. Wash your dog with a mild soap and pay attention to the genital area. Don't leave soap on the area for too long and be sure to rinse the area with clean, warm water. Do this every few days until the UTI is gone. Learn more about bathing your dog.
Encourage your dog to drink more water by placing extra water bowls around the house. Change the water once or twice a day to make sure it's fresh.
Crush one 500mg Vitamin C tablet and sprinkle it over your dog's food. Do this once per day for seven days.
Give your dog one to three teaspoons of citrus juice. The juice should NOT be from concentrate and SHOULD be all natural. Make sure there is no added sugar because it could aggravate your dog's UTI further.
Add about two teaspoons of chopped blueberries or cranberries to your dog's food. Do this twice per day for seven to ten days.
Can I Give My Dog Cranberry Juice?
We have heard time and time again that for humans, cranberry juice can help get rid of a UTI. But what about dogs? How much cranberry juice for a dog UTI and is it safe? We recommend speaking to your dog's vet about this. Each dog is unique and what works for one, may be dangerous for another. We strongly urge you to speak with your dog's vet before administering any type of treatment.
Can I Give My Dog Cranberry Pills
We don't want to sound like a politician here, but our answer is the same as above. Please check with your dog's veterinarian before giving cranberry pills to your dog.
Pet Insurance Can Help You And Your Pup
Get 4 Free Pet Insurance Quotes
If you'd rather leave UTI treatment to the experts — especially if you're worried about your dog developing a bladder or urinary tract ailment, you're not alone. In fact, bladder/urinary tract disease is one of the top 10 most vet-treated conditions for dogs, and continued treatment can hit your finances.
You may want to consider signing up for pet insurance as a proactive measure to lower your financial risk for potential health threats during your dog's lifetime. Why? Pet insurance is one of the best things you can do for your dog — not only for the health of your pup, but to save you from financial trouble should an accident, illness, or pet emergency arise.
Humans have health insurance, so our furry friends should too. That way you'll never have to choose between an expensive treatment and your pet's suffering or even his life. Pet insurance gives you peace of mind, so you can make better and less emotional decisions in the face of a crisis.
Check out our comparison of the top three pet insurance providers to learn more.
3 Dog UTI Prevention Tips
Below are three tips for preventing bladder infection in dogs.
Make sure your dog is drinking enough water
Keep your dog well-groomed, especially around the genital area
Encourage potty breaks for your dog; the longer urine sits in the bladder; the more opportunity for bacteria to multiply.
Does My Dog Have An Inherited Urinary Disease?
Some inherited diseases can cause chronic urinary problems in dogs — and you can test your dog to see if he's at risk. EasyDNA has an at-home DNA test kit that you can give your dog, mail it in, and get results in just a few weeks. Diseases tested for:
Hyperuricosuria: an autosomal recessive disorder that involves elevated levels of uric acid in the urine, which can cause the formation of stones in their bladders and sometimes kidneys. This EasyDNA test is available for all dog breeds.
Cystinuria: another autosomal recessive disorder that causes the kidneys to fail to reabsorb amino acids (cystine). This can lead to the formation of cystine crystals and stones in the urinary tract, leading to possible blockage of the urethra. This EasyDNA test is available for Labrador Retrievers and Newfoundlands.
Dog UTI Test
Did you know you can find out if your dog has a UTI without visiting the vet? Try one of these dog UTI tests to detect a urinary tract infection in dogs as well as other illnesses. It could save you time and money at the vet's office, especially if your dog is prone to UTIs. If the test comes back positive, you can then call your vet to get advice on how to proceed with treatment.
How often does your dog get a UTI?