To sustain this free service, we receive affiliate commissions via some of our links. This doesn't affect rankings. Our review process.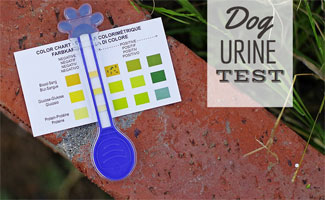 A pet urine test gives you the results for urine-related illnesses, including bladder infections, kidney stones and urinary tract infections. This can be very handy for pet owners whose dogs experience UTIs frequently (learn more about treating UTIs).
Instead of taking your dog to the vet for a dog UTI test, you can conduct one at home by purchasing a urine test for dogs. Then you can consult your vet about administering your dog's medication, if needed.
Article Overview
Best All-In-One Kit: KIT4CAT CheckUp At Home Wellness Test For Dogs Review
View on Amazon
The CheckUp Wellness Test is an all-inclusive kit that includes a disposible urine collection cup, vial and pipette to help you collect your dog's urine and 2 testing strips you'll need to test your dog's urine.
The test can help identify urinary tract infections (UTIs), blood in the urine, high glucose levels and kidney failure. The test detects the presence of the following in your dog's urine:
The kit also includes a color-coded chart to help you decipher results. While you get all the "equipment" you need to test your dog's urine, this kit doesn't test for nearly as many parameters as the test strips we review below.
Price
Best Test Strips: IVITA Health Mate Vet-10 Review
View on Amazon
Unlike the kit we review above, Health Mate's product is only test strips. However, these strips give you more comprehensive results than the CheckUp kit. And you get 50 test strips, so it's a great value if your dog suffers from regular UTIs.
In addition to UTIs and bladder infections, these test strips can also help diagnose diabetes, kidney problems and metabolic disorders (but be sure to share your dog's results with your veterinarian for a complete diagnosis). Learn more about bladder stones in dogs.
Health Mate's test strips analyze your pet's urine for the presence of:
Price
Why Should You Analyze Your Pet's Urine?
Even if your pet doesn't have any health conditions, you can still test their urine. Urine test strips for dogs and cats can display warning signs before an illness is too far advanced.

Your Pet Still Needs To See The Vet
As a friendly reminder, a urinalysis test for dogs isn't meant to replace your pet's annual vet checkup. These are intended to be used as a preventative form of testing to help keep your pet healthy in between vet visits.
Why are you considering using a pet urine test?
We are a participant in the Amazon Services LLC Associates Program, an affiliate advertising program designed to provide a means for us to earn fees by linking to Amazon.com and affiliated sites.
Disclaimer: The information provided through this website should not be used for diagnosing or treating a health problem or a disease. It is not a substitute for professional care. If you have or suspect you may have a health problem, you should consult your health care provider.
Disclaimer: This website contains reviews, opinions and information regarding products and services manufactured or provided by third parties. We are not responsible in any way for such products and services, and nothing contained here should be construed as a guarantee of the functionality, utility, safety or reliability of any product or services reviewed or discussed. Please follow the directions provided by the manufacturer or service provider when using any product or service reviewed or discussed on this website.