To sustain this free service, we receive affiliate commissions via some of our links. This doesn't affect rankings. Our review process.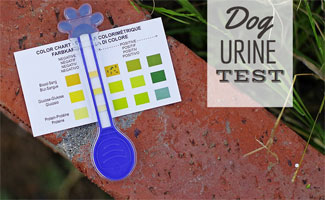 A pet urine test gives you the results of urinalysis related illness including bladder infections, kidney stones, and urinary tract infections. This can be very handy for pet owners whose dogs experience UTI's frequently (learn more about treading UTI's).
Instead of taking your dog to the vet for a dog UTI test, you can conduct one at home by purchasing a urine test for dogs. Then you can consult your vet about administering your dog's medication, if needed.
There are two companies we'd like to discuss with you in regards to their urinalysis test for dogs: Petnostics and PetConfirm. We review them both below.
Petnostics Review
Petnostics has two urinalysis tests: Urine Test Kit and Disease-Specific Tests. We'll go over the details of both below.
Urine Test Kit
The Urine Test Kit is meant to be used as a way to check your pet's overall health. Petnostics has a three-step process for analyzing your pet's urine:
Collect your pet's urine (If you're collecting your dog's urine it can be a little tricky, which is why Petnostics offers a urine collector. If you're using this for your cat, you can purchase hydrophobic kitty litter.)
Seal the cup
Run the diagnostics through the Petnostics app
The urine strips used in a Petnostics test kit analyze your pet's urine for the presence of the following:
Bilirubin: Too much bilirubin can lead to liver disease such as jaundice. Small amounts of bilirubin in your dog's urine is normal.
Blood: Blood in the urine can be a cause of cancer, familial hematuria (hereditary) or urinary tract infections (UTI).
Glucose: If glucose is found in your dog's urine it could be due to a variety of complications, which is why a vet's care and attention to it is important.
Ketones: There should be no ketones in your dog's urine. If there is, it typically means your dog is burning stored fat for energy instead of glucose. This is common for pets who refuse to eat or have diabetes.
Leukocytes: Leukocytes are also called white blood cells, and it is best when few or none are found in urine. When more are present, it can mean your dog has a bacterial infection.
Nitrite: The presence of nitrite can mean your dog has a bacterial UTI.
pH: The pH level for a healthy dog is typically between 6.5 to 7.0. If the pH is not within this range, it may allow bacteria to thrive. However, your dog's pH level may fluctuate throughout the day, so if your dog's pH level does not fall within this range, you shouldn't be immediately alarmed.
Protein: Protein in your dog's urine can be associated with lower urinary tract disease, renal dysfunction or damage or reproductive tract disease.
Specific gravity: Normal or high urine specific gravity typically indicates that your dog's kidneys are functioning properly. However, if it is high, it can also mean that your dog has developed diabetes. If your dog has low urine specific gravity, it could mean your dog's kidneys are failing.
Urobilinogen: Urobilinogen is a break down of hemoglobin in your dog's red blood cells. A small amount in your dog's urine is normal. Abnormal levels of urobilinogen can mean your dog has hemolytic anemia or gallstones.
Each Urine Test Kit can be used one time.
Disease-Specific Tests
The Disease-Specific Tests are ideal for pet owners whose pet suffers from a chronic condition. They are meant to be used to help monitor your pet's health status from the comfort of home. Examples of these health conditions include diabetes, UTI's and bladder stones.
Each Disease-Specific Test includes five test strips.
Price
Urine Test Kit:

$11.29

Urine Collector:
Hydrophobic Cat Litter:
Read our in-depth review of Petnostics
PetConfirm Review
PetConfirm offers the Dog & Cat General Wellness Testing Kit, which tests for UTI's, hematuria, kidney failure and diabetes through urinalysis. After two minutes of testing the urine, you'll have results.
The tests detect the presence of the following in your pet's urine:
Blood
Leukocytes
Nitrite
Glucose
Protein
Each General Wellness Kit includes two tests.
Dog Urine Test Kit:
Non-Absorbent Reusable Cat Litter:
Why Should Your Analyze Your Pet's Urine?
Even if your pet doesn't have any health conditions, you can still test their urine. Urine test strips for dogs can display warning signs before an illness is too far advanced.
Your Pet Still Needs To See The Vet
As a friendly reminder, a urinalysis test for dogs isn't meant to replace your pet's annual vet checkup. These are meant to be used as a preventative form of testing to help keep your pet healthy in between vet visits.
Why are you considering using a pet urine test?
We are a participant in the Amazon Services LLC Associates Program, an affiliate advertising program designed to provide a means for us to earn fees by linking to Amazon.com and affiliated sites.
Disclaimer: The information provided through this website should not be used for diagnosing or treating a health problem or a disease. It is not a substitute for professional care. If you have or suspect you may have a health problem, you should consult your health care provider.
Disclaimer: This website contains reviews, opinions and information regarding products and services manufactured or provided by third parties. We are not responsible in any way for such products and services, and nothing contained here should be construed as a guarantee of the functionality, utility, safety or reliability of any product or services reviewed or discussed. Please follow the directions provided by the manufacturer or service provider when using any product or service reviewed or discussed on this website.