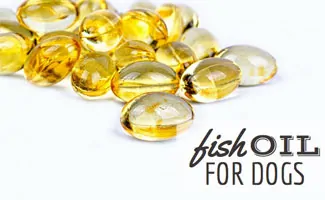 If your dog eats a diet consisting primarily of Omega-6 fats, aka heavy in grains and plant-based oils, they may need fish oil to help balance out their diet. However, if your dog eats a grain-free diet consisting of raw, grass-fed meats, supplementation probably isn't necessary.
Either way, you'll want to consult your vet before adding anything new to your dog's diet.
Benefits Of Fish Oil For Dogs
There are several reasons to consider adding fish oil to your dog's daily routine:
Lessens shedding
Adds moisture to the skin
Improves the coat
Reduces inflammation from arthritis, allergies, etc.
Lowers blood pressure
Promotes weight loss in overweight dogs
Improves the immune system
Fish Oil Can Improve Your Dog's Health
One of the most common reasons for supplementing with fish oil for dogs is dry skin. Fish oil for dogs' dry skin is a great way to get your pup's skin feeling young and vibrant again. By giving your dog an appropriate amount of fish oil, you'll notice a change in his appearance and overall health.
Best Fish Oil For Dogs: PetHonesty Fish Oil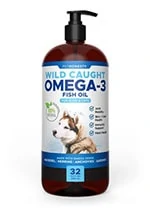 PetHonesty's fish oil is made with natural, wild-caught anchovies, herring, mackerel, and sardines. Formulated for dogs (and cats) of all breeds and sizes, this oil blends together four fresh fish caught from Iceland's coast. It is rich in several fatty acids, including Omega-3, docosahexaenoic acid (DHA), eicosapentaenoic acid (EPA), and more. It helps with cellular inflammation, neurological health and is purified to remove the fishy odor and taste found in other fish oils. Manufactured in the USA and FDA-approved, and backed by a money-back guarantee.
Price:
$24.99 for a 32-ounce bottle (save 20% on subscriptions)
Dosage
Pump oil directly into your dog's food and mix well. PetHonesty suggests you use one pump (2ml) for every 25 lbs of your pet's weight.
Read Our Full PetHonesty Review
Best Salmon Oil For Dogs: Grizzly Salmon Oil
This Grizzly Salmon Oil is the best-selling fish oil for dogs on Amazon. It is 100% pure wild Alaskan salmon oil and dispenses from a pump bottle for convenience. Since it is all-natural, the color may vary from bottle to bottle. Just squirt some into your dog's food daily and see the changes in your dog.
Prices:
Dosage
What's the proper fish oil dosage for dogs? For this specific fish oil, the dosage is as follows.
| Dog Weight | Pumps |
| --- | --- |
| < 12.5 pounds | 1/2 |
| 12.5 to 25 pounds | 1 |
| 25 to 50 pounds | 2 |
| 50 to 75 pounds | 3 |
| > 75 pounds | 4 |
Tip:
We suggest easing into the dosage as you add it to the diet. For example, if your dog weighs 80 pounds, don't squirt four pumps of fish oil into his food on the first day. Try half a pump and work your way up to the full four pumps over a week or two. Talk to your vet about this.
Best Salmon Chews: PetHonesty Salmon SkinHealth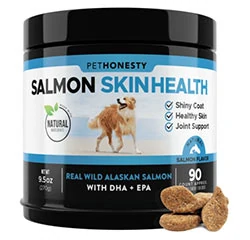 If you are looking for an alternative to oils or pills, PetHonesty's Salmon SkinHealth Chews are a tasty alternative. Made with real wild Alaskan salmon, carrot, sweet potato, and Flaxseed, they have DHA Omega-3 fatty acid, kelp, vitamin E and C, DHA, and other Omega fatty acids. Enjoy the same added health benefits with no additives like wheat, corn, soy, dairy with no harmful chemicals, preservatives, or artificial flavoring. PetHonesty makes their products in the USA in a Good Manufacturing Practices certified and FDA approved facility, so you can trust that you're giving your pup only the best with this daily supplement.
Price:
$25.99 for one-time purchase (save 20% on subscriptions)
Dosage
PetHonesty recommends one chew per day per 25 lbs of your dog's weight.
Best Krill Oil: Viva Labs Krill Oil
What is krill oil? Krill Oil is another supplement that delivers more Omega-3 to your dog's diet. It is an oil derived from shrimp-like crustaceans that whales eat. This is typically more expensive, but it has a higher absorption rate, so dogs typically need smaller amounts. The Viva Labs Krill Oil is a popular option on the market. It is in pill form and is 100% pure Antarctic Krill Oil. If you need a way to give your dog its daily dose, we suggest the Greenies Pill Pockets.
Price
Video: Side Effects Of Fish Oil For Dogs
This video does a good job explaining the side effects of fish oil. Having too much fish oil can be dangerous.
Best Dog Vitamins
If you're looking for additional vitamins that would be healthy for your canine, be sure to check out the following and learn more in our detailed guide to dog vitamins and supplements.
Tagged With: Supplements