To keep the lights on, we receive affiliate commissions via some of our links. Our review process.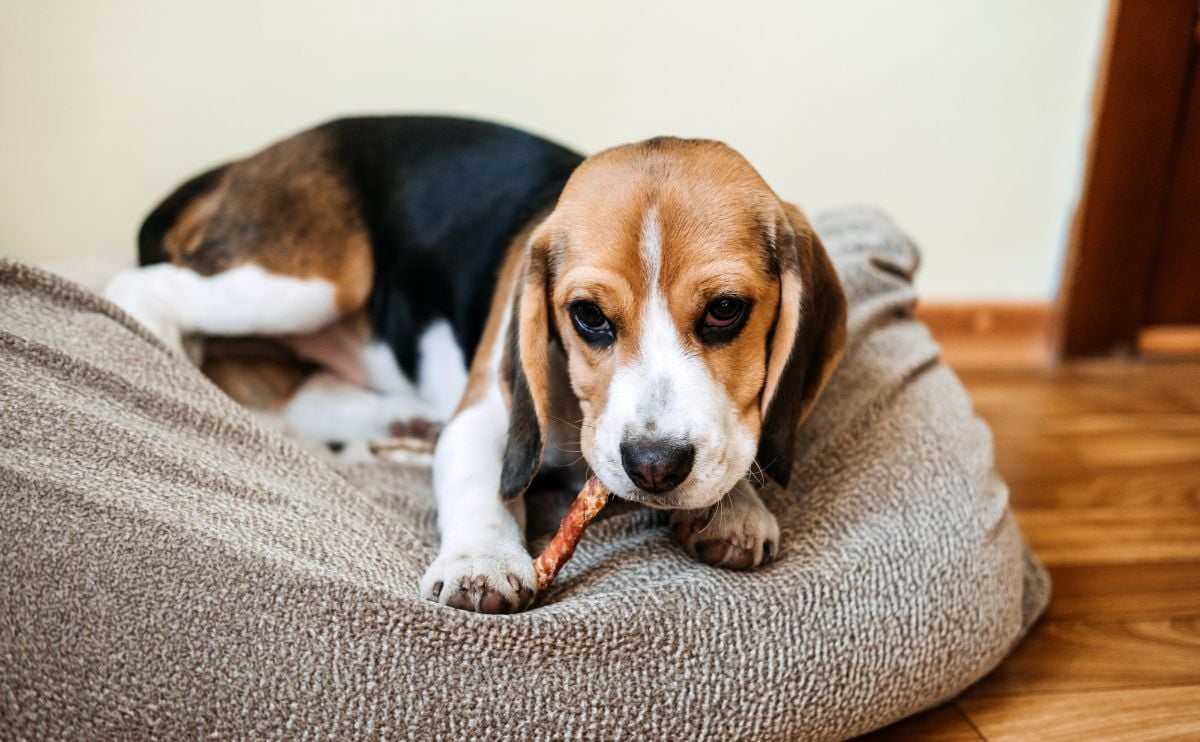 Do you have a champion chewer in your house? Always finding your shoes and other items you leave on the floor mauled when you get home? As dog owners, we know our pups love to chew (some much more than others!) — and they need to keep themselves occupied when they're not getting attention. It's tough to find sturdy chew toys for dogs who make it their life's mission to gnaw on anything they can get their paws on.
There are a lot of chew treats, bones, and rawhide products on the market. But does your dog seem to rip right through them and gobble them up quickly? And what's really in those products, anyway? Bully sticks for dogs are a safer, more nutritional alternative to a lot of the "junk" on the market. But what exactly are bully sticks, and what are they made from? Are they truly safer for dogs? Keep reading to find answers to these common questions and more.
What Are Bully Sticks Made Of?
What is a bully stick? To put it bluntly, bully sticks come from bull penises, called pizzles (from an old-fashioned word for penis). Pizzles are 100% beef tendon – all-natural, and contain nutritional value.
The manufacturers dry, drain, and flavor pizzles before placing them on the market for your dog's enjoyment. Many of these sticks are all-natural and last much longer than similar products on the market, like rawhide or manufactured bones.
Are Bully Sticks Safe For Dogs?
There's conflicting information about the safety of bully sticks for dogs, and wondering is beef pizzle safe for dogs. Most of the buzz on the web from veterinarians and all-natural dog-product websites say these chews are not only safe but they also provide easily digestible beef protein nutrition, rich in taurine (an amino acid that contributes to your dog's healthy heart muscles and eyesight).
These same sources say they are low-fat and effective for helping keep your dog's teeth clean. But make sure that the bully stick isn't too hard for your dog's teeth, which could cause a tooth injury. A good rule of thumb is that if you can indent the chew with a fingernail, then it's not too hard.
Are Bully Sticks Safe For Puppies?
Even though they're easily digestible, bully sticks can pose a choking hazard, especially for smaller dogs and young puppies. As your dog chews the stick down to a few inches wide, it can be small enough that your dog tries to swallow it whole. But at that size and shape, it can become lodged in your dog's throat. So, it's important to keep an eye on your pup when he's enjoying one and take it away once it gets smaller to prevent choking.
Our research found one study published in 2013 that analyzed 26 different bully sticks made by different manufacturers. They found a small sample of bully sticks that were packed with calories and an even smaller subsection contaminated with potentially harmful bacteria. However, these Tufts University research findings make us question the findings of this study, not only because the study sample was small but also because the bacteria they found only accounted for 30% of their overall sample.
Can Puppies Have Bully Sticks?
Puppies are especially prone to chewing, so people often wonder if you can give bully sticks to puppies. We recommend waiting until after their adult teeth come in as their baby teeth are more brittle and fragile to cracking and breaking. Most puppies have their full set of adult teeth by six months of age. Learn more about puppy teeth and teething.
Best Bully Sticks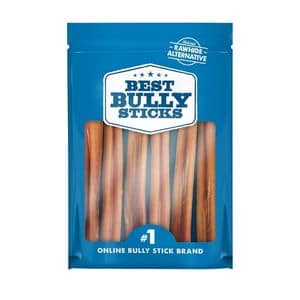 Visit Best Bully Sticks at Chewy
We recommend Best Bully Sticks as our editor's number-one choice if you plan to give this product a try for your dog. Here are some reasons why we think this product is worth considering:
Best Bully Sticks sources many of its products from the U.S.
Their products are 100% all-natural, made from the finest ingredients
Easily digestible and USDA-approved.
Sizes for tiny dogs up to giant breeds
Come in multiple shapes — bully pretzels, spirals, braids, bows, and more
Offers odor-free sticks
Auto-ship option
Compare This Product And Others In Our Best Bully Sticks Article
A Safe, All-Natural Treat For Your Dog (Video)
Watch this quick video to see why these yummy bones make pups smile.
Our Final Verdict?
Pet parents rave about bully sticks as a long-lasting, healthy chew alternative for your dog. Not all are safe, but we trust Best Bully Sticks. Just make sure you pick the right thickness for your dog's size and monitor them for splinters or choking. You can also learn more about rawhide bones, alternatives to rawhide, dog toys, or make your own organic dog treats to satisfy your dog's need to chew.
Tagged With: Reviewed By Dr. Racine, DVM, Treats